When you see Eliza Farren and Bantry Bay's Dublin gallop by on cross-country this weekend at the Cloud 11-Gavilan North LLC Carolina International CIC*** (N.C.), make sure to give them a loud cheer.
Farren and her Connemara-Thoroughbred cross will be tackling Ian Stark's track on their way to the Rolex Kentucky CCI****, and "Dublin" thrives on the atmosphere of big events.
"He's definitely a cool horse to sit on and loves his job and eats it all up. The more he hears people cheer the better he goes," said Farren.
Farren has brought the 13-year-old gelding (Bantry Bay's Archie—Solar Link) up the levels from a 2-year-old, and while their partnership is strong now, it took a while for them to get on the same page.
Bred by Candy Verhulst of Bantry Bay Farm, Dublin is one of many Connemara-Thoroughbred crosses to pass through Farren's barn. Growing up in Massachusetts, Farren picked up riding and eventually eventing under the influence of her mother, Faye Silva, who now manages her facility.
Farren's first event horse was Bantry Bay's Devon, a 15.1-hand Connemara cross gelding who she took through preliminary. "He's a funny horse," said Farren of Devon, who's now 29 and still packing her low-level students around. "He loved to jump; dressage wasn't his thing. It seems to be a theme in the Connemara world! We would always hope for it to rain on dressage day to help him put his head down, but man he would jump and was so brave, almost to a fault."
Smitten with the cross for eventing, Farren has ridden several more of Bantry Bay's homebreds over the years.
"It's the combination of the stamina from the Thoroughbred and the hardiness from the Connemara," she said. "Their will—sometimes it works with you, and sometimes it works against you, but when you're coming late in the cross-country course at a three-day and that Connemara kicks in, and they don't want to give up—I just love it."
She picked Dublin out of Verhulst's field when she was looking for a client.
"It was touch and go with him in the beginning. He was a little bit of a chicken. The first time I jumped him I didn't think he was going to make an event horse, but look at him now!" she said.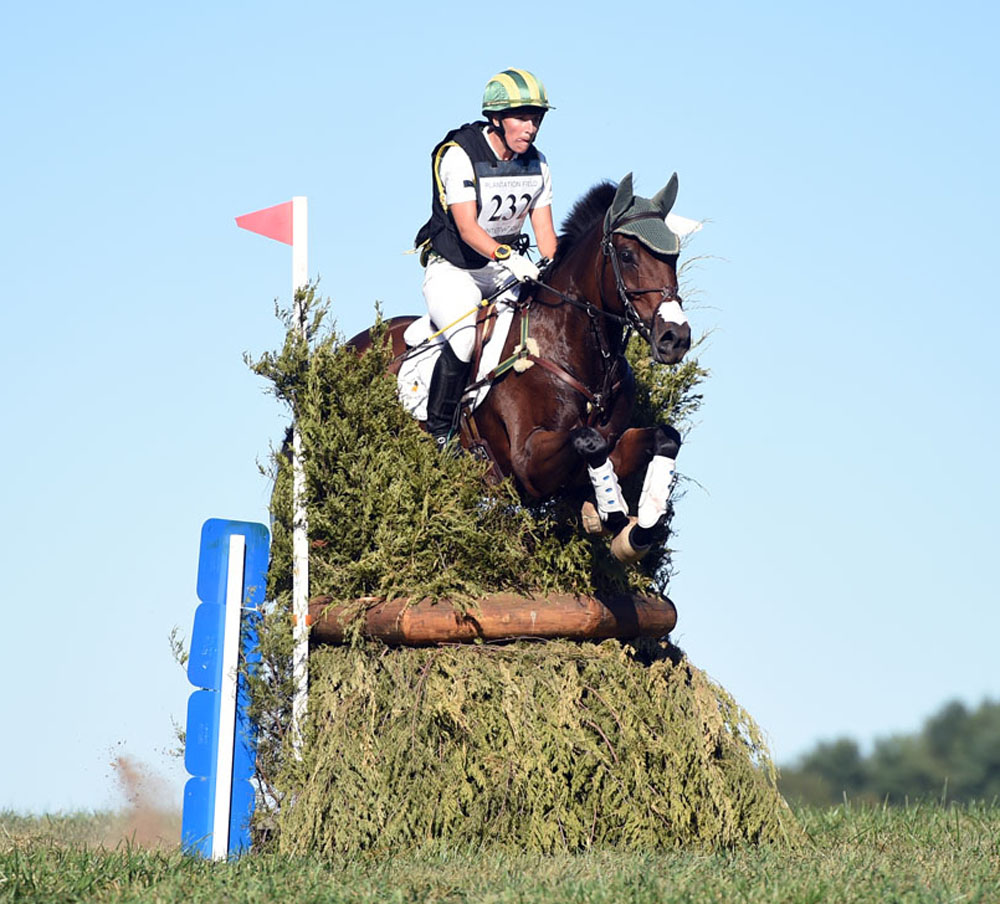 Eliza Farren and Bantry Bay's Dublin are preparing for their first Rolex Kentucky CCI**** at the Cloud 11-Gavilan North LLC Carolina International CIC***. Photo by Lindsay Berreth
After Dublin either won or got eliminated at his first few events, Farren points to a win at the GMHA Training Three-Day (Mass.) in 2009 as a turning point. "After that he was unstoppable. I think the steeplechase and the roads and tracks made him kind of grow up and gave him a new outlook," she said.
Now entering their fifth season at advanced, the pair have two CCI*** completions under their belts. They missed out on preparing for Rolex last year when Farren moved to her new farm, Emerald Isles Eventing Center, in Westborough, Mass., and wasn't able to spend the winter down south.
"It's been pretty cool to have made one from the ground up," she said. "He's not you're typical advanced horse, but I just trust him, and we have a really great relationship. Sometimes that's good, and sometimes that's bad. We fight like brothers and sisters, but then I can rely on him. It's comforting jumping some big tracks. I know he has my best interests. That's a good feeling."
Dressage is a struggle for the pair, but that hasn't stopped them from succeeding.
"He's not built to do it, so he struggles with that a bit. He's not the scopiest, but man his heart definitely makes up for that," said Farren, 32.
With help from Buck Davidson, Farren's sent in her entry for Rolex Kentucky and is crossing her fingers.
"Buck thinks he's tough, but he and I have a great relationship, and we talk about what better horse to have to sit on at your first four-star than one you really trust," she said. "It's pretty cool and a little surreal. It's always been a lifelong dream to get there, and I'm just super excited."
Wondering how Farren and Dublin do this weekend? Follow along at www.coth.com all weekend for news and photos from the Cloud 11-Gavilan North LLC Carolina International, and pick up the April 11 & 18 issue of
The Chronicle of the Horse
for full analysis.