By most 20-year old standards, Benjamin Albright has made sacrifices to spend his days in the saddle. Rather than cross a stage in cap and gown, he finished high school online to make time for full days of working student responsibilities.
And, instead of packing his bags for a college dorm, the poised young professional began riding and training from sun up to sun down. But Albright wouldn't have it any other way.
"I can't imagine spending my days anywhere but the barn," he said. "It's pretty much an obsession and I'm in love with the constant challenges of the sport. Most dressage riders will tell you that's what it's all about—the challenge keeps us coming back for more."
Currently riding and training with Margaret and Jennifer Kaiser of Kaiser Dressage at Forrest Hill Farm in Lafayette, Ind., Albright admits that his ascent to upper-level dressage has been one filled with hard work and a little bit of luck. From his first leg-up onto a 25-year old unbroke Mustang mare named Sugar in 2004, to riding tempi changes and piaffes in the Dixon Oval at Dessage At Devon this weekend, Albright is right where he wants to be. That place is alongside the nation's top junior and young riders vying for a piece of coveted Dressage At Devon glory.
After his first ride on that fateful mustang, Albright began lessons with local trainers and his motivation for improvement only grew. Continually inspired through a two-year working student stint with Felicitas von Neumann-Cosel and working for trainers like James Armstrong, Lars Petersen and Scott and Suzanne Hassler, his passion led him to at KYB Dressage (Ill.) in 2012 working under Kim and Yvonne Barteau.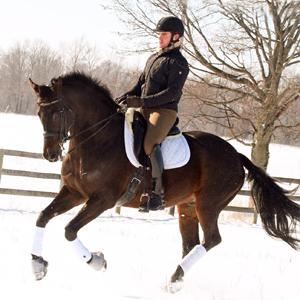 Benjamin Albright has worked his way up to the
Grand Prix CDI classes one step at a time.
"My parents never had the money to buy horses for me, so I worked for opportunities and when I came to KYB, I was lucky enough to find those opportunities," said Albright. "I had access to the quality of horses that I wanted and they made it possible for me to move up to the next level. If you don't come from money, you have to find support somehow, somewhere. I found it at KYB."
Through the Barteau family, Albright met Steve and Kristen Cooper. That meeting was a connection he will never forget. They gave Albright the ride on two mounts dripping with upper-level potential.
The first—Toscano—Albright rode to win the CDI Under-25 Grand Prix and CDI Intermediaire 2 in his first-ever Dressage at Devon appearance last year. "That was one of the biggest highlights of my career. We won every class we entered. I'm in the same ones this year, so the pressure is really on," he joked.
Enter Braxton. The second Cooper-owned horse, a 13-year old Hosteiner gelding. He's poised to keep Albright confidently atop his throne this year. "I've sat on great horses, but never had them long enough to seriously show them," he said. "The Coopers have been supportive and loyal enough to let me show two."
Reaching Grand Prix with Braxton is a highlight of Albright's last two years, but the partnership wasn't always a match made in heaven. After being gelded at 8, Braxton's lingering stallion tendencies left him with blood to spare—not something Albright had much experience with. "He's hotter than 90 percent of the horses I have ridden, so I am constantly problem-solving when I'm on him," said Albright of horse he now considers a friend. "But solving those problems makes this job fun and he certainly hasn't let me down in that respect."
Under the direction of Jennifer Kaiser, Albright arrived at Devon this week with Braxton. Despite having conquered all comers aboard Tuscano last year, he is still in awe of the Dressage at Devon aura. A show like no other, he admits, Devon is the perfect stepping stone to international competition.
"It's a top-level opportunity in our own country, which makes it perfect for me—my dream is to one day compete internationally. I want to be part of a team and experience that style of coaching and competition," he said. "At Devon you can feel the excitement from every single person showing. That's the kind of flavor you can't get at any other show."
While not the odds-on favorite in the CDI Under-25 class after doing their first Grand Prix together less than two months ago, Albright has a secret weapon because he'll have a friendly face in the schooling area with him—fellow Forrest Hill Farm rider Korin Rinaldo.
Making her Dressage at Devon debut in the CDI Under-25 Grand Prix, Rinaldo will be Albright's biggest competition, according to him.
"I love having a partner in crime here with me," he said. "I have a lot of respect for Korin as a rider and trainer and I believe that being able to ride with her at home has prepared us well for what we will face this week."
With practice has come perfection for Braxton, leaving Albright only to worry about his own Devon performance. "Green or not, he works hard for me; if there are mistakes they will be mine," claimed the confident, yet pleasantly humble rider. "I'm lucky to have a horse like him and I'll take the blame if things don't go well."
All signs, however, point to a successful return to Devon for Albright. He and Braxton brought home a 66.30 percent in their last grand prix outing before Devon and the number proved to Albright that his horse is ready for the big-time. "This is a fair sport. If you're a good rider on and average horse you can do well, but if you're a good rider with a great horse, the possibilities are endless," concluded Albright.
While Dressage at Devon is a feat some dressage hopefuls only dream about, Albright's quest for success is rarely static. At the end of this year he will take a step to the next rung on the ladder of his career. He will return to his home state of Maryland to take on his first solo training opportunity at Morgan Run Stables.
The One To Watch series highlights riders competing in some of the top competitions across the country. Chronicle reporter Haley Burton will be on-site at Dressage At Devon to bring you all the action from the Dixon Oval, so make sure to check back at www.chronofhorse.com and on the Chronicle's Facebook page to see how Benjamin Albright and all the other riders at Dressage At Devon fared.