At the end of her 2019 season, Madeleine Scott faced a dilemma. Her final run at the Ocala Jockey Club CC4*-L (Florida) hadn't gone to plan, with a pair of refusals on cross-country, and now her horse Crosby's Gold was exhibiting inflammation in an old splint. After consulting with her veterinarians, she decided the best course of action would be to have the splint surgically removed.
"It had calcified so much inside that it was starting to get in the way of his suspensory," said Scott. "It hadn't done any damage, but it was just starting to irritate it."
The next challenge was getting through two months of stall rest.
"He is one of the most difficult horses to have on stall rest because he is so active," said Scott, 25. "Trying to bring him back into any kind of work was extremely difficult, so it was a slow process."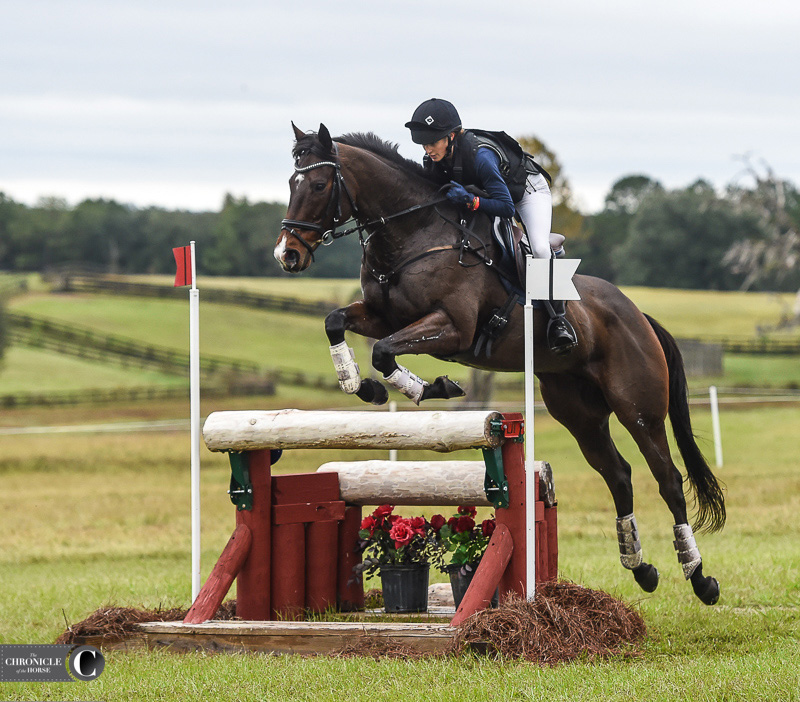 The pause in the season due to the coronavirus reduced the pressure to get back in the ring, and Scott and "Crosby" returned to competition in July. Now they're looking to contest the CCI4*-S at The Fork in Tryon, North Carolina, April 2-5.
Dressage has been a challenge for them, especially since Crosby is a head shaker, so Scott tries to keep her goals within their capabilities.
"I just want to have a test that we can get through and that it be something in his mind that is not scary or completely overwhelming," she said.
Provided they have a good showing, Scott is aiming for the Jersey Fresh International CCI4*-L (New Jersey).
Growing up in British Columbia, in a non-horsey family, Scott found her passion for eventing through her friends and Pony Club at Topline Stables. She attended a clinic with two-time Canadian Olympian Nick Holmes-Smith hosted by the B.C. Young Riders, and it led to a professional relationship with the Holmes-Smith family.
"It was a good atmosphere to be in, and it kind of just went from there," said Scott.
Under the Holmes-Smiths' guidance, Scott learned the sport on a series of off-track Thoroughbreds. "My family was not involved with horses, so we definitely were not going to put a bunch of money into buying something fancy," she said. "I got to work with some really crazy animals; I learned a lot."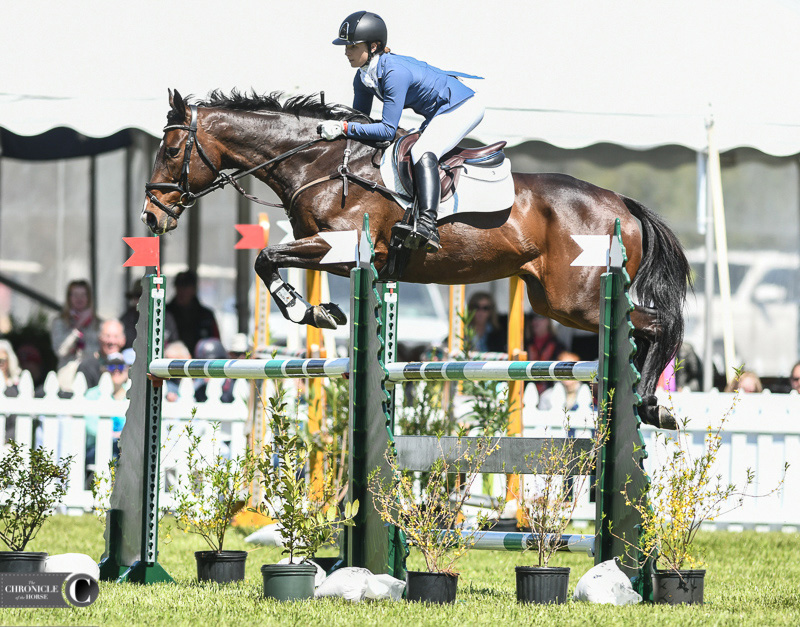 The Holmes-Smiths helped her find Crosby, a 12-year-old Thoroughbred (Bright Valor—Circle Of Flags, Avenue Of Flags), after he finished a lackluster track career.
"When the Holmes-Smiths got this group of Thoroughbreds, they told me to come look at one in particular because they thought he was a little bit more special than the rest," said Scott. "I went to go look at him, and he definitely had not done much jumping or flatwork. I sat on him, and he just loved to spring over the jumps, so I took him on."
With few events near her hometown, Scott began traveling back and forth to California to gain competition mileage, but once Crosby showed upper-level talent, she decided to head to the East Coast.
"I had a couple of people in mind to call to find out what they would expect as a working student and what they had to offer in their programs," said Scott. "Kyle and Jen Carter were one of my top picks, and it seemed like a program that would suit me and my horse well, and it has."
She started working for the Carters at their Ocala, Florida, farm in January 2019. She planned to stay for four months, but after a couple of months at home in Canada following her initial stay, she returned and has been there ever since.
"They have been so amazing. They have such a wealth of knowledge," said Scott. "They've been around the sport for so many years. They've had some pretty difficult horses themselves and have proven to work with them. It's been really inspirational working with them and seeing how much they love and appreciate their horses."
Scott is a full-time employee these days, working six days a week for the Carters and often spending her day off with show jumper Luciano Dome. "You can never learn too much, especially when it comes to show jumping and dressage," said Scott.
The Carters helped Scott secure a visa so she can stay in the USA for the foreseeable future. She's excited to continue improving her riding and seeing where Crosby will take her.
"It's been such a fun journey with him coming through the levels and being able to produce an upper-level horse," she said.
---