They say the best riders grow up riding anything and everything, and by that metric 21-year-old Lexie Paxton is well on her way to the top of the sport. On May 5 she'll have a chance to prove herself while riding for Washington and Lee University (Virginia) at the Intercollegiate Horse Shows Association National Championship in Harrisburg, Pennsylvania.
One of four siblings and the daughter of a schoolteacher and a retired farrier, money was always tight in Paxton's home, but her mother Ariadne Paxton nurtured her daughter's love of the sport.
"I would pretty much beg and plead with people and try to find her something to ride," Ariadne said. "When you know how much [she loves] it, you just want to make your kid's dreams come true, because you know how passionate they are. It's happened thanks to lots of kind, kind people."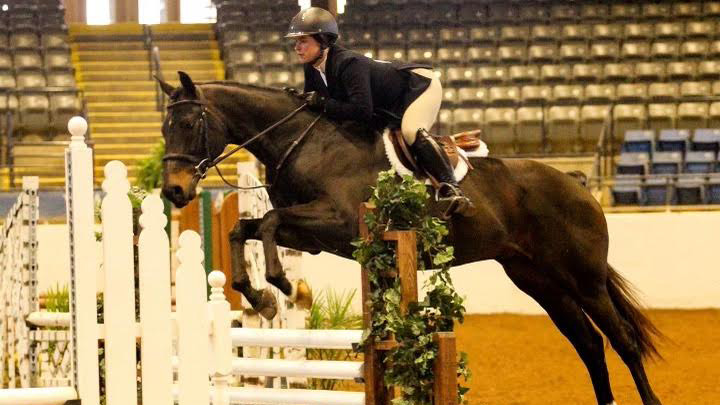 Gordon Reistrup, Lexie's coach at Washington and Lee, said Lexie is a person who others are eager to help.
"I think that it's because of her work ethic, her drive and her desire," Reistrup said. "She really wants to do it, and she wants to do it well. She's very competitive and a very good competitor. She's pretty good at handling the nerves. Part of that comes from 'What do I have to lose? I'm going to go in and make the most of this opportunity.'
"There's quite a big Lexie fan club," he added. "She's a super hard worker in the barn and takes great care of the horses."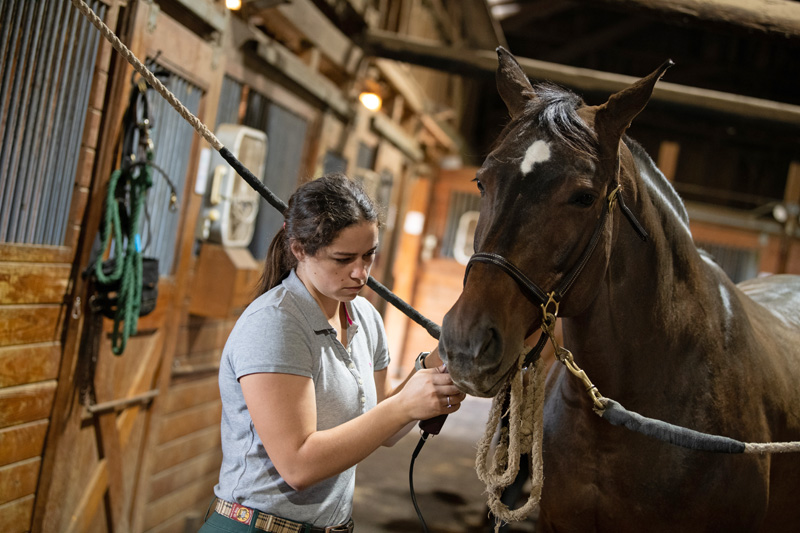 Since Lexie's pony days, Ariadne relied on friends and acquaintances to send along horses that weren't fitting into their program to her family's two-stall barn. (Lexie rides in a neighbor's field.) While the mounts sent their way often had behavioral or soundness problems, Lexie was always thrilled to have something to throw a leg over.
There was one from Foxcroft School (Virginia) that she described as "very, very strong and pretty crazy" that she worked with for a while, a lovely horse from Sally Lamb who struggled with soundness issues and, most recently, a tricky ride named Salutation D who came from Amy Nunnally's barn. Lexie appreciates them all, calling them "blessings," and is proud of the progress she made with each.
Not only have professionals like Nunnally, Lamb, Cricket Morris, Kate Worsham and Olin and Sally Armstrong made extra efforts to keep Lexie mounted, others have chipped in as well.
"A few times we got to show at A shows we'd be like, 'Oh no! All the membership fees are like $175,' " Ariadne said. "Then this mysterious person would have paid them for us, and we found out later that it was [show secretary] Sue Tallon. She never wanted us to know it was her; we only found out by accident. People have been so kind."
Another family friend, Annie Shawver, paid Lexie's stall and entries for a big Southwest Virginia Hunter Jumper Association show.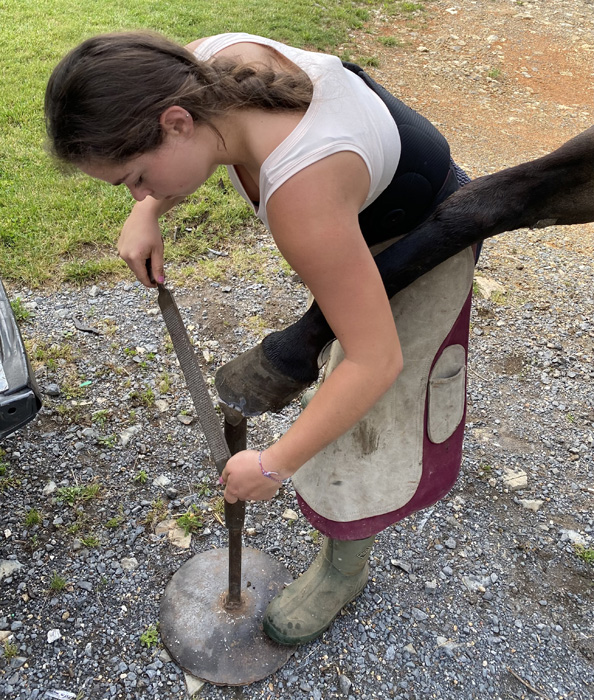 While she's never been a formal working student, Lexie has always worked off her coaching fees by grooming, and the Paxton family is often working hard behind the scenes to help finance Lexie's equestrian habit. When she's not teaching biology, Ariadne works horse shows on the SWVHJA circuit as an announcer, EMT and braider; Lexie regularly grooms for Hampton Row; and her older siblings Austin, Spencer and Rachel often work jump crew.
"I think Lexie keeps it in perspective," Ariadne said. "People have asked me, 'Is she really excited [to compete]?' I say, 'Yes, but at the same time Lexie knows how this sport works. One day you're a star, and the next day you fall off on your head. Yes, we're excited and hope it goes well and want to do well, but if it doesn't we're still super excited she got to go—and very, very grateful to the people who helped her along the way. She tries to keep that in perspective so that if she falls off, she gets up with a smile on her face."
As a junior Lexie showed locally and in Interscholastic Equestrian Association competition, attending IEA Nationals in her senior year of high school. For the past four years, Lexie, a senior economics major on a pre-med track, has focused on IHSA competition under the guidance of Reistrup.
"It was a great season for our team," said Lexie, Rockbridge Baths, Virginia. "I don't think we've ever had a season that's gone this well. Our team won the region by 2 points against Hollins [University (Virginia)]. It came down to the last class at the pre-season show before regionals.
"We tied for third at zones; after the tiebreaker we were fifth because there was a three-way tie," she added.
The barn is about 20 minutes from campus, and Lexie gets out there two to three times a week to ride with Reistrup and assistant coach Emily Parr.
"He's very supportive as a coach," Lexie said of Reistrup. "He has a good sense of humor to make light of situations, and he's always trying to figure out how to make it better. Even if you have a great course, he won't just say, 'That was great.' He always has good pointers to improve even more."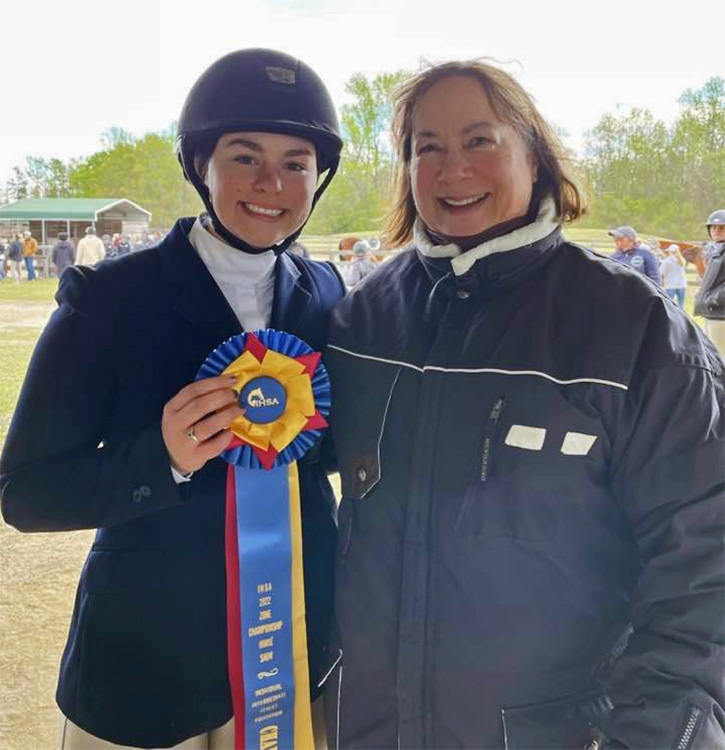 Lexie will be the sole representative of Washington and Lee headed to Nationals, and she'll be competing in the individual intermediate equitation over fences class. She enjoys the IHSA format and the opportunity to showcase a rider's ability rather than what the horse can do.
"It's a fun challenge to see if you can go and ride a horse you've never ridden before and what you can do with it," Lexie said.
"I'm super excited [for Nationals], and I'm a little nervous too," she added. "But I've been practicing and I'm ready. I've never been to Harrisburg, and I'm looking forward to seeing what the horses are like."
Lexie and Ariadne's gratitude to the equestrian community's generosity runs deep.
"If she does go into the medical field like she plans to and makes good money, she absolutely will pay it forward and help other people, like people who have helped her," said Ariadne. "It's absolutely part of the game plan."