In a sea full of large-bodied warmbloods, it's easy to spot off-the-track Thoroughbred Irascible, ridden by 15-year-old Jenna Drago.
James Squires bred "Buddy" in Kentucky, and the gelding raced nine times, earning $16,965 and finishing second once and third twice. Frank Seman and Susan Seman McDaniel purchased Buddy (Holy Bull—Aerobatics, Caro) when he was fresh off the track as a coming 4-year-old, and they sent him to train with Scott Petrie of Petrie Show Stables in Medina, Ohio. Petrie primarily had warmbloods at the time and was skeptical when the young bay showed up in his barn.
"The very first pole we did, he jumped two feet over it in perfect form," said Petrie. "So we knew he could jump. We just didn't realize how much scope he had.
"The first time I put my leg on him, he turned around and bit it!" said Petrie with a laugh. "I guess they don't use any leg on them [at the track]. He always had lots of personality; he was fun, and he was game. He was just very unbroken."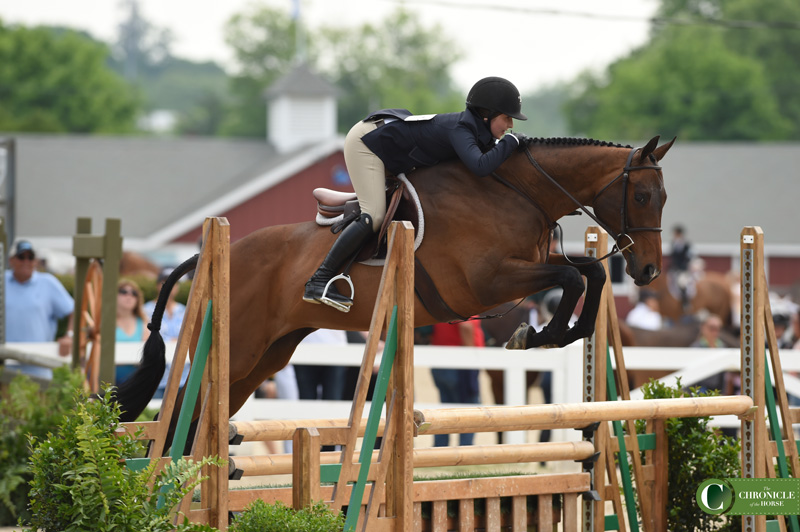 Petrie began riding Buddy in the baby green hunters, and alongside his niece Jenna Petrie-Moran, he worked Buddy in the pre-greens. Soon, the 4-year-old filled out and was getting good ribbons in competitive classes. Buddy looked to try more, and Drago, Petrie's student and the barn's resident pony rider, was ready for a horse to step into the junior hunters and equitation, so in 2016 they paired up.
"Not anybody can ride a Thoroughbred. She's a pretty slick rider. She's had a few rotten ponies when she was younger that taught her a lot. [Drago and Buddy] got along together really well right away," said Petrie.
Drago had always thought there was something special about the gelding.
"I had watched him a lot when I first moved to Scott's," said Drago, Aurora, Ohio. "He didn't jump like all the other horses. He has his own kind of jump that makes him look really good, and his movement is amazing."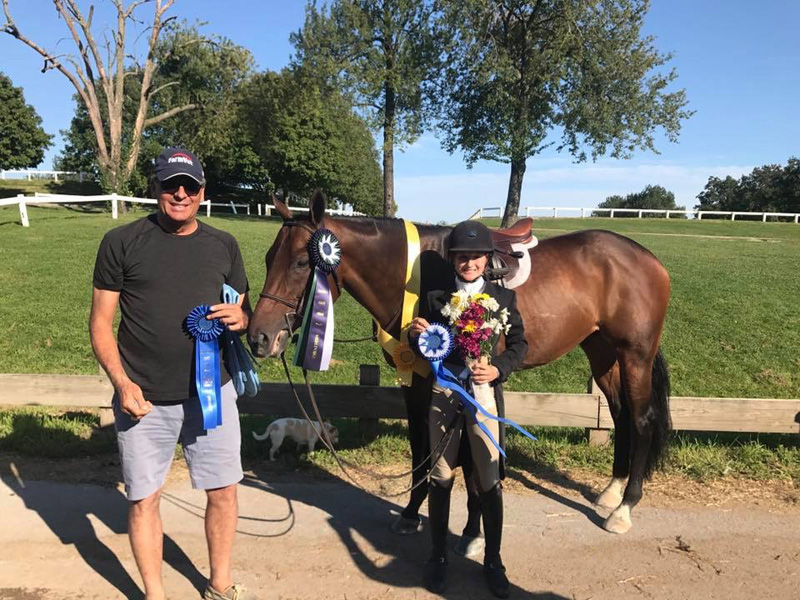 Drago started in the children's hunters with Buddy, and they stepped into the low junior hunters last September before making the leap to the small junior hunters, 15 and under, at the end of the year. They competed at the Devon Horse Show (Pennsylvania) this year and qualified for the Pennsylvania National Horse Show.
When Drago first started riding Buddy, now 12, he had some issues with nervousness in the ring and rideability on course. Going into Buddy's first indoor season, Petrie has been setting up more difficult courses for Drago and adding spooky jump filler in order to improve on their weak spots.
"He's definitely developed more over the course of riding him," she said. "His tempo is better going to the jump and bending around the corners and jumping up [to you]."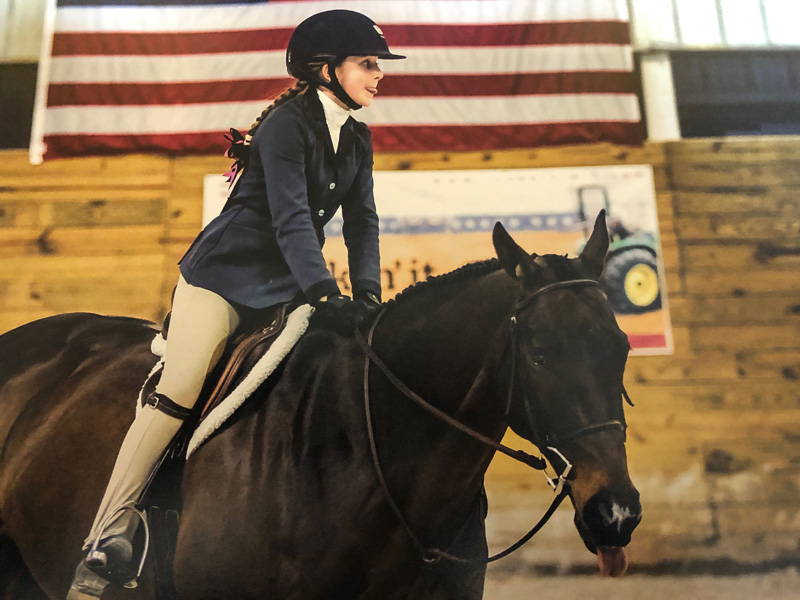 Like many OTTBs, Buddy is bursting with personality, quirk and a love of horse cookies—both in and out of the barn.
"Oh, he is Mr. Personality. He's definitely all over you," said Petrie. "He always bites [Jenna] in the jog, too."
"He doesn't really like to move up going to the first jump, so when I make him move up, he twitches his head all around," said Drago. "He's definitely the laziest Thoroughbred I've ever seen!"
The Chronicle will be on-site at the Pennsylvania National bringing you beautiful photos, interviews and more, so check back throughout the competition. Don't forget to follow the Chronicle on Facebook, Twitter and Instagram @Chronofhorse. We will have full analysis of the competition in the Nov. 5 issue of the magazine.