Having just one horse to compete can make it tough to get enough practice in, but that's the reality for many working amateur riders. Trying to make it to the upper levels of eventing can be an even greater challenge, but Caitlin Henderson's found the balance as a full-time nurse practitioner and advanced-level rider.
She's using up some vacation time this week and heading to the Mars Equestrian Bromont CCI4*-L in Bromont, Canada, in hopes of getting her first completion at the level aboard her off-the-track Thoroughbred Creative Dreamer.
"With one horse you always feel like your competitors have an edge on you because they're competing a lot more and training a lot more," she said. "I've really tried to focus on making sure I get the most out of every ride—planning the details and what I want to get out of every ride so that with my one to one and a half hours on him every day I can achieve what I need to and make the most of it."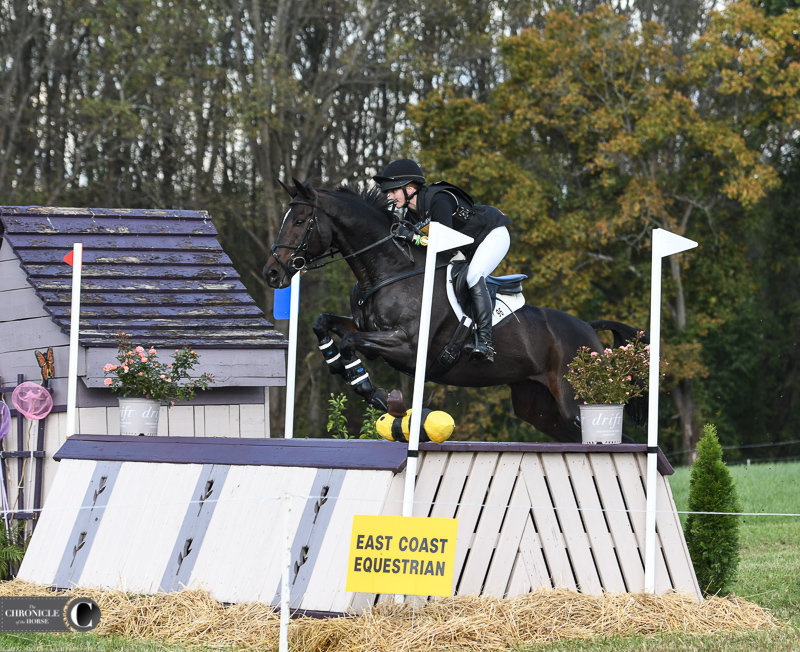 Henderson grew up in Pinckney, Michigan, where her mother Cathy Henderson operates Henderson Equestrian Services out of Timber Run Equestrian Center. Cathy has evented to the advanced level, and Caitlin's trained with her mom for her whole eventing career.
Caitlin, 28, competed in 4-H and Pony Club and got tons of experience schooling horses for her mother's lower level riding program.
"We're best friends," said Caitlin. "My sister [Lindsay Henderson] rides as well. My mom has been at probably every competition except for two my whole life. We travel together to all the competitions and try to coordinate show schedules."
But it wasn't all horses for Caitlin growing up. She was serious about soccer and earned a scholarship to Western Michigan University where she also played on a travel team and got to participate in the Olympic Development Program.
She kept a horse to compete throughout school, and her experience playing soccer helped shape how she trains and competes in eventing.
"It's funny now because I haven't played since college," she said. "It seems crazy to me that that was the thing that was the primary focus because now it's all about riding."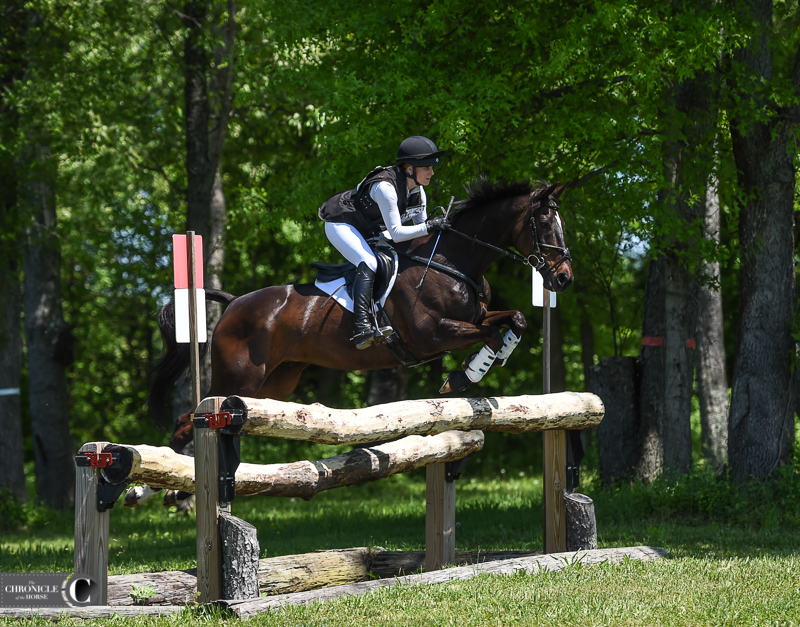 Caitlin learned how to be coachable and how to operate in a team environment; learning from other people and learning how to take criticism were also key experiences throughout her collegiate soccer experience.
"I grew up riding with my mom, and she doesn't have to tell me a lot," she said. "We're sort of on the same page, but it's just knowing how to be coached by other people when clinics and things like that arise. And just paying attention to detail and things related to training. At a collegiate level, the level of detail that goes into every practice and every training session in the weight room and swimming and yoga and all these other practices that you're doing on top of not only just focusing on your sport; I've brought all that into my riding, and I'm very detail-oriented when it comes to my riding. My mom and sister probably think I'm crazy, but I try to have every day mapped out with what my goal is for the day and what my training session will look like on my horse. I think [soccer] added a lot to my riding."
Caitlin knew how hard eventing as a professional could be, so she chose to go into nursing, earning her master's degree from the University of Michigan, but she admits she goes back and forth on whether she should try to become a professional rider.
Creative Dreamer, or "Molson," came into her life during college after her mother started the gelding under saddle. Cathy competed him through novice and did one training with him. Caitlin's mare Rita, who she'd competed through intermediate, had endured colic surgery and a couple of injuries, so she was retired.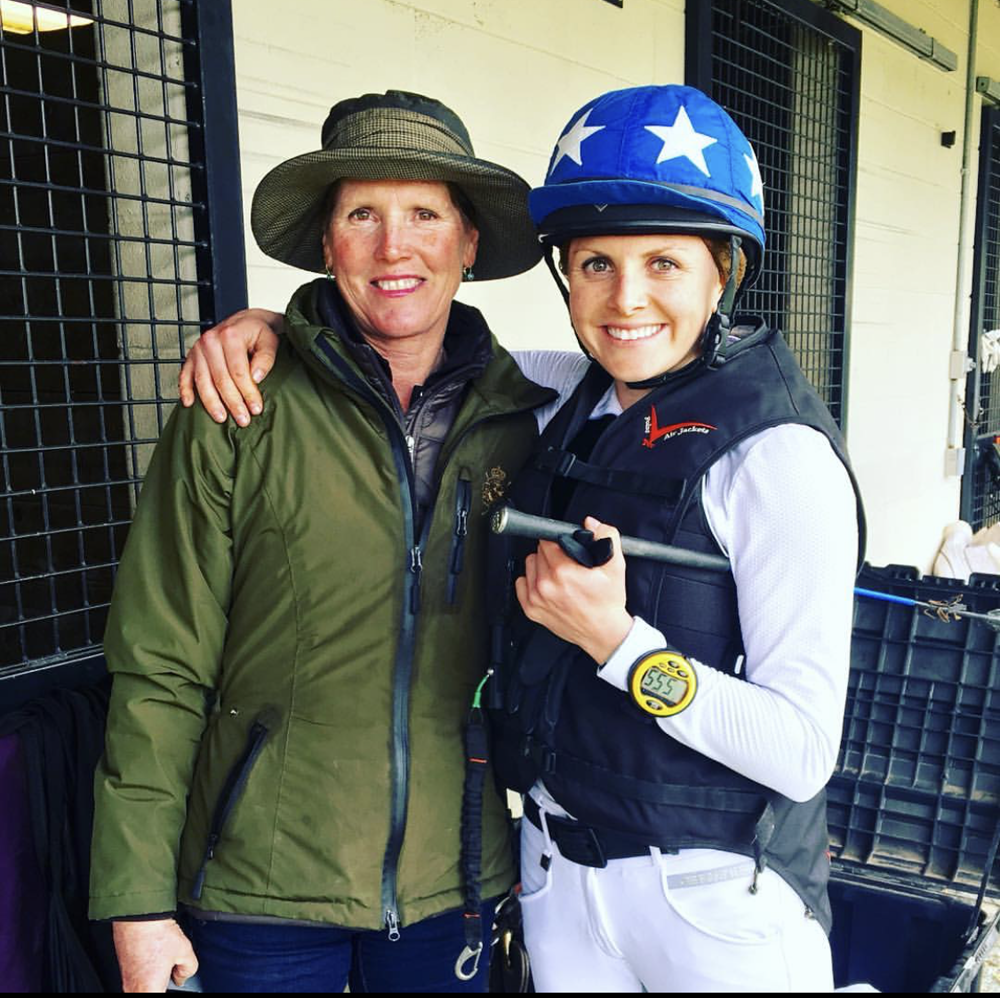 Caitlin sat on the now 14-year-old Molson (Creative—Banic, Pep Up) while schooling a few horses at home and fell in love. She bought him from her mother's client and started moving up the levels.
"He did well at the lower levels," she said. "He's never been one that has won everything. I think it was more the feel when I rode him. I just had so much fun. Right from the beginning, I could tell he had so much potential. He's a very light ride, which I loved. I loved my Dutch Warmblood mare, and I always said I'd never have a gelding, and I'd never have a Thoroughbred, and I ended up with him. He's very quirky, but I love him to death. He's super quirky and does not trust a lot of people, so once you sort of have that relationship with him, he's very willing to do anything that you ask, especially under saddle."
Molson had a minor tendon injury as an 8-year-old but moved up to intermediate after he was healed. The pair did their first advanced last year.
"I haven't tried to do anything at a fast rate at all," said Caitlin. "I don't show a ton because I can't be gone from work, and I don't necessarily believe in showing a lot. Luckily for me as an amateur and having a career he doesn't require to be shown a ton, which has worked out. I've been trying to get the experience myself. I'd competed up to intermediate, but not a ton, so between the two of us, just trying to get the miles under our belts without over competing and just doing a lot of schooling at home."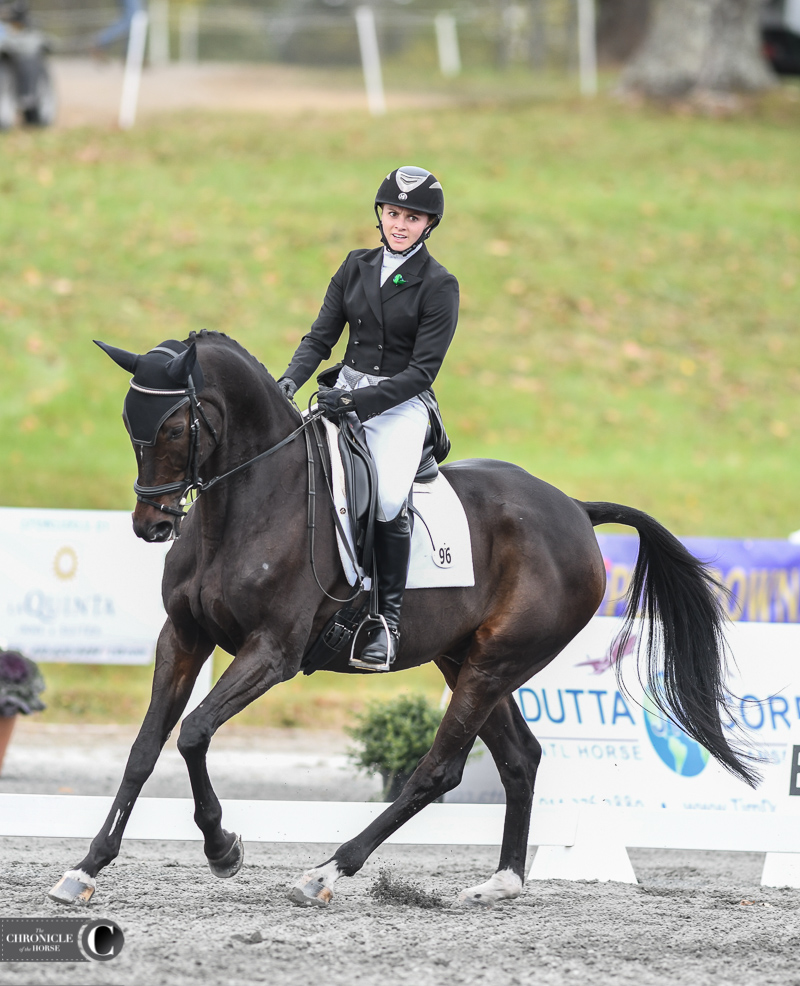 Being an amateur rider with one horse can be intimidating at the upper levels, but Caitlin and Molson have been holding their own.
She'll have the support of Cathy this weekend, as she's riding Oldcourt Grafen Dance in the CCI2*-L, and she'll have everyone from the barn at home cheering her on from Michigan.
"Mentally it's a different ball game," she said. "You're competing against the best people in the country. We have clinicians come in, and I've been riding pretty consistently with Waylon Roberts. He had the confidence in me [to try the four-star level last fall] and said we were ready to do it. We pushed for that, and I think that was a really good experience for me. Sometimes you need that little extra edge."
They competed at the Dutta Corp. Fair Hill International CCI4*-L (Maryland) last October, but Caitlin fell off Molson on cross-country.
"I fell off five fences from home, and it's been a joke for the last six months—not that it's funny, but we were so close," she said. "I wasn't trying to get a qualifying score, but I think mentally it was important for me to know that I could do it, and I was so close. It wasn't anything that was out of his comfort zone. He wasn't tired at the end of the course. Overall, moving up to the level showed me how much potential he has. It's not a stretch for him."
Caitlin works at Michigan Medicine as a nurse practitioner specializing in heads and necks in the radiation and oncology department.
Since taking her job last year she's able to work 9-5 to be able to fit in riding.
"I feel so lucky with the career I have," she said. "I absolutely love my job. I do feel like it gives me a really good perspective when things don't go right at the show. When I show up to work on Monday morning, nobody even knows I was at a show! It makes me realize there's a lot more going on in the world than what we do, and we should consider ourselves lucky that we get to do such an amazing sport. Then you're constantly on the other side of things where you want to be competing at the upper levels and be super competitive, and that's hard with one horse and without putting in the hours that everyone is that you're competing against. But right now I think it's the perfect spot for me to be, and I wouldn't trade it for anything."
We're on site at the Mars Equestrian Bromont CCI this weekend to bring you news, photos and results! Check back at coth.com and be sure to pick up the July 1 print edition of the Chronicle for more.
Make sure to follow along on the Chronicle's social media outlets: Facebook, Twitter and Instagram.