When Ashlynn Meuchel was 19, she felt the bitter disappointment of being left off the list of under-25 riders named to the U.S. Equestrian Federation's Emerging Athlete Eventing 25 Program.
But out of that disappointment came one of the biggest lessons she's learned as a competitor and horsewoman.
"Tamie [Smith] gave me some of the best advice I've probably ever gotten, which was, 'Just keep your head down and keep working.' Then I got left off of every single training list after that too," she said. "That's what I try to do. Keep my head down and keep working. I've learned early on not to hang your hat and your self worth on whether people put you on training lists or not, which I think is quite important in this sport."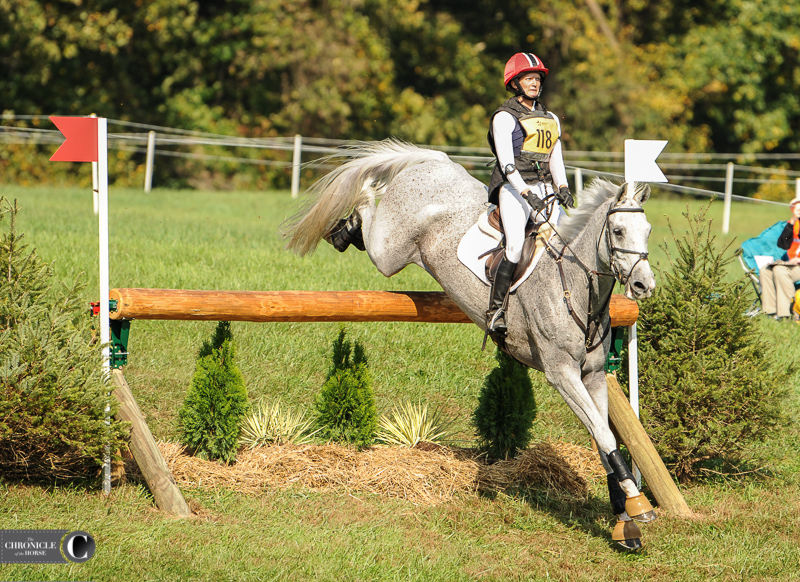 Meuchel has taken Smith's advice to heart in everything she does, including with her five-star horse Emporium, who's been a challenge as she's brought him up the levels.
Next week, they're contesting the Land Rover Kentucky Three-Day Event, and Meuchel is hoping to improve on their debut five-star performance at the Maryland 5 Star last autumn.
Meuchel grew up in Kalispell, Montana, home to The Event at Rebecca Farm and the Broussard family who runs it. She started at a hunter/jumper barn but soon moved on to work with eventer Jen Johnson.
Sarah Broussard helped her and her non-horsey family find her first proper event horse as a teen, Morning Star, an Irish Sport Horse gelding by Windstar. Broussard encouraged her to strive for the FEI North American Junior and Young Rider Championships, and she made it there in 2013 with the gray gelding—her only trip to the Kentucky Horse Park so far. She and Morning Star competed through advanced before he stepped down to become a schoolmaster.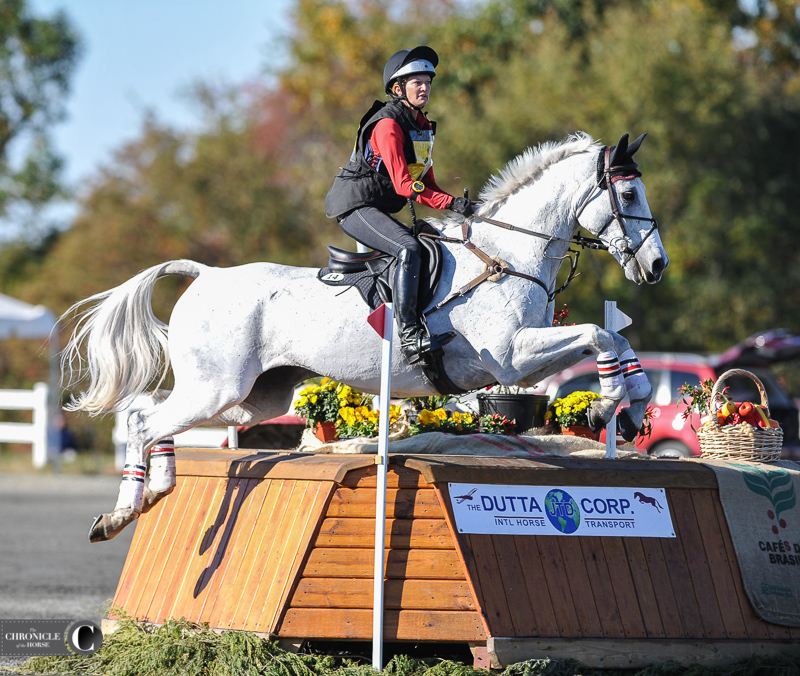 Meuchel, 26,  graduated high school early and earned a degree in business finance with a minor in accounting at Montana State University, all on a full scholarship.
She had to look for other eventing opportunities as she got more serious about the sport; the Montana eventing community is small, and the drives to competitions are long. On school breaks and during the summer, she headed to Temecula, California, to train with Smith. She also would fly out on weekends to catch ride during the school year.
It was at Smith's that she met Emporium, or "Theo," a Dutch Warmblood gelding (Cartano—Upana, Opan). He'd done a handful of novices and Young Event Horse classes with Smith, and while he could be tough, Meuchel bought him.
At Smith's Meuchel learned a work ethic she admits she didn't have before, and she learned what an eventing program was like on a bigger stage. With Smith's guidance, she also had to learn how to ride Theo.
"He was quite feral when I got him and really naughty and not really broke at all, but he was extremely talented, which was clear," she said. "He's never been straightforward and simple. I appreciate having learned a lot from him about how to do a tougher one that's opinionated. I like having to figure out what makes a horse tick and what they like and don't like."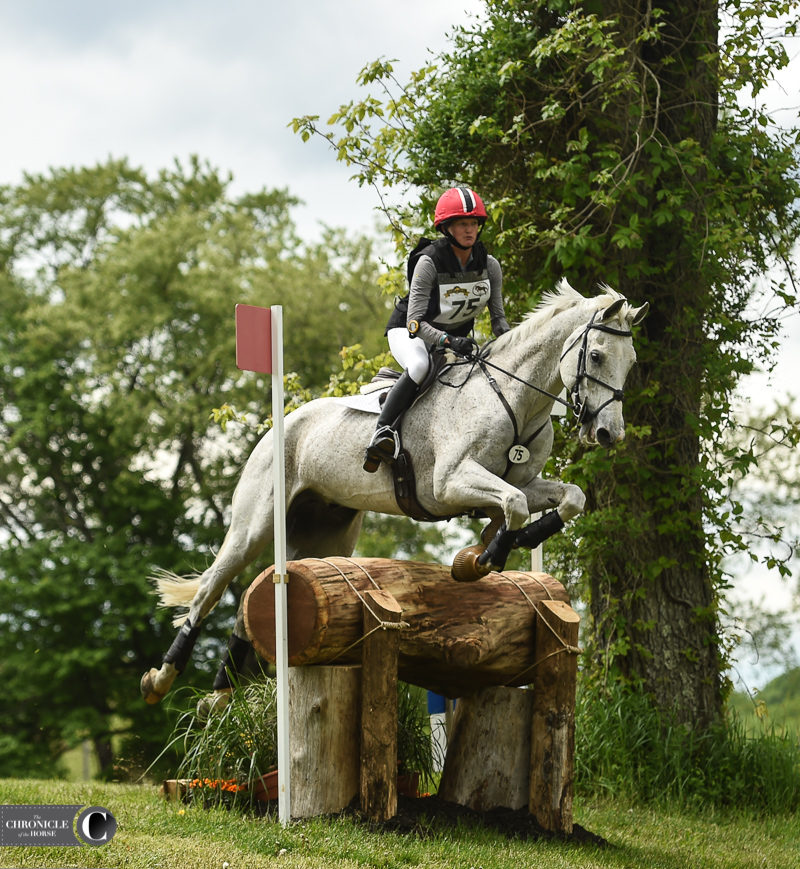 Theo had a rearing problem and didn't love dropping into water, an issue that can still plague him occasionally. The pair had two stops at the famous "Crab Water" at the Maryland 5 Star last autumn.
"I got him when I was 18 and not very good, so how much of it was my ability to have any feel at all, and how much of it was him?" she said. "He's still funny about drops into water. He's always been weird about them. I had to figure out a pretty specific formula to get him to do those reliably. He used to just turn to the water and be like, 'Nope, no thanks,' and run sideways or backwards. I've trained with Clayton Fredericks for the last two years, and he's been really instrumental in helping me figure out how to train this horse and how to produce a horse properly and correctly and well."
While Meuchel didn't buy Theo thinking he'd be a guaranteed top-level horse, she knew he had the scope for it.
"The cross-country was a question for a long time, and it's taken a while for him to figure that out," she said. "I had a lot to learn about dressage riding and still do. I got the [Mars] Bromont Rising [U25} grant in 2019 and went to Bromont [Canada] in the three-star. He jumped around up there, and that was when I was like, 'OK, this is good.' We went to a venue we'd never been to before, and he was quite good."
In 2020, they moved up to advanced, but then came COVID, though Meuchel thinks the break in competition helped their progress as they spent more time training.
They completed the Mars Equestrian Tryon International CCI4*-L (North Carolina) in 2020, then the Jersey Fresh CCI4*-L (New Jersey), and that's when Meuchel decided to enter her first five-star.
"It felt fantastic after show jumping!" she said of the Maryland 5 Star. "That was a good moment. It was a little disappointing to have gone and had two stops [on cross-country]. It was that crab. He was not happy about that crab! I was proud of him because I was able to circle around and do the smaller one and make my way out of the water. In the past he would have had that moment and then shut down. For him to keep jumping and keep trying for me, that felt important in our partnership at the time. Obviously swallowing the disappointment as I carried on. We made it around the rest of the way, which was a good feeling but leaves you hungry to do better next time."
Meuchel has been based near Ocala, Florida, since 2017, trying to make her way as a professional. She worked for a few different people and within a year had met Jeanie Clarke. She started managing her barn in Anthony, Florida, and last fall they started a partnership together.
Meuchel keeps busy with several young horses in training and loves to go back to her hometown at least once a year to teach clinics and give back to the eventing community.
"I'm about instilling confidence in horses and riders, because that was the big thing I learned to create in my own horse and what was lacking in myself and my horse for a long time," she said. "That's what I try to instill in the people and the horses I meet. I want to find out what makes them confident and how to help them that way."
While she admits she's not always had confidence in herself, Meuchel feels ready to tackle her first Kentucky after working with Fredericks for two years.
"I had quite an inferiority complex about my horse and myself. I felt like I was never going to be good enough to ride him well," she said. "I talked to Clayton about it one day, and he said, 'Oh, we all feel that way. Just get better,' in his sort of Australian way!"
Theo's spring preparation for Kentucky hasn't been ideal, she said. After a good run at Red Hills (Florida), Theo got an eye ulcer that took about two weeks to clear up.
"It's not the end of the world, but it did put a delay in the fitness work," she said. "But we had a really good run at Ocala [in the advanced/intermediate] last weekend, and he stepped around, which was a nice feeling. I feel like horses always throw 12 things at you, and you just have to keep going and do the best you can.
"I'm nervous, obviously, but I'm trying to believe in my prep and believe in me and the horse and go get it done," she added. "I try not to get too ahead of myself worrying about things until I've seen them!"