Breakouts are what define Zazou Hoffman's riding career. Some riders may only be so lucky to realize one breakout moment, but in the case of the Santa Monica, Calif., native, she's managed more than a few.
First, there were the pony and children's divisions, when the young Hoffman earned an early reputation for a keen ability to pilot unfamiliar mounts to blue ribbons. Then there was the big equitation and the time she rode as a working student for Missy Clark all the way to winning the ASPCA Maclay Final (N.Y.) in 2009.
And in her latest iteration of breakout star, 25-year-old Hoffman is leading the victory gallops in grand prix classes this season at HITS Coachella (Calif.).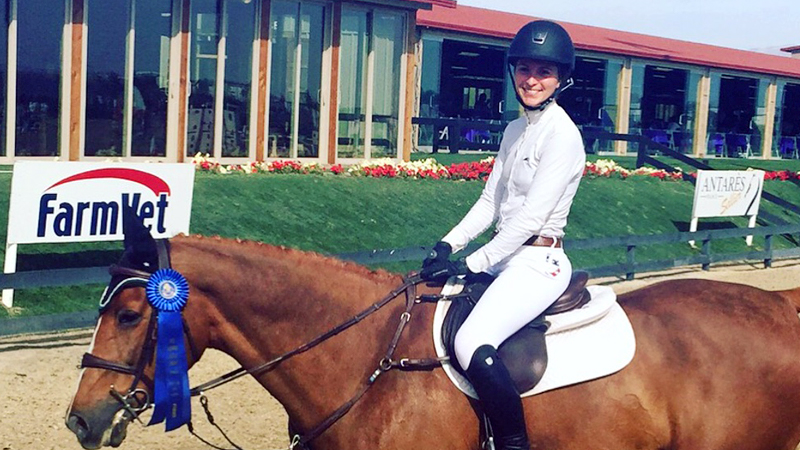 On Feb. 3, she won her first grand prix, the $25,000 SmartPak Open Prix, aboard W Zermie 13. The pair then repeated the performance with another win in the same class a month later. A few days later, Zazou placed third in the $75,000 Horseware Ireland Grand Prix riding Samson II.
Keep an eye out for her in the AIG $1 Million Grand Prix on March 19—she's got two horses entered in the biggest class of her career so far. And the Chronicle's Kimberly Loushin will be there all weekend to bring you all the photos and news.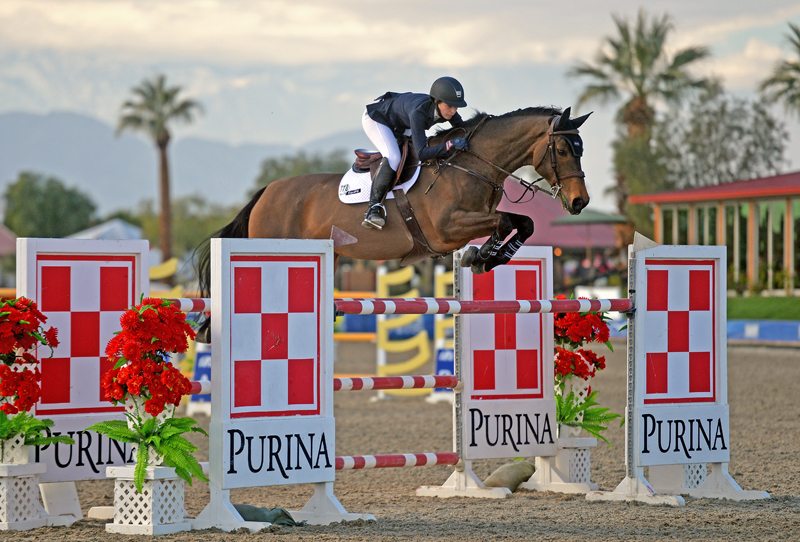 "I'm getting more comfortable in these [grand prix] classes so there's a lot less of the nerves that would take away from how I ride," Hoffman said. "I walk the courses and try to make a plan that's right for my horses and just trust that I know my horses.
"I feel like I learned a lot from watching other riders. Some days, I watch Richard Spooner and notice that he does something like this or that and think, 'Maybe I should try it like this.' Or I'll see Mandy Porter, who is really strong in her position, and think, 'Maybe I need to focus on that.' I'm not really watching for numbers—I'm watching for technique."
Studying technique has long been one of Hoffman's strengths. She gained a strong foundation in riding through her first trainer Meredith Bullock at a community arena. But with her sights set on the top of the sport, she knew she would have to take an unconventional path that didn't require a big budget.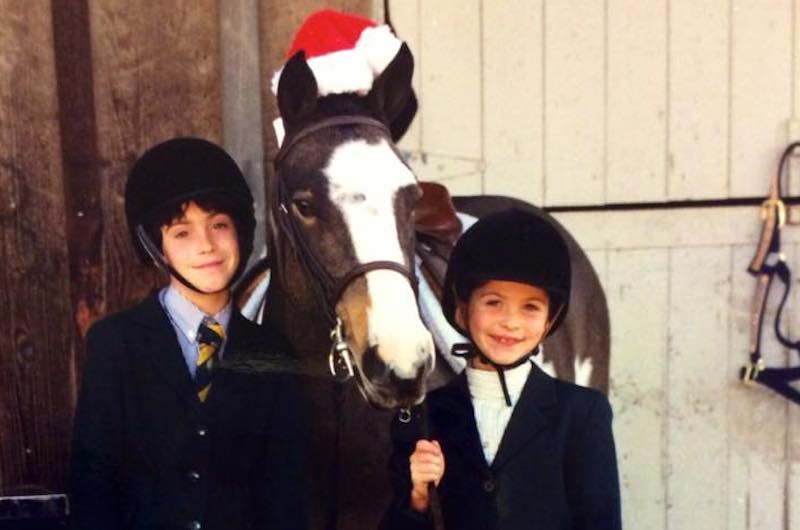 At the young age of 13, Hoffman won the 2006 Ronnie Mutch Scholarship for up-and-coming, young equitation riders, which afforded her two weeks of training with top trainer Missy Clark in Wellington, Fla.
The short stint turned into a longstanding relationship as Hoffman then spent the next few years traveling between California and Florida and eventually joined North Run for the entire show season for the last years of her junior career.
"For middle school and through the first years of high school, I flew back and forth every two weeks, trying to spend as much time in Florida as school would permit," Hoffman remembered. "Then sophomore year of high school, Missy sat me down and said, 'To do the Finals, I need you here full-time.'
"For the next couple years, I stayed back East and did independent studies online. I did whatever my school would accept for equal credit so I could still graduate from Santa Monica High School. My parents were really supportive. They made it happen for me," recalled Hoffman.
But it wasn't just about riding horses for Hoffman in her position as working student. "A working student at North Run truly works," she said. "There's no way around it. It's not 9 to 5; it's 5 to 9.
"I was lucky. I had a lot of opportunities out of the experience, but it was tough work. I learned a lot about work ethic that way. What's most amazing [from the experience] is that it goes way beyond the riding lessons. I came out really knowing the ins and outs of barn management, horse care—now it's irreplaceable knowledge as a professional."
In the end, Hoffman achieved what she set out to earn from the moment she applied for the riding scholarship: "My last year as a junior, in 2009, I won the Maclay Final. When I went [to Florida] when I was 13, Missy told me I'd win a Final, but it took me to my very last one," she laughed.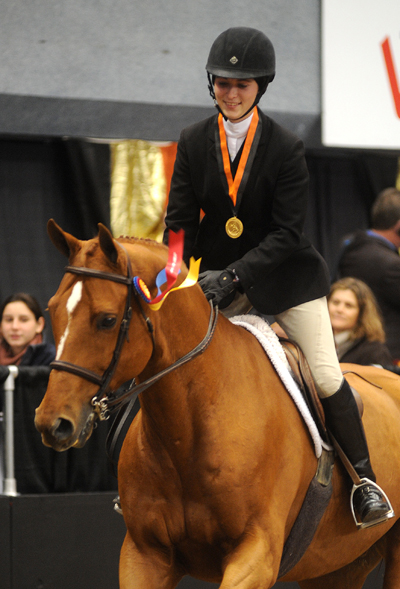 Following her big win, Hoffman returned home to California, graduating from high school and matriculating at University of California Los Angeles. She took six months off from riding to settle into college but couldn't stay out of the tack for much longer.
"I had known [Meadow Grove Farm's] Susie [Schroer] and Dick [Carvin] from California from riding ponies for them," Hoffman said. "I called them and asked if I could come out and ride and flat horses. At the time, they needed part-time help before Thermal. So we agreed that as long as we worked around my school schedule, I would help with riding."
Hoffman continued to work part-time for Meadow Grove through college, except for when she studied abroad in Barcelona. The training barn then hired her full-time when she graduated in 2014.
"It's easy to do it part-time and have it be easy—come in and ride some horses and hang out," said Hoffman. "But you take on a lot more responsibilities as a full-time professional. For me, working with Dick and Susie, it's been phenomenal but it's a lot to take on and to be accountable.
"I think taking time away [from the sport] and going to college was really important for me. I went into college not knowing I wanted to be in this professionally as a career. Seeing how Dick and Susie do it with Meadow Grove—they have lives outside the profession—was the motivating factor. When I got back into it, it was fresh—and I knew I could do other fun things in life."
In the last year, an opportunity arose for Hoffman to take the reins for Meadow Grove's client Saree Kayne. "The horse, Woodpecker, was a little difficult for her," she explained. "Saree let me ride the horse as a potential grand prix horse. He's a little quirky.
"To have one consistent ride and that support behind me really started the ball rolling [for this year's success]. W Zermie 13 is also one of Saree's that I'm riding while she finishes her PhD. And another one I'm riding in the grand prix is owned by Dogwood Hill and that's Samson II. He's really a talented horse. To have those consistent rides is what's so important for me and my progression as a rider."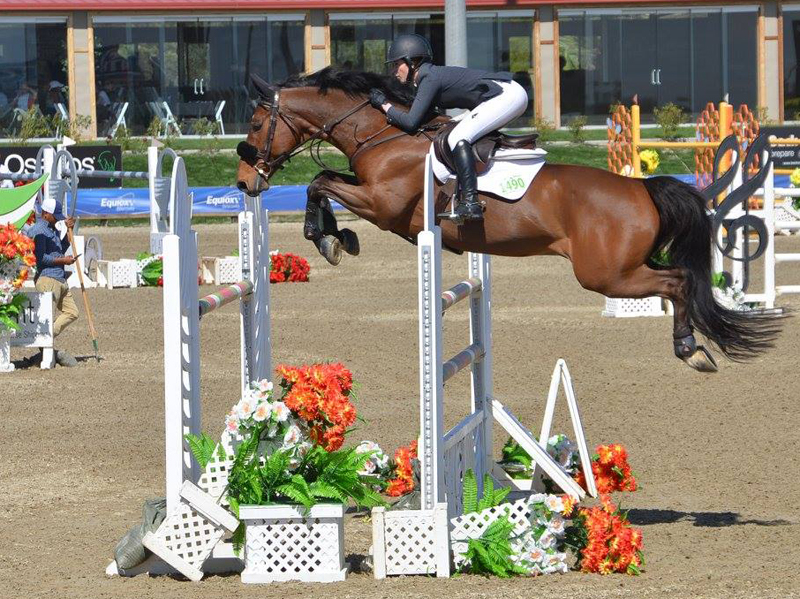 With the new rides has also come a change to Hoffman's approach to competition.
"For me, coming from equitation and trying to go fast in the jump-offs is hard, but I'm getting there," said Hoffman. "Equitation really created a strong foundation for riding in the jumpers. It gave me the skill set and the confidence to ride any track put in front of me. I'm lucky that Zermie is naturally a fast horse so she's showing me how to leave them out and do the inside turns."
After the HITS Coachella circuit, Hoffman has her sights set on competing at Spruce Meadows (Alberta) this summer. But don't expect the rider who cut her teeth on East Coast competition to be jumping at the chance to winter in Florida anytime soon.
"I love it here [in California]," she said. "For me, getting to jump every Friday and Sunday grand prix is something I couldn't do at WEF. It's so big now with so many riders jogging their horses for FEI that I don't think I'd get the same experience as I can get here."
As the conversation with Hoffman wound down, with the desert sun setting in the background, Meadow Grove's head trainer Dick Carvin popped into the barn for a final check on the horses—and to add his thoughts about Hoffman's developing career.
"She always had breakout years in ponies, equitation, she's had it all—I think this is just a breakout in this division now," Dick said. "When you have someone who wants to do it, it really has to come from within.
"In June and July at Spruce, Zazou was jumping in the Under-25. She said, 'I feel like I'm going so fast but I'm fifth, sixth.' And I said, 'You keep trying to chase those times. Once we get the time, we'll figure out how to keep the jumps up.'
"It takes wanting to try to go faster, riding on that edge and trusting the process," Carvin said. "It's like riding on a wave—sometimes you fall off, sometimes you win. And that has to come from within. The ones that go on aren't satisfied with one breakout; they want more breakout moments."
Will Hoffman have a huge breakout moment in the AIG $1 Million Grand Prix at HITS Coachella on March 19? Make sure to follow at www.coth.com and with COTH's Facebook , Instagram and Twitter.