Watch Emma Butchard ride and you see a typical young professional making her way in the grand prix ring.
But keep watching her after the class, and you'll see something a bit more remarkable in this day and age. Butchard will be the one leading her horse back to the barn. She'll unbraid him herself, wash his legs, poultice him, blanket him and pick his stall before putting him away for the night.
Butchard's horses really are like family—not only does she ride and train them, she does all the care, grooming, and daily management herself, a rarity in today's show jumping scene. Butchard does admit that the time spent caring for her own string limits her ability to take on catch rides for others, and concedes that eventually, "I will need to hire a groom. The biggest challenge for me is having enough time to get everything done the way I like every day. I spend a lot of time organizing, cleaning and doing everything possible to keep my horses happy and fit."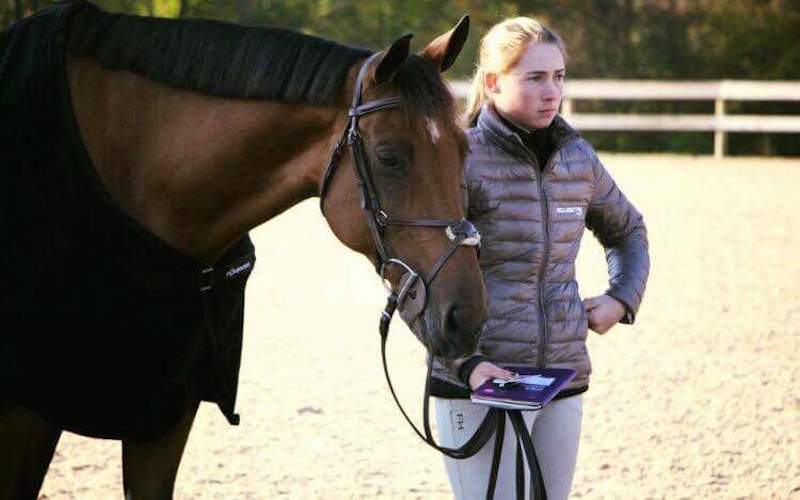 However, the extensive time spent with her horses is clearly an enjoyable and invaluable part of her experience. "I love to take care of my own horses and give them all the attention possible. They try for me in the ring and I feel like I know them inside and out," Butchard said. "The relationship I have with my horses and being able to spend every early morning with them is the most rewarding to me."
Butchard, 23, is no stranger to hard work. Riding out of her family's Leatherstocking Farm in Wellington, Fla., Butchard comes from a family of horsemen; her father, Jamie Butchard, raced steeplechasers in England, and her mother, Robin Butchard, showed professionally in the hunters, so her passion for horses came naturally.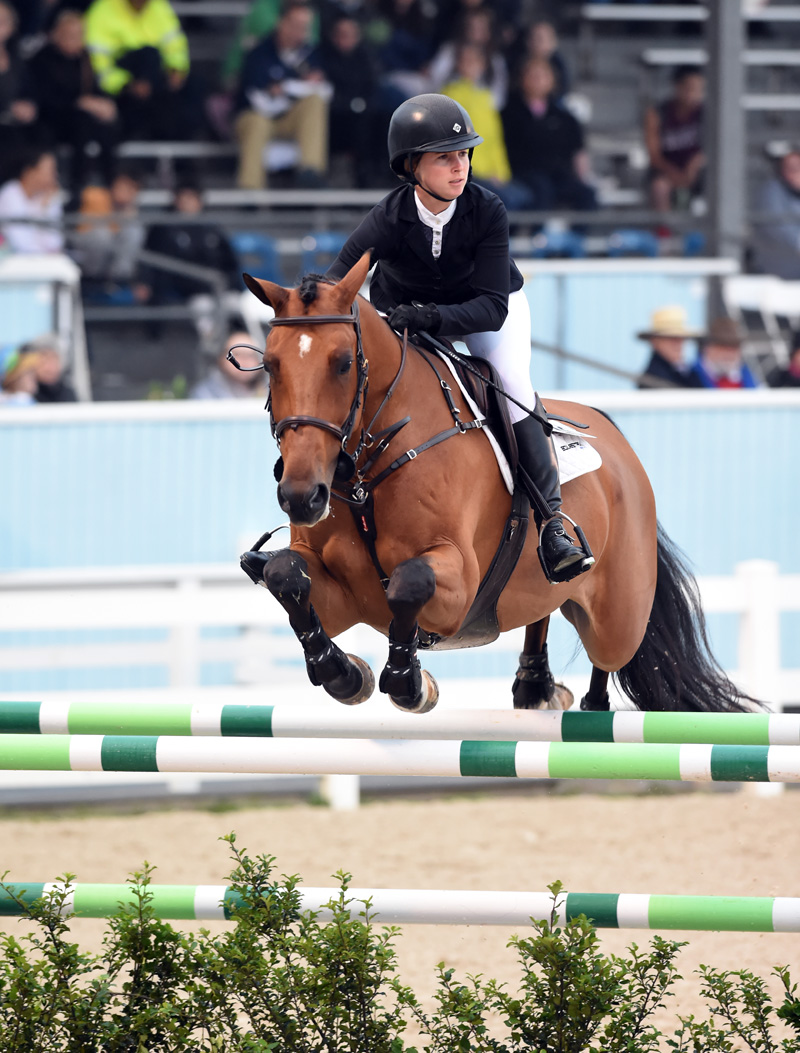 At age 4, Butchard began taking lessons on an Appaloosa mare named Wildy, and quickly began climbing the pony hunter ranks under the watchful eyes of Gary Duffy and Erika Belden. Belden's husband and the family's veterinarian, Dr. James Belden, was also a great influence in Butchard's early years. Of course, the ponies were as important as the people: "Tinker Toy and Lady Bug were my two most influential ponies. I won a lot in the smalls with Lady Bug, and Tinker Toy was my first small pony. He was the most perfect pony in the world. [My grand prix horse] Brasil reminds me of him every day with his expressions, personality, and heart," Butchard said.
As she moved up into the junior hunters and equitation, Butchard sought help from Jimmy Toon and Chris Ewanouski before turning her sights towards the jumper ring. "Brian Walker and Rona Garm gave me the chance to really start as a jumper rider. Rona let me show all five of her horses for a few years, and she has been supporting and watching me with my horses now," she said. "I got to groom for Brian at Spruce Meadows in 2015, and that was an incredible experience I will always remember. I was able to watch everything working with him and Sophie Walker, and now I am thankful to be able to use what I learned with my own horses."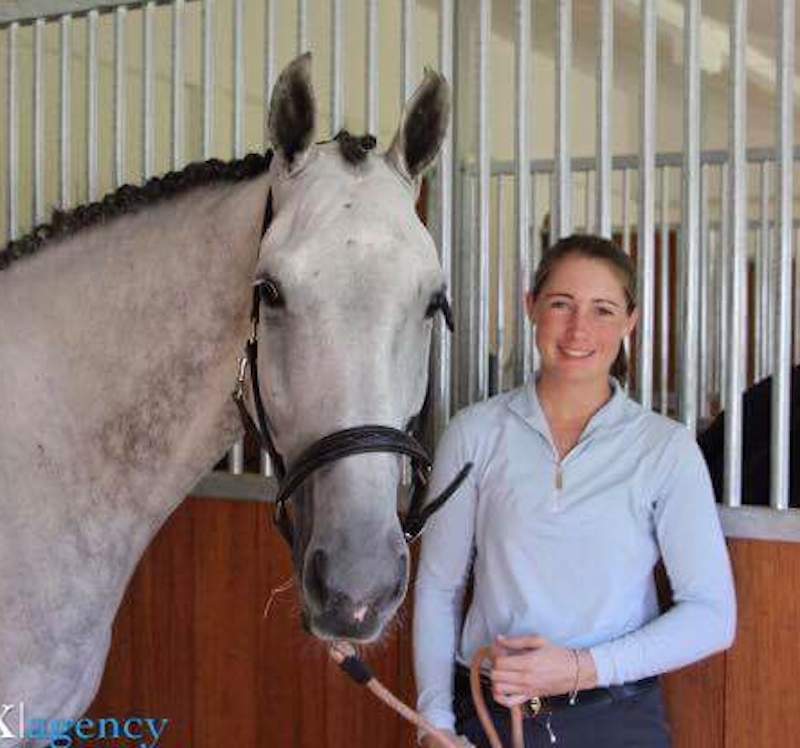 For Butchard, the past year has been replete with success. Milestones included qualifying for the Under-25 Final at the 2016 National Horse Show (Ky.) as well as earning a spot at the prestigious Washington International Horse Show in the open jumper division, where she and her horse Brasil jumped to a 12th-place finish in the costume Gambler's Choice and laid down a respectable four-fault round in the Longines Speed Challenge.
Butchard and Brasil's success continued at the Winter Equestrian Festival (Fla.), where they kicked off 2017 with strong performances in the competitive Hollow Creek Farm under-25 grand prix series and their first ever WEF Challenge Cup and 1.50-meter Classic. "They were Brasil's biggest classes and mine as well," she remarked.
Then, at the Devon Horse Show (Pa.) in May, they claimed seventh in the $50,000 Devon Welcome Stake, jumping clean in a 16-horse jump-off. The pair have been together for a little over a year, and their success is even more impressive considering Butchard just started jumping in FEI classes in 2016. "Brasil is my first grand prix horse—he is perfect in every way and my horse of a lifetime," she said.
Yet Brasil has good company in Butchard's stable. "I got Cascada K, a 9-year-old, this fall as a second horse I can do the big classes with. I am still getting to know her, but looking forward to our future together as she is extremely talented," she said.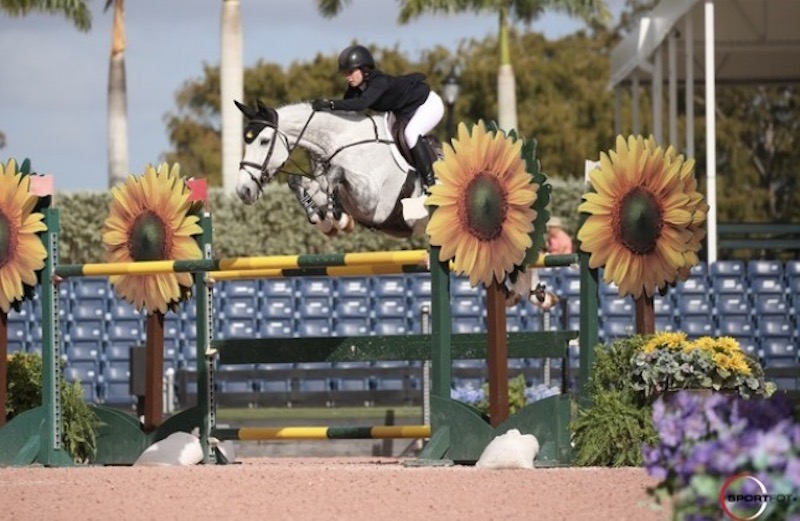 Another 9-year-old, I Am Picobello, was imported in 2014. Her first import, Butchard notes that the gelding "has been a great horse for me to learn on and show up to 1.30-meter with." Finally, one can't forget the mini, Lucy, who's been with the Butchards for 16 years: "she's a great babysitter for the horses and a part of the family."
Though her experience in North America is extensive, Butchard has logged miles overseas as well. In prior years, she spent time riding young horses for Guillaume, Julie, and Luc Ruant in Belgium, and this past fall received training from Belgian dealer Tom De Bel, who also helped her find her top horse, Brasil.
Currently, Butchard primarily trains with Ellie Raidt, whom she credits with strongly influencing her development into the larger classes. "Ellie has given me so much confidence and many tools to remember as I progress in my career," she said. "I have known her since I was a kid, and always remember her and Chris Gilman being there around the shows. Ellie has brought me up to the next level, from showing at 1.15-meter to the grand prix and FEI classes." When Raidt is not able to travel, Butchard meets up with Katie Prudent and Plain Bay Farm at horse shows.
So what is next for this talented young rider? Butchard's long-term goals include representing the United States in Nations Cup competition and trying her hand at stops along the Global Champions Tour, and while she works towards those aspirations she hopes to continue moving up with Cascada K and remaining consistent with Brasil.
"My 2017 circuit has been my best year ever. My goals for the rest of the year are to place in some bigger classes and continue moving up with my mare Cascada K. I would love to go to indoors again this year," she said.
When queried about words of advice she may have for other young riders who dream of becoming professional like Butchard, she said, "watch everything you can; the live feeds, the schooling area, and the managing and care in the barn. Rona tells me every time I go in the ring, no matter where in the world she is 'Be safe and have fun!' "
Know a deserving young rider with a talent, a great work ethic and big dreams? Nominate the for our One To Watch series! Email us and tell us about them.