Dustin Goodwin admits, in a bit of classic understatement, that he has had "a very good season."
Goodwin was been practically unbeatable in USHJA International Hunter Derby classes in the Northwest this summer. This past weekend, Sept. 1-3, at the Northwest Spectacular (Ore.), he took first and second in the $10,000 USHJA International Hunter Derby with Starry Night and Know-How, also picking up fifth with Shameless.
Just two weeks before, he and Know-How topped the $25,000 Foxstone Stables USHJA International Derby at the Summer Fort Classic horse show at Thunderbird (British Columbia), where he was also third on Shameless and fifth on Starry Night. In July, he'd been first, third and seventh in the $10,000 derby at the Oregon High Desert Classic 2.
"Everyone calls him Derby Dustin," says Shelley Campf. "He has won five national derbies and three international derbies. I've gone into the handy round leading with a 90-plus score with options, and each time he comes in and beats me with a higher handy score, and I end up with the reserve. He has a real ability to gallop to the jump and takes chances in a real forward riding way, and the judges love it. It is time for me to retire."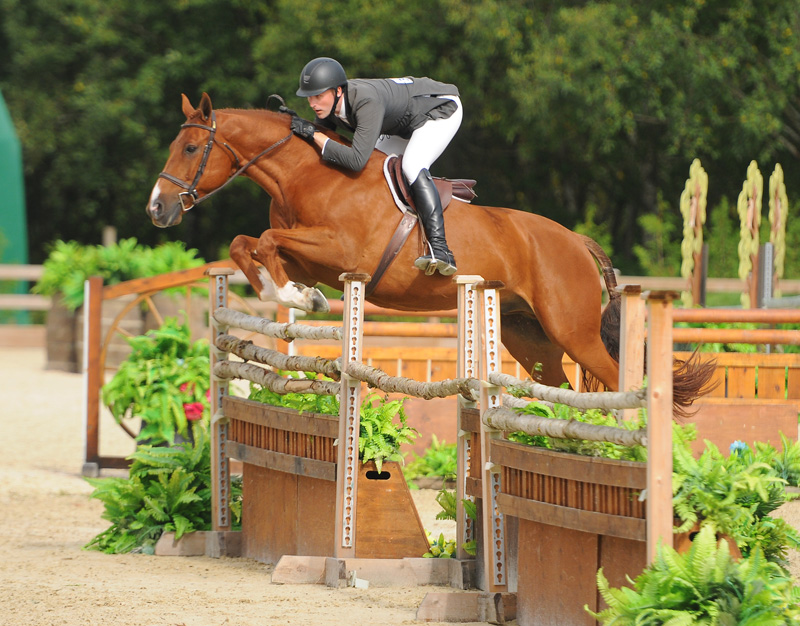 With Karson Parry's 10-year-old Canadian Warmblood gelding Know-How, Katherine William's Holsteiner gelding Shameless and Lucie Meier's Dutch Warmblood gelding Starry Night, Goodwin has become a force to be reckoned with in derbies.
Such results are becoming "just another day at the office" for this 32-year-old Portland, Ore., resident, though to get this modest young professional to admit that is next to impossible. Goodwin works full time for Shelley and Jeff Campf at their Oz Inc, in nearby Canby, Ore., where he routinely rides and competes any number of the 50 to 60 horses working within their program. But his road to life as a professional rider had a few detours along the way.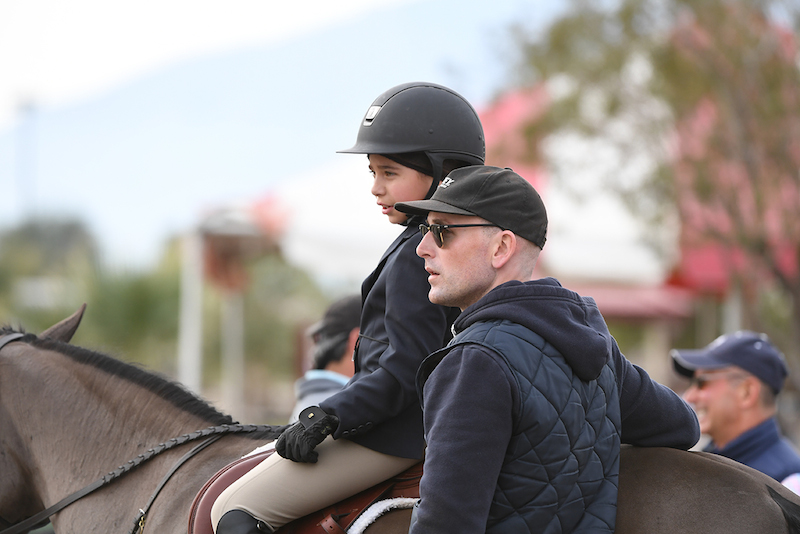 Goodwin's success can be attributed to a long running connection with the extended Oz Inc., family, a bit of serendipity, and old-fashioned hard work. Originally from Vernon, British Columbia, Goodwin started riding at age 12 with Claudia Cojocar, Jeff Campf's mother, competing in both hunters and equitation. "I always did well in the children's and juniors," admitted Goodwin. "At 16, I won the regional CET, which is a big jumper medal, sort of like the USET here. I got to go to the Royal Winter Fair [Toronto] for the finals, where I won the gymnastics phase and ended up second overall."
Through Claudia, Goodwin was introduced to Jeff and Shelley while he was still a junior; Goodwin says that he always looked up to both of them and considered them to be mentors. Impressed with his talent and work ethic, Shelley offered him a job when he was just 17. "Horses were all I had ever done," says Goodwin. "I was thrown right into a huge barn and a big program. I was having a lot of fun, and it was an amazing opportunity, but it was so much to process at 18 years old."
Goodwin began to have doubts that the "horse life" was the right fit for him long term. He had always been an artist, and so in the middle of show season he drew together a portfolio, applied and was accepted to the Ryerson University fashion design school in Toronto.
"I am a very big advocate for going to college and getting a degree, and I encouraged Dustin to do this," said Shelley.
For the next eight years, Goodwin lived the city life, and while he was in school, hunters and horse shows were just a memory. "It was a complete 180," said Goodwin. "I put horses totally to the side while I was in school. I couldn't have a horse, financially, and I also felt like if I was going to do this design thing, I was going to give it a real try."
Upon graduation, Goodwin was hired by a company in Vancouver, where he worked in the fashion and design industry full-time for four years. "But I still felt drawn to horses, and I wished I was riding," he said.
As fate would have it, a chance meeting with a childhood friend led him to visiting her barn to watch her ride. Trainer Lindy Townley recognized Goodwin from shows during his junior years and told him that her rider had just quit in order to go back to school. "She asked me if I wanted to ride a little, but I didn't have a car," said Goodwin "She said if I could find a car, she could pay me to ride. So I borrowed some money from my dad to get a car and started riding after work."
For the next year, Goodwin lived a dual life, working in design during the day and traveling to Townley's farm to ride in the evenings. As his schedule quickly became unsustainable, he reconnected with another friend from his past. "[Canadian grand prix show jumper] Tiffany Foster was a friend of mine from growing up in B.C.," said Goodwin. "She invited me to come to Florida and spend time down there, meet some people, and see if I could make some connections to do horses more as a full-time thing."
So in 2012 Goodwin quit his job, packed his belongings and moved to Florida, a decision which he says in retrospect was probably not the right choice. "I hadn't ridden in eight years, I had no [show record] to speak of, and I knew no one in Wellington," he said. "It became pretty clear that this wasn't the right avenue for me. But then one night, I went to dinner with Tom Wright, one of Shelley's best friends. While we're at dinner his phone rang, and it's Shelley. He was like, 'You will never believe who I am having dinner with.' "
Wright handed the phone over to Goodwin, and Shelley immediately invited him to stay with them at the HITS Thermal (Calif.) and offered to help him find a job. "I have been with Shelley ever since," said Goodwin with a laugh. "The stars just kept aligning."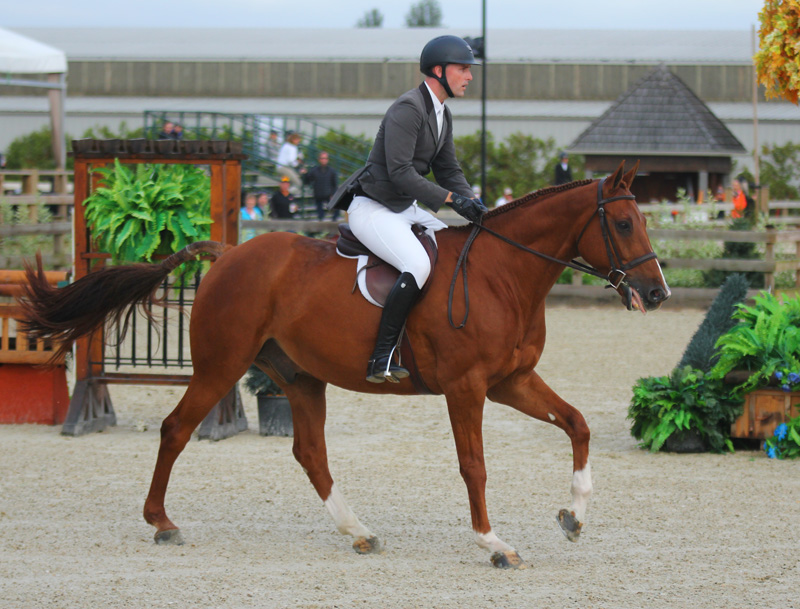 In five years, Goodwin has become an integral figure in the Oz routine. "I wear a lot of different hats," he said. "I make sure we are entered properly for the shows, organize the staff and coordinate all of the equipment. When we are at home, I usually arrive by 8 a.m., and start by organizing what each of the horses are going to do that day. Then I build and adjust the a course for the types of lessons that are scheduled, check email to adjust things as needed, and then I start riding. I usually ride anywhere from four to 12 horses per day, with a little teaching sprinkled in there."
In addition, Goodwin coordinates the prize list and prizes for the Team Northwest Equestrian Sports horse show series, which runs several indoor shows in the spring and a series of larger outdoor competitions in the summer months.
Shelley says that Goodwin has always been a horse junkie. "That transition from junior to pro is tough, and talent isn't enough" said Shelley. "Showing in the ring well and training well are not the same thing. Dustin is a unique person. So many can hang out their shingle and be a horse trainer. But Dustin is one who really wants to understand the business—to be able to do well financially, meet your competitive goals and have happy clients who stay with you. He is a hard worker and a perfectionist. I fully plan on turning my business over to him."
Goodwin says that a large percentage of the business at Oz Inc, is customer-based. "Mostly we have customer horses, which we are preparing for their owners to show," he said. "We also do a fair amount of sales; maybe 20 percent of the horses here have been sent to us to be sold, or were purchased by customers with the intention of selling."
Shelley says that Goodwin's ability to train horses that clients can ride is one of his most important skills. "The client has to be able to get on and feel successful on their own horse," she noted. "It is not enough for the pros to be able to ride the horses. You get a string of horses by having happy clients who can ride their own horse. Especially in this past year, Dustin has come a long way with his skills in this area."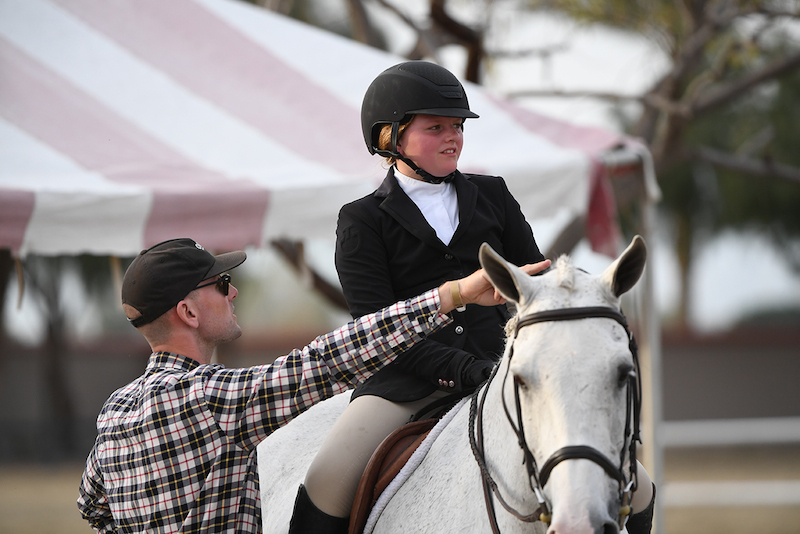 Goodwin's recent international derby winner, Know-How, is one such example. With Goodwin in the irons, "Storm" has won multiple championships in the 3'6" performance hunters and placed well in USHJA International Hunter Derbies. At the same time, Storm takes his junior rider, Karson Parry, around in the equitation classes. "Know- How has been the perfect horse for his owner," Goodwin said. "We have kept him around for four years rather than sold him. That is unheard of for us!"
Goodwin also manages to fit in giving lessons to clients to his already full schedule, and Shelley says that it has been very exciting for her to watch his teaching skills develop. "Being a good teacher is something that takes time to evolve," said Shelley. "He has no ego. He watches everybody. He is always learning."
Today, Goodwin has no regrets about his eight years away from the equine industry, and in fact credits the skills he acquired in the fashion design world with helping him to be successful. "I have a visual language I can use every day," he said. "I am really grateful for that part of my journey because I understand myself so much better. I am someone who needs to be creative. I use my practical design skills all the time, making ads for Oz and doing the Team Northwest marketing."
As for the future, Goodwin says that he intends to stay with Oz and his friends Shelley and Jeff. "I am so grateful for the opportunities, the rides, and the chance to build my resume," he said. "It speaks to what kind of people they are. I owe them so much."
When it comes to personal goals, Goodwin is too superstitious to tempt fate. "I would love to one day be able to ride at the Derby Finals," he admitted. "I don't know if it will ever happen, but it would be amazing. I really just want to keep improving as a rider, trainer and business person, and to keep pushing myself."