The first time Dorothy "Dorrie" Douglas rode in front of Mike McCormick and Tracy Fenney, things didn't go too well. 
In early 2011 Douglas traveled to Florida to braid during the HITS Ocala circuit, where she met McCormick and Fenney and convinced them to give her a shot at a riding job. She hadn't been riding and showing seriously for a few years, but she dug out her outdated high-rise Tailored Sportsman breeches from the bottom of her bag, wiggled into them in her car, and took a deep breath before swinging a leg over the young horse they presented her with.
"Mike's like, 'Show me a version of walk/trot/canter. OK, now go across and change the lead,' " Douglas recalled. "The horse doesn't know how to change leads and misses the lead [change], and Mike drives away. I'm like, 'What the heck is this guy doing?' I look at Tracy, and she said, 'If you want a job, you're going to have to follow him.' "
So Douglas did, and the next day she showed up at the barn and got to work. When she asked what time she should arrive in the morning, she was told to figure it out herself, so she did, gradually picking up a few rides and working hard behind the scenes at MTM Farm. At the end of three months she headed back to Flower Mound, Texas, with McCormick and Fenney with a full-time job.
Fast-forward to today, and Douglas has made herself indispensable at MTM Farm. As she makes her way to Lexington, Kentucky, for the Platinum Performance USHJA International Hunter Derby Championship, taking place Aug. 18-20, she's hoping for a third top-six finish.
Living The Dream
Douglas' partner at the Derby Championship will be MTM Lolah LOL, a 9-year-old Westphalian (Los Angeles—Palma, Phoenix) owned by Abigail Davenport. Fenney started the horse in the 6-year-old jumper ring in 2019, swapping to the 3'3″ green hunter ring a year later, and Douglas took over the ride shortly after "Lolah" started having her tail braided.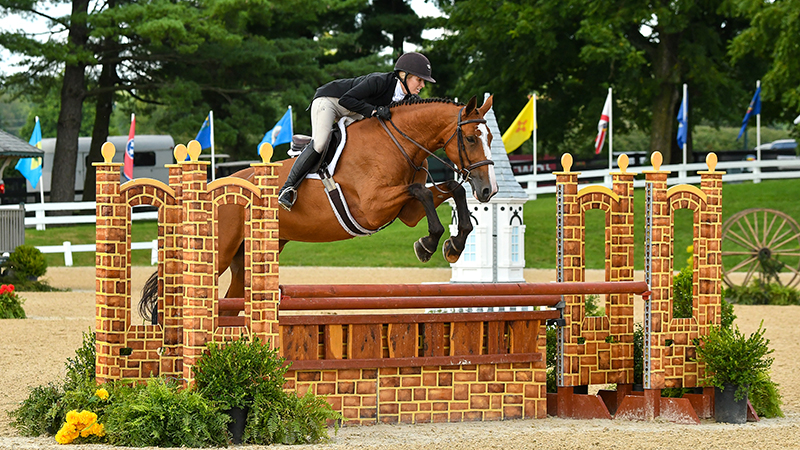 While most of Douglas' rides at MTM are short-lived as the stable focuses on sales horses, Davenport and her mother, Michelle Davenport, bought the mare to be an amateur-owner hunter and derby horse based with MTM. Douglas is used to the pressure of performing in front of potential buyers, but riding Lolah is a different challenge.
"It's different pressure," said Douglas, who shares the ride with Abigail. "[The Davenports] turned down pretty ridiculous offers. It's like, not only do I have to get her good, now I have to keep her good. But I feel incredibly lucky—the Davenports are really wonderful and good to do business with."
Last year, in her first year showing 3'6″ in the hunter ring, Lolah finished sixth at the Derby Championship, and she and Douglas head into this year's event at the top of the qualifying list, having won three classes during the qualifying period.
"She's very levelheaded," said Douglas. "She's one of those mares who always has your back. She's your best friend, and she tells you how it is."
Douglas made her Derby Championship debut in 2018 and won the Section B championship aboard MTM One Time, finishing sixth overall and elevating her to her current spot in Tier I in the USHJA derby rider standings.
"Before I was showing in it, I always watched the class," said Douglas. "It's always been a goal of mine to compete in it, and to win the [section B] in my first year doing it—I'm living my dream. That was my goal, and I'm accomplishing it."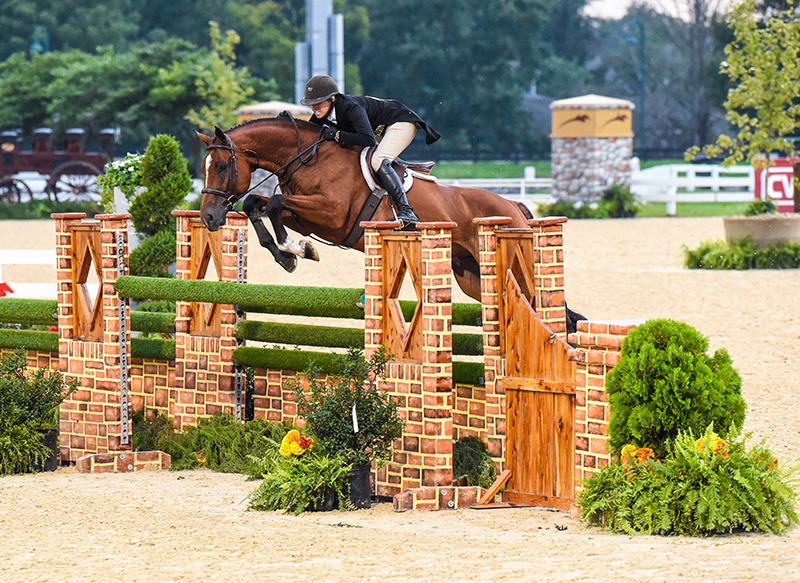 To McCormick, Douglas' rise to the top of the sport comes from hard work and a willingness to learn.
"Over the years [her] learning curve has been pretty vertical," he said. "She went from a very local rider to a national rider quick. She's not afraid to be told what to do to improve and maintain her strengths and work on weaknesses.
"She just rode OK for a long time, and I told her, 'Dorrie, you understand being in the middle of the road is nice, but it's not super. We need to take it to the next step. I've got some ladies who will buy some horses for you and Tracy, but they don't want normal; they don't want C+. You're going to have to kick it to the next level or two,' " he continued. "And as it turns out now she wins lots of hunter derbies, and she's pretty darn consistent in the grand prix [classes]. She places in them every week and won one two weeks ago."
Getting Her Start
Douglas grew up in Bridgewater, Massachusetts, with parents Karen and Wayne Douglas and sister Bridgit Douglas. Dorrie and Bridgit basically lived at the family's Stonecroft Farm, taking turns riding a pinto pony called Oreo Cookie that Karen bought at auction. They showed primarily at one-day shows, heading to New England Equitation Championships (Massachusetts) at the end of the season.
"We literally did everything ourselves always," said Dorrie, who also trained with Fred Hunt as a teenager. "We did our own braiding; we did our own trucking, everything. My sister and I longed our own [horses], got our own [horses] ready, pretty much did everything."
Dorrie headed to St. Lawrence University in Canton, New York, attracted to their Intercollegiate Horse Shows Association program and their strong academics. Before head coach Mary Drueding met Dorrie she heard about her.
"Freddie Hunt stopped me at a horse show and said, 'Hey, I've got this great gal who's looking at your school. She's truly a talent, and you are lucky to get her. She never had top horses, but she's from a great family, and you need to look out for her. She can set up a horse better than most,' " recalled Drueding.
That description proved true. At St. Lawrence she impressed her coaches with her can-do attitude at her first IHSA show.
"Into the ring she went with already very good catch-riding skills created by her family and Freddie," said Drueding. "She jumped around and delivered eight lovely, balanced square jumps, and after she came out she looked at us with a big smile on the face. I said, 'You know, Dorrie, I think you would have won if it was a walk jumping class, but with the quadruple adds, I'm not sure you're going to get the ribbon you're hoping for. I think we all felt like we needed spurs to watch you.' She bent down on her horse's neck and said, 'I'll never do that again.' And she never did."
At St. Lawrence, Dorrie joined a sorority and studied economics and communications, and in 2007 she won the reserve championship at IHSA Nationals in the open over fences class.
After graduating she was eager to travel, so she moved to Daegu, South Korea, where she taught English for two years. At the end of her contract, she backpacked around Asia for the better part of another year, stopping in Cambodia, Thailand, Laos, Malaysia and Japan.
"When I was traveling I'd circle back to the horses," said Dorrie. "I did a 15-day horse riding trek in Mongolia. I was always wanting to circle back and do something like that. Weekends I rode at a club in South Korea. It was cool: I felt like I was always circling back to doing the horses, but it was nice that I had a choice. If I didn't do something completely different, I probably would have gotten a little burnt out [on riding]. I think that's also why I've lasted as long as I have and actually like it, because I've done other random things."
Making The Big Time
When Dorrie returned from Asia she celebrated the New Year, then packed up her Toyota Corolla and drove south to Ocala, which she'd heard about but never visited. She found a place to live on Craigslist and started braiding her way through the HITS Ocala circuit while she figured out what to do next.
Her mind kept going back to a recommendation from Drueding, namely that if she wanted opportunities to ride, she should work for a sales barn. So she thought of MTM. After meeting McCormick and Fenney, she knew she'd found her niche, and her experience abroad helped her in unexpected ways.
"When I first met Tracy, she was like, 'What have you been up to? What was your experience?' " recalled Dorrie. "I'm like, 'Well, I haven't been riding a lot, but I just got back from India, so don't worry about finding me housing or anything. I've got everything situated.' I learned to be independent and to understand that people live differently and how to do things differently. It's good to be able to talk about something random other than horses with customers."
Drueding thinks that Dorrie stands out in large part because of those soft skills.
"She's always going to migrate towards the person who feels the least comfortable in the situation or is a little shy or maybe doesn't fit in, and she's going to go over and engage with them and include them and make them feel special to a degree that many don't do anymore," said Drueding. "Then when she sees you later, she comes over and says, 'We know each other. We met in 2014 in the in-gate at the such and such horse show.' She has an uncanny ability to remember it all."
Over the last 11 years, Dorrie's role at MTM Farm, which relocated from Texas to full time in Ocala last year, has progressed. Now she has a busy roster of hunters and jumpers to ride, including grand prix horses like Davenport Farms' MTM Through The Looking Glass.
While she had some experience with young horses before coming to work for McCormick and Fenney, she's gotten a lot more since then, as MTM imports dozens of horses a year, many with very few miles. Last year at the Platinum Performance USHJA Green Hunter Incentive Championships in Kentucky, she won the style award for the 3'/3'3″ section after her rides on Edelweiss, MTM Nabilli and MTM Incanto.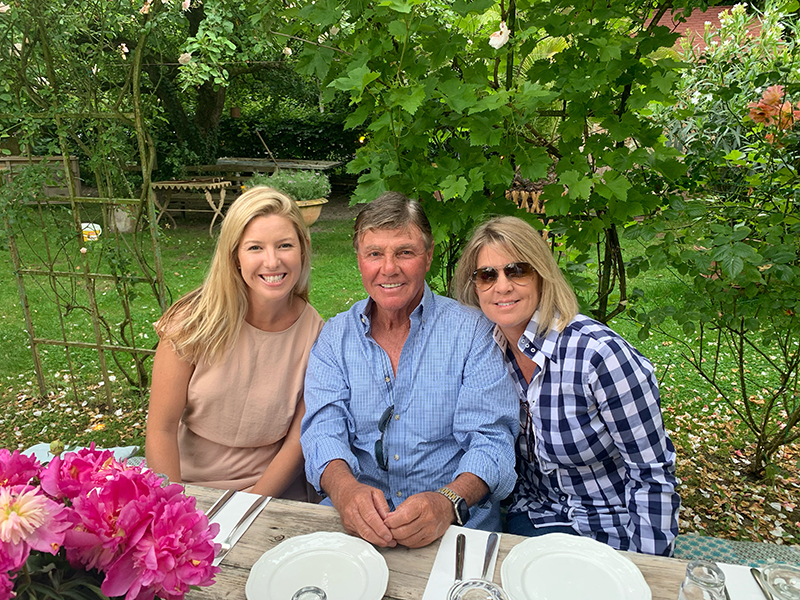 "In the beginning it was more surviving and figuring out how this whole thing works," she said. "Now we have a couple other girls that work in the barn, and it's more just like managing them [and the rest of the staff] and managing my own group of horses. Now we have some customers who invested in some horses for me. I have a lot more responsibility."
McCormick couldn't be happier to have Dorrie on the MTM team.
"Her work ethic is amazing; her energy is amazing; her integrity and loyalty is amazing," he said. "She's 100% a good person."
---
This article ran in The Chronicle of the Horse in our August 2022 issue. Subscribers may choose online access to a digital version or a print subscription or both, and they will also receive our lifestyle publication, Untacked. 
If you're just following COTH online, you're missing so much great unique content. Each print issue of the Chronicle is full of in-depth competition news, fascinating features, probing looks at issues within the sports of hunter/jumper, eventing and dressage, and stunning photography.