Not many of the talented young riders who will be descending upon the city of Harrisburg, Pa., to compete at the Dover Saddlery/USEF Medal Final on Oct. 15 can also list earning championship accolades at the Arabian Youth Nationals in the same year on their resume.
But for Devon Thomas, who has enjoyed a successful junior career exhibiting these petite, sensitive and intelligent animals at breed shows for her trainers, Stephanie and Ricci Desiderio, riding Arabians has helped her to develop focus, confidence and the ability to cope with the pressure that separates the top competitors from the runners-up.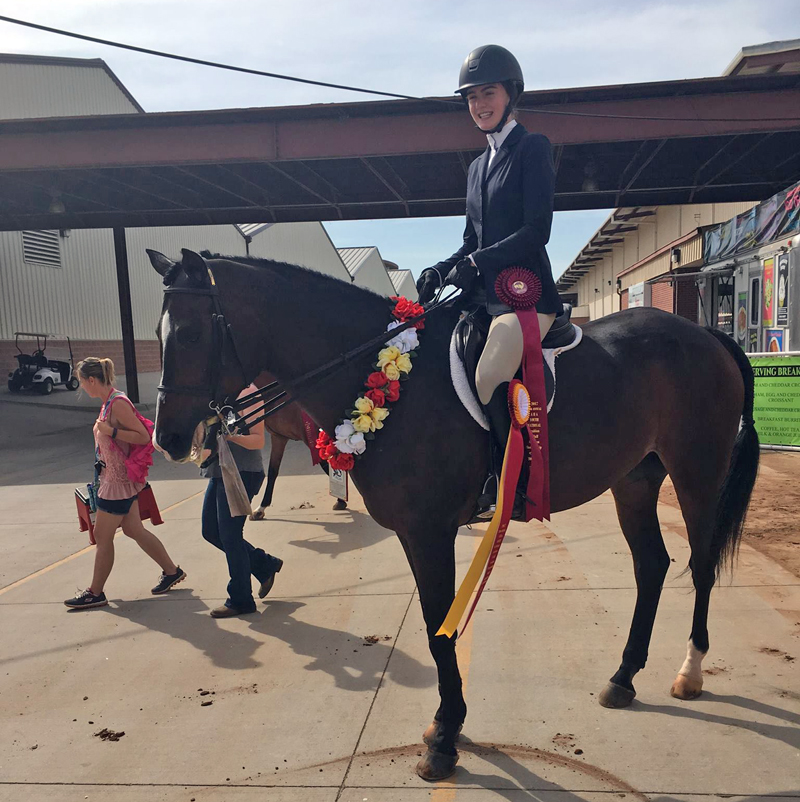 Challenging herself is not a new experience for Thomas, who at just 15 years old is known for being the first person to arrive at the barn every day but Monday, which the horses have off. Thomas has ridden since the age of 7 at Tranquillity Farm in Chester, N.J., home to her trainers, the Desiderio family, and about 70 horses, as many as 20 of which are Arabians.
The unique program at Tranquillity gives clients the opportunity to compete extensively on both the Arabian breed and open hunter/jumper circuits, traveling to up to 10 Arabian shows per year as well as attending all of the major open circuit competitions on the East Coast. Thomas makes the 40-minute drive from her family's home in Millburn, N.J., six days a week, riding at least two horses daily after school and anywhere from three to six each day of the weekend.
"I like the breed a lot," said Thomas. "They can be spooky and more stubborn than the warmbloods, but I have learned that persistence works."
Michael Desiderio says that Thomas is a cool and calm competitor, a trait which all of her horses—regardless of breed—appreciate. "She never looks like she gets nervous," said Michael.
Showing Arabians on the breed circuit may not seem like the most conventional way to prepare for your first trip to Harrisburg. But as Michael explains, the breed competitions have given Thomas "high pressure" show ring mileage. On the Arabian circuit, points earned at regular season shows can qualify riders for one of two finals, the Arabian Youth Nationals or the Sport Horse Nationals. Both are large scale events; this year's Youth Nationals, held in Oklahoma City, Okla., in July, was a 10-day show that drew 1,400 horses.
At that show, Thomas rode six horses in a combination of equitation, hunter over fences and sport horse under saddle classes, qualifying 10 times for individual class finals to vie for the national championship in that division. Riding the half-bred Arabian mare RSD Showstopper, Thomas captured the half-Arab equitation over fences national championship. On HMF Nagid Fadl she won the half-Arab working hunter championship. "You do it enough that you get used to the pressure, and it desensitizes you to it," said Michael.
Thomas' work ethic is on par with any top professional, and it has impressed the Desiderio family enough that she is routinely given horses to ride and show. "The amount of time she puts in is incredible," Michael said. "She is here day in and day out. Even if she wins, she will be here the next day, looking for her list and ready to work."
Before the fall of 2016, Thomas had only shown in the 3′ equitation and hunters on the open circuit on a half-bred Arabian gelding named Gator. But earlier that year, Michael helped her family obtain the talented gelding Cordino, a 17-hand gray Holsteiner originally imported from Germany in 2010. Cordino had mileage showing in the under-25 grand prix and high junior jumper classes with his former rider Elizabeth Patz, but at age 16, the horse needed a job where he could jump smaller jumps. "We were looking for something seasoned enough with the bigger jumps that they would forgive a little mistake, in order to gain confidence," Michael said.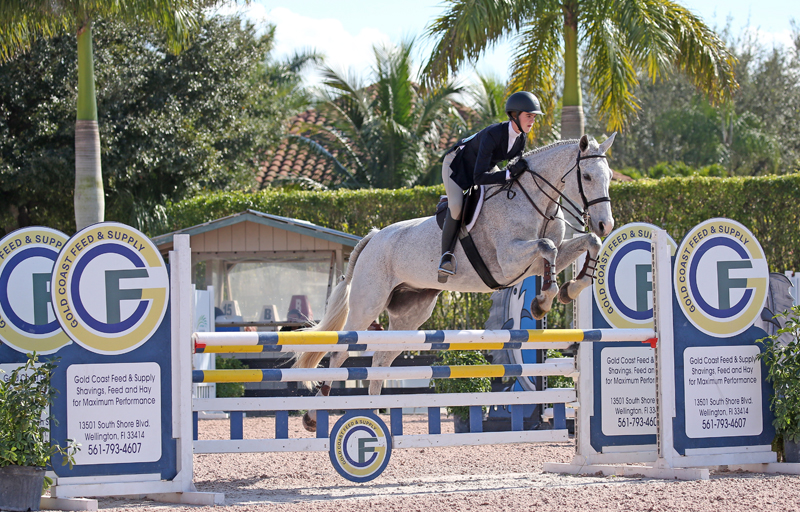 Although he was purchased by the Thomases with the intention of being an equitation mount, Cordino took some time to adjust.
"We had to ride him twice as well as longe him before classes, and I wasn't allowed to use spurs," said Thomas.
Under Michael's tutelage, the pair quickly proved to be a good match; Thomas' commitment to her craft allowed her to work through Cordino's sensitivity. "She grooms, tacks, bathes—she does it all," said Michael. "Devon knows the horses very well."
Just seven months after her first ride on Cordino, Thomas tested the waters at the 3'6″ level at the Mid Atlantic Equestrian Festival (Md.) in November 2016. "I had only been planning on the 3′ and 3'3″ equitation classes, but my trainers told me that I was moving up," said Thomas. "I was a little nervous, but I also knew I was ready. I had so much fun."
Thomas kept her expectations modest for her first season in the 3'6" equitation divisions, aiming to qualify for the Taylor Harris Children's Medal Finals and possibly the ASPCA Maclay Final (Ky.). When she earned most of her required points for these classes during the Florida circuit, it was then that she also set her sights on trying to qualify for the Dover Saddlery/USEF Medal. This proved to be a much larger challenge.
"As it turns out, I am not the best when it comes to testing," admitted Thomas. "My horse and I aren't the best at trot jumps, and I don't always remember where I am going."
She has been religiously working at home to improve by doing short tests after each full course she jumps.
As Thomas completes her final preparations for her Harrisburg debut, she is grateful to have her previous experience competing at the big Arabian shows to bring her confidence. "It really helps with my nerves," said Thomas. "Riding at the Arabian Nationals is such a big deal in that world. I'm more of well-known rider in the Arabian world than at the open shows, so that can be a lot of pressure."
This week, Michael says the focus will be on having a positive experience for this Big Eq rookie. "The pressure will rise naturally as a rider gets older," he said. "Right now I want her to go in and ride the best she can, and have her enjoy it. She rides enough that she knows what she can do."
Thomas' other strength is that in spending time riding and preparing her own horses, she has great faith in their ability to do the job. At the Taylor Harris finals last weekend at the Capital Challenge (Md.), Thomas and Cordino won the warm-up round and finished just out of the top 10 in the final.
"I am not expecting anything huge, but I am hoping that I can make my trainers proud," said Thomas. "I think my horse will be great. He has been to the indoors before and was great at the Capital Challenge. I know he is going to take care of me."
Don't miss a minute of the action at the Pennsylvania National Horse Show—the Chronicle will have reporters on site all week posting news and photos, including round-by-round blogging of the Dover Saddlery/USEF Medal Final! Follow along at www.coth.com, on Facebook, Twitter and Instagram @Chronofhorse. There will also be in-depth coverage in the Nov. 6 issue of the print magazine.
IMPORTANT LINKS:  All the COTH Pennsylvania National coverage  |  live results/order of go  |  live streaming  |  show website
Save
Save