What happens when you wrap proven bloodlines, deep eventing connections and a spicy personality into one fun-sized package? According to Briggs Surratt, 26, you get Corture, a 14.2-hand Holsteiner cross he suspects is the only pony currently competing at the three-star level in the United States.
Surratt spells the mare's stable name as "Haute," as a nod to the French phrase "haute couture," but he pronounces it "hottie." The "cor" part of her registered name nods toward a lineage shared by Tad Coffin's Olympic gold medalist Bally Cor through steeplechase stallion Cormac. 
The pony's dam, Leap Of Faith, was first campaigned by Rick Wallace, Surratt's husband. Eventer Elisa Wallace, Rick's daughter, later took over the ride and competed the mare through the advanced and four-star (then three-star) level in 2006 and 2007. In retirement, Leap Of Faith had three foals, with Corture the last of the bunch.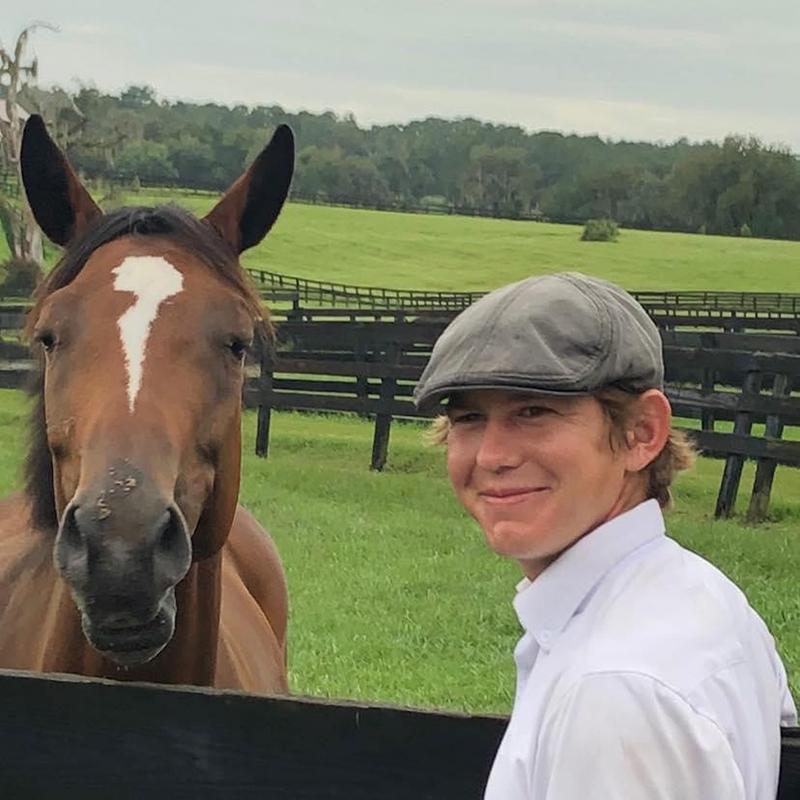 According to Rick, as Haute approached the middle of her second year, Elisa saw that the filly wasn't going to reach the height of her dam (16 hands) or her sire, Cor Magnifique (15.3 hands). Finding herself "deep in horses" at the time, Rick said, Elisa sent the unbroken Corture to Surratt—who's 5'6"— to develop. 
"Briggs actually got bucked off the first time he got on, so it was quite the rodeo," Rick recalled with a laugh. 
From the beginning, Surratt knew the little mare had scope. "When she was coming 3, I would play with her in a halter and line. I'd run out and jump over 2-foot fences, and she would follow behind me and just soar over them," he said. 
Pony Power 
Haute may be small, but she is also mighty.  
"She's very strong-minded and strong," Surratt said. "She'll pull your arms out going down to a max table on cross-country without even batting an eye." 
Over the years, Surratt has had help channeling the 10-year-old mare's strength from the best in the sport, including the woman who is perhaps the country's best-known five-star pony rider, Karen O'Connor. O'Connor, he said, "loved the pony a lot."  
"She reminded her of Teddy," he said of O'Connor's celebrated 14.1-hand five-star and 2007 Pan American Games (Brazil) gold medalist partner. 
Other coaches have included David O'Connor, Lucinda Green, Jimmy Wofford, Jon Holling, Leslie Law and, of course, Elisa Wallace, who co-owns Corture. 
Those eventing luminaries worked with the young pair through challenging situations such as tension in the dressage ring, rails in the show jumping phase and a warning they received for loss of control on the cross-country course at the 2021 Maryland CCI3*-L.  
"I have everything in my head from all these great coaches and trainers," Surratt reflected, "but they can't do it for you. You have to do it for yourself." 
Over the past year, Briggs has changed his approach somewhat. 
"I had to go out there and think about what I was doing and feeling with the horse instead of waiting for someone to tell me what they see," he said. 
Game Changers 
With input from his eventing brain trust, Surratt made some tweaks to his equipment that he believes have improved Haute's balance and their communication.  
In the cross-country and show jumping phases, he turned to less padded, 1980s-era Crosby saddles to help him ride the line between getting ahead of or behind the motion of his short-necked, short-backed mare.  
"The old saddles I'm riding in now really set you in the center of the horse," Surratt said. The change has helped Haute stay more relaxed in her back and use her hindquarters better. 
He's also taken to wearing jockey boots, whose flexible soles create a different way of standing in the stirrups. 
A new bit, based on the Dexter ring setup commonly used on race horses, has provided additional control. In addition to a snaffle, the bit incorporates a ring that passes through the horse's mouth and encircles the lower jaw beneath the chin.  
"The ring prevents the snaffle from closing too much and also keeps the horse from lugging down while you are galloping," Surratt explained, "so it keeps them up and balanced and increases steering."  
Last year, the FEI ruled the Dexter ring illegal for use on cross-country, citing a concern about the jaw ring's potential to become entangled in an obstacle or other equipment. Seeking a solution, Surratt and his team came up with an alternate configuration that opens up the bottom of the ring. The new variation, which Surratt calls the "walrus," was accepted by the ground jury at multiple events in 2022; he's now pursuing formal approval from the FEI. 
Leveling Up 
While riding a pony—and riding this particular pony—has presented some challenges, Surratt said there are also advantages to Corture's smaller size, especially her handiness.  
"She's super quick off the ground," he said. "She can put in an extra stride. Coming to a fence, she can shrink herself but still have the power to get over those big fences very easily." 
Surratt becomes animated when describing the experience of riding the little mare in open terrain.  
"Cross-country is where we truly sync," he said. "Galloping across the ground toward big fences is where our minds meet the best."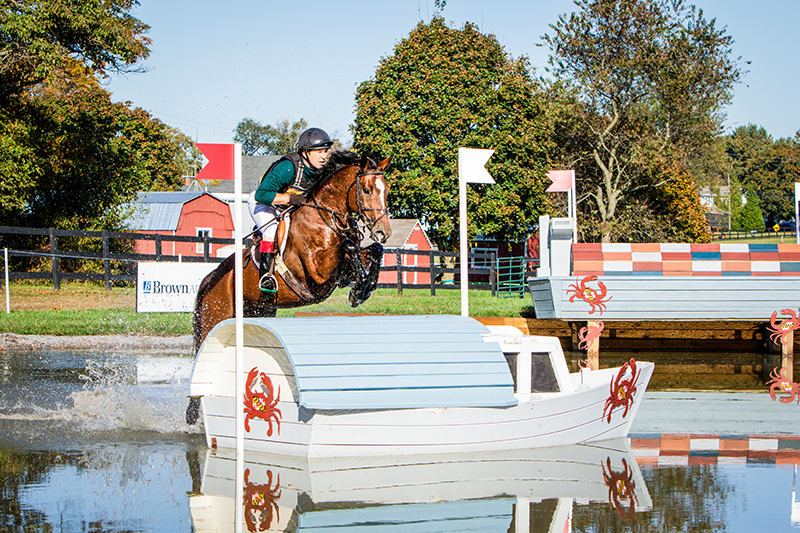 In their first outing of 2023, Surratt and Corture knocked off the winter rust with a successful preliminary run at the Rocking Horse Winter 1 Horse Trials (Florida), Jan. 27-29.  
Looking ahead, Surratt plans to run Corture at the three-star level throughout the year, wrapping up 2023 with a return to the Maryland CCI3*-L, where they finished in 38th position out of a field of 58 starters in October 2022.  
After strong performances in dressage and cross country, the pair had five rails down in the show-jumping phase. Surratt attributed the disappointing show jump outcome to the "electric" atmosphere at Maryland rather than the height of the fences. 
Rick noted that Corture had recently completed a 1.20-meter jumper round with just one rail down at Ocala's World Equestrian Center. Although it's not part of her regular training routine, she's sailed over 5′ oxers in the past, he added. 
"Before Maryland, if she's looking good, she will run an advanced in the fall," Rick said, but noted they aren't going to push moving her up. "That mare really needs to be solid and actually competitive at the three-star until we think about moving up to the four-star." 
To assess how far up the levels this power pony can go, Rick said, he and Surratt will be watching her reaction as the fences get bigger.  
"She's never intentionally run out on a fence," he explained. "She's had some directional issues that caused a runout, but she's never said no because there's something she didn't think she could do.  
"When a horse says no, then you know you have trouble," he added. "If she ever said no, then we know there's an issue." 
From Surratt's perspective, there are no limits to what his pony can achieve.
"I think she has the ability to go all the way, and she definitely has the heart for it, so we'll just keep making sure she has the strength and the confidence to keep moving forward," he said. "We're not rushing it. We want to make sure she's very capable, so that's what we're doing right now."