For Jordan Toering, home wouldn't feel right without a bunch of foals scampering about as their dams watch. Before Toering and her older sister Hanna were born, their parents, Rick and Jayne Toering, began a boutique breeding operation, Bent Hickory Farm, after purchasing their first Hanoverian filly.
"My sister and I were kind of born into it, and that's how we grew up," said Jordan, 16. "It's really always been a business. Since I can remember we've had foals running around and all that kind of thing. It's been fun."
A director at large for the American Hanoverian Society's board, Rick immersed his daughters in the breeding world as each new foal attempted its first wobbly steps at their Waterford, Virginia, farm.
When Jordan was 5, one particularly special baby hit the ground: Premonition BHF. While Jordan was too young to start the chestnut Hanoverian filly (Pablo—SPS Galaxis, Ganymede) herself, she watched as "Peaches" went to her first rated shows in 2012 and then moved up to the pre-green divisions.
At 12, she could finally take over the reins.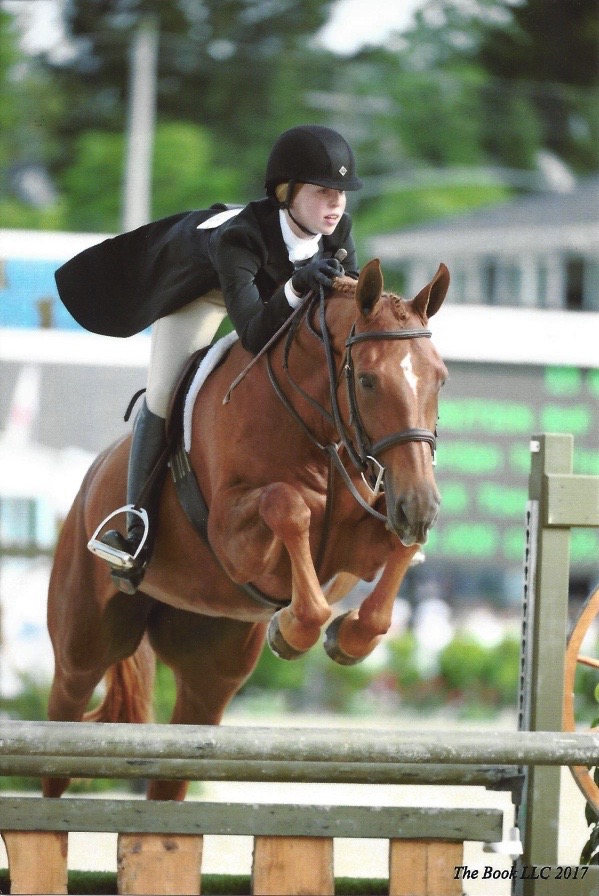 "I was too young to start her—I was still on ponies," said Jordan. "So she got started by professionals, and then when she was a pre-green horse, I was starting to get to that level, so I started her in the children's. I love her because she's really, really sweet, and her mother was really, really sweet, and her older sister was really, really sweet. I kind of fell in love with the family. But when I finally got the chance to ride her, I was so excited."
Peaches was the first mount to take Jordan through the junior ranks. And in 2017, Jordan and Peaches shared their first experience at the Devon Horse Show (Pennsylvania) and Pennsylvania National Horse Show. With yet another year under their belts, Peaches and Jordan will take to the Dixon Oval again in the large junior, 16-17, division.
Another Hanoverian mare, Francheska AH (Fielding—SPS Malena, Maurice), will travel with Peaches to those sacred hunter grounds. She was bred by close family friend Kate Palmquist at Autumn Hill Farm in Rockbridge Baths, Virginia, and Rick bought "Jessie" specifically for Jordan as a 2-year-old. With Jordan having shown and sold many horses over the years for the farm, Rick wanted her to have one horse that would never be sold away from her.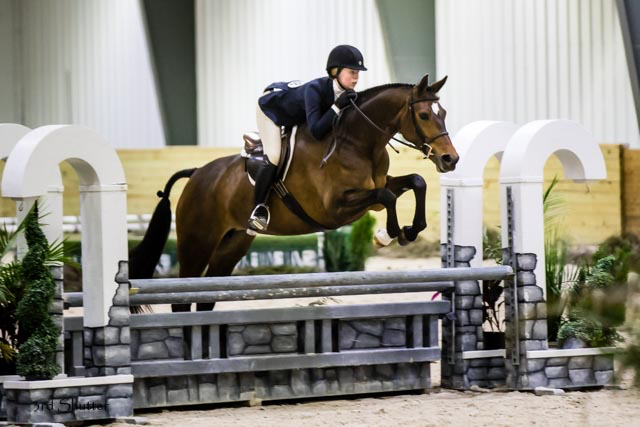 The mare showed on the line in the dressage and hunter breeding classes—even winning her first Devon blue in 2012 in her yearling fillies class at Dressage At Devon. But she wasn't broke when she arrived at Bent Hickory.
"[I was] probably 13 when I started her," said Jordan. "She was my second or third one that I started. There was one before that that was a really sweet, good, big horse, but he was a gelding, so he was pretty easy. Jessie was a little sassy to start. It was challenging and fun."
After watching her dad study pedigrees and pick stallions, Jordan tried her own hand at breeding when Jessie turned 4.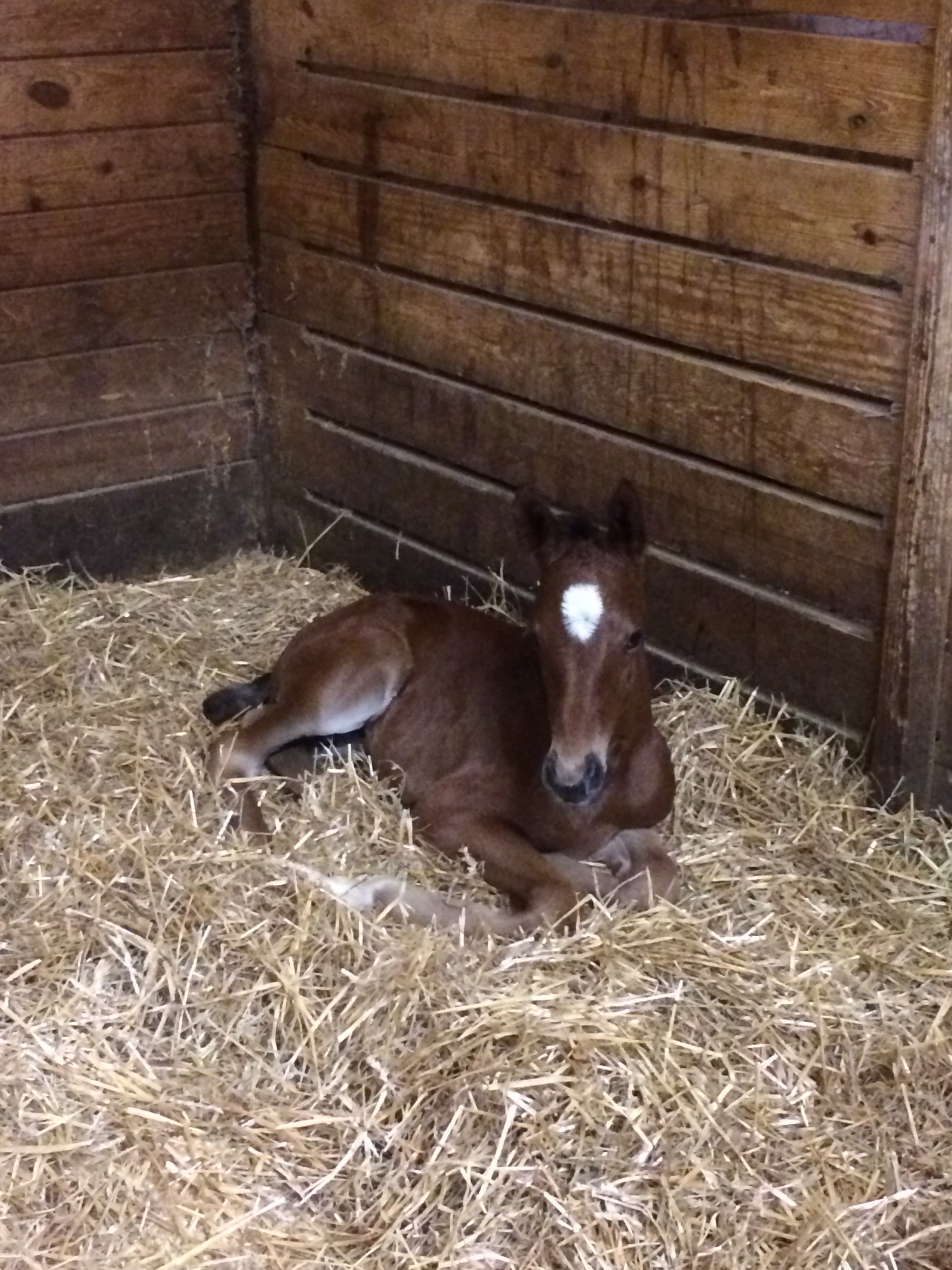 "I picked Apiro because we saw a couple really nice offspring of his at Warrenton [Virginia]—like tall, leggy, beautiful," said Jordan. "So [my dad] approved of that, and we decided it was going to be a good match for her. That was the first time I got the final decision on one of them. But [my dad's] been really good about including us in the process, and he'll explain why one stallion wouldn't work so well due to what it throws or whatever with the certain demands. It's definitely kind of risky, but if you know your stuff, you can help eliminate that risk and get some nice horses like Peaches."
On May 26, 2015, a bay filly with a bold star like her dam's popped out. Jordan named her Adeline BHF.
"She was very kind to us; she had her daughter at 7 o'clock at night on like a Friday or a Saturday or something so we could be with her through it," said Jordan, who attends Woodgrove High School in Purcellville, Virginia. "We didn't have to get up in the middle of the night. The birth was pretty easy. I helped pull her out and stayed with the baby for a while."
With the filly growing up at home, Jordan piloted Jessie in her first horse shows over fences in the baby green divisions in 2016. Hanna hopped on her a couple times when Jordan wasn't there, but otherwise Jordan is the only rider Jessie has known. Within three years, Jessie went from the 2'6" baby greens to the 3'6" small junior divisions.
"[Her talent in the 3'6"] was kind of a surprise to be honest," said Jordan. "I had faith in her, but when she was doing the baby greens—she was obviously pretty green—she'd be lazy about her lead changes. She was just not a huge volunteer. But when the fences started to go up, she really stepped up to the plate. Her stride got 10 times bigger; changes were right there. So she really kind of impressed us. She actually had a challenge she could work towards."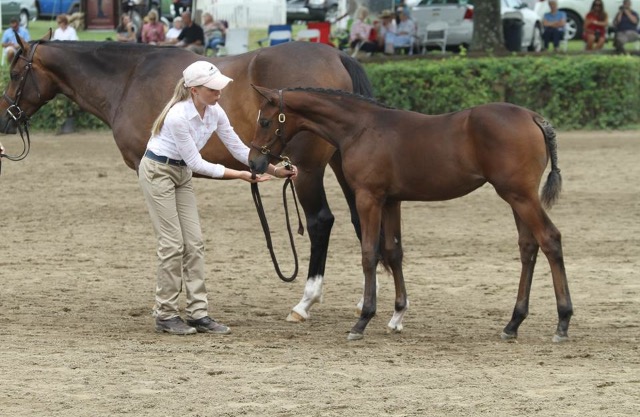 With just five months of showing in the junior hunters, Jordan qualified Jessie for her second Devon experience, this time in the small junior, 16-17, division.
"It is definitely fun to ride horses that are made up," said Jordan. "They know what they are supposed to do, and you just get to push the right buttons. That's always fun, but it is really rewarding if you start a horse on your own and make it up and then get to show it. And when all that hard work pays off, when you get an 86 or something like that, it's really, really rewarding to know that you put in all the hard hours."
Be sure to watch Jordan guide her family's homebred and the horse she started on her own in the Dixon Oval this year—along with Coleridge, a large pony owned by Dale J. Crittenberger.
"It's definitely rewarding to know that we were the ones who bred these horses and brought them up, and we trained them," said Jordan.