A return to a more normal show season in 2021 meant a return to traveling and covering those competitions in person for our Chronicle staff. What follows are some of our favorite moments captured from around the country, and as far away as Tokyo, during the year that was.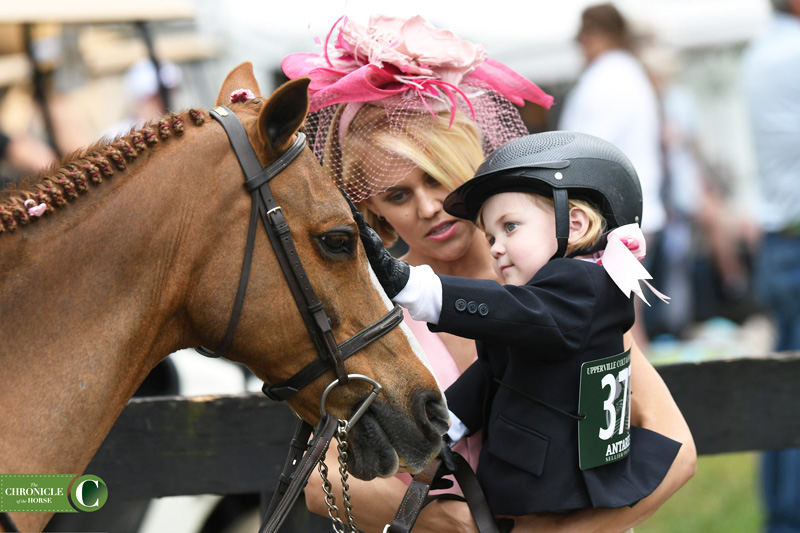 Usually when I'm holding a camera for the Chronicle, it's to cover some high-profile event. However, at Upperville (Virginia) this year, I got to sneak over to snap some of the anticipation before the ever-so-competitive leadline class. In the midst of color-coordinated bows and dresses and saintly, chubby ponies, I saw this young rider just completely in awe of her equine. While World Cup-qualifiers and hunter derbies are always fun to cover, I loved this simple reminder of where the magic starts.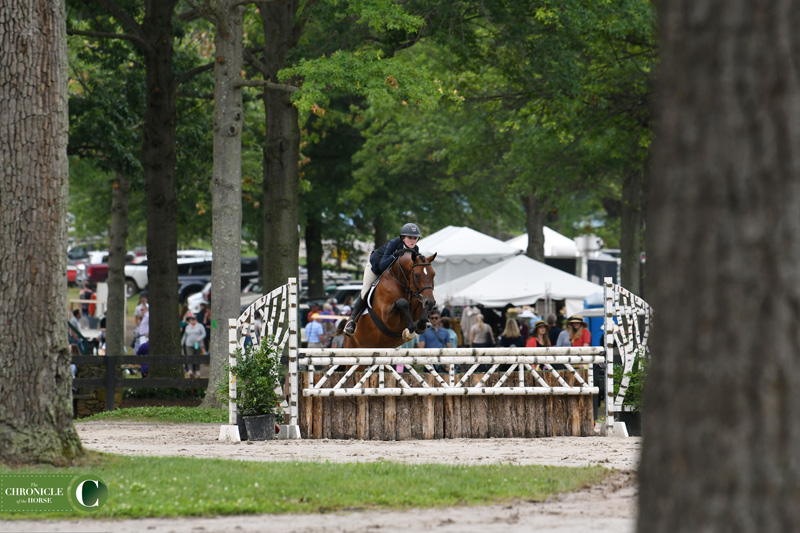 Perhaps I'm biased, but there's nothing quite like the aura of Upperville. You feel the history of the show under every leaf of the famed oaks. Each time I shoot there, I try to capture that enchanted, intangible energy, and this photo of Ariana Marnell and Casino Cash in the large junior, 15 & under division, is one of my favorite experiments.
 — Laura Lemon
---
Photos of horses actively competing are nice and all, but for me there's nothing that beats a reaction shot. At a major championship, usually you see large and loud expressions of triumph: Fist pumping! Crying! Aggressive neck patting! And no shame, because if you win an Olympic medal (or just have the test of your life on that big stage), you certainly deserve a little celebration.
But in Tokyo, Sabine Schut-Kery's reaction after the Grand Prix Special—where she'd just helped clinch the U.S. team's historical silver—stood out for how loud it wasn't. It was like she was sharing a private moment with Sanceo, only in front of the whole world. It was a cool moment to witness, and to capture with a camera, like peering behind the scenes into their relationship.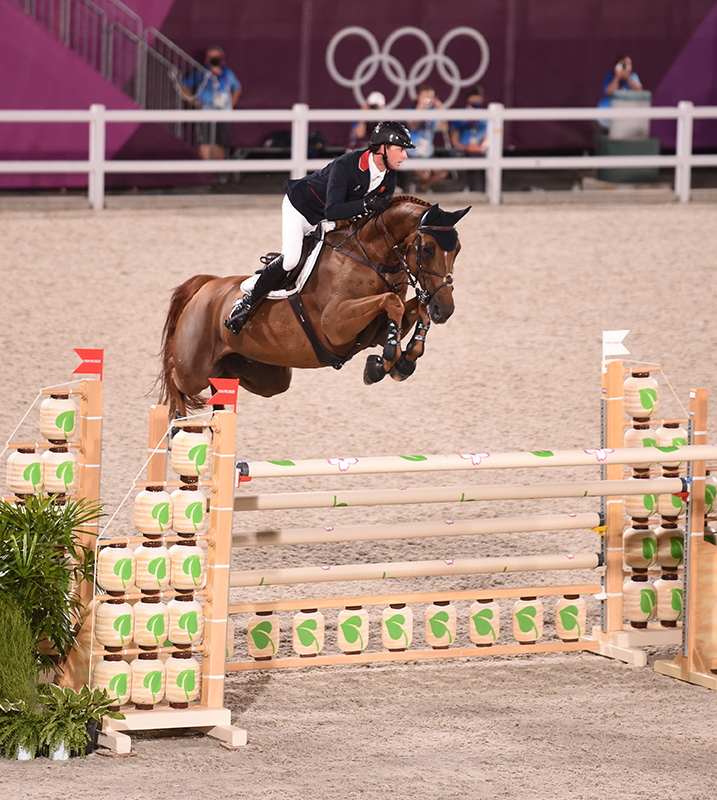 Not to overstate the obvious, but show jumping fences at the Olympics are big. They're tall; they're wide, and when you stand up close you can really appreciate the massive efforts required to clear them. But Ben Maher's Explosion W? Winning individual gold didn't even seem like much work for him. He's just an amazing athlete, and watching him spring around the courses in Tokyo, you could almost think, "Wait, is this easy?" (Spoiler: It's not.)
 — Lisa Slade
---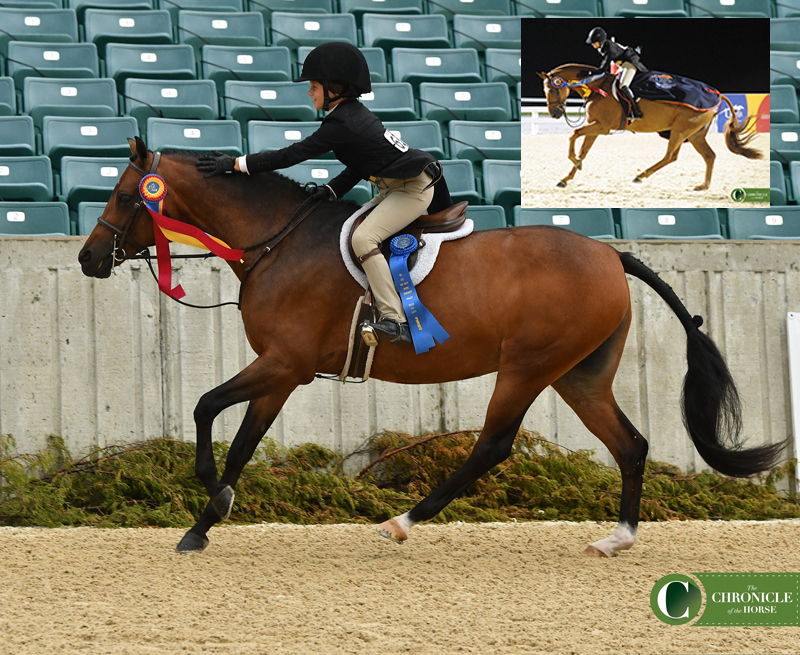 When I saw Elle Boyd leaning up the neck of Baroness of Locheil to give her a big pat during the victory gallop at the USEF Pony Finals in August, I had a sense of déjà vu. That evening after the competition, I scrolled through my old photos of her mother, Liza Boyd, winning at the USHJA Derby Finals nearly a decade earlier and could see exactly why it felt so familiar. Elle obviously learned to victory gallop from the best.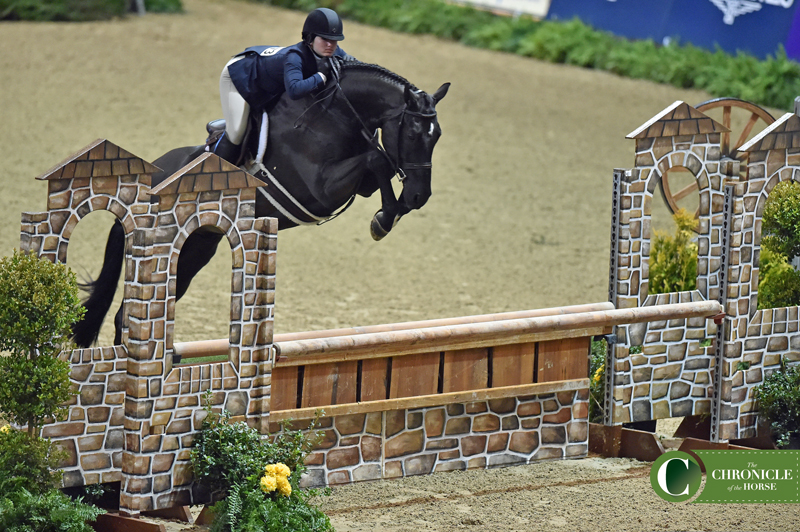 It's a treat to get to watch the best hunters perform at special events like the National Horse Show in Lexington, Kentucky, but it can get a bit monotonous when you're doing it with a camera and focusing on shooting the same two oxers for most of the day for days in a row. But the minute Libbie Gordon and Montauk cleared this fence I—along with everyone else in the arena—woke right up. While I snapped the shutter a tick earlier than I'd have liked, I was thrilled to capture his really impressive effort.
— Mollie Bailey
---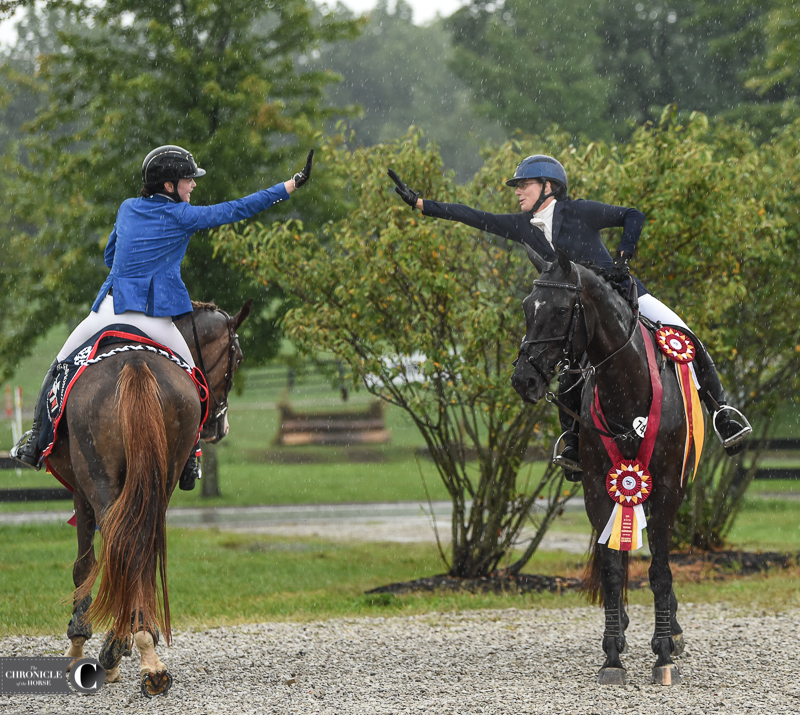 The U.S. Eventing Association's American Eventing Championships (Kentucky) is a daunting assignment for one journalist. With nearly 1,000 entries, there's no way I could cover it all, and by Sunday, I was exhausted, with the names of 23 champions swirling in my head.
Thankfully, by the last day there were only beginner novice show jumping divisions left, so I was able to hang out by the in-gate before the awards and capture some candid moments rather than trying to get the perfect shot over a fence.
Kristine Burgess won the beginner novice horse championship on Marisol (left), and she gave a high-five to reserve champion Laura Kosiorek-Smith on Star Quality CSF. I think this photo says a lot about the camaraderie of the AEC and eventers in general, and a bit about the socially distanced competition season that's been in place for the last two years due to COVID.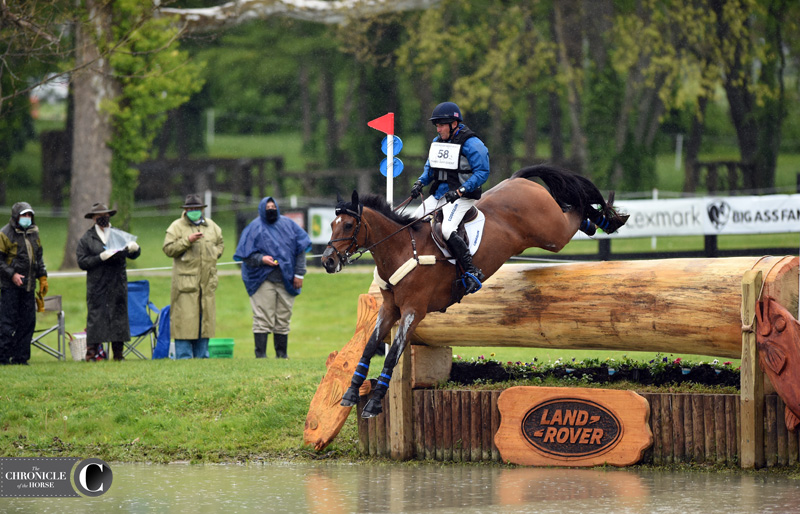 This year's Land Rover Kentucky Three-Day Event almost didn't happen, but thanks to a few top riders and thousands of dollars of donations from fans, organizers were able to let it run under tight COVID-19 restrictions in April.
That meant no spectators, so when I wandered over to the famous Head of the Lake on cross-country day, it was a bit eerie not to have the ropes lined 10-deep with people. Normally photographers and fans have to stake out their favorite spot, but in 2021 journalists were free to roam wherever we wanted to outside the ropes.
This shot of Phillip Dutton and Z dropping into the Head of the Lake with just a few volunteers watching is a reminder that I was privileged enough to be a part of the event last year in a small way. I hope spectators can make a triumphant return in 2022.
— Lindsay Berreth
---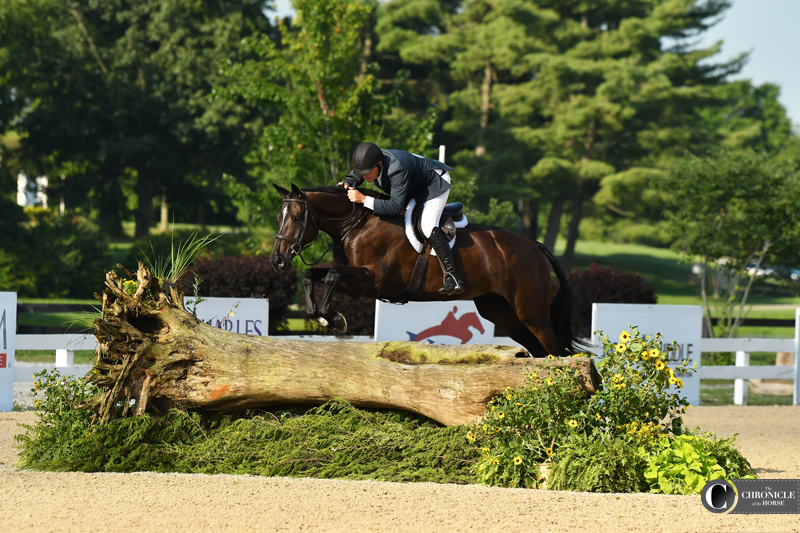 The USHJA International Hunter Derby Championship (Kentucky) is one of my favorite competitions to shoot, and this year was no different. The jumps are always gorgeous, and the horses are ready to jump out of their skin. When I saw fence 3 in the classic round, a beautiful log, I knew I had to shoot it for at least part of the class. These are the kinds of fences the derbies are supposed to be about—the ones that harken to discipline's foxhunting roots. Daniel Geitner and Tropics, who started his career as a jumper, looked picture perfect over this fence.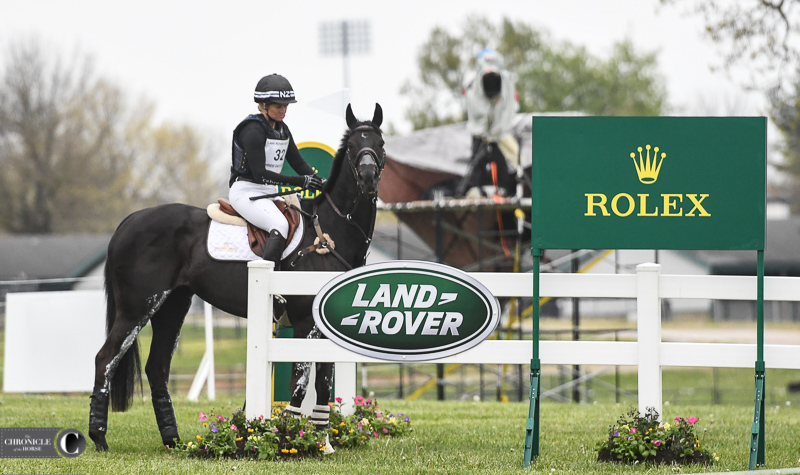 Each time I've gone to Land Rover Kentucky, I've had a different role on cross-country day. The first time I had the privilege of shooting the action; the second time I stayed in the press room watching many monitors to do the Chronicle's round-by-round coverage. This year, I headed out to the vet box to get quotes from riders after their rounds. Armed with a camera, recorder and lots of rain gear (which was needed as the day went on—I left puddles in the press room that evening as the water seeped out of my drenched clothes) I spent the morning seeing an entirely different side of Kentucky.
From the mixed zone at the vet box, I also had a view of the start box and finish line, and this photo of Jonelle Price and Classic Moet was one of my favorites. At 18, "Molly" showed no signs of slowing down, and as she waited through the starter's countdown, she glanced towards me, ears pricked, showing the "look of the eagles" that so defines a great athlete.
— Kimberly Loushin