Ella and I kicked off 2016 in the first CDI-W of the year. She felt absolutely amazing in the warm-up, so energetic and keen to my aids, the best I've ever had her. I feel great about the amount of fitness work we did in the fall—we even got an award for the fittest and healthiest horse, so it's not just me that thinks she looks incredible!—and I feel frustrated that we didn't do very well.
I'm still learning how to keep all the pieces together, and still learning what contact I need to show in the ring to make her look her best; and the sound system at Global needs some serious work, with the installation of a new VIP tent that makes riding in there like riding in a fishbowl, with bad echoing that made my freestyle a bit of a hot mess.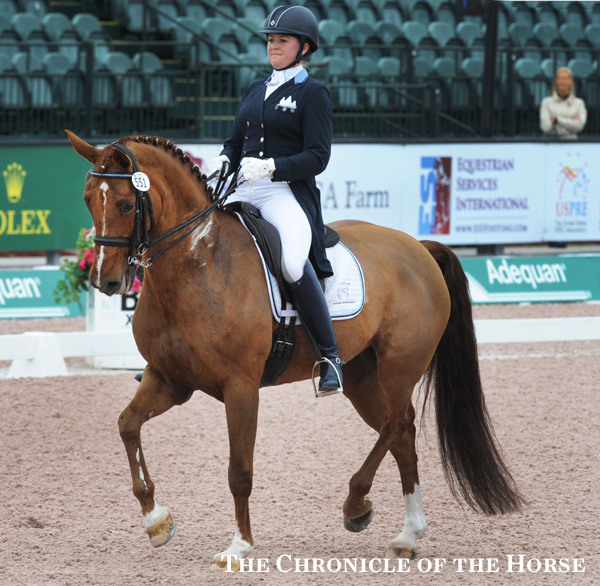 But that's not what I wanted to write about. I wanted to write about a cool moment we had in schooling on Wednesday.
The CDI Grand Prix freestyle at Global is held at night, under lights. Ella is not a spooky creature in her nature, but she's a horse and she's alive and is, therefore, inherently unpredictable, so Michael and I decided to do our due diligence and school her on Wednesday, the last open schooling day, in the evening, under the lights, recreating the conditions for the freestyle.
It was a beautiful Florida night, cool and quiet. Ella felt happy and comfortable in her skin, not phased by the environment. We had the ring to ourselves, and it was calm and peaceful.
And then Laura Graves and Verdades walked into the ring.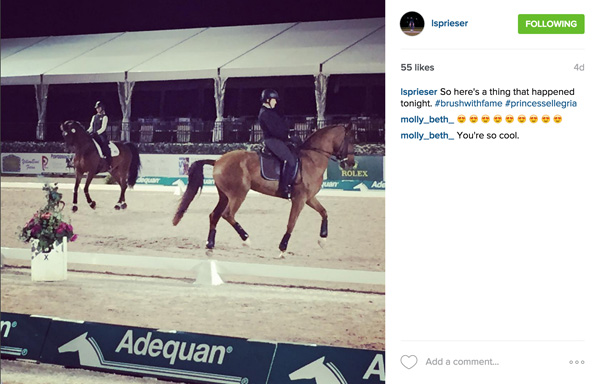 I kept my cool (mostly, until later, when I introduced myself like the 12-year-old I am, totally geeked out) and rode my horse, who felt crisp and cheerful. But every now and then I looked over to watch what Laura was doing.
And here's the biggest thing: she's a person, and he's a horse. Sometimes she has to rev him up with a kick. Sometimes she needs to take a hold and make a half-halt go through. They're brilliant, with a wonderful rapport, with fine, nuanced aids, but they're also just folks. The same things that everyone else deals with? They deal with them too.
They deal with them better, faster and quieter than a lot of others, and the results are better.
And that's what I know I'm after: not that I never ever have to say to Ella, "hey, c'mon, dig in," but that I can do it better. That I can show the soft connection that I'm getting more and more, that I'm getting to faster and faster. That I can show how easy (in a relative sort of way) it is when it's good, and that I can address it, fix it, faster and better when it's not.
I'm learning. I'm improving. I'm spending a fortune to do it. I'm exhausted, I'm scared, and it's only the beginning. But I'm starting to believe. And it was a very cool night. There will be more.
SprieserSporthorse.com
Lauren Sprieser on Facebook