You've been out of the saddle for four weeks thanks to a broken arm, but you're starting to feel a little restless, so what do you do? If you're David Beisel, you tack up anyway and use it as an opportunity to practice your neck reining.
The Goshen, Ohio, based professional was showing at the Country Heir II Horse Show (Kentucky) on June 13 when he fell off, and his horse stepped on his left arm, breaking it. He spent a month at home playing with his new tractor and hay grapple and built the jump chute he's wanted since he purchased his farm 10 years ago before he gave in to the show ring's siren's song.
"I had one week to ride before I came to the show, so I kind of let them jump a little in the jumping chute to work them and then got on them," Beisel said. "They were all happy, and they were all very nice to me because they'd gotten to play in the jumping chute, so it worked out great."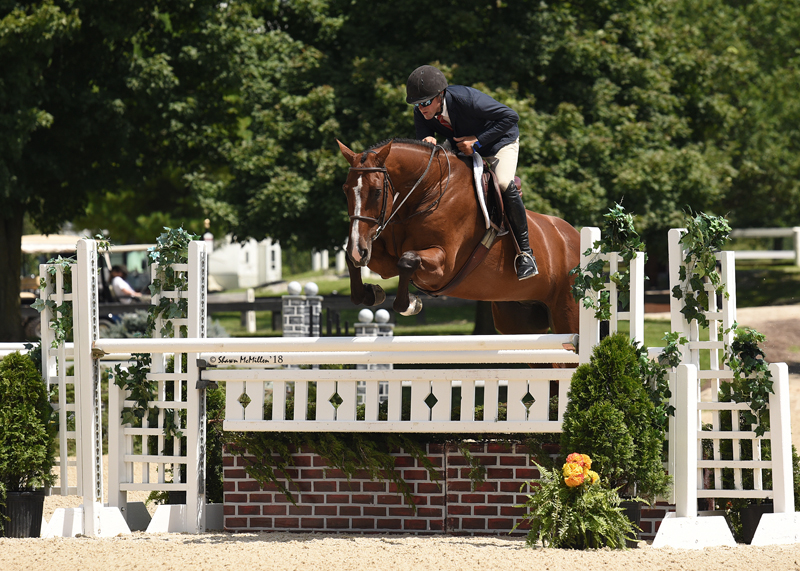 Beisel wasted no time returning to the Kentucky Horse Park to compete in the Kentucky Summer Horse Show, held July 25-29. He piloted 10 horses, from baby green hunters and young jumpers to high performance hunters and 1.30-meter jumpers, including his grand prix horse Ammeretto, who was coming back after some time off, riding with just his right hand. His broken hand isn't in a cast, but he is wearing a splint.
"I tried doing the 5-year-old young jumpers, and I made it around, but they were hard to steer, being 5-year-old young jumpers," said Beisel. "The jumpers were a little hard because they were 5 and weren't quite sure what direction we were going to be going in. But the hunters all went pretty well I thought.
"A couple people noticed [I was riding with one hand], but a lot of people I think didn't notice," Beisel continued. "I was so happy to just be back in the saddle."
Beisel will show three or four horses during the second week of the summer series, but he's handing the reins of his 1.30-meter mount and the young jumpers over to his friend Martien van der Hoeven until he can ride with both hands again.