Lauren Hough announced June 4 that her 2015 Pan American Games (Ontario) double bronze medal-winning mount Ohlala is retiring from competition and will now have a breeding career. The 15-year-old Swedish Warmblood mare (Orlando—Carrera, Cardento) was shortlisted for the 2018 World Equestrian Games (North Carolina) NetJets U.S. Show Jumping Team when she sustained an injury and was withdrawn from team consideration.
"She is in very good health and very happy, but I just didn't think that she would make it again to the very top of the sport with her injury from last year," Hough wrote on her Facebook page.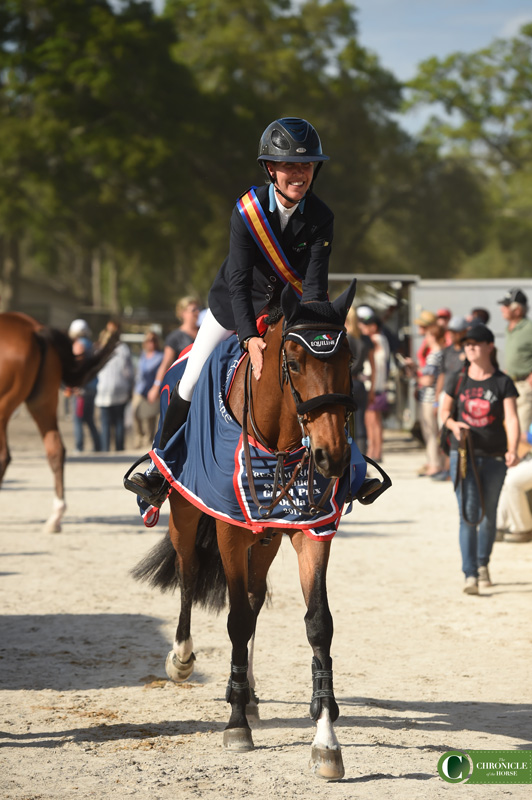 Hough started competing "Lala" in 2012, and they consistently represented the United States in Nations Cup competitions, including helping the U.S. team take second in the 2017 Longines FEI Nations Cup Final (Spain). She was a top finisher in numerous grand prix classes, and her win tally includes the 2014 Credit Suisse Grand Prix of Geneva (Switzerland), the 2016 Longines FEI Washington World Cup Qualifier (District Of Columbia) and the 2017 Great American $1 Million Grand Prix (Florida).
"I would like to take a moment to thank my entire team and her wonderful owners for always allowing me to do what's best for 'Lala,' " Hough wrote. "She has been a horse of a lifetime for me, and this was a difficult decision to come to terms with for me. However, I know in my heart that it's the best one for her!
"Thank you, Lala, for so many amazing victories all across the world … I'm not sure that I will ever replace you, but I hope to carry on your legacy with some beautiful foals!" she continued. "Lala, I know the sport will always remember you as the little mare with the biggest heart."
Read more about Ohlala in her Behind The Stall Feature.