Ocala, Fla.—Feb. 18  
It's not often that you hear a Nations Cup rider celebrate aloud in mid-air over the last jump, but Cian O'Connor let out a loud whoop over the last oxer in the $100,000 FEI Nations Cup.
"I was a mile off but I knew he'd never knock it so I was counting the dollars," O'Connor joked about the in-air yelp as Seringat powered over the massive Longines oxer.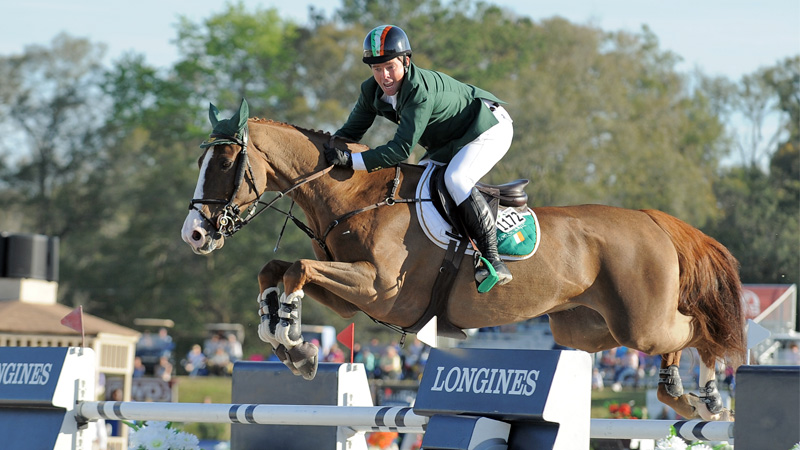 O'Connor had good reason to celebrate—his clear last round clinched victory in the class for Team Ireland. "It's a huge win for us. Team Ireland, every time we go out, we want do well as team. These guys are great to ride alongside and work together," O'Connor said. Joining O'Connor on the team were Kevin Babington, Richie Moloney and Shane Sweetnam—all Irish riders who base themselves in the United States.
Coming back in for the last round, O'Connor had the weight of the world on his shoulders—as anchor rider, the team's result came down to him. One rail and Ireland would tie with the U.S. team and have to jump-off. Two down and they'd end up in third.
"When you come back in a second round like that, you just try and stay calm and focused and jump each jump," O'Connor said. "Obviously, Beezie [Madden of the United States] going clear put a little bit of pressure on me, but I had confidence in my horse and I knew he'd do a good job, so it was great to go clear for everyone. You learn to deal with the extra pressure or the buzz—I ride better under pressure I think."
O'Connor and Madden had two of the just three double-clear performances on the day—Tiffany Foster of Canada, who came in third as a team—was the other.
The Ocala Nations Cup isn't a points-earning Nations Cup for the Irish in the overall Nations Cup series, as they compete in the Western European League, but they take the class seriously every year. They won in 2015 as well. "We came here with the intention to try to win," Sweetnam said. "The course designer [Marina Azevedo] did a fantastic job. It walked nice but tough in places. It definitely had to be jumped, which at this level it needs to be like that. It can't be a walk in the park. The [triple] combination took a bit of jumping. Cian came up trumps in the end to really win it for us."
The winners' share of the Nations Cup series points went to the U.S. team of Madden, McLain Ward, Lillie Keenan and Lauren Hough for their second place. Only the United States, Canada and Mexico were in the hunt for North American Nations Cup League points.
Madden anchored the team with her two clear rounds and Ward had a clear and 4 faults on Rothchild, who is just back in action after rehabbing from a minor injury. Keenan had 8 and 4 faults aboard Super Sox, and Hough rode Cornet to 12 and 4 faults. The U.S. team finished with 16 total faults; behind Ireland with 12 and ahead of Canada with 24.
The Irish chef d'equipe for the day, Michael Blake, is new in that role. "This win means a lot to me. I've come from [coaching in the] underage system in Ireland," Blake said. "I didn't think these guys even knew I existed. So when I got the call a few months ago, I was so proud that I was going to get the chance to represent who is, to me, the best bunch of riders in the world. We're a small country, but we keep doing it all the time. And I'm delighted for these guys. They're a pleasure to work with."
See full results of the $100,000 Ocala FEI Nations Cup.
Make sure to read the March 6 issue of The Chronicle of the Horse for more in-depth coverage of the class and stay with www.coth.com for more coverage from HITS Ocala. 
2017 Ocala FEI Nations Cup
Molly Sorge / Feb 17, 2017 6:41 pm