When Helen Lohr started looking at colleges, she thought of two things: horses and submarines.
She wanted a top riding program. She'd grown up in Warrenton, Virginia, in a horsey family and had trained with Pam Baker, Winn Alden and Ginny Edwards. She'd shown extensively throughout Virginia and hunted with Old Dominion Hounds.
She wanted a top engineering program too. Her father, William Lohr, is a former Navy officer, and she's hoping for a military career in his specialty: submarines. She received an impressive scholarship as part of her school's Naval Reserve Officer Training Corps program.
"I chose to do Naval ROTC because that's what my dad did. A lot of my family has served," Lohr said.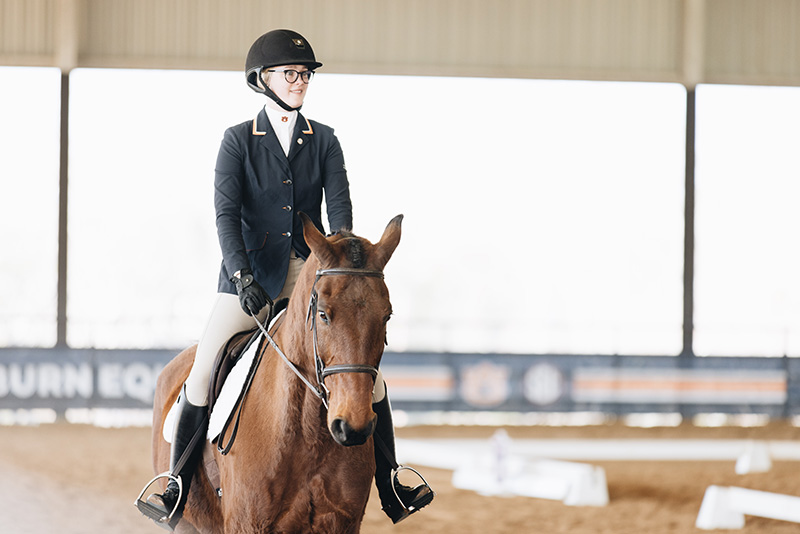 Her mother, Alexandra Lohr, noted that military service was never an expectation.
"Helen came to her own decision about joining ROTC," she said. "It was very familiar to her. And when it came to college, it was clear that if she got a NROTC scholarship, she could go to any school she wanted.
"Helen was always a real goal-oriented kid," her mother continued. "When she was in elementary school, she had a 20-year plan. We always joked that her plan was for world domination."
Helen chose Auburn University (Alabama), where she's a junior pursuing a mechanical engineering degree.
Her first year was tough, marked with COVID-19 chaos. But Helen said that the riding and collegiate NROTC programs helped ease the pandemic-era transition.
"It was a really nontraditional freshman year of college," she said. "I was really fortunate to be on the riding team. It would have been tough to make friends otherwise, especially with masks on."
Helen and her riding teammates all lived on the same hallway their freshman year and cultivated strong friendships.
The Sunday Helen moved in, she competed in the Virginia Horse Shows Association/EMO Insurance Agency Adult Medal Finals with her longtime partner, warmblood gelding Plesant Dreams (Plesant—Elle). She won the class and drove straight to Auburn after untacking her horse.
"I always really encouraged Helen and Madeleine [Helen's sister] to do things on their own," said Alexandra. "They can ship horses, braid horses; they can give medications. I went to horse shows with them, but they've gone to many on their own and worked as working students before. So going to Auburn by herself was not that big of a stretch. We've always done things that way."
Madeleine now competes in the amateur-owner hunters, and her mother is bringing along a few youngsters. Two of Helen's retired mounts live at the family farm: Costar (Coriano–Thyrzah) brought the Lohr sisters through the hunter ranks and claimed a USHJA national derby win with Helen in 2018. Plesant Dreams, who also helped her win the 2019 USHJA Zone 3 Equitation Finals and competed with her in the 2018 Dover Saddlery/USEF Medal Final (Pennsylvania), is also retired. Helen rode him to win the 2019 USHJA Zone 3 3'3″ large junior hunter, 16-17, championship and earned the same division titles that year with the Virginia Horse Shows Association and Maryland Horse Shows Association.
Although she's the lone student-athlete in the school's NROTC program, with over 100 students, Helen feels well supported by her NROTC leadership, most of whom are active duty military personnel. "My NROTC commanding officer has even been to two different equestrian meets now, and he loves it," she said.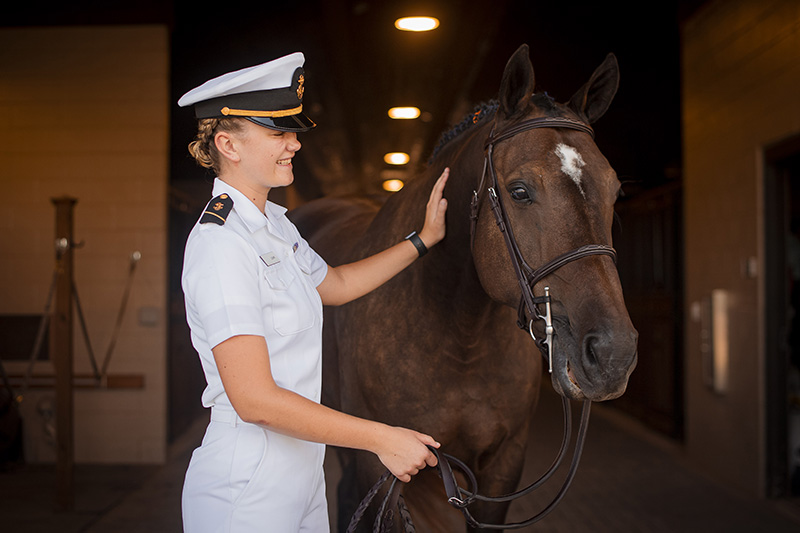 Navy Capt. Matthew Roberts is the commanding officer of Auburn's NROTC program, which he noted includes two other female students who are working toward military careers in submarines. He sees the similarities between being a horsewoman and military service.
"Sometimes your people aren't going to tell you what's wrong or that they don't know how to do something,"
he said. "It's the same with a horse: Do you know automatically if you get on a horse one day that it might not be feeling well, or that it might be in some pain? A good rider will know the horse's silent signals. A good leader will understand the same with their people.
"If you want to be a good leader, you've got to be a good follower first," he continued. "I think being a member of a team stresses that, and so does working with horses."
Helen serves as a platoon commander within her unit.
"It's been a lot of hard work, and the senior cadets are really helpful," she said.
That help has proved to be key for balancing NROTC commitments like drill and leadership training with equestrian team training and mechanical engineering classes.
A normal week for Helen includes team riding practice and team physical training. Sometimes they have weekend practice, in addition to meets.
"Our team does strength and conditioning three mornings a week at 5:30 a.m.," said Jessica Braswell, Auburn's jumping team coach. "They have a 45-minute practice block for riding but are responsible for getting their practice horse ready before practice and caring for their horse after practice. We have team meetings on Monday evenings, and typically our team goes to study hall and meets with tutors in the evening."
Then there's NROTC training, which is normally five hours weekly. NROTC students are given different leadership roles, which they rotate through, to replicate the military's rank and structure systems. This allows students to get used to each role's responsibilities before they arrive to the military. In the summer, students spend up to four weeks on a naval base, learning the ropes in their specialties. For Helen, that means she'll spend two weeks on a submarine.
"NROTC is a leadership course, but it ties in really well with the equestrian team," Helen said. "I live with the freshmen now; we're a team, peers, but the more senior you are, the more leadership responsibilities you have."
Braswell noted that college riding programs also have built-in leadership and team learning.
"In college equestrian you win as a team," she said. "The individual accolades and performances aren't the end goal. As long as the team wins, we had a good day, and it takes every single team member to make that happen. Learning how to put your teammates first and work towards that common goal can be a real benefit down the road. Helen is really great at taking care of her teammates and doing whatever is asked of her to help Auburn win. Those skills probably carry over to NROTC and help her team accomplish whatever mission is put in front of them."
Work ethic is a must-have for NROTC and horse sports. "Riding in general has convinced me there's no hour too early to wake up," Helen said. "Six a.m. muster isn't anything new."
Female sailors were prohibited from serving on submarines until 2010. Controversy about women serving on submarines, in combat, or as fighter pilots is nothing new.
"Going into the submarine force is a little intimidating," Helen said. "But it's important to be unapologetic about what you've earned. As a woman you might be inclined to be overly grateful, but you shouldn't be. You've earned it just as men have. Riding puts me on a level playing field with men, so I don't look at men and think, 'There's no way I can measure up,' whereas in other sports you might develop that mentality."
Alexandra noted how supportive her daughter's ROTC unit has been: "I expected her to get more opposition, but instead of opposition to her being a young woman in Naval ROTC, I've seen the majority of just a lot of support."
The Auburn riding team is full of positive support too. "The other day I had to get off my horse early from practice," Helen said. "One of my teammates helped me out and took care of my horse and tack for me so I could change into my NROTC uniform, so I could run back over to get NROTC training done."
That kind of team spirit helped Auburn claim victory in the SEC Championships (Alabama), the school's fourth consecutive win, this spring.
Helen said the NROTC group is also supportive of one another. "The community here at Auburn makes balancing ROTC, riding and coursework all so much easier, having these close-knit relationships," she said.
---
This article ran in The Chronicle of the Horse in our Oct. 24 & 31, 2022, issue. Subscribers may choose online access to a digital version or a print subscription or both, and they will also receive our lifestyle publication, Untacked. 
If you're just following COTH online, you're missing so much great unique content. Each print issue of the Chronicle is full of in-depth competition news, fascinating features, probing looks at issues within the sports of hunter/jumper, eventing and dressage, and stunning photography.