Traverse City, Mich.—July 29
Going into the $25,000 Welcome Stake at the Great Lakes Equestrian Festival in Traverse City, Nick Novak was looking for an opportunity to test his 10-year-old Holsteiner gelding Climbus.
Not only was the opportunity granted in earnest, but had the grey gelding been graded on his performance, he would have unquestionably gotten an "A."
Novak and Climbus topped a nine-horse jump-off field to claim the top spot in the Welcome, the predecessor for Sunday's $50,000 Grand Prix of Michigan, finishing their clear round in a sharp 35.58 seconds. David Jennings rode Maffitt Lake Farms' Aventador to second place honors (36.46), and Alec Bozorgi was third with his own Campino II (37.45). The top three were the only pairs to produce double-clear efforts over the Bernardo Cabral-designed course at the Fintfields Horse Park.
"Over the past two months, I've just been trying to get quicker with him around the turns," said Novak, 27. "He's always been a really careful horse, so each week I've just been trying to test him a little bit more and more. He was great at this height. It was a great test for both of us."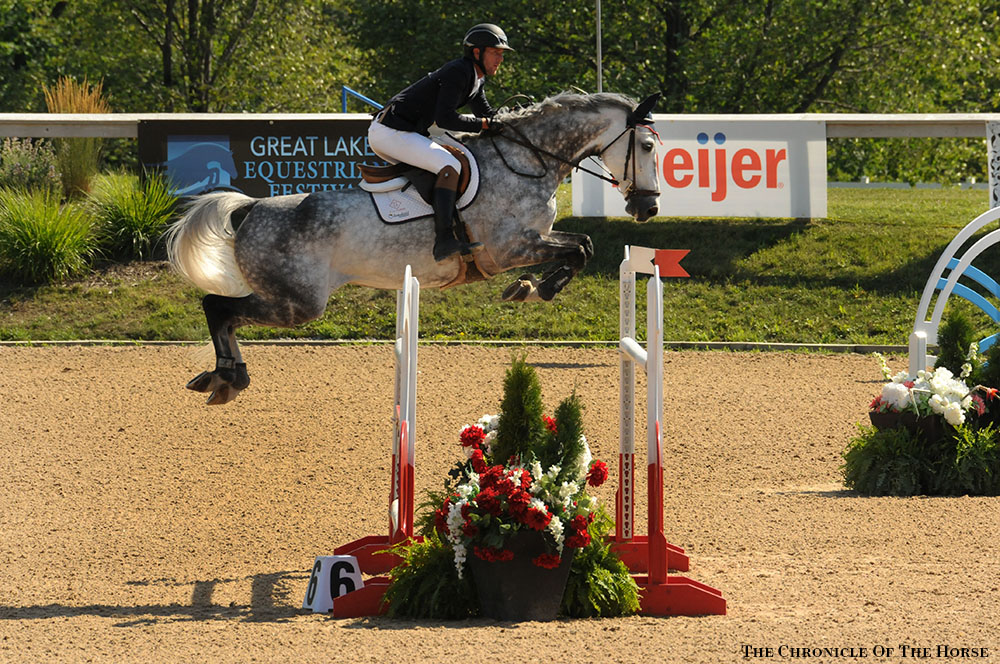 Nick Novak and Climbus
With six of the returning competitors incurring faults in the jump-off, the shortened track presented a lot of questions for riders in determining where they could make up time without sacrificing rails. Early on, it appeared that Aaron Vale, who won both the $50,000 Grand Prix of Michigan and the $50,000 Great Lakes Grand Prix over the previous two weeks in Michigan with Bonzini S and Carlo, respectively, was on his way to yet another victory, as he deftly sped around the shortened track with North Face Farm's Quality On Top. But approaching the penultimate fence, Quality On Top hesitated off the ground, and he jumped directly through the top two rails. Vale held on and jumped the final fence to finish in 34.27 seconds—a time that no one in the class could beat—but he ultimately had to settle for 4th as the fastest four-faulter. That left the door open for Novak.
"I knew it would be a quick jump-off," he said. "I tried to be tidy in my turns, and I know I definitely left one [stride] out to the last in and out [halfway through the jump-off]. Some people did six [strides] to the oxer right after, and I did seven and just tried to be neat back [to the next fence]. Then I just did the nice eight [strides] home, and it just ended up working out for me."
Novak purchased Climbus (Cartani—Santa Fe, Limbus) at the end of 2014. Formerly ridden by Soren von Ronne of Germany, Novak found him while on a trip to Europe with Kent Farrington, who recently made the 2016 United States Olympic Show Jumping Team and will compete in the Rio Games next month.
"I went over to Europe with Kent, and I was there for two weeks, and he and I drove all over Germany and Belgium trying horses," Novak recalled. "We found him at the end of his 8-year-old year at a barn in Germany. I got him to Wellington, and I've just been slowly progressing him.
"We did some 1.35-meter and 1.40-meter [classes when he was] an 8-year-old, and Kent, my trainer Nancy [Whitehead] and I all thought that he had a lot more in him, and he's been pretty consistent all year," he added.
While Climbus has excelled primarily at the 1.40-meter level, Novak stepped him up to some 1.50-meter tracks earlier in the year during the Winter Equestrian Festival (Fla.), twice jumping clear in CSI***** competition, including an 8th place finish in the $86,000 Suncast 1.50-meter Championship in March. Novak said that experience has proved valuable as his mount has carried on into the summer season.
"I had a really good circuit in Wellington," said Novak, who is pointing Climbus, as well as his top mount Dirkie Z, to the indoor finals this fall. "I knew that I tested him a bit there, and that when I got back [north this summer] I could hopefully win some money. It's starting to work out that way, so that's nice!"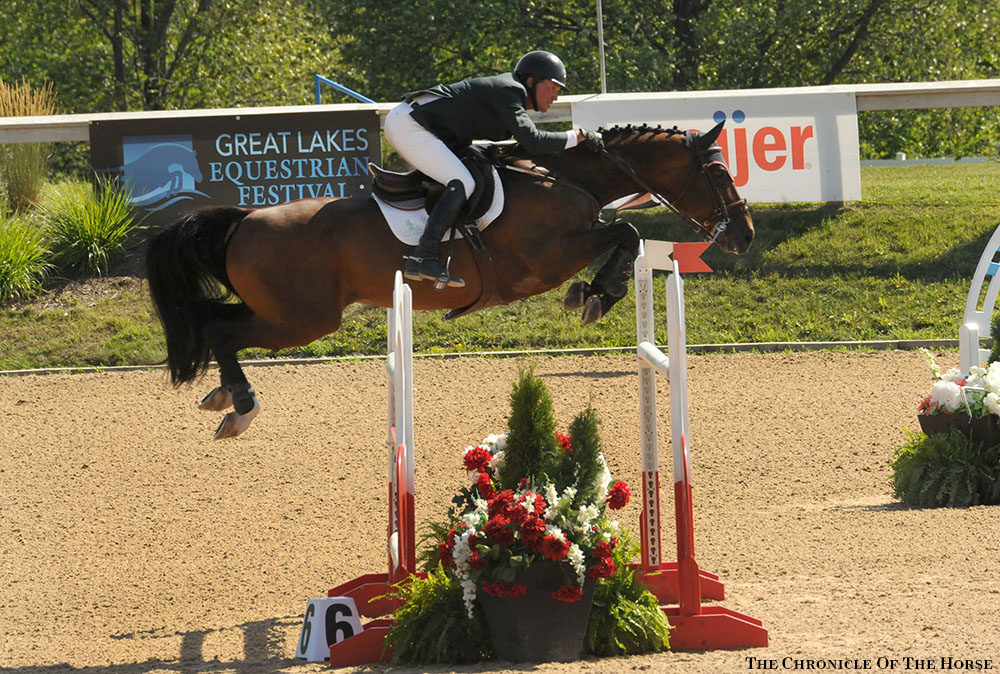 David Jennings and Aventador

Alec Bozorgi and Campino II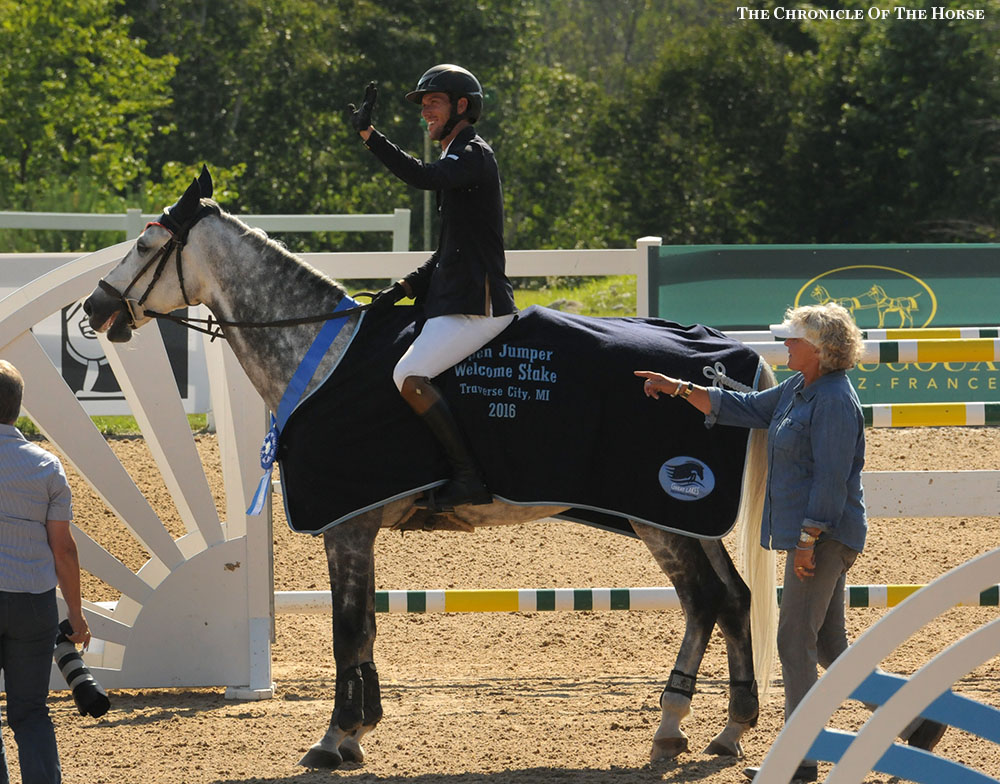 Novak was all smiles as he waved to the crowd during his winner's presentation.
Be sure to follow along with all the Chronicle's coverage of the Great Lakes Equestrian Festival, including Saturday's $25,000 USHJA International Hunter Derby and the $50,000 Grand Prix of Michigan, at coth.com and in the August 15 issue of the magazine.