I bought Donner six years ago. He was 5, and I was retiring my previous four-star horse to the lower levels. I initially got Donner as a project.
He was a beautiful stamp of a horse, had a good canter and a good enough jump. He was wild, but the price was right so I figured I'd take the chance. Either he would turn out to be something for me in the future, or I'd put some work into him and sell him on if he didn't turn out to be an upper level horse.
I definitely didn't know he'd turn into the horse I have today. He was a good athlete and showed a lot of promise, but he was rather flighty and spooky—Donner is aptly nicknamed "the deer." Some horses are the type that can fit into several disciplines, but Donner never seemed to fit perfectly into any one mold.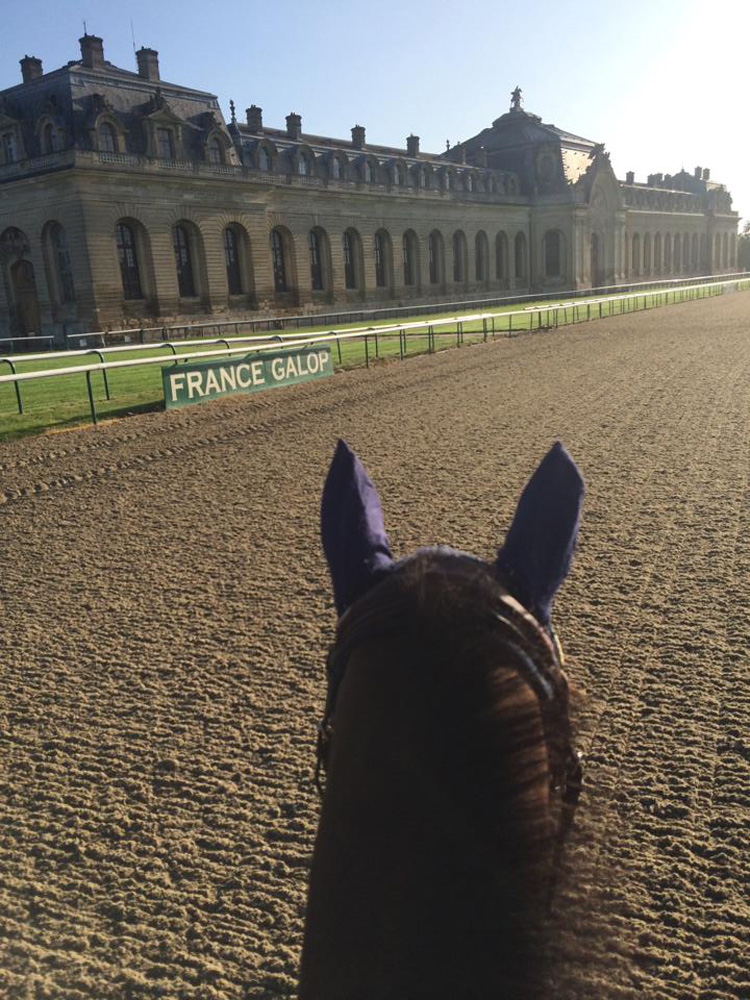 When Donner first came into my life,
I never imagined he'd be the horse to take
me to my first World Games. But here we are!
We're on the racetrack at Chantilly
with the U.S. team, preparing!
He didn't have the movement to be a dressage horse, he wasn't scopey enough to be a pure show jumper, he wasn't classic or relaxed enough to be a hunter, he wasn't quiet enough to be a hunt horse, and he sure didn't have the feet to be an endurance horse. But what I did know from the very beginning was that he always showed up for work.
No matter how nervous or wild he is, he always tries. Even on his worst day, once you pick up the reins, he goes to work. I think a large part of his success is purely based on how much he tries for me. What he lacks in movement and confidence he makes up for in work ethic and heart.
To someone who doesn't know Donner well, he appears to be machine. But in reality he's a constantly changing combination of confidence and insecurity. That's why he's good at his job–he has all the attitude, but looks to his rider for direction when he's not sure.
While he usually has his own opinions on how he should go (which in his perfect world would involve him running as much as humanly possible) he's also very trainable under saddle. No matter how tense or nervous he may be, he's always obedient on the flat. Even though he isn't naturally a brave cross-country horse, he lives to run and loves to jump. And in show jumping no matter how spooky or how distracted by crowds he may be, he's a careful horse who tries his heart out.
Being chosen to represent my country at the Alltech FEI World Equestrian Games next week is an unbelievable honor.
What makes it even more special is that I will be doing it on my all-American off-the-track Thoroughbred. Of the 97 confirmed entries for three-day eventing, only two of them were bred in the United States. Donner is the only American off-the-track Thoroughbred competing in eventing and the only full Thoroughbred on the U.S. eventing team.
He may never move like Shamwari, have Ballynoecastle RM's sensibility, Manoir de Carneville's confidence, be as brave as Fernhill Fearless, or have the scope of Trading Aces, but he's the perfect all-American combination of it all.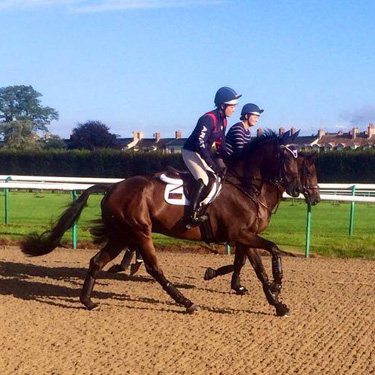 Donner (foreground) doing what he does
best—running! This time he's in France,
getting ready for the World Games.
Like all OTTBs, Donner was bred to run, which he has proven time and time again. When he was initially vetted he got lot loose at Dr. Kent Allen's clinic and ran all around his entire property before he could be caught.
Any injury Donner has ever sustained has been from running in the field, and unfortunately for him (and my grooms) he's banned from turnout most of the year and can only hand-graze with supervision.
At our final training session the day before vet evaluations and the announcement of the 2014 WEG team, he broke loose from the trailer and ran around Morven Park, interrupting David's next lesson before he could be caught. At another training session when David wanted to ride him, it took him 20 minutes just to get Donner to stand quiet enough to mount.
He's incapable of standing at the gate before he enters a competition arena and I usually have to canter into the ring. In award ceremonies I have to keep him walking in continuous circles for the safety of other horses as well as himself. Donner despises holding still once I'm in the saddle and it's time for work, and he takes the John Deere slogan quite literally…nothing runs like a deer.
In one week I get to take my all-American horse who was born and raised less than a mile from my farm to the World Equestrian Games. While I can't guarantee exactly how it will turn out, I can absolutely guarantee that my authentic all-American combination and I will try our hardest to make the United States proud.
One of the Chronicle's bloggers, eventer Lynn Symansky placed fifth at the 2013 Rolex Kentucky CCI**** and 13th at the 2013 Pau CCI**** (France) with her Donner. They were also part of the U.S. team gold medal effort at the 2011 Pan American Games. Lynn and Donner have been named to the Land Rover U.S. Eventing Team for the Alltech FEI World Equestrian Games in Normandy, France. Lynn runs her Lynn Symansky Equestrian out of Middleburg, Va.
You can read all about Lynn and Donner in her previous blogs.