After traveling to Europe several times in search of a young horse to bring up through the dressage ranks, Jessica Wisdom found her Grand Prix horse in the form of a 14.3 ½ hand Welsh Cob stallion.
"I'm just some kid from the back tracks. Nobody got us here. And I did it on a pony," said Jessica Wisdom of North Forks Cardi, a 12-year-old she co-owns with Cynthia Miller.
This year, Cardi made his CDI Grand Prix debut and even topped the freestyle at the Golden State CDI*** (Calif.) on April 4-7.
"Cardi" (Canterbrook Llwynog Du—Hastening Mirage, Bayford True Patriot) was bred by Carol Holcombe and purchased by Miller as a 6-week-old colt. Wisdom first met him as a 2-year-old.
At the time Wisdom, now 36 and working out of Equi-Librium Equestrian in Ridgefield, Wash., was carving a niche for herself as a handler in the Pacific Northwest at horse inspections and in-hand classes. She came from a distinctly non-horsey family, and handling horses offered a way to make a little money and network with breeders.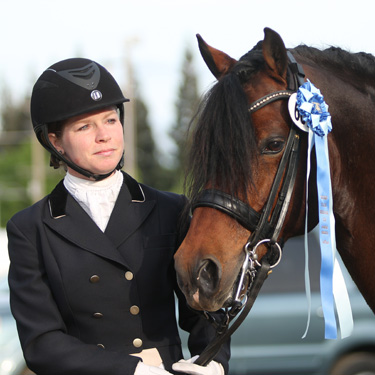 North Forks Cardi's intelligence
captured Jessica Wisdom's heart.
Photo courtesy of Team Cardi
"It wasn't like somebody was going to buy me this expensive horse, and I was going to go up to Grand Prix," said Wisdom. "I was going to have to do this myself on something I could afford or something someone was going to let me ride. I knew I had to get in at the ground level, or it wasn't going to happen."
Miller approached Wisdom at an inspection to ask her if she would consider handling two young horses for the American Sport Pony inspection. Busy with her current young equine charges, Wisdom directed Miller to give her information to Wisdom's assistant. "I couldn't tell you what [she] looked like, nothing. So I'm driving three hours to this facility thinking, 'Well, I hope they remember they hired me to do this thing!'"
When Wisdom arrived, she found two young ponies, Cardi and a filly, and soon knew Cardi was something special. "[Cardi] was quite intellectual. Everything at that inspection posed a question to him. He really tuned into me and tried to figure out what I wanted, but he had his own charisma," said Wisdom.
Because she was so impressed with the young stallion, she told Miller to give her a call if she ever wanted help training Cardi. A year later, Miller took her up on the offer, and a partnership was born.
As Cardi's training progressed, his pizzazz extended beyond the dressage arena.
"He comes out with a smile every day, and he always tries hard," said Wisdom. "I think the biggest challenge with him is the fitness. Working at this high level on this little guy, who's a little on the broad side, he has to be really fit to do this with energy and brilliance."
To work on fitness, Cardi does everything from playing on the beach to jumping cross-country to working cattle.
"We can say the pony has a lot of talent, but the pony is still a pony and is still a little long in the back and high in the croup. Getting him to carry a little more weight behind, all of those things that are challenges for normal dressage horses, he faces those a little bit more," she said.
In some ways, Cardi's compact body makes movements easier. "He's like driving a little sports car. He can do the one-tempi changes on a very small figure. He can do the extended canter to the pirouettes because he's so rideable," she said. "He never gets flustered in the ring. He's always absolutely professional. If it's physically possible, he can and he will do it."
He proved that this year in his Grand Prix and freestyle performances at the San Juan Capistrano CDI*** (Calif.) at the end of March before taking the now-polished routine to Golden State. The freestyle, designed by Karen Robinson, is set to Celtic music per Cardi's clear request.
"Of course, when I went in, I said, 'I don't want to do anything cliché; I don't want to do any Celtic music,' " said Wisdom. After Robinson played a couple clips of music, she put on a Celtic track. "As soon as she turned that on, I couldn't believe that was my pony in the mirror. He picked the passage music!"
Not only did Cardi make sure his music fits him like a glove, he also makes sure he's mentally prepared to canter down centerline. "He's always got his head out, whinnying at the girls or suckering people into giving him cookies until he knows it's his turn. Once I bring the tack over, he puts his head in the corner and he meditates," said Wisdom. "He will refuse any cookie, any sugar. He won't take anything. Then he walks out of his stall, and he's Mr. Business. No screwing around, no talking to the ladies, he just marches out to the warm-up and gets his game on. It's really funny."
Even though Cardi keeps his eyes on the prize, he doesn't let his competitiveness and confidence interfere with his gentleman tendencies.
"Cardi is pretty sure he's the best thing that's ever happened to the world," said Wisdom. "His is the king around here. At this point in our relationship, I don't ever feel like he's my horse—I feel like I'm his girl. The rest of the world is his adoring minions."Soon Cardi will have a new group of minions to worship him when he makes the switch this year from Grand Prix dressage to eventing. Although he has always loved to jump, Miller and Wisdom agreed to wait until he had done the large tour before pursuing any other competition.
"He's a game jumper, he's very sure footed, and he loves it. So why not?" said Wisdom. She plans to take Cardi to a clinic at the end of April and run around local novice courses "because I'm kind of a chicken. It will be fun. It will be a new venue for him, new people to meet and another chance for him to show off his versatility."