Horse owners in Moore County and the equestrian haven of Southern Pines, North Carolina, are among an estimated 35,000 residents who have been without power since "deliberate" attacks on local power substations Saturday night. The county, which is now under a state of emergency, is home to numerous horse farms, and without power, basic necessities like running water and working traffic signals are unavailable. Cell phone signals have also been spotty, and gas stations without power are inoperative, so obtaining fuel for vehicles and generators takes extra time and effort.
The outages appear to have been caused by vandalism of equipment, including gunfire damage at two substations, Moore County Sheriff Ronnie Fields said. North Carolina Gov. Roy Cooper called the incidents a "criminal attack" in a Monday press conference.
The outages began shortly after 7 p.m. Saturday, Dec. 3, in Carthage then spread throughout central and southern Moore County, Fields said in a Sunday press conference. "Upon arrival extensive damage was found at the substations. Evidence at the scene indicated that a firearm had been used to disable the equipment. … [T]he FBI assisted us throughout the night to provide security at all of our substations."
Duke Energy anticipates the outages could last until Thursday while the company undertakes a "sophisticated repair," likely leaving residents without power for the better part of a week, spokesman Jeff Brooks said.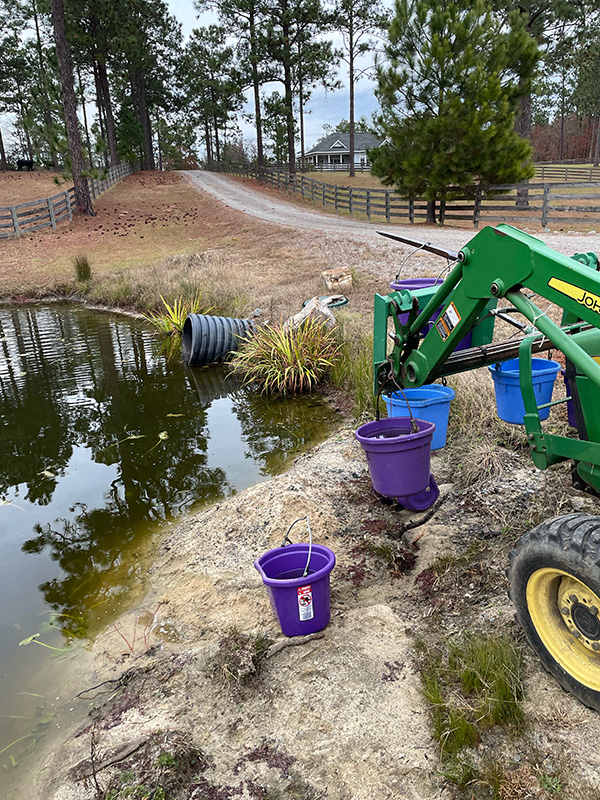 Hauling Water
Allie Conrad is without power on her farm in Vass, where she retrains off-the-track Thoroughbreds and runs an equine photography business.
"It has impacted the horse community hugely," she said. "The people that are outside of Southern Pines and Vass are trucking in water via troughs. I'm literally in bed at 5:30 p.m.; I've been outside moving water buckets from my pond. We have a generator, so we have the refrigerator and a few lights."
To get gas for her generator, Conrad said she drove 40 minutes to the closest open station, then waited 45 minutes to an hour to fill up. On the drive, she passed the damaged Carthage power substation and said there were news crews everywhere.
"We're basically in a data and information blackout," she said, outside of calls and texts that come in sporadically. "You can't get online unless you drive half an hour out of town. I have photography jobs due, but my computer isn't working, so hopefully they'll get us up and running.
"It could be worse: It could be 25 degrees, and our pipes could be frozen, but it is cold," she added. "We'll close our bedroom door, get all the dogs in the bed and pile the blankets on."
Getting adequate water to her horses has been the main challenge.
"Horse keeping in the midst of a domestic terror attack is complicated," she said. "Soaking your beet pulp when there's no water and no heat is a challenge. I'm using pond water to soak my horses' feed. They're all eating fine, and they look at the water a little funny, but I can't imagine some of these fancy show horses that never drank out of a pond in their life!"
With rain in the forecast, she said she's looking forward to her rain barrels filling to help the water supply.
"Obviously the impact on business is extensive," she said. "My horse dentist had to cancel all of his appointments. My farrier can run off his truck but can't use his grinder or do stud holes. I'm getting paid to take someone's horse hunting, but I couldn't go, because I was too busy hauling water from the pond."
She said that local feed stores are trying to stay open and doing all they can. "We have really good small-town feel feed stores here who will just keep a tab for you," she said. "Living in a tiny town is good for that."
Community Outreach
Kaily Meeks, who owns the local feed store Moore Equine and has a small farm with three horses, cats and a dog and "a bunch of chickens," also said that she's been keeping warm with her pets piled in bed with her at night.
"On the farm side I'm actually pretty lucky because I'm on county water," she said. "I don't have generators to run lights, so we've gotten a little creative. My horse was scheduled to have a chiropractic adjustment; we hung a bunch of solar lights in his stall. Other than that I've been using flashlights and getting the job done. We're doing OK, but the dark, cold mornings are no fun."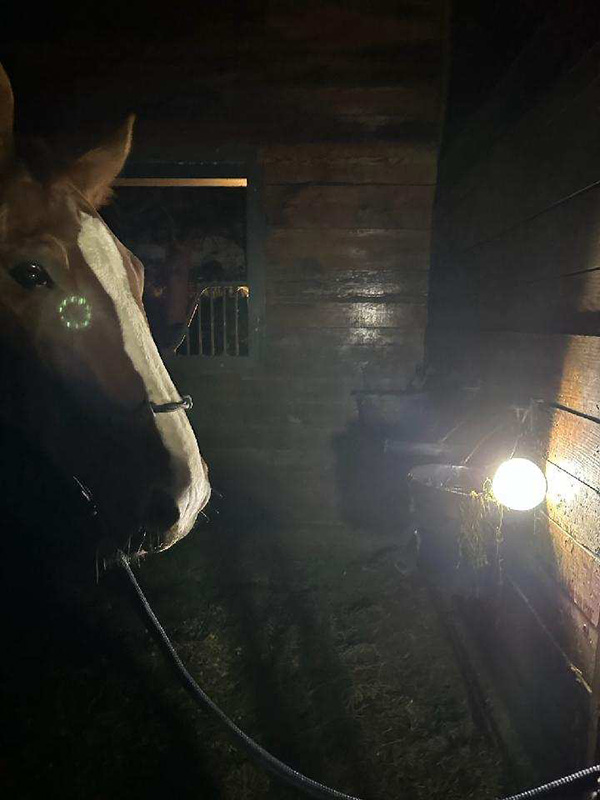 At her feed store, she said that the outpouring of support from the community has been inspiring.
"We're only closed on Sundays, so we got all the generators going on Sunday so we could open up Monday morning," Meeks said. "We got our computers and lights going, and we decided to bring up a grill and make hot dogs and hamburgers to give to people who didn't have power and wanted something warm. Our local Triple Crown rep Christina came by with water and bananas and cookies to add to it. One of our customers called me this morning, and they're going to bring a bunch of bacon and eggs for us to give to people and keep warm on our grill. While this whole thing sucks, it's been really cool to see this side of it too. We've shortened our hours from 8 to 4 instead of closing at 6 because none of the traffic lights are working, so we want to get people home safely. There have been a lot of accidents."
The store is located near Youngs Road, a major thoroughfare, and she said they have been receiving deliveries as well as running feed and hay deliveries. "It just goes a bit different; we're using a lot of headlamps," she said. "We haven't heard of any major issues with horses. If anyone has had problems getting water for their horses, somebody has stepped up to help. We have city water for our store, so that's available to everyone as well. Everybody has had a great attitude, and that helps make things better, when people are appreciative and have a good outlook on it. We'll keep having food and coffee going until we get power back on."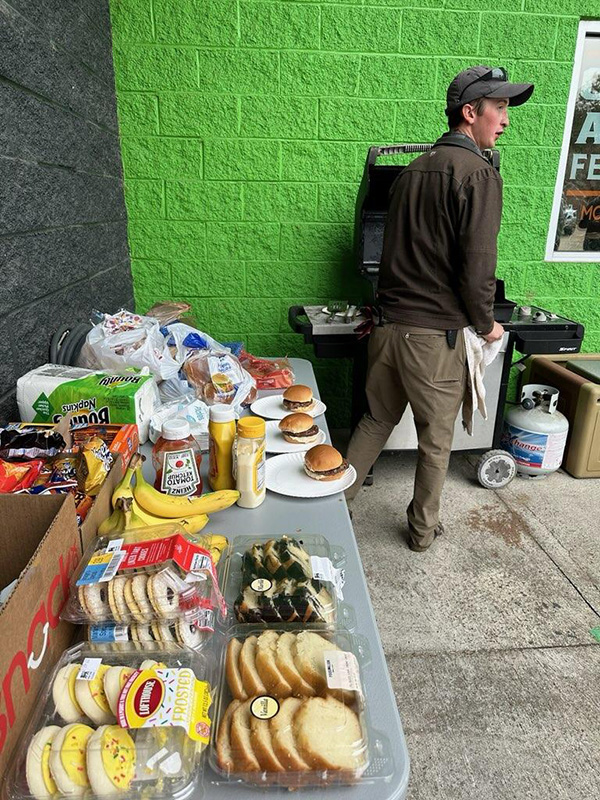 Helping Hands Everywhere
Competitive driver Andrew Stetson, who has a farm in Southern Pines and owns nine horses, and five-star eventer Will Faudree, whose Galivan Farm is just outside Moore County and has power, echoed Meeks' sentiment about the community coming together during the outage.
"Luckily it is such a huge community of camaraderie, and if you don't have a generator your neighbor does, and there are a lot of lakes and ponds for watering horses," Faudree said. "On the whole everybody is all right."
He's had a steady stream of local horse people coming by the farm to warm up, shower and eat a hot meal.
"I've got Helen Murray here, and John Zopatti came over and used my shower, Bobby Costello and Mark Weissbecker are going to come over later and shower and then head home," he said Monday evening. "There's a curfew in Moore County because there are no traffic lights. It is a complete blackout, and there have been so many wrecks."
Living in the middle of the outage area, Stetson said he was appreciative of how people have pulled together to help each other, even though many are struggling through their third day without power.
"The community here is so connected; everyone is posting on Facebook offering water and generators, offering to bring it to you if you need it," he said. "This community is just insane about connection, and that's been very refreshing."
Drag Show Connection Suspected
Although officials have not named any suspects nor prescribed a motive for the power station attacks, some in the local horse community and LGBTQ communities suspect they may have been linked to protests that took place over the weekend against a drag show staged Saturday evening in Southern Pines.
Faudree and Stetson noted that power went out during the drag show, which happened only after weeks of threats from people described as "far-right activists" and protests and counter protests in the street on the day of the show. While officials have not confirmed the theory, and the head of drag show organizer Sandshills Pride reportedly wanted to avoid speculating on a motive, the sheriff also has not ruled out a possible connection, according to reporting from NBC News.
"Our community is devastated," Stetson said. "For weeks now this has been threatening our community, all of our community, so it's been traumatic. But as members of the community, regardless of what party these folks are who committed these acts, they have overreached politics at this point. They've affected thousands of people: elderly, children and small businesses. Southern Pines is a small, charming equestrian/golf town. They have impacted the economy; Trisha Warren owns Cabin Branch tack, and she'll feel this impact two weeks before Christmas. That's hugely impactful in a negative way. Regardless of what they were trying to do with this heinous act, they have impacted people hugely. At this point the FBI and the White House are involved."
The attacks worked counter to what their perpetrators likely intended, he said. Planning is underway for the equestrian and LGBTQ communities to lead an initiative to collect food and warm clothing to give to local charities for disbursement. Through the Circle of Love movement, in conjunction with Moore Unites, a community gathering is being planned with details to follow, possibly to take place on Saturday.
"This heinous act did the opposite of what they hoped and brought our communities together," Stetson said. "Everybody has a place here in Moore County. Someone texted this morning with no heat and no food, and they have three children. It's so sad that this community has been devastated so fast. There are a lot of low-income members of our community who are affected. It's not just wealthy horse owners and golfers. The positive side of this is people have folded together to make things happen and get things done."