Harrisburg, Pa.—Oct. 14   
Caroline Passarelli wasn't planning to show a pony at the Pennsylvania National. She was fully prepared to show in the Dover Saddlery/USEF Medal Final, but a pony? She hadn't shown a pony at the show since 2014.
But Passarelli's phone buzzed earlier this week with an offer she couldn't refuse. Stella Wasserman wasn't able to get to Harrisburg, Pa., to show the veteran Spellbound. Could Passarelli step in?
So Passarelli hopped on Spellbound on Thursday night, jumped a few jumps, and then showed the elegant chestnut to scores of 90 and 91 and two blue ribbons on Friday. On Saturday, they added second place in the under saddle and fourth place in the stake to the tally to take not only the large pony title, but also the grand pony championship. Passarelli also earned Best Child Rider on a Pony honors.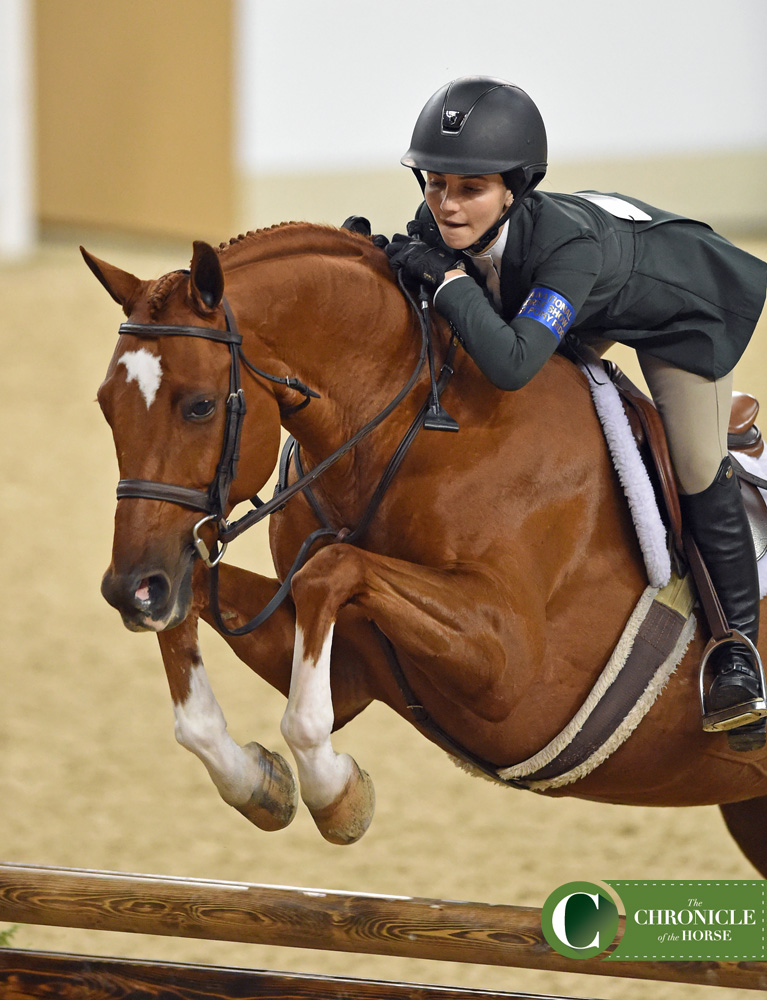 "This is incredible. You feel like all your hard work pays off. The generosity on Archie [Cox] and the Wasserman family's part is amazing. It's an amazing feeling; he didn't put a foot wrong," Passarelli said.
"[Spellbound] has been everywhere," she continued. "He likes when you just float the reins and get on a good canter and go. He's a great jumper, and he has a great rhythm, so the more you can stay out of his way the better."
Passarelli, who claimed the small pony championship at the Pennsylvania National in 2014 with her Black Pearl, has mostly moved on to showing horses now, with the occasional foray into catch-riding a pony. The 15-year-old now rides with Heritage Farm. "I've advanced from a pony rider to a big eq rider who can ride the technical courses, and then I can go back to the ponies and do that too," Passarelli said.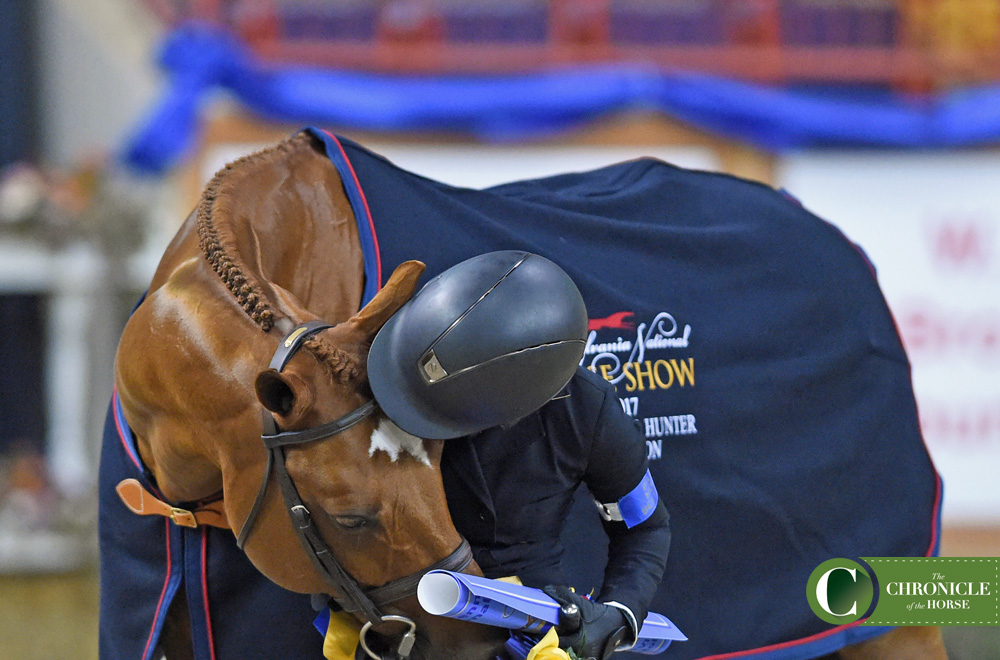 Defending The Title
In the small pony division, Alexa Lignelli of New York City scored a repeat win with her iParty. They were the grand pony hunter champions last year and returned to take the division title again this year.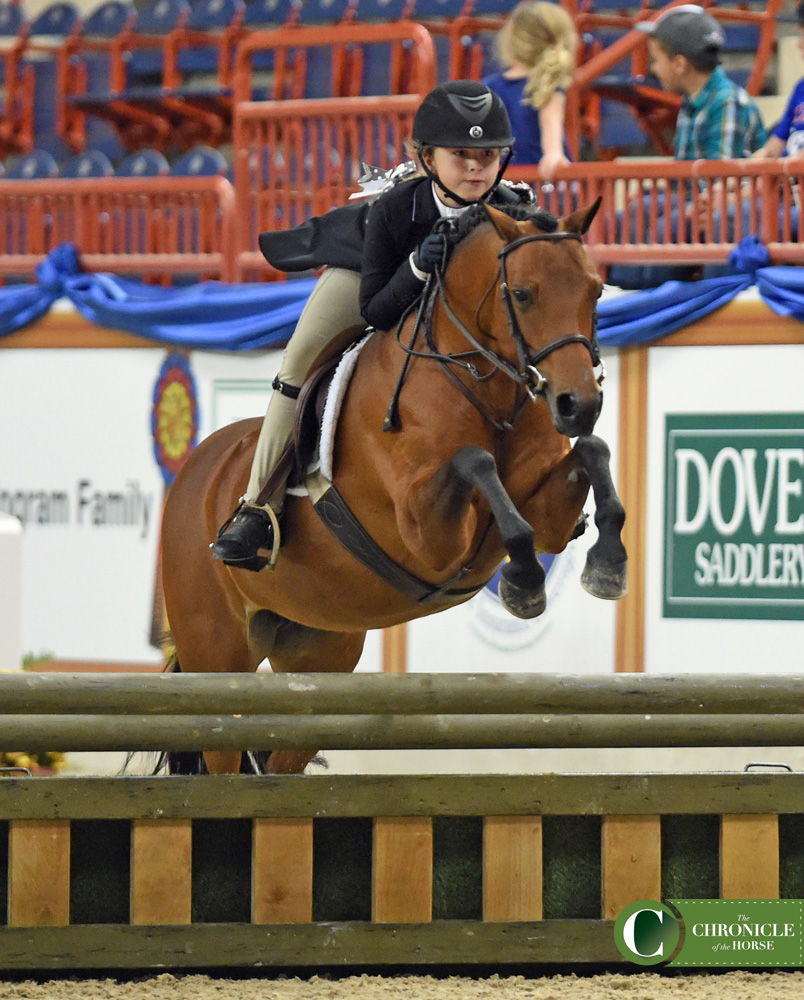 "Yesterday we started out a little rough, but she's the comeback kid," said Lignelli's trainer, Bill Schaub. "We had some good lessons and sorted out what we needed to do. I told her to take a deep breath and go for it. She said she wasn't nervous, but to come back after being champion, grand and best child rider, how do you do that? So she had some nerves, but she got rid of them. She's very analytical that way. She's a great student. I've never had a 9-year-old to teach where we discuss how to create a good jump. It's not just worry about distances; we work to create the right jump."
Lignelli, 10, shared the awards ceremony with her younger sister, Agatha, who is also riding now in the children's pony hunters. Agatha helped out by holding Rollingwoods Knee Deep, Alexa's other pony who was the reserve champion.
Alexa had no hesitation about answering when asked if she expected to win again this year. "I did; I believed. I've improved in all my lessons. I work on my position and my pace on my ponies," she said.
 Coming In With Confidence
Caroline Signorino scored her first Pennsylvania National championship in the medium pony division when she rode Hannah Hoch's Anisette to the tricolor. "I recently won at Capital Challenge, so I was coming with a little bit of confidence," she said. "I've been riding 'Annie' for a year. She's very sweet, and she's very easy to ride because you can fit in any distance."
Signorino, 12 and from Baskin Ridge, N.J., rides with Dave Belford and Chris Payne. "My mom's friend saw a pony camp advertised and told my mom, so I started riding there, and then I was riding at a little lesson barn. Then we moved to Chris and Dave, and it's been great," she said.
Signorino and Annie won the stake class to clinch the title after placing second in the under saddle and winning an over fences class the first day of the division.
IMPORTANT LINKS:  All the COTH Pennsylvania National coverage  |  What You Need To Know  |  live results/order of go  |  live streaming  |  show website