Raeford, N.C.—March 23
Kim Severson was due to canter down centerline with Cooley Cross Border on Thursday afternoon at the Cloud 11-Gavilan North LLC Carolina International CIC***, but an early spring snowstorm in Virginia meant she had to delay her trip for a day.
"Crossy" got to enjoy a snow day out in his field in Charlottesville, and he came to Carolina ready to compete. Severson's dressage time was moved to this morning, and she laid down a 20.8 to snatch the top spot on the leaderboard from Liz Halliday-Sharp and Fernhill By Night (27.0).
Watch Severson's ride, courtesy of Thehorsepesterer.

A clear show jumping round over Marc Donovan's course kept her on top, while Halliday-Sharp added just a time fault to stay second. Lynn Symansky and Under Suspection moved into third with a clear.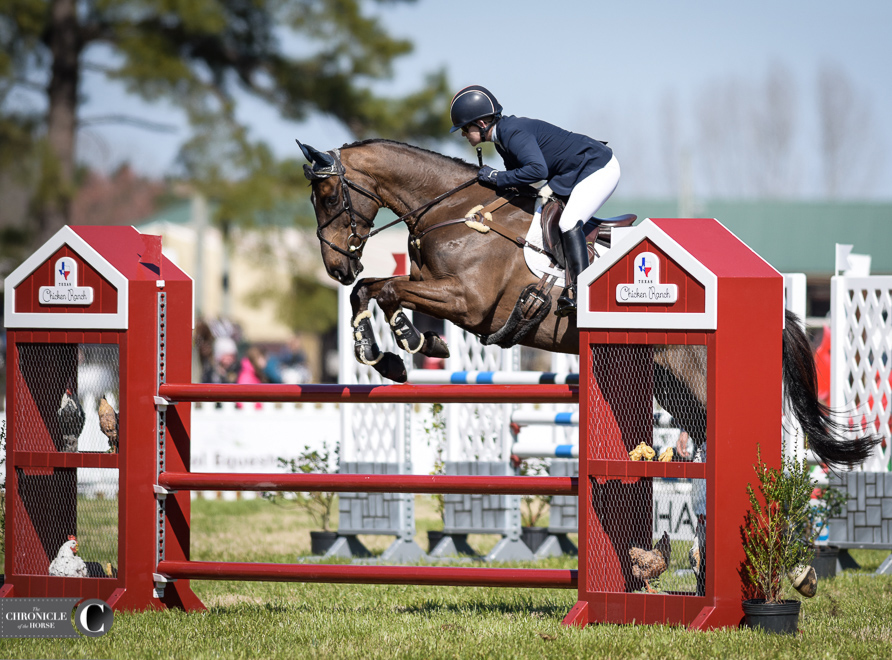 Severson is known as a strong dressage rider, but she admits it's been her weakest phase with Crossy recently.
"He's matured a lot; he's a lot stronger," she said. "[High Performance coach] Erik Duvander has been incredibly helpful in having eyes on the ground. Tracie Robinson, who I've worked with as well, was really helpful with me getting in the right direction. It's funny, I've been struggling with my dressage with him more than my jumping recently. As we all know, cross-country can be a bit of my thing, but I've very happy with him. Hopefully he'll be as good on cross-country as he has in dressage."
Watch Severson's show jumping round via EQSportsNet.
Thirteen riders jumped clear and inside the time over Donovan's course, which featured his signature option fence, this time as the last jump on course. Eight pairs accumulated one or more time faults for exceeding the time allowed of 79 seconds.
Severson again credited Duvander with help over the colored rails.
"For me he's really good because he doesn't try to change too much," she said. "We don't mess with the jumping too much, it's just who he is. Erik's made a few suggestions that we've done differently—giving him a placing pole in the warm-up to make him think a little bit more."
Severson knows Ian Stark's cross-country course will be big tomorrow, but she's excited to tackle it with Crossy, who's gained more confidence and strength since winning the Blenheim CCI*** (England) last fall.
"It's always big here," she said. "He's good with stuff like that. There are a number of big ditches out there. I think the track is good. I think it's going to be a little bit more of a fitness test than it has been in the past because we have that big pull up the hill and then wind out way down the hill."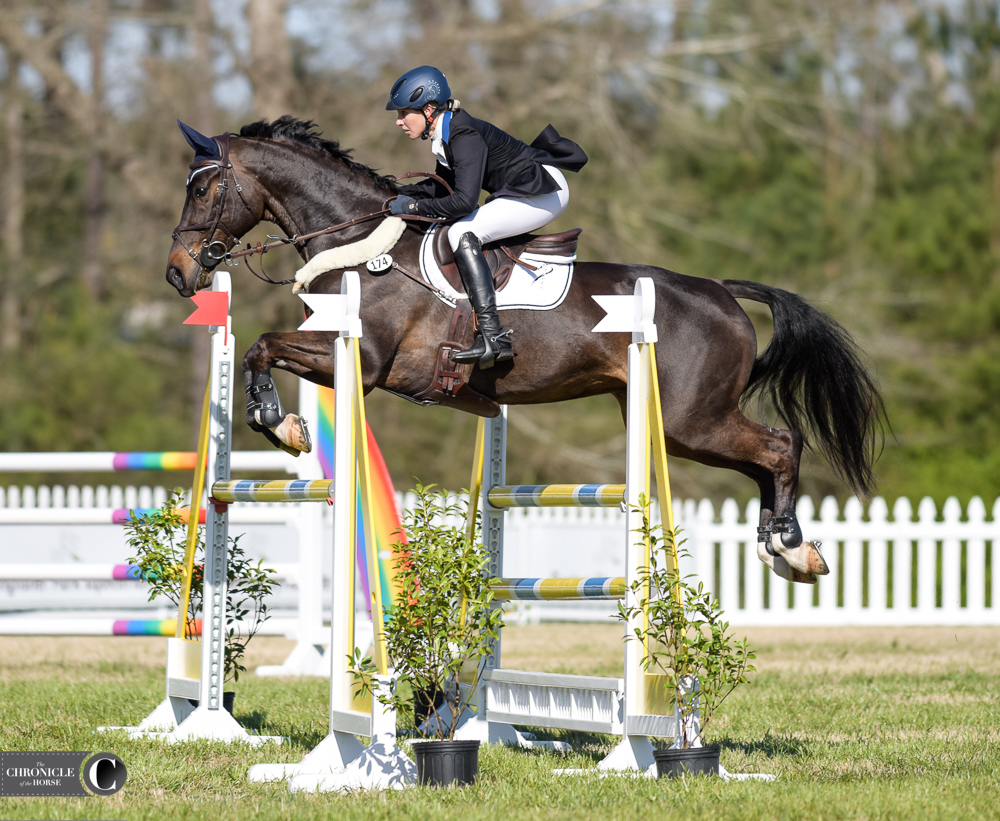 Halliday-Sharp has "Blackie" and Deniro Z in the top 10. Both geldings jumped lovely clear rounds today. Deniro Z's moved him up into fourth place from a tie for ninth.
"I thought it was a great course," she said. "It was tough. It had a few lines that tempted you into riding it a certain way, and maybe it caught people out. He always builds a really good course, and he always makes the time tight, which forces people to get a little bit out of their comfort zone.
"Blackie jumped really well," she continued. "The time fault was probably my fault. I tend to look after him a little bit because he likes to be ridden a certain way. I do a little bit too much organizing. But I was really happy with him."
Deniro Z just moved up to the level last fall. He won the Carolina CIC** last year and completed the Boekelo CICO*** (the Netherlands).
"Obviously he's a lot greener than Blackie, but he really tries," she said. "I could have ridden him a little bit better. I got him a little bit long in places chasing the time, but I can't fault him. He tried so hard. He's turning into a really amazing horse. I'm excited about him."
Halliday-Sharp admitted the cross-country course was tough, and she knows the time will be tough to make.
"It always is here," she said. "The swap of direction is going to make it much more of a fitness test. There are a lot more hills to climb, which will be good for the horses."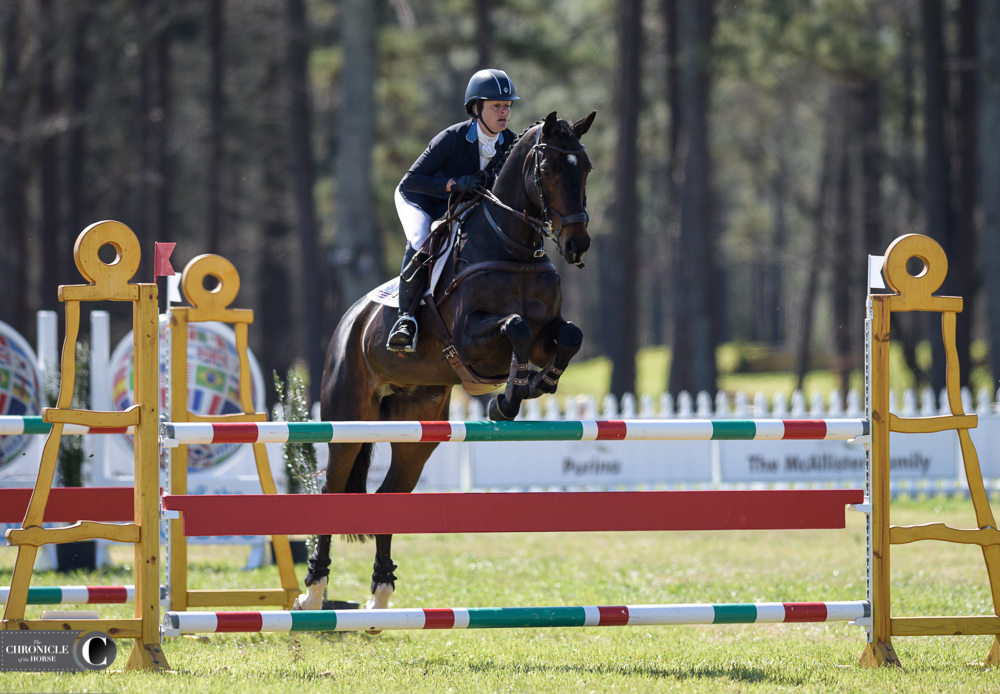 Symansky only recently took over the ride on Under Suspection, or "Pippy," from Hannah Sue Burnett for her owner Mary Ann Ghadban.
"It's the first proper track I've jumped with her," she said. "I'm still getting to know her. I thought she jumped really well. She was a bit hot in the warm-up, but it's just getting to know the horse still. I learn a little bit each time I go out with her."
Symansky admitted taking over the ride on a close friend's horse is tough but said Burnett's been giving her advice.
"She knows the horse better than anybody else," she said. "Working with her and Erik has been helpful this spring, and with Richard [Picken] as well. It's just kind of putting everything together on a horse that's trained by somebody else."
Symansky was eliminated with Donner when she missed fence 11. They'd been in a tie for seventh.
"The horse doesn't know," she said. "I pinched a nerve in my neck really badly this morning and was really struggling in my first dressage ride. Honestly, he was jumping so well I was just enjoying the ride and was so relieved he was jumping so well because I was in quite a bit of pain that I just went right by it, and I had no idea until I went through the finish flags. I'm kicking myself, but it's always better to get it out of the way here instead of Kentucky or somewhere else."
For full results, click here.
For live streaming, click here.
2018 Carolina International CIC*** - Friday
Lindsay Berreth / Mar 23, 2018 8:02 pm