Thermal, Calif.—March 18
Despite stands flooding capacity and spectators lining the banks that surround the HITS Coachella grand prix field, any pins dropping or cameras shuttering seemed deafening as Nayel Nassar and Lordan entered the ring for the AIG $1 Million Grand Prix.
The 14-year-old Hanoverian gelding hadn't shown since he topped the $100,000 Longines FEI Thermal World Cup Qualifier in early February, but that didn't matter. With his eight-year partnership with Nassar, Lordan affords the luxury of being molded and seasoned to his human.
"I only jumped the World Cup week here—that was his first show of the year," said the 27-year-old rider. "We just try to keep him fresh and happy, and hopefully he comes out and does his job."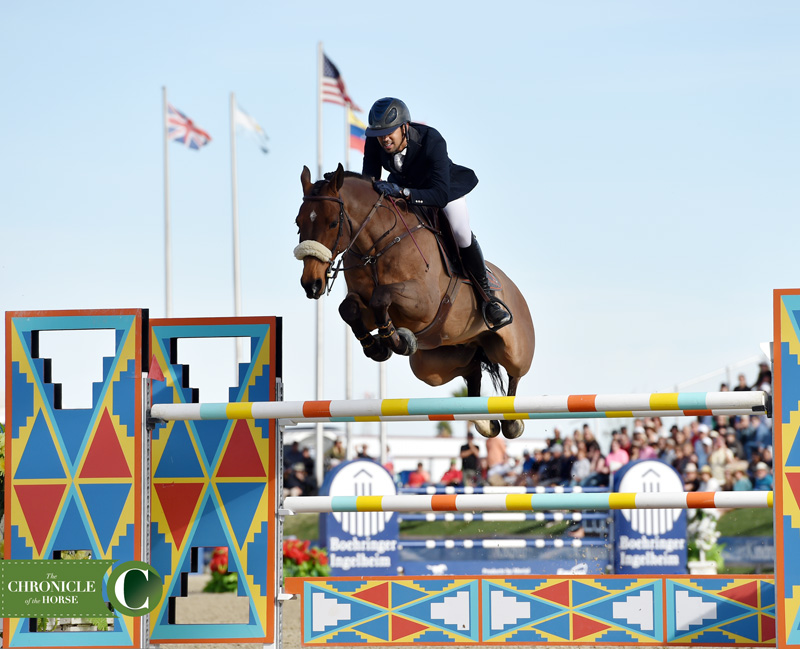 Since purchasing Lordan when he was a springing 6-year-old, Nassar and Lordan have competed in two FEI World Cup Finals (2014 and 2017) and the 2014 FEI World Equestrian Games (France) for Egypt and have already accepted one massive check when they topped the Zoetis $1 Million Grand Prix (New York) in 2013.
With this resume behind him, the light schedule suited Lordan as he jumped faster and cleaner the more the crowded started to simmer.
"He programs himself," said Nassar. "He knows when the big day is. He senses the atmosphere."
With the class now at a 1.50-meter height, course designer Mark McGowan faced the challenge of creating a course that catered to the fresh 1.50-meter horses and the seasoned 1.60-meter mounts in the 53-man field. Of the class, six combinations returned for McGowan's jump off course. Rowan Willis and Blue Movie clocked in a clear jump-off, with Paul O'Shea and Skara Glen's Presence making a tight four-fault round.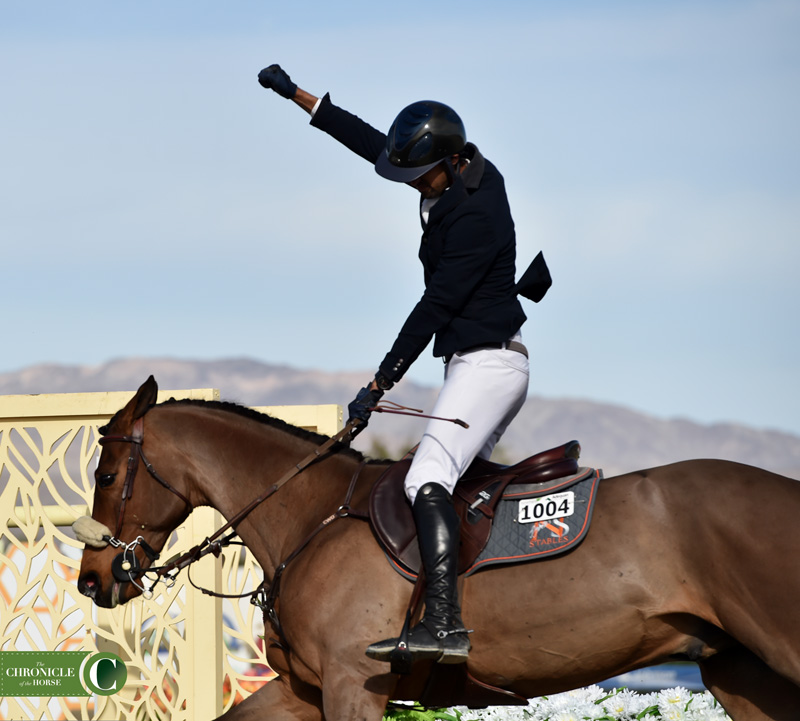 Lordan and Nassar entered in last to finish the class. The tight-lipped atmosphere for the first few fences countered the roar and elation when Nassar and Lordan jumped the final oxer, looked back only to fist pump and beam around the entire stadium.
"And it's really, really special to have a partnership like that," said Nassar, "and I hope we can have a few more years out of him."
"We go hand and glove at this point," Nassar continued. "He's such a trier. He's small, but the jumps never feel [big] on him. We're just trying to take care of him as much as we can. We have an incredible partnership. At this point we go in the ring, it's almost like we don't think anymore. It feels like he's kind of the same way."
Click here for all the results of HITS Coachella, see all of our coverage from the show.