Clean was the key for Darragh Kerins.
Darragh Kerins wasn't thrilled with the task before him in the jump-off for the $100,000 Budweiser Grand Prix of Devon.
"I just hate that situation—going in and knowing you have to jump a clear round and you're last to go," he said.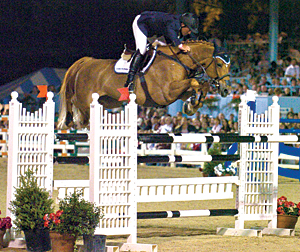 None of the four riders who jumped off before him had gone clean. "I knew there were two big oxers to roll back on, and I didn't know if I had enough time to go around them. I was afraid of making a mistake. But it turned out well for me this evening."
Kerins gambled wisely on Night Train, taking an efficient route with a conservative pace and leaving all the rails in the cups to win his first grand prix at the Devon Horse Show, May 26-31 in Devon, Pa.
"To win here tonight is just unbelievable. This is for sure Night Train's biggest win," he said of the 9-year-old gelding.
Kerins and Night Train helped the Irish team to fourth place in the CN Nations Cup in Wellington, Fla., in March. A native Irishman, Kerins has been based in New York for 14 years. Kerins has no aspirations to represent Ireland internationally this year.
"This is kind of an in-between year for us. I had planned to go to Europe to show, but we have a lot of young horses to bring along. Hopefully, some of them will be ready to go to Europe with Night Train next year," Kerins said.
"I would have preferred Darragh's situation," joked Kent Farrington, who went third in the jump-off and had a rail down and the fastest time for second place with Up Chiqui. "I thought I had a very unlucky rail. It was a great win for Darragh tonight."
Devon Tidbit
Kent Farrington has started using a bit on Up Chiqui's bridle, rather than the hackamore the chestnut gelding has shown in for two years. "After we went to the FEI World Cup Final [in Sweden in April, where they placed 13th], I felt that I really needed to work on his rideability for bigger events," Farrington said.
"I think I'm able to get away with a lot sometimes if the jumps aren't maximum height, or if its in a big, open ring, so I can set him up further away. But riding him indoors with the jumps being quite large, I just felt like I needed some more control. I left there saying that I was going to make it a mission of mine to get him better trained on the flat and ride him in a bridle. It's a double-jointed plastic snaffle."
Up Chiqui and Farrington returned to win the $50,000 Idle Dice Open Jumper Stake two nights later to conclude the show.
Hillary Dobbs rode her way to third place aboard Corlett. Dobbs, 19 and a sophomore at Harvard University (Mass.), also won three other open jumper classes and placed second in one to clinch the open jumper championship and leading open jumper rider titles.
Dobbs and Corlett had just the last rail down in the grand prix jump-off.
"This was my first year doing the grand prix here, so I was thrilled to death to go clear. Going second in the jump-off, with all fast riders behind me, I figured I needed to take a shot," she said. "I was a bit unlucky at the last jump—maybe I was getting a little bit carried away. But I really can't be too disappointed. My mare jumped really well for me and I'm thrilled."
West Point Graduates
Scott Stewart might have nabbed his sixth consecutive leading hunter rider title at Devon, but this year Sandy Ferrell gave him a run for his money.
Stewart, Flemington, N.J., rode West Point to the grand hunter championship and the green conformation tricolor and Castlewalk to the first year green reserve. Ferrell guided Bolero to the first year green championship and Andiamo to the regular working tricolor. She was also reserve champion with Wilson in the second year green division.
"I thought Sandy had it!" Stewart said laughing. But with multiple rides in every division, Stewart prevailed.
West Point improved his Devon performance vastly from last year's, taking three wins over fences, as well as fourth in the under saddle and third in the model, showing in the green conformation as a second year horse.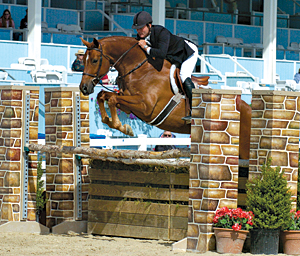 "He was circuit champion [at the Winter Equestrian Festival (Fla.)] last year and then this was his seventh horse show of the year. The courses last year were a little bit challenging, so he was a little bit overwhelmed," Stewart said. "He was just legitimately really green last year."
Owner Krista Weisman has shown West Point, 8, in the amateur-owner divisions. "He has it all—he's a beautiful conformation horse, he's an incredible jumper and a beautiful mover. His tendency sometimes is being too careful, which may end up being to our advantage. I think he has the scope to go on and do the four-foot divisions," Stewart said.
Stewart bought West Point as a 2-year-old from his breeder in Bavaria. He later imported the sire, Rosso de Sera, who was subsequently gelded and shows in the adult amateur divisions.
Ferrell, Bernville, Pa., wasn't as familiar with Andiamo, her regular working champion. She rode him for the first time just a few weeks before Devon.
"I had no idea what to expect. He was very good, and he's a gentleman. He has 100 percent class. I don't think there's another horse out there that can go as slow as he does and jump that high in that good a style," she said.
Megan Fellows bought Andiamo, who was the regular working champion at Devon last year with John French aboard, in October.
"I helped them look for horses and suggested that they try him," Ferrell said. "They wanted the 'it' horse, and for me, he is the 'it' horse. I don't think there's one out there nicer."
The 8-year-old, lanky chestnut stayed in Virginia with Fellows over the winter and showed in the junior division under trainer Jenny Graham's supervision.
Bolero is a much more familiar ride for Ferrell—she was the WEF first year green circuit champion on the adorable gray gelding. "He's a little horse—all of 15.1 hands—and he looks like a big fat pony. He comes in the ring, you watch him trot, and you don't think much of him, but he jumps the first jump and you think, 'Wow, I'd better pay attention.' That's pure talent," Ferrell said.
Funnily enough, Ferrell got the ride on Bolero, 8, when Stewart turned it down. "He said 'I'm too busy—go ask Sandy,' so every day he says 'You can thank me any time now,' " Ferrell joked.
Devon Tidbits
• Jersey Boy "picked a really good week to put everything all together," said Jennifer Alfano, Buffalo, N.Y., who rode him to the second year green hunter championship and second place in the $10,000 ASG Software Solutions International Hunter Derby.

"He has such an amazing talent, but sometimes it's been hard to channel his attention," she said. "He's only 6. We stumbled upon him at Louise Serio's barn. Last year, we didn't really know what he might be. I did the 5-year-old young jumper classes with him in the spring and then in July we thought, 'He's such a beautiful jumper and so slow, why don't we try him in the hunters.' So, he did the first years and then the working. He's done a little bit of everything, but he's just starting to really focus on what he's doing."
• Lainie Wimberly, Ridgefield, Conn., returned to the show ring to claim the regular conformation hunter championship on Boulevard Dier. "I didn't show much at all in Florida—I concentrated on training and bringing horses along. I was a nervous wreck the first day here," she said. This was only her second time showing Boulevard Deir, 8. Anna Kluger, a student of Wimberly's, bought him in February and has been showing him in the junior divisions.

"He's got a lot of ability and scope. It's a natural ride for me. He's a showman—you walk in that ring and it's game on. We have a good partnership," Wimberly said.
• Meghan Abbott and Rebecca Forbes tied for the adult amateur jumper championship after placing first and second in the NAL Adult Jumper Classic. Abbott, Palm Beach Gardens, Fla., rode Pancharan and won the classic. It was a sweet reward for her patience over the two years she's had him.

"When I got him, he wouldn't go around a course. He would take off and run to the right. We've done a lot of work with him, and he's come a long way. The success we've had from him not going around the course to getting him to jump around has been what I've loved. Even if we have a rail here and there, if he goes well, I'm happy," said Abbot, who attends Florida Atlantic University.

Forbes doesn't need to worry about Kick The Clouds, a former grand prix horse. "When I first got him, I used to think that I had to be perfect and that made it harder, but
now I've gotten to where I'm comfortable with riding him," she said. Forbes, Keswick, Va., is an emergency room nurse and is working toward her master's degree at the University of Virginia.
• Whitney Weeks, Southport, Conn., topped the Show Jumping Hall of Fame Amateur-Owner Jumper Classic on her game mare Subliem, clinching the division championship. "If you don't make any mistakes, she'll probably win," Weeks
said.
"When I first started to ride him, I knew he was pretty special, and the intent was to sell him. I didn't have a client to buy him, and I was worried because all I could think was that I had this great horse at my fingertips and I was going to have to sell him to someone else. But I have an amateur student, Staci Arani, whose husband gave her the OK to buy a second horse. I think he for sure surpassed anyone's expectations."
Amateurs Collect Meaningful Wins
Caroline Clark Morrison has been showing at Devon for three decades and has been champion there before. But this year, her grand amateur-owner hunter and amateur-owner, 36 and over, titles on Milan meant all the more.
"It was an emotional win for me. He's just a really good horse—he always wins when it really matters. This was one we hadn't gotten before, so I really wanted it!"
The last time Morrison was champion at Devon was in 1995, when she and Exclusive topped the amateur-owner, 18-35, division.
Morrison and Milan had to win the stake class to clinch the title, but a thunderstorm swept through the show grounds at the start of the class, and they had to show in the pouring rain.
"He knows when it counts. He can go out there in the driving rain and do his thing. He's the same all the time. He almost likes it better when it's a little bit challenging, so he was right there for me today," she said.
They earned the blue, and the tricolors.
"It was one of those rounds where you just pick up a lick and don't have to change anything. He's a steady eddy. He's quirky on the ground, but when you get on him, he's pretty much going to be the same horse every day."
Morrison, Iron Station, N.C., has had Milan for 31⁄2 years and trains with the Towell family of Finally Farm in Camden, S.C. She said this might be the last year of showing for the 13-year-old.
In contrast, Stephanie Riggio has just started her winning aboard Indian Summer. At Devon, the put together a string of ribbons to earn a surprise victory in the amateur-owner, 18-35 division.
"I didn't win a class—I got almost everything but a blue," Riggio said. "But I told my trainer [Karen Caristo] that my goal was to get a ribbon in every class, which is something I've not ever done here. I was so happy to get a ribbon in every class that when [in-gate man Kevin Giblin] told me, 'Turn around, you're champion,' I couldn't even believe it!"
Riggio, New York, N.Y., bought Indian Summer, an 8-year-old gelding who was the grand and first year green hunter champion at Devon in 2004, in October of 2006.
"It was a slow learning process getting to know him. He's pretty straightforward— it was just a matter of me getting used to his jump and the way he likes to go. He really tries so hard. He's not the variable in the equation—I am!" Riggio said.
The win had special meaning to Riggio, who will be starting graduate school at The New School (N.Y.) in the fall. "I would like to dedicate this to my cousin, Melissa Riggio, who passed away in April of leukemia. It's been a rough couple of months, but she was here with me.
She was an incredible support for me," she said.
---
Who Needs Spurs?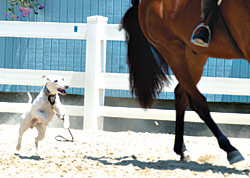 Liza Towell Boyd had a little extra help in one class of the green conformation hunter division. As she and Scout jumped the fifth fence, a Whippet escaped from a spectator and joined Scout in the ring. The dog chased him for the remaining three fences, jumping a fence in the process, biting at Scout's tail and running on his heels.
"As I was cantering to the oxer-oxer in-and-out, I saw a glimpse of a white dog running through the ring. I thought, 'Well, this'll be interesting.' I jumped through the in-and-out and he jumped it great," Boyd said. "As I went into the corner, the dog caught up to me and at one point it was grabbing at Scout's tail and then it came up by his shoulder.
"Scout and I looked down at it. It did go through my mind, 'If I pull up, what would happen?' " added Boyd. "Any other horse would have bolted by then, but I thought, 'He hasn't done anything, and he doesn't seem bothered—there's really no reason to pull up. I'm having an amazing trip and there's only one jump left. I don't want to pull up and have to do this again!'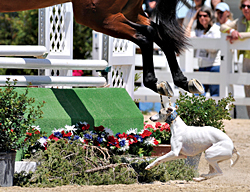 "So, he just kept his focus and we jumped the last jump and the dog was waiting on the back side of the jump and chased us into the corner. I think any other horse would have spooked, kicked out, gotten upset and distracted. But he never changed his rhythm or missed a beat. The dog on his heels actually helped him go a little. I came out of the ring and said, 'That was to our advantage. I needed a little cluck through that oxer-oxer!' "
Boyd and Scout were called back on top of the class after their amazing round but moved down to second in the conformation judging. Boyd credited Scout's equanimity to Kendra Schultz, who grooms for owner Caroline Clark Morrison.
"Kendra has a Doberman and a Bassett hound, and when she rides in the fields they're always jumping in front of and running beside him, so I told her she trained him up for me pretty well," she joked.
Molly Sorge