Mill Spring, N.C.—Oct. 22
Nicola Philippaerts had the good fortune to draw the very last starting place in the $380,000 Rolex Grand Prix CSI***** with H&M Harley VD Bisschop, which meant he also got to start last in the jump-off for the class. He'd watched Jessica Springsteen blaze around the short course with Cynar VA in 41.29 seconds, and so his plan wasn't complicated, but it also wasn't easy. He needed to go clear, and he needed to go fast.
"Jessica was very quick, so I had to go quick, and I was lucky enough the last rail stayed up," said Philippaerts, who did get a bit of a rub at the last fence, the Rolex oxer. But that clear round and the time (40.57 seconds) was good enough for first in the class, which featured an initial start list of 40—including Olympians and top grand prix competitors.
No one fence served as the bogey in the first round, with the final oxer falling several times as well as rails within the triple combination. Even the very experienced pairs of McLain Ward on HH Azur, Kent Farrington on Voyeur and Lauren Hough on Ohlala pulled rails.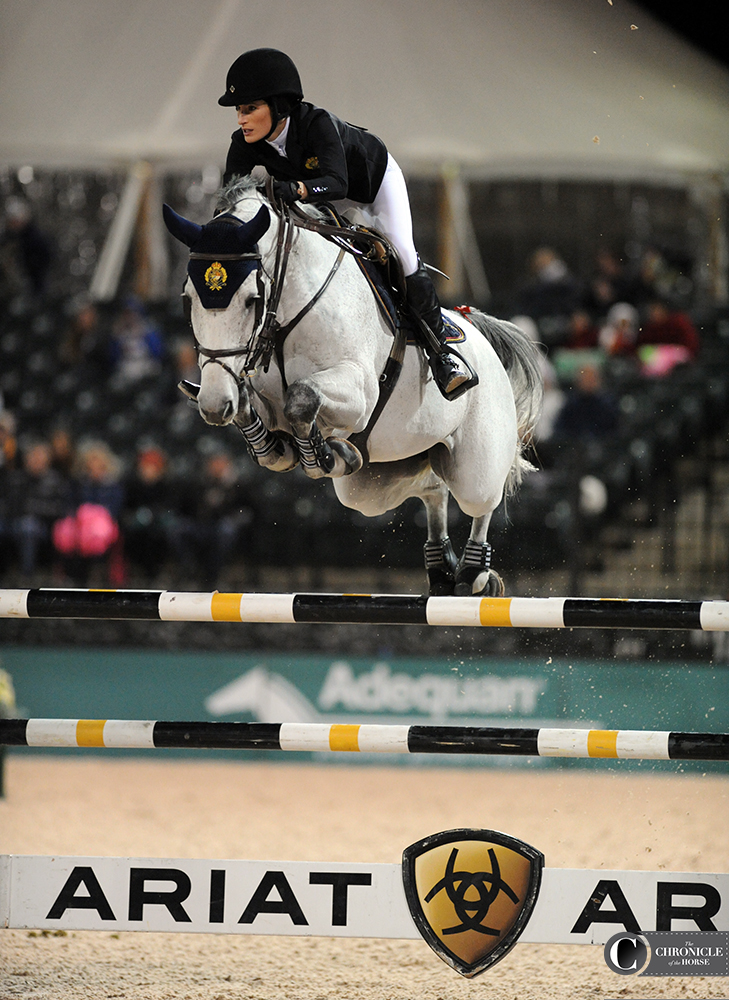 Jessica Springsteen and Cynar VA jumped to second. Photo by Lisa Slade.
"Fortunately McLain and Kent and a few other ones had one down, so there were only six in the jump-off," said Philippaerts, who rides for Belgium. "I think the track was a nice course. There were not so many clears; I thought there would be more because there were many good horses."
Of those six in the jump-off, the top three went clear, including third-placed Lauren Tisbo on Coriandolo di Ribano who finished with a time of 42.29 seconds.
"It was hard because I was the second one in [for the jump-off]," said Tisbo. "My horse is still pretty new at this level, so this was his first five-star grand prix. I just tried to do the best round I could for him. That was a good as we could do tonight."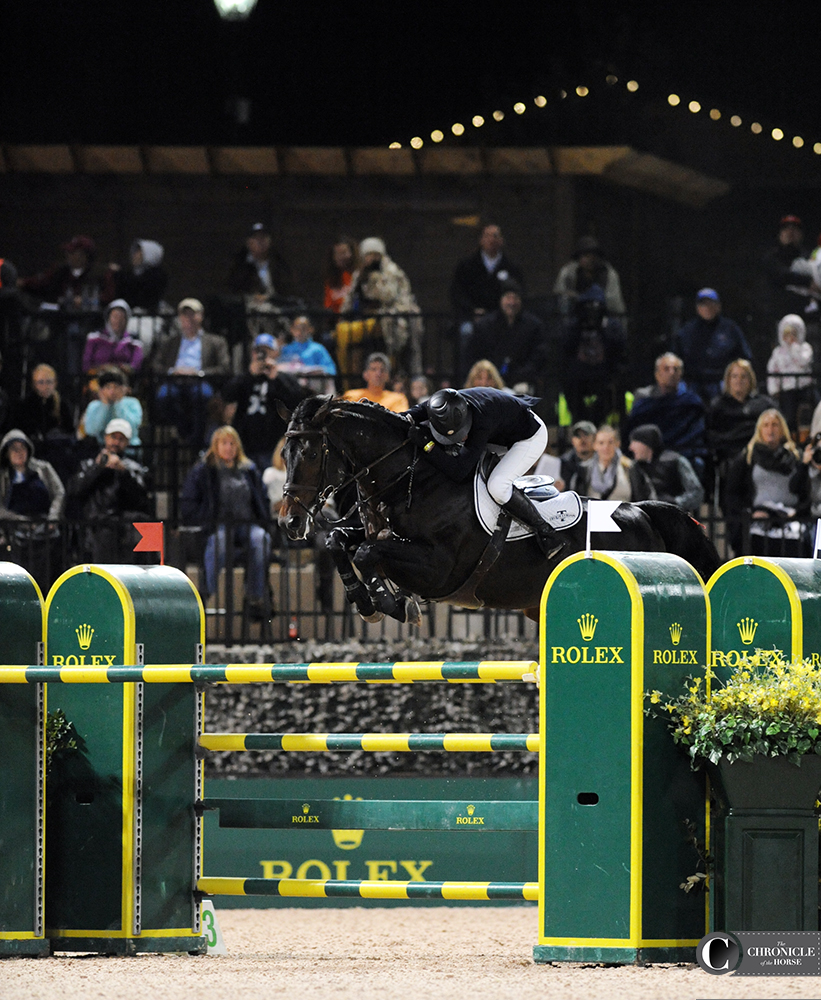 Lauren Tisbo and Coriandolo di Ribano were third. Photo by Lisa Slade.
Springsteen, who won this year's Saugerties $1 Million Grand Prix with Cynar, gave her mount several weeks off of showing before this competition. This was only the second five-star grand prix held at the Tryon International Equestrian Center facility, and it was their first five-star fall date.
"I loved it here this week," said Springsteen. "I heard they were having a five-star in the fall when I was in Florida this year, so I really wanted to make it a priority to come."
Philippaerts, who's based in Europe, made the decision to tack this week onto his usual fall schedule.
"I come to America every year, and I saw this show was before Washington [International, D.C.]," he said. "Usually I started Washington, and then go [the National Horse Show in] Kentucky and [the Royal Winter Fair in] Toronto, but I saw this show, and it looked nice, and it was good prize money, so I decided to come here the week before.
"I think it's a really nice place here," Philippaerts continued. "I was surprised when I came here to see how big it was. The courses are good; the rings are good; the materials are good. I think you're going to see a lot of nice sport here."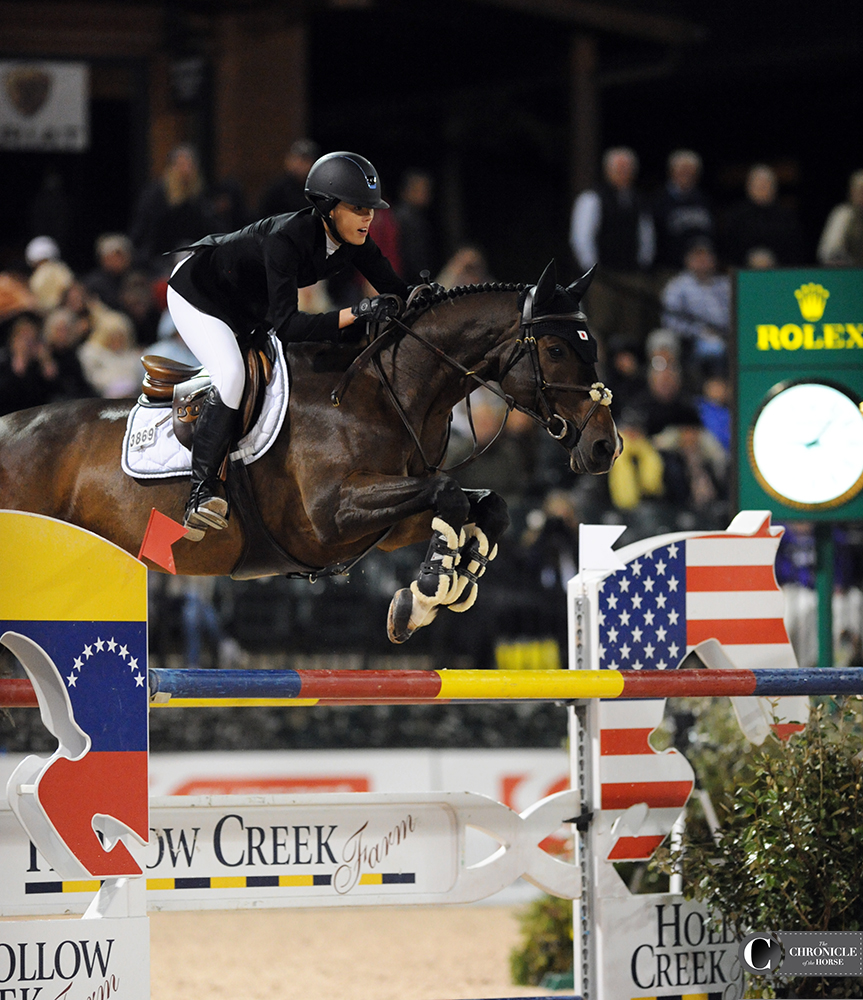 Karen Polle and With Wings earned fourth. Photo by Lisa Slade.
Mark Bellissimo, managing partner of Tryon Equestrian Partners, noted that next year's fall series here at Tryon might see two five-star weeks.
"We've spoken to a lot of the riders, and McLain and Kent were the first ones who really had said, 'There really needs to be a tour in the fall that's an option for indoors,' " said Bellissimo. "We're going to try to add another five-star the week before to try and create a really great week here. I think you'll see probably a four- to six-week tour, not everyone will be there, but just to have another option for people who want a change. The weather is good, and there's top sport, and I think we'll attract the top riders."
Germany's David Will took fifth on Monodie H. Photo by Lisa Slade.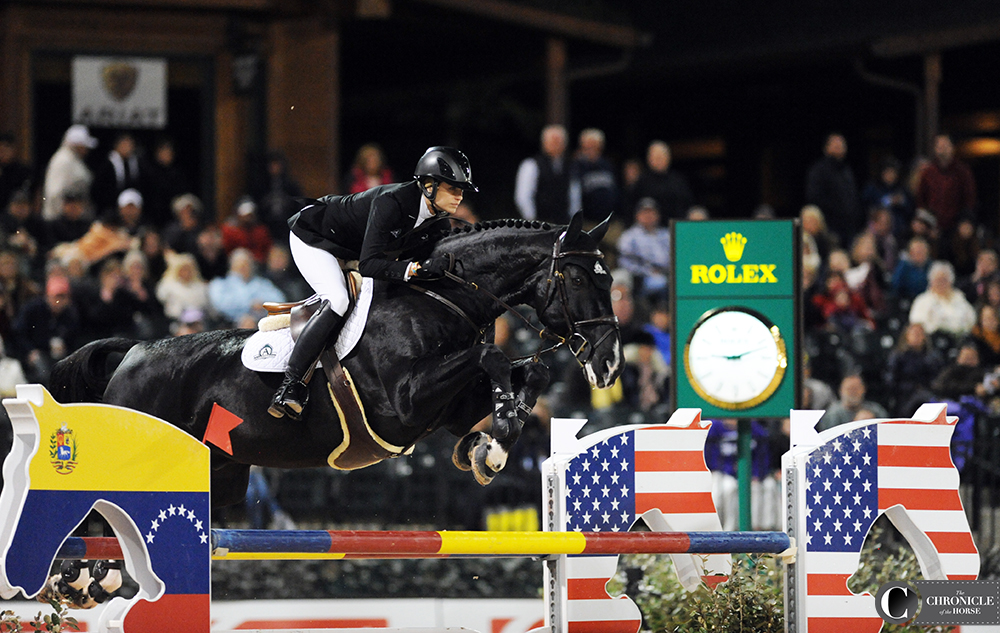 Canada's Tiffany Foster was sixth with Tripple X III. Photo by Lisa Slade.
See full results from the class.