Things were going well for Nicholas Beshear as he galloped Rio De Janeiro around the Mars Great Meadow International CCI3*-S course on Aug. 28.
Coming off of a win at the River Glen CCI3*-S (Tennessee) a few weeks prior, Beshear, 19, was competing in his seventh event with "Rio," a horse he's riding for his mother, five-star competitor Emily Beshear, while she recovers from a knee injury.
But around Fence 9C at Great Meadow, Nicholas felt something happen.
"We can't really decide if he slipped, or if he kind of buckled his hind legs in the turn after 9 behind the [main] ring, but at some point during that slip and tumble he dropped his inside, which was my right side, and my stirrup just completely slipped off the saddle when my leg came back," he said.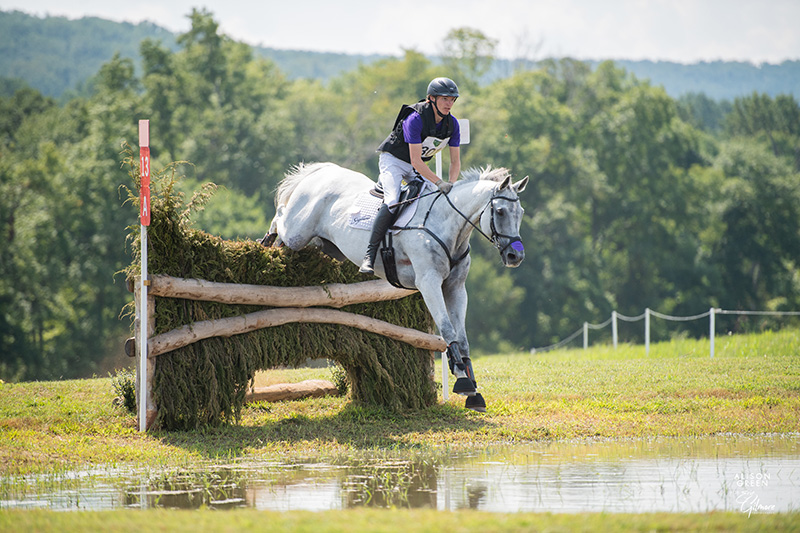 The pair was in 11th place after show jumping in a huge division of 78 starters, so Nicholas decided to keep going, sans stirrup.
"The jump after it I wasn't too worried about because it was just the house on top of the hill, so in my head I was using that as a test to see if it was even an option to keep going, and once I felt comfortable, I just took each fence one at a time. When I cleared one I was just hoping I could get to the other," he said. "There wasn't too much slowing down, but he's very good with his legs and can kind of jump like a pony but with a bigger body. He's very good, especially for that unique situation. It was definitely a big trust boost between us."
Announcer Brian O'Connor encouraged spectators to cheer him on as he ticked off each fence.
"Every time I cleared one, I was just looking straight to the next," he said. "Until the final water, I'd say I was staying in one consistent rhythm, then by then I'd really made sure he was listening and paying attention just because he's still green with me. After that it was just trying to make it home."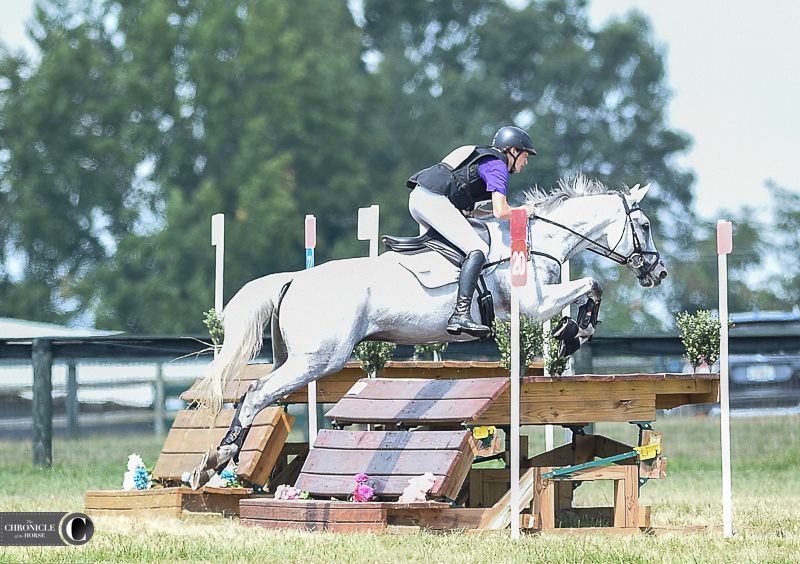 They made it through the finish flags with no jumping or time penalties to finish sixth overall and top the Piedmont Equine CCI3*-S and CCI4*-S Under-25 combined leaderboard.
Nicholas' ride drew comparisons to Mark Todd's masterful ride in 1995 at the Badminton Horse Trials (England) aboard Bertie Blunt. He said he's not seen the video but had heard about it.
Nicholas comes from a horsey family: In addition to Emily riding at the top level, his father, equine veterinarian Jeff Beshear, was competing in the same division aboard Say Cheese and was out on course at the same time.
Watch Nicholas' round with Rio De Janeiro, courtesy of Horse & Country:
Based in Somerset, Virginia, Nicholas is attending Piedmont Community College and plans to transfer to the University of Virginia after two years. He rides out of his family's Brickland Farm.
Since Emily's knee injury in February and subsequent complications and surgery, Nicholas has had the opportunity to ride many of her top horses. Rio, a 13-year-old Holsteiner gelding (River Dancer—Vanilla Ice), competed to intermediate with Cierra Daratony before the family bought him earlier this year.
"It's definitely been challenging," Nicholas said. "There's a lot of different ones and a lot of different styles to learn, but I think it's helped me improve all of mine, not just on hers individually. It's definitely been a good learning experience just because it teaches me how to be very adaptable and know how to work in a bunch of different situations. They're all very different."
Nicholas hopes to carry on in his mother's footsteps and become a professional in the future. "Rio could become my big advanced, maybe four-star horse at some point, but we'll have to see where it goes," he said.