Wellington, Florida—March 29
You didn't see the usual headliners of the U.S. dressage team out and about Friday afternoon in the conclusion of the CDIO*** Nations Cup during Week 12 of the Adequan Global Dressage Festival. Laura Graves wasn't dancing down centerline with her renowned Verdades—in fact, Graves was watching and cheering her teammates from the sidelines as new and developing partnerships took center stage and led the USA to victory.
"I'm so proud of these amazing women," said Robert Dover, chef d'equipe of the U.S. team. "They are not only rising to the occasion, but they are also changing the game with each ride; they're changing the game for American dressage as we go toward the Games."
Everybody is planning their year around the FEI World Equestrian Games in September and hoping to get a chance to prove themselves in Europe this summer. One combination that looks likely for the European tour is Adrienne Lyle and Salvino. They led the U.S. team's effort with the high score in both rounds of the Nations Cup, scoring a 76.89 percent in the Grand Prix Special.
"I'm so proud of my boy and the way he handled it," Lyle said. "He went in and put two really solid, clean, powerful tests in for our team, and that's exactly what you want. Even on the second day today he still came out fighting and put his all into it."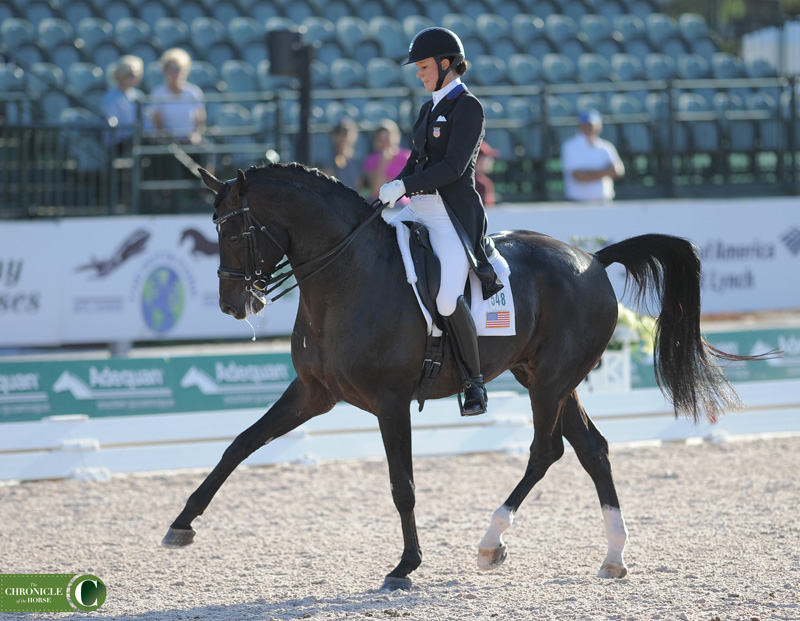 Traveling all the way from California, Sabine Schut-Kery was representing the West Coast and had the second best score of the night, riding Sanceo to a 72.87 percent.
"I couldn't be more happy with my horse," Schut-Kery said. "It's his first season at Grand Prix—we started in January—and I'm really happy. It was really  good practice for me to ride in a different climate and see what I have. I'm super happy, and I look forward to the future that we have."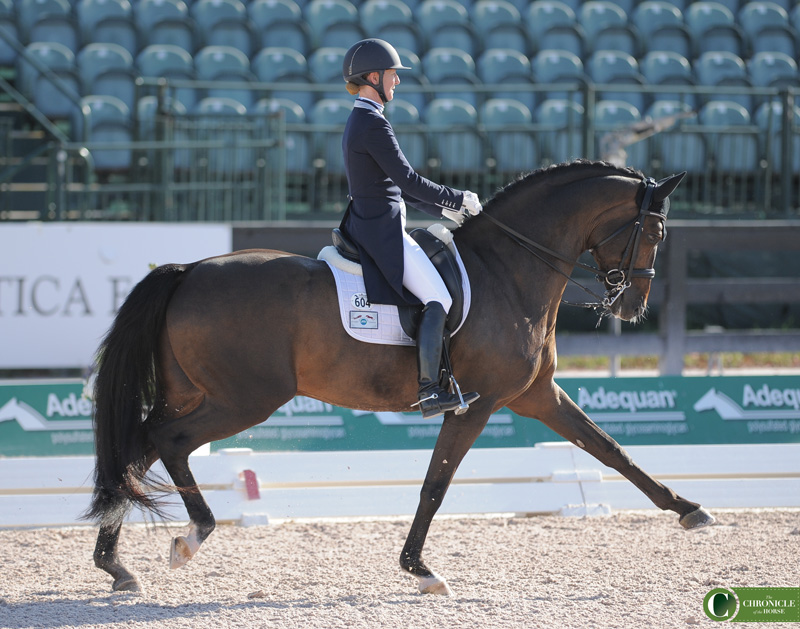 Rounding out Team USA's scores that counted toward the gold medal was Olivia LaGoy-Weltz and Lonoir—the pair had the third best ride of the night scoring a 71.17 percent.
"I was pretty happy with Lonoir; yesterday went better for us," LaGoy-Weltz said, referring to the first round of the Nations Cup. "We're still having some bobbles. It's still a work in progress. Today he was more powerful, and sometimes that causes other things to happen, but you don't work things out till you take risks, and right now that's what we're working on."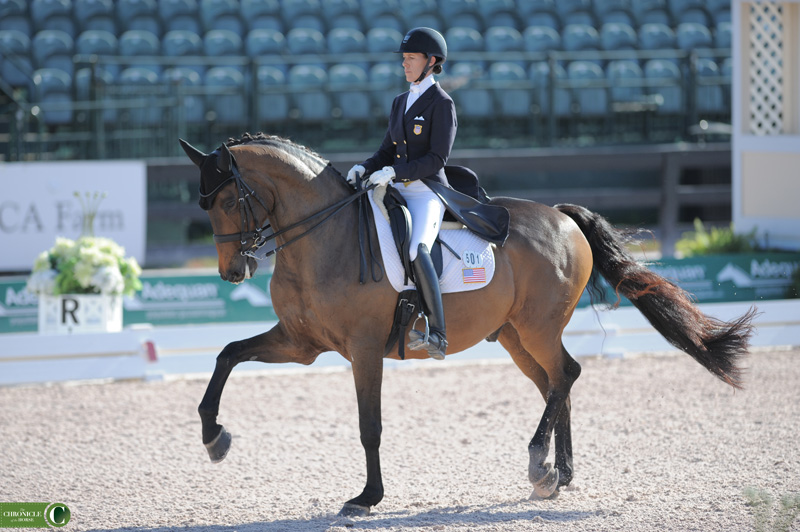 Rounding out the team was Ashley Holzer aboard Havanna 145. Holzer unfortunately went off course during her test, but she had a great sense of humor about her error.
"My owner just texted me: 'Which test did you like better? The FEI's or yours?' " Holzer said with a laugh. "My mare was unfortunately green this weekend, and we had some green problems. And my stupid off course, no one will beat me up more than me, I can tell you that, but these girls are amazing and so supportive."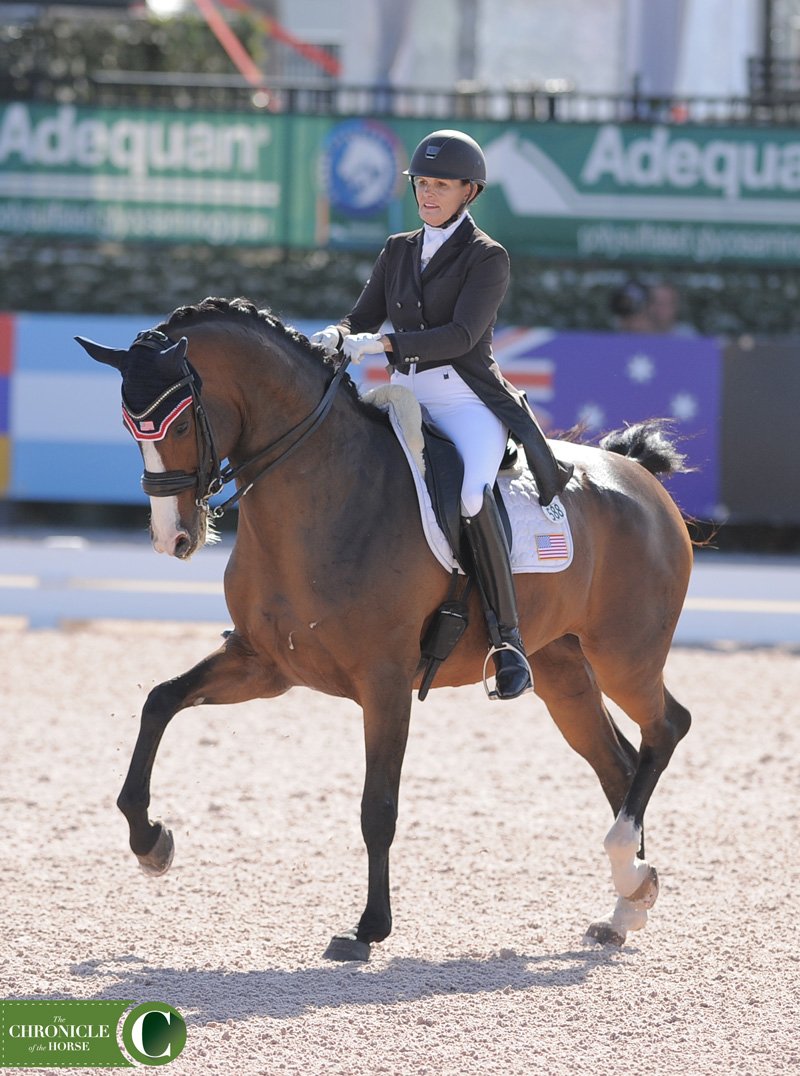 Team Canada took the silver medals, a bit of a bittersweet moment for them as just last year Holzer switched flags to ride for the USA instead of Canada.
"My lovely Canadian friends told me I look old in blue!" Holzer said with a laugh. "These girls were all amazing and to watch them all ride was incredible. I'm honored. Everyone in the States is so welcoming to me."