The U.S. Dressage Federation honors an annual Adequan/USDF Para-Dressage Rider of the Year, but until now that's been the only recognition offered to para-dressage athletes. That fact bothered the USDF Awards Committee, which took action to change it during the 2022 Adequan/USDF Annual Convention, held Nov. 30-Dec. 3 at the Hyatt Regency in Lexington, Kentucky, the federation's first in-person convention since 2019.
USDF's awards mission states that the organization "encourages members to strive for excellence by offering award programs for everyone," said committee chair Amy Swerdlin, an FEI-level competitor from Florida. "But there was no equivalent to the USDF rider medals for para riders."
Now there is. As approved during the annual convention by USDF board of governors, the USDF Para-Dressage Athlete Rider Award program will recognize three performance levels—similar in concept to the USDF bronze, silver and gold rider medals—starting with the 2024 competition year, which begins Oct. 1, 2023.
Eligible athletes will be able to earn elementary, accomplished and elite levels of recognition, with tiers based on scores earned. Like the popular rider medals, the para rider awards will be cumulative, not year-end.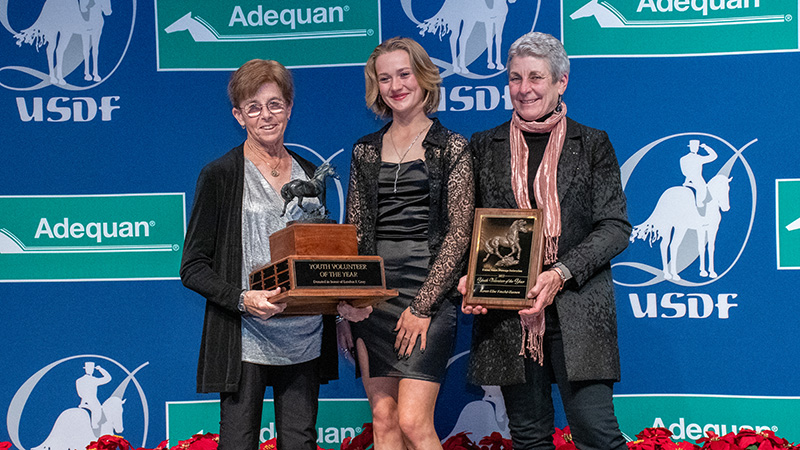 From The President
Also during the meeting, USDF President George Williams delivered an annual report that focused on several issues he believes the federation needs to address.
"The USDF needs to appeal to all levels and types of dressage riders and enthusiasts," he said, but doing so "can be a balancing act."
"Education is a priority for us, especially now that the USEF has fully handed over the responsibility of education of licensed dressage officials," Williams said. "This highlights what could be referred to as a greater need to develop education for professionals."
For the past two years, several working groups have been reviewing the USDF Instructor/Trainer Certification Program, Williams said, looking for ways to improve and grow the program.
"The USDF will be announcing some changes to the program based on the recommendations of these working groups," he said. "We need to continue to focus on certification and instructor education, to ensure that riders throughout the country have access to knowledgeable instruction and to stay ahead of any possible regulations imposed upon us by those outside of the sport."
Dressage as a sport, and the USDF as an organization, face several challenges, according to Williams. One is the cost of showing, which he called a complex issue with factors ranging from organization-imposed costs such as drug testing and licensing fees to industry-wide and general economic factors, from show stabling costs to current spikes in fuel prices.
A second challenge—one also mentioned by USEF CEO Bill Moroney in his address to the board—is the need to sharpen focus on equine ethics and well-being, a need heightened by living in an age where incidents that go viral on social media can have swift, significant impacts on the sport. (An example Moroney gave was a 2020 German Olympic modern pentathlon coach's punishment of a mount for refusing to jump, which sparked such outrage that the Olympic legacy sport dropped equestrian from its roster.)
Equestrian sports must scrutinize their policies and procedures in the areas of equine ethics and well-being, Williams said: "While the FEI is in many ways leading the global discussion on this issue, it's one we must be aware of and be looking at for ways we can accommodate, to once again stay ahead of regulations imposed upon us by those outside the sport."
A third challenge is supporting declining membership in USDF's regional affiliate dressage clubs, referred to as group-member organizations (GMOs).
"One of the real conundrums we are facing is the struggle of the GMOs," Williams said. "Our heritage is based on them, and we are dedicated to them. The USDF was basically formed as a federation of GMOs. But now, many do face challenges because dressage is very different from 50 years ago. There will need to be many truly in-depth discussions around GMOs and how they may adapt to the current environment. I see that as one of our priorities as we move forward over the next few years."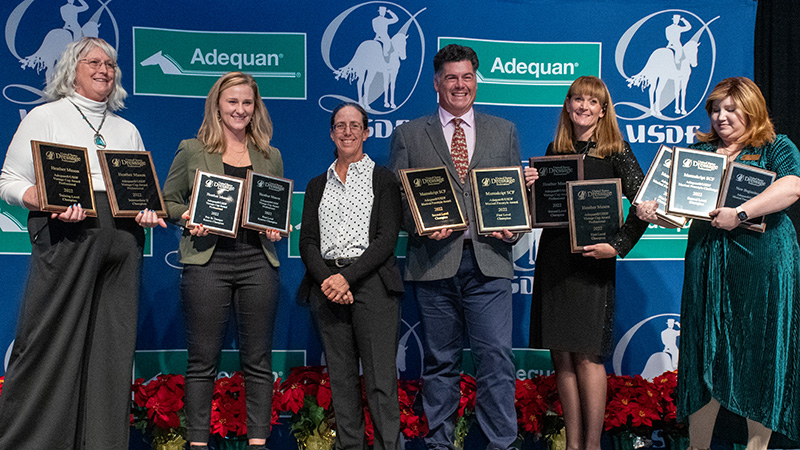 Contentious Rule Change Proposal Discussed Briefly
A rule change proposed for 2023 that was blowing up social media during the convention received less discussion at the convention than online. The proposal aimed at aligning conflict-of-interest rules across breeds and disciplines by rewriting USEF General Rule 1304.1 contained several items deemed "questionable" by USEF Competition Management Committee chair and rules guru Janine Malone, but the main sticking point for the dressage contingent was wording stating that a competitor may not show in front of a judge who has "coached, instructed, or tutored with or without pay" that rider unless the student-teacher relationship is "permanently terminated at least 30 days prior to the start date of the competition." Participants were concerned the word "permanently" meant a rider could never lesson or clinic with a judge again after showing in front of that person—the implications of which riled the judging community, given many dressage judges earn much of their income as instructor/trainers and clinicians.
Dedicated Dressage Supporters Honored
The 2022 Salute Gala honored some of the biggest contributors to the sport and the mission of USDF, including:
• Janine Malone, of Zebulon, North Carolina. Malone, was inducted to the Roemer Foundation/USDF Hall of Fame. She is a former USDF secretary, Region 1 director, and member or chair of countless USDF and USEF committees, was instrumental in shaping the USEF dressage rules and in launching the U.S. Dressage Finals. She was the inaugural USDF Volunteer of the Year in 1998, and in 2014 she received the USDF Lifetime Achievement Award. She is also a USEF "R" dressage judge, an FEI Level 3 dressage steward, a longtime CDI organizer, and a former Hanoverian breeder.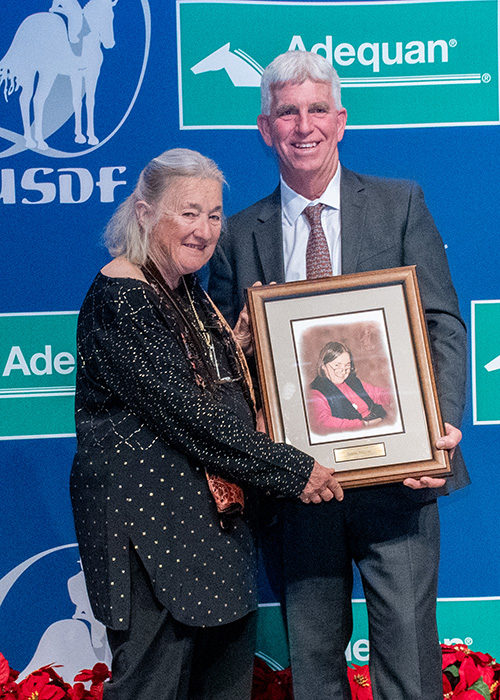 • Lisa Gorretta, of Chagrin Falls, Ohio, received the USDF Lifetime Achievement Award. The former USDF president, vice president and USDF Region 2 director for years spearheaded USDF's Regional Championships program, currently co-chairs the USEF Dressage Sport Committee, and has steered the US Dressage Finals as a member of its organizing committee.
• Bonna McCuiston, of Bloomington, Indiana, was given USDF's Member of Distinction award, which recognizes a person who has made extraordinary contributions to dressage on a regional level. The rider/trainer was heavily involved with the Indiana Dressage Society, was active in the construction of the Indianapolis-area Hoosier Horse Park in advance of the 1987 Pan American Games, and brought her own knowledge as well as such renowned clinicians as Karl Mikolka to many USDF Region 2 riders and trainers.
• Gwen Ka'awaloa, of Elizabeth, Colorado, was recognized as the USDF Volunteer of the Year. She is a longtime Rocky Mountain Dressage Society member and officer, and volunteer at both the USDF regional and national levels. She is a USEF "S" dressage judge and a professional instructor/trainer, but some USDF convention attendees know her best as the veteran emergency medical technician intermediate and critical-care technician whose lectures on emergency preparedness, rider head injuries, and first aid have been hugely popular.
• Maren Elise Fouché-Hanson, of Athens, Georgia, was named the Youth Volunteer of the Year. She is an active volunteer with the Georgia Dressage and Combined Training Association, the South Carolina DCTA, the Great American/USDF Regional Championships, Lendon Gray's Dressage4Kids organization, and more.
The 2023 Adequan/USDF Annual Convention will be held Nov. 29-Dec. 2 in Omaha, Nebraska, and the 2024 convention will be in Houston, the sites of the pandemic-canceled 2020 and 2021 in-person conventions.