Freelance professional rider Chelsea Brittner thought she'd need a little adjustment time getting back into the hunter ring after giving birth to her first child in August.
So in early November, when the new mother was reunited with her hunter derby partner, 11-year-old Selle Français gelding Berry De Maillet (L'Arc De Triomphe—Rania Du Reverdy, Allegreto) for the first time in months, her only goal was to have a decent show week and get her muscles warmed up again.
"Berry" had other plans.
Just days after rekindling their partnership, the pair took third place in the $65,000 Butet USHJA International Hunter Derby Regional Championships, at the National Sunshine Series II (California) Nov. 9-13. And just last week, Berry and Brittner took top honors Dec. 2 in the $25,000 USHJA International Hunter Derby at Desert Holiday I in Thermal, California.
Brittner credited the horse's dependability and a supportive community of fellow parents, both clients and professionals, for helping her successful return to the show ring.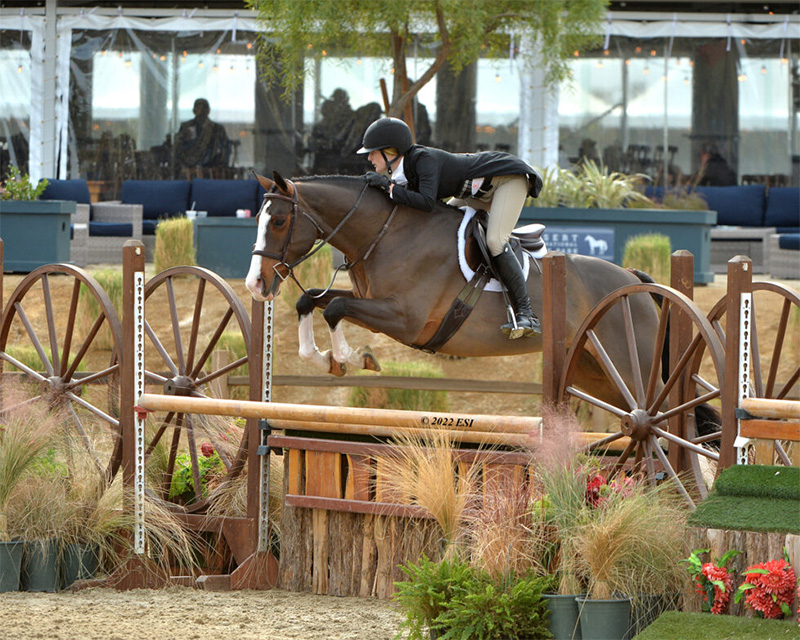 "I was definitely a little bit sore and a little loose in the saddle for the first week or so back," Brittner, 36, who is based in Allyn, Washington, said of her November return to riding. "Coming back after such a big break, Berry gave me so much confidence. I know if I'm a little off, he's going to have my back. I love this animal. He is just the best horse."
A Successful First Year
Brittner and Berry have been a team for just over a year. The two met when Berry's trainer, Beverly Jovais of Chestnut Hill in Santa Rosa, California, was seeking a professional to help bring along the former 1.45-meter jumper in his hunter career for his new amateur owner, Kaylin Faidi.
"I took over riding and showing him [in the professional ring] November of 2021," Brittner said. "He's quirky, he's a workaholic, he's got energy, and he loves to jump."
While Berry initially had some opinions about the hunter ring's ubiquitous shrubs and flowers, his bravery helped him through the transition. At last year's Desert Holiday I, their third show together, Brittner and the gelding scored their first win in a $2,500 USHJA National Hunter Derby.
They went on to win the USHJA National Hunter Derby at the Woodside Spring Classic (California) in May, where Faidi also rode Berry to a championship in the adult amateur hunter, 18-35, division, and they have settled into a comfortable rhythm with the gelding earning a string of tricolors with both Brittner and Faidi.
Returning To The Ring
While Brittner's return to the hunter ring is off to a winning start, said the transition hasn't been without its challenges.
"There was a lot of pressure from being both a freelance pro rider and a new mom," she said of her first month back in the saddle.
"I made the decision at the end of 2020 to try out freelance riding," she said. "At first, I made myself available to clients in any capacity: showing horses, coaching, riding and teaching at barns to cover down on a traveling trainer, things like that. I was really nervous about being able to make a living, but I really wanted a to find a way to spend more time with my husband [a technical coordinator who works at the horse shows] and family. I was lucky enough to receive the support of a few friends and barns that made the new venture successful, and I was in a great place personally and professionally."
So when Brittner became pregnant, she was both excited to have her first child and worried she'd lose clients and hurt her new career.
But her clients—many of whom are parents themselves—and fellow professionals made the return easy for her, and kept her regular show horses ready for her return.
"I set the goal of competing at the Desert International Horse Park Sunshine series, two months postpartum," Brittner said. "I rode for the first time the Monday before the show started, and I felt so wobbly and rusty. When I walked into the ring for the first time I was shaking like a leaf. I was already nervous thinking about being rusty, and potentially embarrassing myself and letting down the owners and horses. On top of all that, I had doubts about if I was making myself return to the show ring too soon and wondered if it made me a bad mom. I suffered horrible guilt at leaving my baby during the day to ride. I was worried I was being selfish.
"But Beverly and all the riders who are also moms were so supportive and encouraging," she continued. "It was amazing to feel and experience that love, hear everyone's stories and realize we're all in this together. I think that's what really made the difference for me and helped me regroup my focus, regain my courage and be able to ride successfully. Being surrounded by such positivity has been a game-changer for me over the past month."
A Dependable Partner
While the balance between work and home life can be tough for anyone, Brittner keeps things simple with Berry, whose background as a jumper makes tricky handy courses easy for him. His derby prep consists of a handful of performance hunter classes and some flat work on derby day mornings, though she's careful to not overwork him. She only meets the gelding at shows too, making their time together extra enjoyable for Brittner.
"We do a good 30 minutes of good flat work, as if he's jumping the grand prix—a lot of lengthening, shortening, turning and counter-countering," she said. "He's the type of horse that loves a challenge and he loves his work. If I can get the flat work and balance right, then when we go into the ring, I can just let go of the reins and he stays where I need him to."
While Berry's prep went to plan ahead of their derby win, Brittner found herself a course walk shy going into the class due to a scheduling conflict at another ring. With little time to refine her plan for either round, she relied on her solid relationship with the gelding and his dependability.
"Mostly, I was just worried about staying on course," she laughed. "That was my biggest concern. It was a hectic morning, but it paid off and thankfully that's why I say, 'When in doubt, Berry takes the wheel.' "
The pair earned a first-round score of 175 to put them in fourth place going into the handy round. There, despite not having a chance to walk the course, they earned an impressive 206 to boost them to the win. It might have been one particularly impressive turn they chose:
"I had to miss the second walk for the handy round to be with my client at another ring," Brittner recalled. "I'd glanced at the turn earlier that morning, but I didn't really study it. It happened after the first jump, which was a long gallop to an oxer. I then turned inside [another jump] and realized I was now jumping a high-option vertical almost sideways. It was too late to change our minds, so I just had to commit and hope Berry didn't think I was too crazy. He's a champ and didn't blink an eye, he jumped it beautifully."
With Barry's jumper background, Brittner was comfortable with him jumping high options throughout the course—if maybe not as comfortable herself.
"I was internally dying a little [of nerves]," Brittner said. "But because I was on Berry, I was like, 'Well, just get him within range and he'll take care of the rest.' I might not feel ready for something, but Berry will make sure you're ready."
Looking ahead, the plan is to enter derbies selectively and focus on keeping him fresh and happy so he shines with Faidi in the adult amateur hunter ring.
"We're just going to focus now on the international classes, save him for the bigger derbies," she said. "I'm excited to see more of him in the amateur ring."