Some days I think somebody should pinch me because I'm finally making a living doing what I love: riding talented horses and teaching fun and supportive clients. On some days I travel to up to five barns and over 100 miles to ride and teach, which can be tiresome but also provides a great variety; no two days are the same.
My students and their horses come in all sizes, shapes, colors, and breeds, too: Arabians, Morgans, Fresians, Quarter Horses, Paints, Tennessee Walking Horses, Thoroughbreds, Irish Sport Horses, New Forest Ponies, Oldenburgs; the list goes on. There's also one horse of questionable breeding that I'm almost 100 percent certain is a Lusitano.
True, sometimes I'd kill for a day off—a day that I don't have to teach or ride or go to the grocery store or be responsible in any way whatsoever. It's like those memes on Facebook: "Please don't make me adult today. I can't adult." But as I learned from my days of endurance riding (and working for Buck): You can rest when you die.
So what's new and noteworthy since the last time I wrote? I'll give you the abbreviated version first:
1) My horse broke.
2) My other horse died.
3) My car died.
4) I got a new (used) truck.
5) I got a new (less used) horse.
6) Brett decided on law school and we're moving to Denver.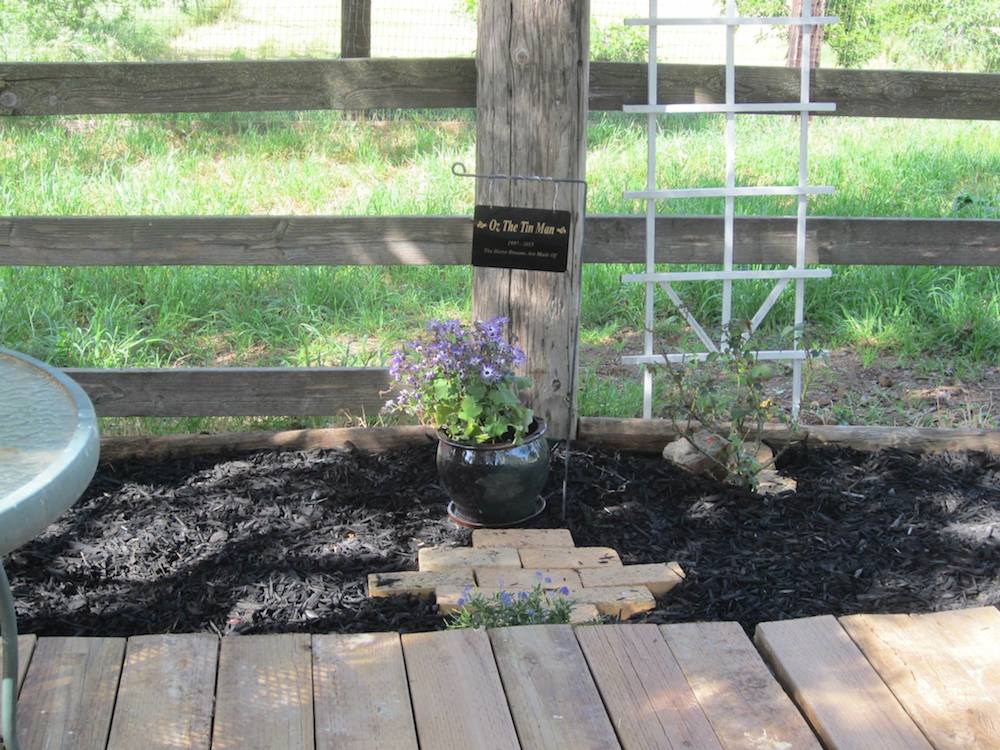 Oz The Tin Man's, or Wort's, final resting place in California.
A lot to process, I know. Trust me, it was a lot to live through too. I'll give you the detailed version and hopefully it will feel less traumatic.
We have to start back in late February with a trip to Aiken that was ill-fated before it even began. Anna had tried to enter an event with Wort at prelim, but didn't send her money so she got bumped from the event with no chance at getting back in. I was already entered with Ruler, however, and didn't want to forfeit my entry, so we decided to stay the whole week in Aiken and get her to an event the following weekend.
We barely got to ride the week leading up to the trip because it was below zero almost every day, and then to top it off we jackknifed the trailer on black ice about three hours into the trip. All seeming well with the truck and trailer and horses (only minor scrapes and repairs to be made later), we continued on, only to be greeted with a week of 45 degrees and rain once we were in Aiken; not exactly what we had been looking forward to.
But on the bright side, the horses were glad to be out of the ice and snow and Ruler positively ate up his first intermediate course.
But it was with a sharp wrench of my stomach that Ruler pulled up lame after cross-country. I thought at first that he had caught his toe and only stumbled as he came down to the trot, but as the day wore on and ice and rest made no improvement to his lameness or sour attitude, I knew that something was wrong—and not in a little way. His attitude fortunately improved with a good night's sleep, but I can't say that I was any more positive in the following days.
Then Wort and Anna went on to tackle their first prelim together and did a fantastic job, but when we jogged Wort later that day he was noticeably favoring his right front for several steps, and then fine again. He had been "not quite right" sporadically in the prior two weeks, and everyone kept saying that with his age and the freezing temperatures it was no wonder he was sore.
I myself was crippled with the cold and could barely walk some days after spending hours outside, so I could hardly argue the point. But I KNEW something was wrong—Wort being NQR was the equivalent of any other horse being 4 out of 5 lame. This is the same horse who once spiked a fever of 105 and the vet had to use three different thermometers before believing it because he was so content and "normal." So I put my foot down and decided that once we were home the vet would be looking at both Ruler and Wort, no more guessing and wondering.
So late Tuesday evening after making the (uneventful) trip home, the vet came and did an ultrasound on Ruler's right front, revealing the bad news that he had torn his sesamoid ligament and that there was an apparent prior injury from his days on the track on the same ligament. The vet was certain he'd be sound again, but doubtful that he would stay sound if he continued with a rigorous jumping career. Well…..shoot.
Then we brought out Wort and explained his intermittent RF lameness. We jogged him on the line and, SURPRISE, he was off on his left front that night. The vet gave us a tease and continued with the exam. He started with a block in the foot and moved his way up, each time asking Anna to trot him under saddle in a straight line and on a figure eight. By the third block, there was still not much improvement to see. He asked Anna to trot one more figure eight before doing the next block, and as Wort changed from right to left circle, his left pastern snapped underneath him. It was the last step he took.
The vet and Anna took turns holding his leg up while I stood at his head with Ruler to keep him quiet in the arena. We sedated him while waiting for the X-ray machine to get fetched from the clinic and he stood peacefully as we snapped the pictures of his leg that showed irreparable damage. I turned to Ruler and said, "And you thought YOU were having a bad night."
I was grateful to be there to pat Wort's neck and kiss his nose as he got the last dose of phenobarbital. He was as beautiful in his death as he was in his life and I will happily remember him for the amazing animal that he was. I will probably always wonder if there was something I could have done differently, something that would have prevented such a bizarre accident—just like I will probably always wonder if I had understood the warning signs of Ruler's injury better and used better judgment or better management he would still be running and jumping. But the reality is that I can't undo any of it and I will have to accept what has already happened and learn whatever I can from those two experiences.
OK. Deep breath, regroup, moving on—both literally and figuratively.
There are still four items left on the list! Number 3 and 4 are pretty mundane: my car also experienced a fatal injury not long after that, and after the last several months being riddled with trips to the mechanic, I didn't care to see it out to the end. Instead I upgraded to a used F250 with a great 4-year loan rate. It marks a major milestone because I've been working and saving for SO long to get a truck and it's incredibly satisfying to have such a large (loud) physical manifestation of all that hard work.
Number 5 is a good story and will make you feel better, I promise. A few weeks after Wort died, I flew home to California with his cremains so that my friends and family could celebrate and hug and cry, yada yada yada. A young man I went to elementary school with, who is now a professional trainer in my home town, heard that I would be in town and asked if I would ride his mare on the flat and evaluate her as an event prospect to sell; she had already schooled cross-country with a young rider in the area and he himself had shown her on the local hunter/jumper circuit.
So I rode her and I thought immediately of Anna; the mare's floating movement and sassy personality were reminiscent of Wort, and Anna would be needing something to ride. I sent Anna a few videos and talked to her about the mare, but the more I tried to talk Anna into buying her, the more I wanted her for myself. She reminded me so much of Wort when he was that age and I couldn't help but think of all the times I had said, "If only I had known then what I know now, I could have gotten so much farther with him so much sooner, done more."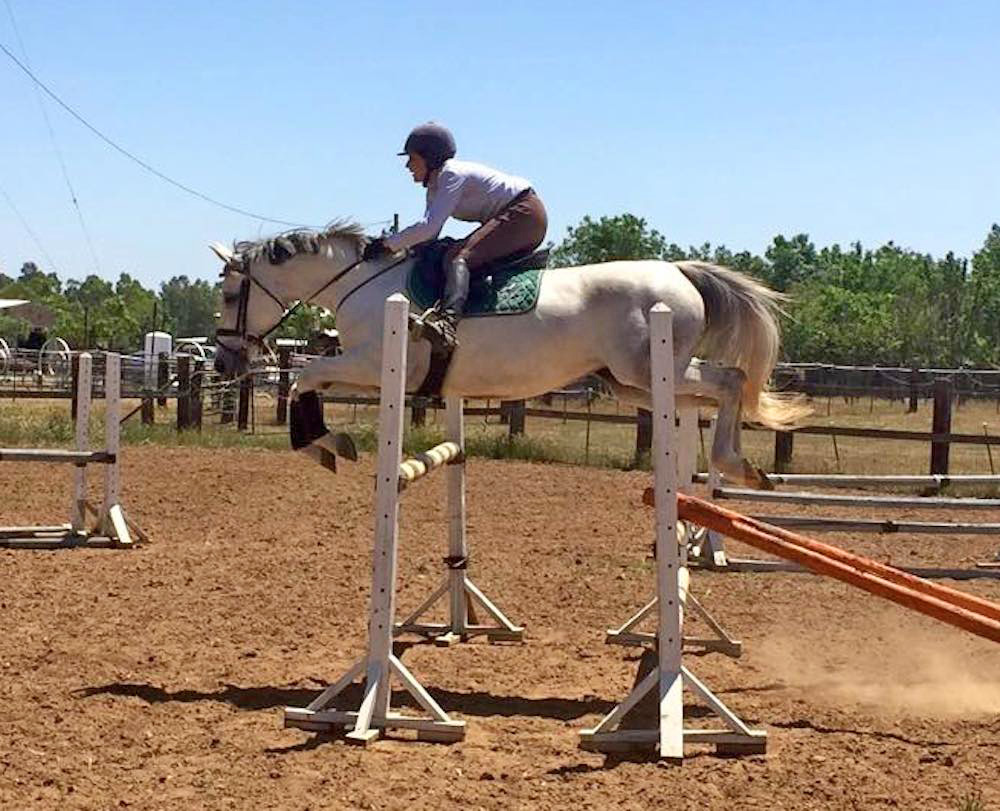 Polly, a new addition to my barn!
However, being of limited finances made buying the mare out of the question so I left it to fantasy. But the more my mom and I chatted, the more she schemed. And sure enough, soon she had managed to strike a trade for a pile of valuable but unused equipment in her barn for half the value of the mare.
Sally Crane Cox, the owner of Redtail Ridge Farm, came in for the remaining balance of the purchase price and I couldn't be more grateful to both of these women for helping me start this exciting new adventure. Sally and I are named owners and Teresa Groesbeck and Cedarhaven Performance Horses are generous sponsors and brokers of the sale.
The best part of the whole thing is that "Oz Polychrome" (Polly) has the same grandsire as Wort; she was bred locally at the same farm where Wort's Arabian half of the family came from, and Polly's mother (Thoroughbred/Holsteiner) was once owned by my first Pony Club instructor. So she's not EXACTLY a homebred Anglo, but she's pretty darn close! So, a toast to second chances and new beginnings.
And lastly, speaking of new beginnings, Brett finally made up his mind and decided to attend law school at the University of Denver. After months of weighing his options and "what ifs" and "maybe thens" and "hypothetically speakings," he decided that Denver offered the best opportunities for him in his career development.
I honestly think the only reason it took him so long to make up his mind is that he was trying to find some way to talk himself into remaining in Ohio for school, knowing that my business is growing and that I've found a great facility to train out of and I'm happy here. However, I told him when I made my move here that I knew it was possible that we'd be moving again soon and I stand by that.
Plus, I figure that his potential future as a higher-up in the NHL is going to pay the bills a lot better than a horse-trainer's salary will! So what the heck, off we go again. Now that we have something concrete to plan around, it's very exciting.
Of course I'm sad to leave my Ohio friends so soon, but I'm also looking forward to a more "semi-permanent" life after so many years of moving around so frequently. I also love the idea of getting to know Area IX and being closer to West Coast eventing; I've missed it a lot since my move almost two years ago and I hope to be visiting some of my old stomping grounds again with Polly (and hopefully Teresa Groesbeck's "Zigarette" as well).
Brett and I will both be spending a few weeks in California with our families at the end of July, but we hope to be settled in Denver by the first week of August. In April it felt like the move was ages away, but now as we are starting to pack and sort our stuff into boxes and bags, it's coming up quickly and the excitement is building.
So now I think you're fully caught up, and just pray that until the next time I write, not so many momentous things happen!
After uprooting her life on the West Coast for a chance to work with Buck Davidson and BDJ Equestrian, blogger Katy Groesbeck stepped out on her own and set up shop in Ohio. Now, her life is taking her back out West, to settle and start anew in Denver. Follow her adventures as she gets KG Eventing off the ground and makes her way into the world as a self-employed professional horsewoman in 2015!