Wellington, Fla.—Jan. 7
Never give up: it's good advice for everyone, and clinician Laura Kraut gave it time and again to riders at the George H. Morris Horsemastership Clinic on Saturday. Whether that meant committing to get a horse back in time to fit strides in a tight line, galloping them up and across the open water, or schooling them back over a fence after a stop or fall, Kraut reminded riders the importance of perseverance in the sport of show jumping.
The clinic concluded with a mock Nations Cup competition, with the 12 riders split into three teams to jump the same 1.30-meter course twice—each team had a drop score, and the team with the lowest number of combined faults after two rounds won.
There was no prize money in Saturday's class, but to up the pressure on the young riders, tickets to the 2016 Longines FEI World Cup Finals in Omaha, Neb., would be awarded to the winning team.
Riders entered the ring one at a time to tackle the course, and after they finished Kraut entered the ring on foot with a microphone to explain what she thought they did well, what they could improve, and offer advice on what she would do if she were riding the course.
S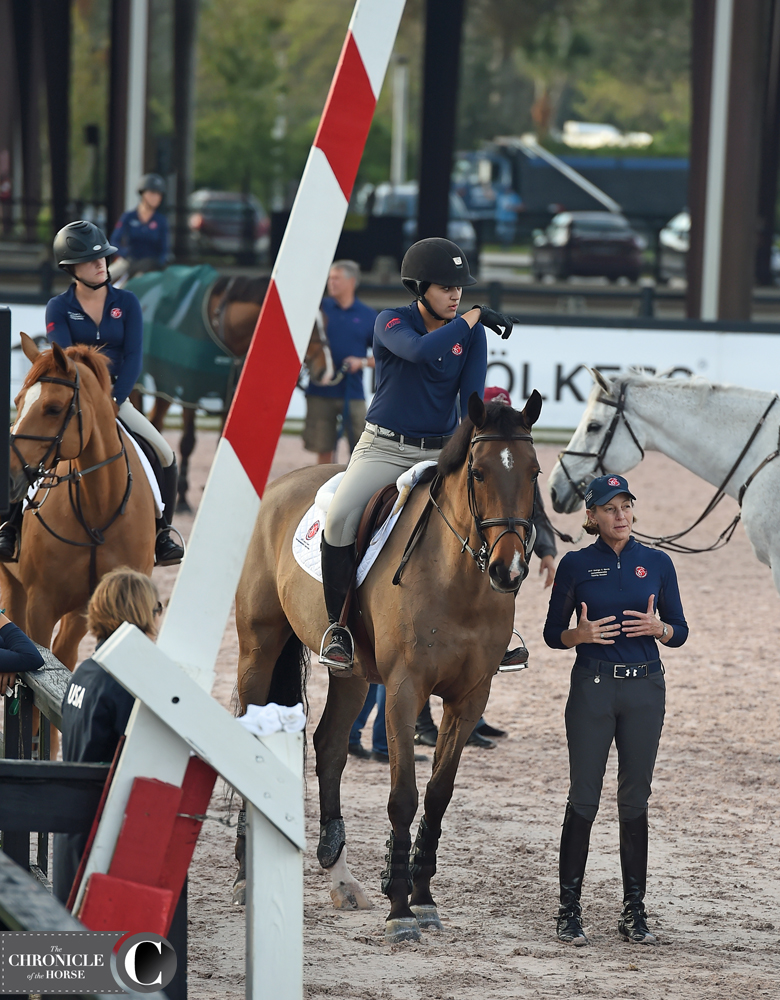 Rider Maya Nayyar comes up with a plan with coach Anne Kursinski before heading into the ring. Photo by Ann Glavan.
Start Out With Some Speed
It became apparent early in the order that Conrad Homfeld's course had a tight time allowed. T.J. O'Mara was the very first rider to tackle it, and even with leaving a stride out of a line and being mounted on a very large-strided horse, he made it only fractions of a second under the time.
The real kicker? Where most riders picked up their time faults in Kraut's mind was the very beginning of the course.
"We talked about the time trap being from [fences] 1 to 2 to 3," Kraut said as she addressed O'Mara after his first ride.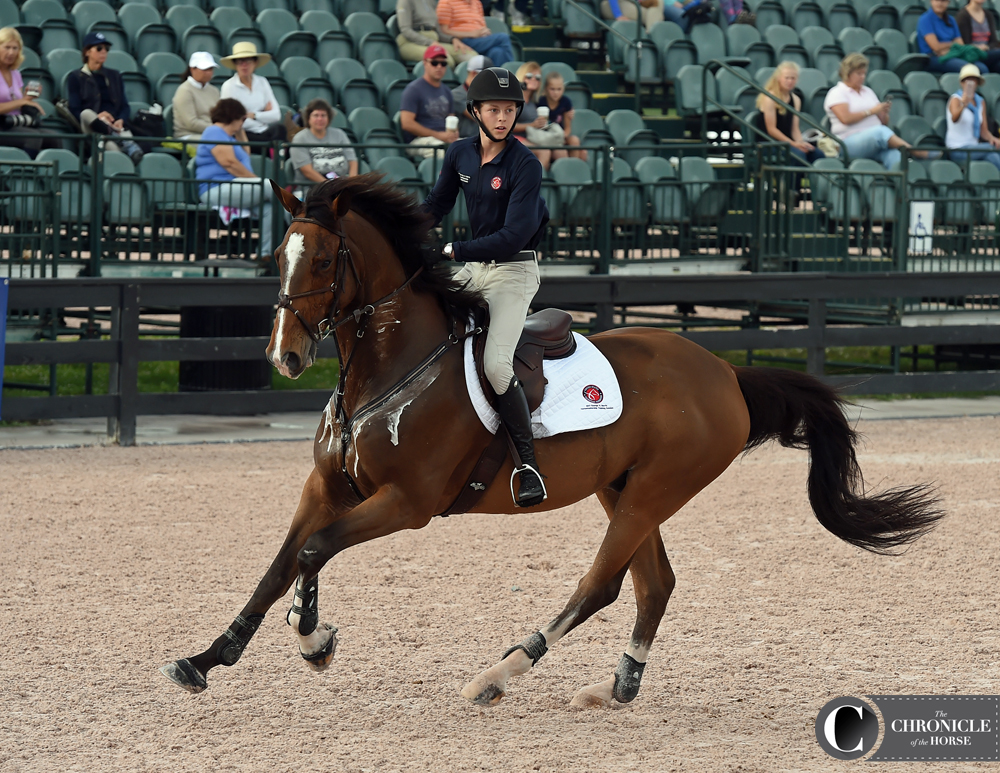 Brian Moggre encourages his horse forward. Photo by Ann Glavan.
Would it be nice to have a few fences to get your rhythm before pushing for pace? Sure, but it's not a luxury riders had on this course.
"Something I always think about if I'm jumping a grand prix or a Nations Cup, if there is a chance to go quick early in the course, before you get to the meat of the course, I always like to do that," Kraut said. "Because the time is a killer; that 1 time fault can be the tie breaker."
The third fence on course was an oxer and the in of a steady four-stride line. O'Mara managed to leave the third fence up in his first round, but had it down in the second round after his horse spent most of the approach tossing her head.
With a sensitive horse who takes offense to being pulled back and collected before the fence, Kraut would have used a different tactic to get a clear round.
"She was not very rideable there [in the first round], and she was maybe a little worse this time," Kraut said. "I would have maybe left that stride out and trusted that I could get her back in the four, because I know you have the skills to do that."
The Bogie Fence: Be Fierce To Five
If you had to pick the trickiest fence on course, it would probably be Fence 5—after the quiet four-stride line up the diagonal, riders had to roll back and bounce off the short wall at an angle to the single oxer before bending five strides into the triple combination.
If you were flying over the oxer, good luck getting them back for the triple and keeping them from going through the top rail. If you were too quiet, which became the more common problem, you risked a stop like rider Brian Moggre had, or a awkward pop-chip-rail like Taylor St. Jacques had.
"You've got to ride that a little more behind them and get them straighter," Kraut said. "It's a hard, spooky fence, they're jumping into the tent."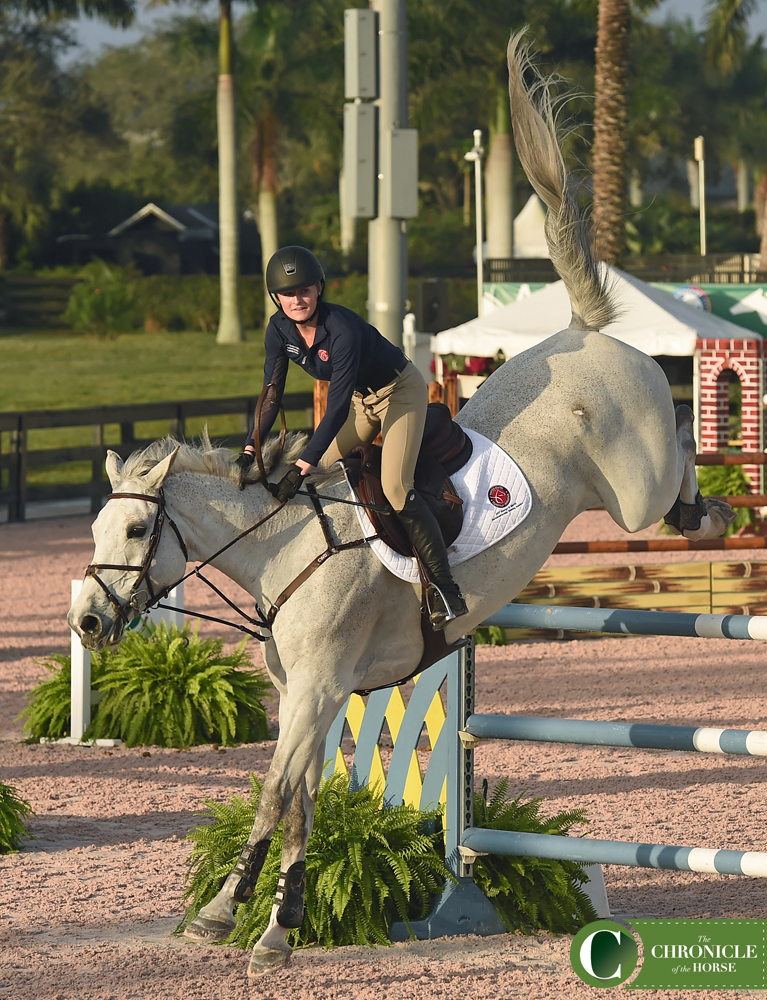 Caroline Dance looks through the turn toward Fence 5. Photo by Ann Glavan.
Indeed, the corner of the VIP tent flapping in the wind may have caught the horses' eye as he approached the fence. Kraut thought many riders trusted their horses too much to the fence, counting on them to lock on to it and take the distance moving out of the turn. When the horse took a stride to look or spook, the distance disappeared, leaving them with little recourse.
Kraut commended Gracie Marlowe for the best ride to Fence 5 of the day—Marlowe made it all the way to the rail before bouncing off straight to the fence, and it worked out very well for her.
No Sitting Pretty In The Combination
Kraut's chief complaint about riders in the triple combination was their lack of activity.
Early on in the day, Kraut told rider Maya Nayyar that while her horse was a good girl and jumped through the triple well despite a slight gap to the oxer, she wanted to see Nayyar being a little more helpful.
"I want to see you dig in and help her when she's reaching; you just kind of sat like this and said she's going to cover it," Kraut said.
Kraut praised the way Maddie Goetzmann got her horse through the triple despite a slightly disorganized Fence 5.
"I know Maddie, I've watched her ride, and I expected her to ride aggressively and she did," Kraut said. Goetzmann's horse counter-cantered in several places around the course, including just before the triple.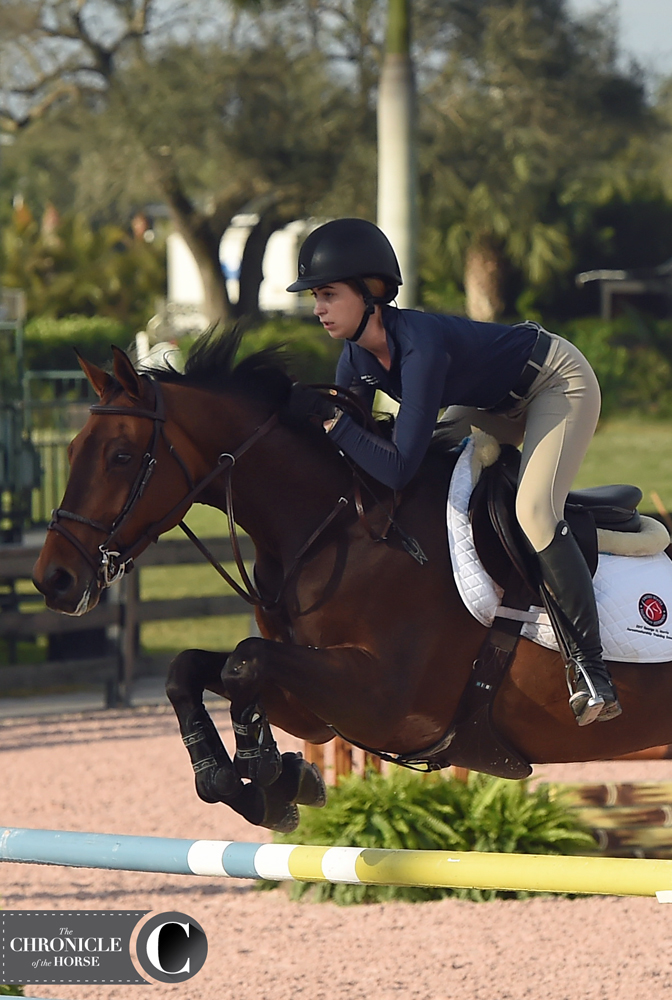 Laura Kraut praised Maddie Goetzmann's ride through the triple combination. Photo by Ann Glavan.
"You were doing a sort of mad counter-canter to 5, and then you lost his mouth going into the triple, but you didn't give up," Kraut said. "You helped him in the two [strides], and you really helped him out of the triple."
A couple horses pulled the last rail out of the triple combination with their hind end, and Kraut said this should serve as a warning to get it together for the rest of the course.
"Use your leg at the oxers to help them clear the back rail," Kraut instructed. "Your first thought when you have a hind rail should be I'm weak, I need more leg."
That Ol' Water Trick
Remember what Beezie Madden said Friday in her gymnastics demonstration about the open water fence? How course designers love to put something tricky after the water fence? Well riders in the clinic certainly did, because what did Homfeld set but an open water to a careful skinny vertical.
It rode in a very collected six strides or more of a going five strides, and a good number of riders pulled the rail at the vertical for two different reasons: either they didn't get their horse back enough for the six strides and clunked it pushing off the ground deep, or they got strung out trying to do the five strides and jumped flat through the top rail.
T.J. O'Mara made the entire course look like an easy equitation trip, including the open water. He moved up for the five strides very smoothly, and Kraut laughed that in a real Nations Cup, that would cause the competition some head-scratching.
"That would throw other riders off after you—they'd go, 'Huh, is it a five or a six [strides] from the water?" Kraut said.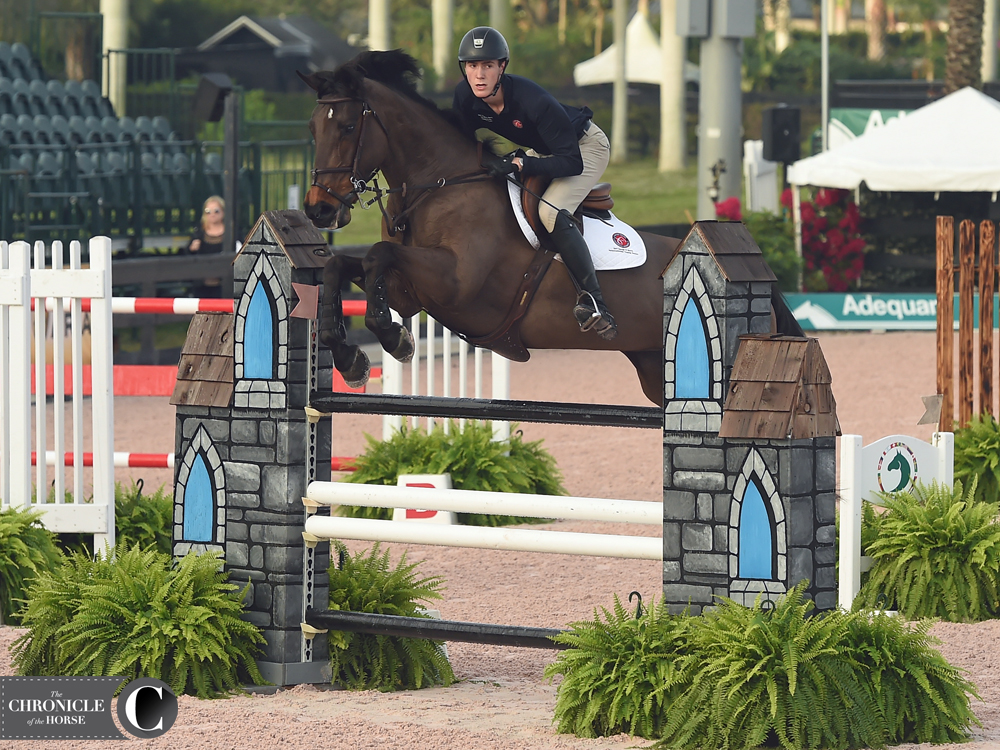 First on course T.J. O'Mara made it look deceivingly easy. Photo by Ann Glavan.
Very soon after O'Mara we saw what happens when a horse has to run to get the five strides done—Michael Williamson also attempted that striding, and his horse clunked and carried the top rail of the skinny vertical.
"T.J.'s horse is the exception," Kraut said. She explained that for a horse to be able to do the five correctly and leave the fence up, they needed to have a big enough stride that the rider was able to be taking back and collecting to the vertical, not still pushing to find the distance. Williamson came back in the second round and sat his horse down on its hocks, fitting in the six strides and leaving the vertical up despite a deep distance, and Kraut praised it as the correct decision.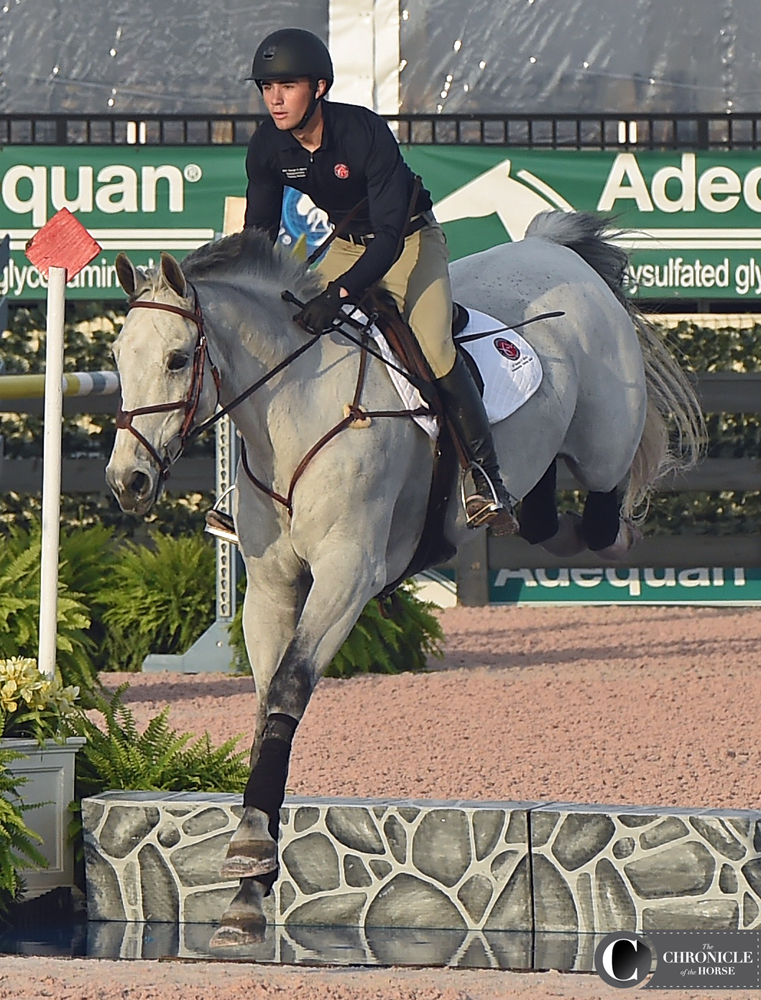 Michael Williamson encourages his horse to stretch and clear the tape at the water fence. Photo by Ann Glavan.
"It was fantastic to see you come back and change your plan a little bit to get a clear round," Kraut said. "I've never seen you ride before but I can tell you're a thinking rider."
A few horses broke the tape at the water jump, but only one had a refusal—Taylor St. Jacques horse was spooky about the water in the gymnastics session with Madden on Friday, and after jumping it nicely in the first round of the mock Nations Cup, the gelding promptly slammed on the brakes in the second round.
St. Jacques disciplined the horse twice with the stick, then galloped back around sitting strong in the back seat and schooled the horse over it.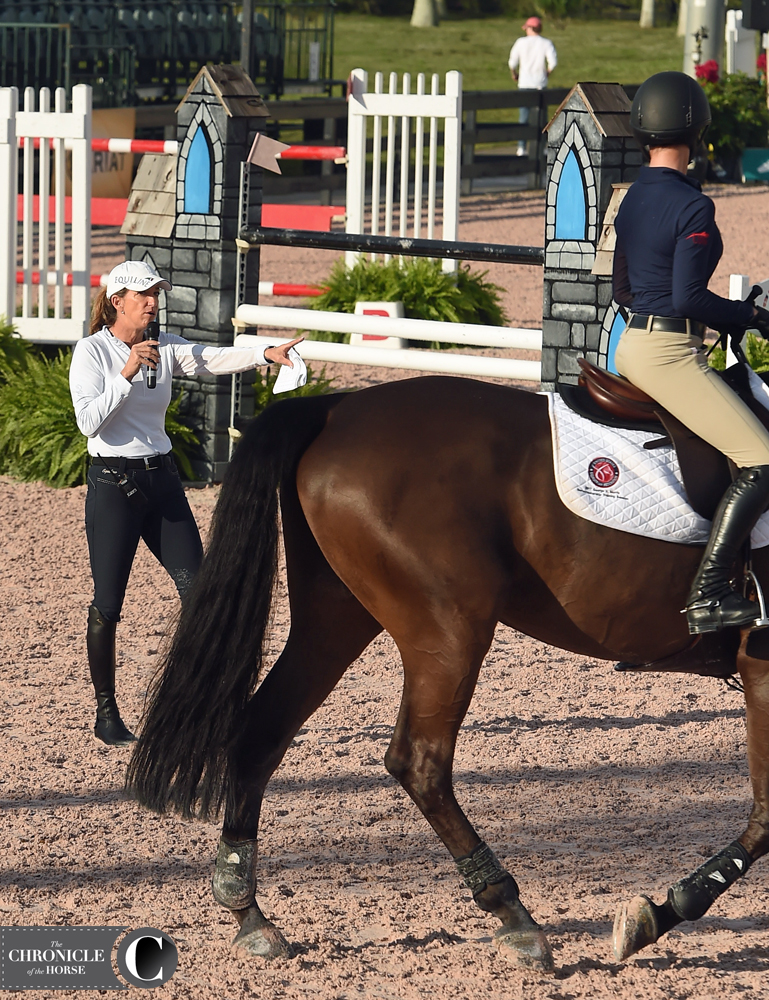 Laura Kraut comments on rider Taylor St. Jacques round. Photo by Ann Glavan.
"You win my hero award," Kraut told St. Jacques. "That was a great riding lesson for you, for the horse, and for the people here watching."
Kraut commended St. Jacques for quickly addressing the issue and finishing out the course.
"That's such a great lesson for young riders, when something goes wrong and they're afraid and they stop, don't give up."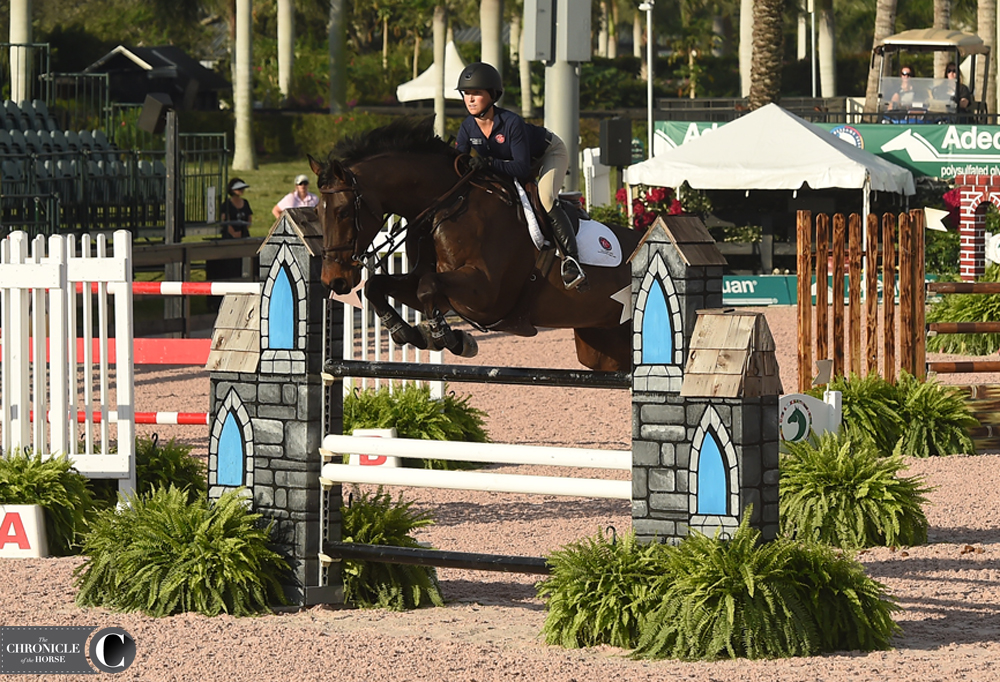 Taylor St. Jacques clears the skinny vertical after schooling her horse over the open water. Photo by Ann Glavan.
Another Time Trap
From the careful vertical after the open water, riders had to gallop around the end of the ring and roll back on a single oxer, an excellent opportunity to make up some ground to fit inside the tight time allowed. If you squandered this opportunity by taking too wide a track or too leisurely a pace, you'd be hearing about from Kraut.
"Your turn from vertical to pink oxer, I could have gone and had a cup of coffee and come back," Kraut told Gracie Marlowe. "You took it from 1 time fault to 2 there. I want to see a lot more aggressive riding from you."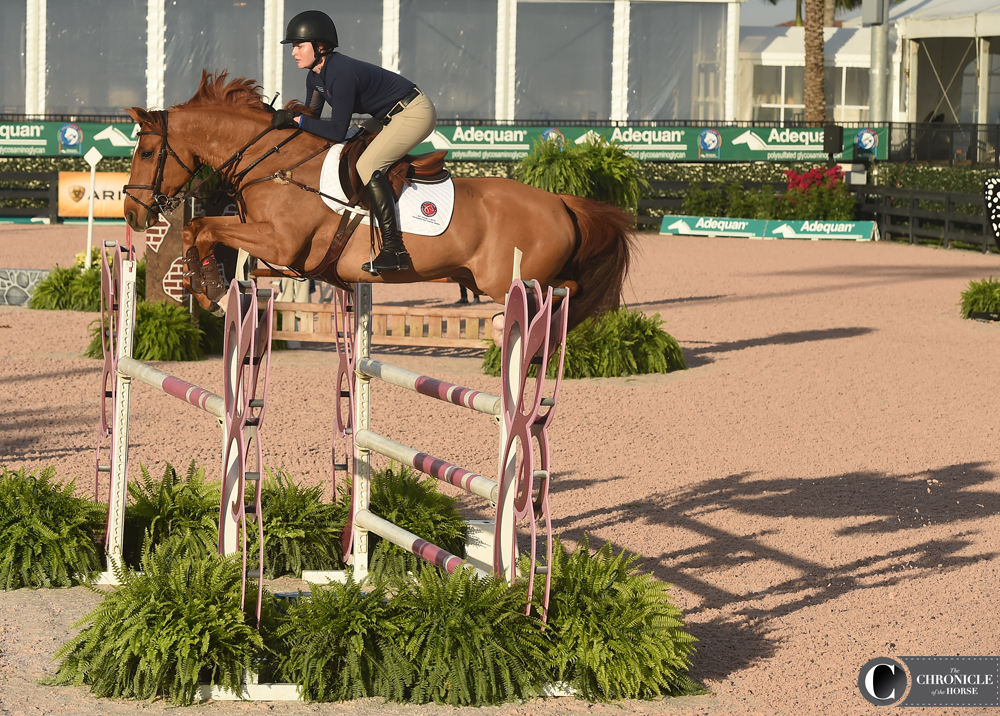 Laura Kraut was very happy with Gracie Marlowe's (pictured) improvement in the second round. Photo by Ann Glavan.
More than a few riders got that critique, and they all came back ready to kick it into gear around that turn, including Marlowe. Kraut praised Marlowe's second attempt as much better than her first, but told her to be careful not to think only about speed.
"You kind of shot off into the corner, which was the right idea, but you forgot about your line," Kraut said. She suggested a hair less speed and a little more purposeful steering to really finesse the ride.
After the single oxer, the course wrapped up with a one-stride combination bending to an oxer, which caused only a few problems, one of which revealed Kraut's No. 1 pet peeve.
Kraut's Pet Peeves
Luck just wasn't on Halie Robinson's side when she entered the ring for her first course in the mock Nations Cup. Her horse had already shown himself to be a little spooky and very strong in the previous day's exercises, and right as Robinson turned to make her opening circle, a large fern blew off the top of a standard 20 feet ahead of them.
Robinson managed to calm the horse enough to start working through the course, but it was clear he was tense and off his game, pulling several rails before Robinson steered him toward the one stride, where he stopped and threw Robinson into the oxer.
Kraut gave Robinson credit that she was catch riding a strange horse, and he was indeed quite spooky early on in the course, but no allowances were given for the stop.
"This was a failure on your part though, you lost him through the outside [rein]," Kraut said. "You could see that was always going to be on a wing and a prayer as you came to it, and he did what he thought was best which was to stop and save your neck."
Robinson returned for the second round with a much more confident and less spooky horse, though she still struggled to keep him from running past the distances. After the triple combination Robinson circled, and in her commentary, Kraut praised Robinson's riding right up until that point.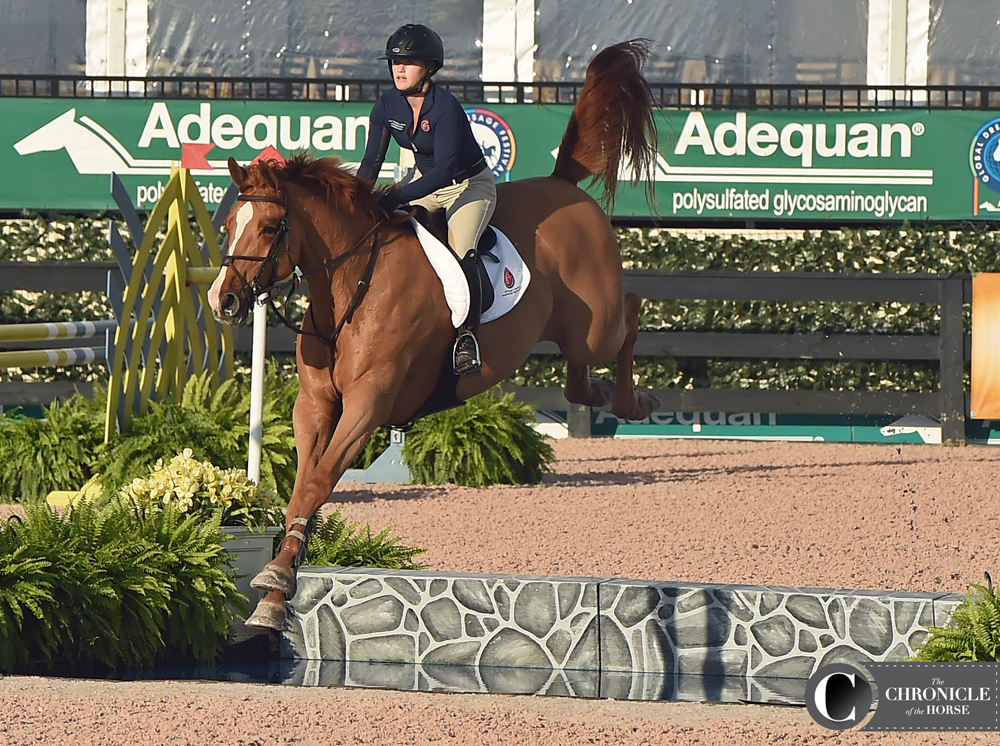 Laura Kraut praised rider Halie Robinson (pictured) for her perserverence after taking a fall earlier in the day. Photo by Ann Glavan.
"Now I'm going to be mad," Kraut said with a laugh. "Circling is never an option unless death is staring you in the face. Bowl through that vertical, but don't circle. Circling is one of my pet peeves."
Rider Cooper Dean demonstrated Kraut's other pet peeve in his second round.
"My second least favorite thing, after circling, is when people look behind them to see if they had a rail," Kraut said. "Don't ever look back."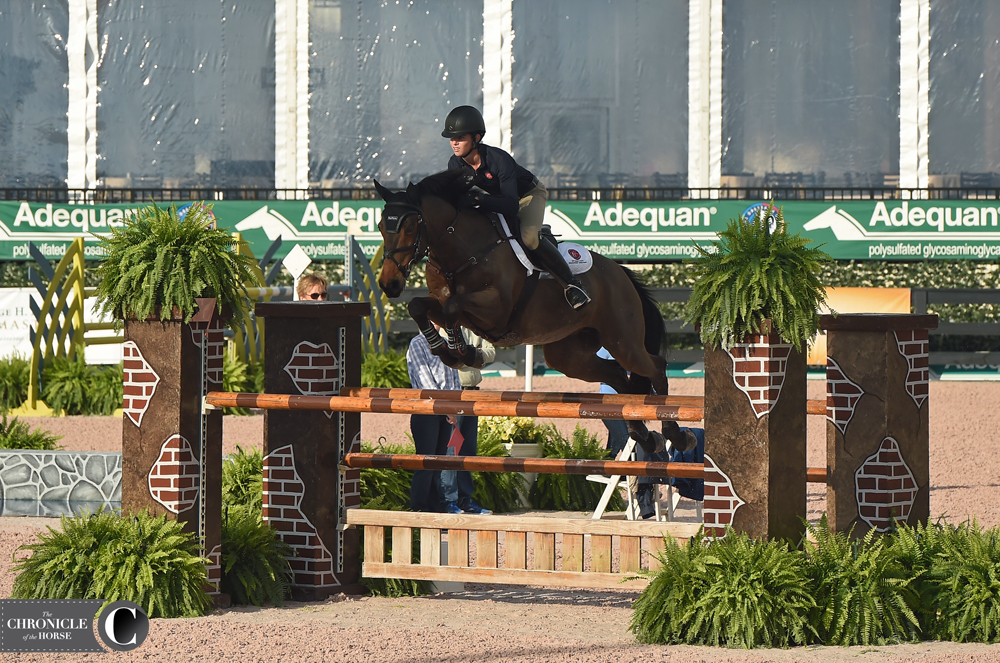 Cooper Dean (pictured) was guilty of Laura Kraut's pet peeve—looking back to see if he had a rail. Photo by Ann Glavan.
All in all, Kraut was proud of her students for not giving up, and for not making the same mistakes they made in the first round in the second. In particular she praise Robinson for dusting herself off and getting back on the horse for another attempt.
"We're all very proud of you for pulling it together and coming back for the second round," Kraut said. "It's a clinic, it's about learning, and you learned not to give up."
Anne Kursinski's team won the World Cup Final tickets.
Don't forget to check out the Jan. 23 issue of the Chronicle for more analysis from the clinic! And read Friday's coverage of Beezie Madden's work on gymnastics and Thursday coverage of Anne Kursinksi's flatwork.