The NetJets U.S. Show Jumping Team secured a spot in October's Longines FEI Jumping Nations Cup Final (Spain) with a challenging, yet persevering performance in the FEI Jumping Nations Cup Canada at the Langley Odlum Brown BC Open on Sunday. Under the guidance of Chef d'Equipe Robert Ridland, the U.S. team of Kent Farrington, Jamie Barge, Lucy Deslauriers, and Richard Spooner placed fourth with 34 faults.
"We always come seeking a podium finish, but we just missed by one here," said Ridland. "Our clear objective coming [to Langley] was to qualify for the final in Barcelona, and we did it. It was a dog fight out there no question, for all the teams. We certainly came here and did what we came to accomplish."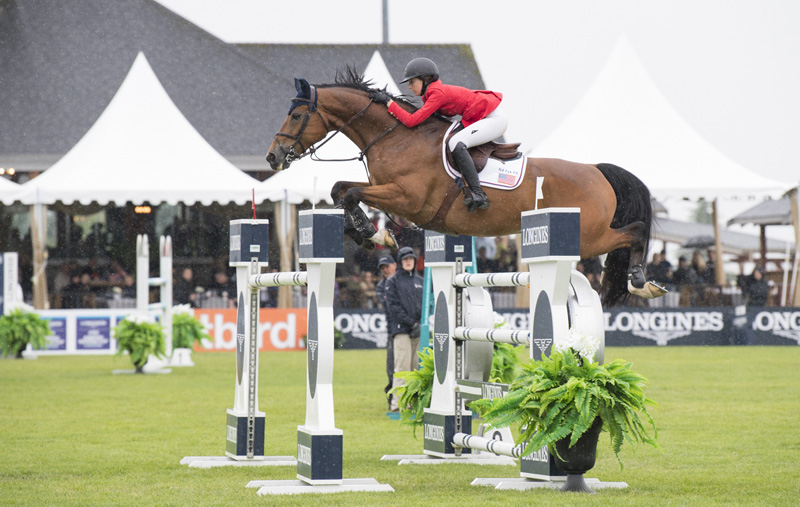 Barge and Luebbo, Kylie Co.'s 13-year-old Oldenburg Springpferd gelding, and Nations Cup competition newcomer Deslauriers and Hester, Lisa Deslauriers' 13-year-old Belgian Warmblood gelding, both brought strong rounds to the table. Barge and Luebbo improved from their first round, while Deslauriers and Hester put in a strong first round with just a single time fault.
Veteran Farrington and Uceko, R.C.G. Farm's 17-year-old Dutch Warmblood gelding, filled in for Keri Potter when her horse Bitalica colicked Saturday evening. The combination put in an impressive second round with just four faults and a time penalty after a few rails in round one. Anchors for the U.S. team, Spooner and Chatinus, Spooner and Tracy Katayama's 10-year-old Hanoverian gelding, had some difficulty in Round 1 but greatly improved in round two, finishing on two time penalties.
"We ended up today with two veterans and two newcomers," Ridland said. "With Keri's horse getting a mild case of colic and being out of the mix, that was a last-minute substitute for Kent to come in and do that, and it worked out very well. It is always a tough one under that kind of pressure for the riders. They gained incredible experience today."
Now that the NetJets U.S. Show Jumping Team has qualified for the Longines FEI Nations Cup Final and sit in second in the North and Central America and Caribbean division, Ridland and the U.S. team turn the attention to the 2018 FEI World Equestrian Games short-listed athletes.
"We shift gears now," said Ridland. "Having qualified for the [Longines FEI Jumping] Nations Cup Final, our main focus for the rest of the summer is the short-listed riders for the WEG. We start in two weeks in Sopot [Poland], followed by Rotterdam [the Netherlands], and then Aachen [Germany] the next month, followed by Dublin [Ireland]. That will be our focus. We came into the year with three big priorities: [Longines FEI] World Cup Finals [Paris], [Longines FEI Jumping] Nations Cup Final, and our primary objective, the WEG at home. We got the first box checked in Paris, now we are in the [Longines FEI] Nations Cup Final, so we can check that off, and now, our clear focus is our preparation for WEG."
Children And Junior Nations Cup Teams Rise To The Occasion And Come Out On Top
Leading the charge before their senior counterparts took to the ring on Sunday, the U.S. Children and Junior Nations Cup teams jumped Saturday morning at Thunderbird Park against fellow North American countries Canada and Mexico. Led by Chef d'Equipe DiAnn Langer, the children's team of Emma Callanan, Dylan Laiken, Parker Cliff and Alexa Leong stamped their mark, ending on eight faults to claim gold.
"I feel it was an incredible morning of show jumping," said Langer. "The juniors and the children both rose to the occasion. None of them failed under the pressure."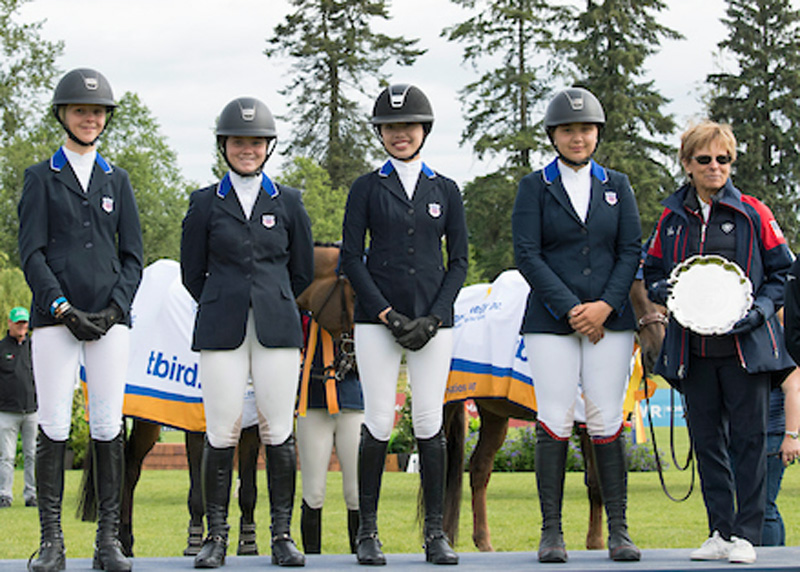 Callanan and Cocu, Renee Connor's 12-year-old gelding, were the pathfinders for the children's team and put in two fault-free rounds, allowing the team to start each round on the right foot. This is the second team event Callanan has ridden for the U.S. this year, having aided in a team gold-medal win at CSIJCh Ocala in February.
Laiken and Callao, her 12-year-old Hanoverian gelding were also foot perfect for both rounds, riding second in the order. Unlucky rails in both rounds for Cliff and her 12-year-old Irish Sport Horse stallion, Fanadwest Rebel, resulted as the drop scores. Leong and her 10-year-old Belgium Warmblood mare Hertogin Ter Drie Leien anchored the team, dropping just one rail in each round and sealing the gold-medal win. Leong also contributed to a third place U.S. team podium position in Ocala earlier this year.
The U.S. junior team, comprised of Alyce Bittar, Coco Fath, Mattie Hatcher, and Hayden Zadel topped the podium, earning the gold medal on four faults in a jump-off against Mexico.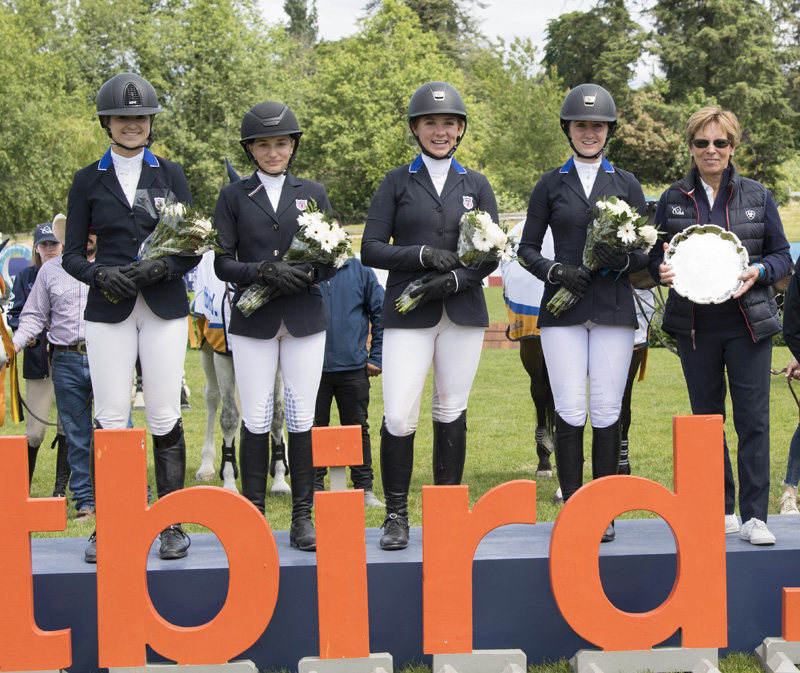 Fath and Huckleberry, the 11-year-old Dutch Warmblood gelding she owns with Hillside Farm LLC, led the way for the U.S. team, jumping two clear rounds. Bittar and George Bittar's 12-year-old Oldenburg mare Lara Croft B jumped second in the order, dropping just a single rail in each round. Zadel and Triskel de Kerliven, the 11-year-old Selle Francais gelding owned by HHZ LLC, rode next with two clear rounds, laying the groundwork for the jump-off. Though they were the drop score in the first round, Hatcher and Cristiano, her eight-year-old Swedish Warmblood gelding, jumped a clear final round to secure the jump-off.
"The jump-off in the junior [competition] was extraordinary," said Langer. "All of [the children and juniors] are headed to NAYC [the FEI/Adequan North American Youth Championships presented by Gotham North]. They clearly are part of our future. They are seeking youth education and competition opportunities and it is paying off for them."