Nestor Nielsen van Hoff may have been the happiest show jumper on the showgrounds on the opening day of show jumping the Rio de Janeiro Olympic Games. Aboard Prince Royal Z De La Luz the individual rider from Uruguay incurred just a single time fault over a tough track. He followed that up with 8-faults in yesterday's competition, still strong enough to qualify for today's third individual qualifier.
Not bad for a horse who's only left South America once.
The horse earned his invitation to Rio thanks to finishing ninth at the 2015 Toronto Pan American Games—his first foray outside his home continent. And the Uruguayan Equestrian Federation took notice, asking him take a break from teaching riding lessons at the Carrasco Polo Club in Montvideo, Uruguay, to head to Argentina to train with Martin Mallo.
Nielson, 43, grew up is a third generation equestrian, but by far the most accomplished. He picked out the 9-year-old Uruguayan-bred Zangersheide of unrecorded breeding in Argentina when he was 3, attracted to the horse's spunky character.
"He really needs to know the person getting close to him," said Nielsen. "I'm one of the only ones who can actually get close to him. No one else rides him but me."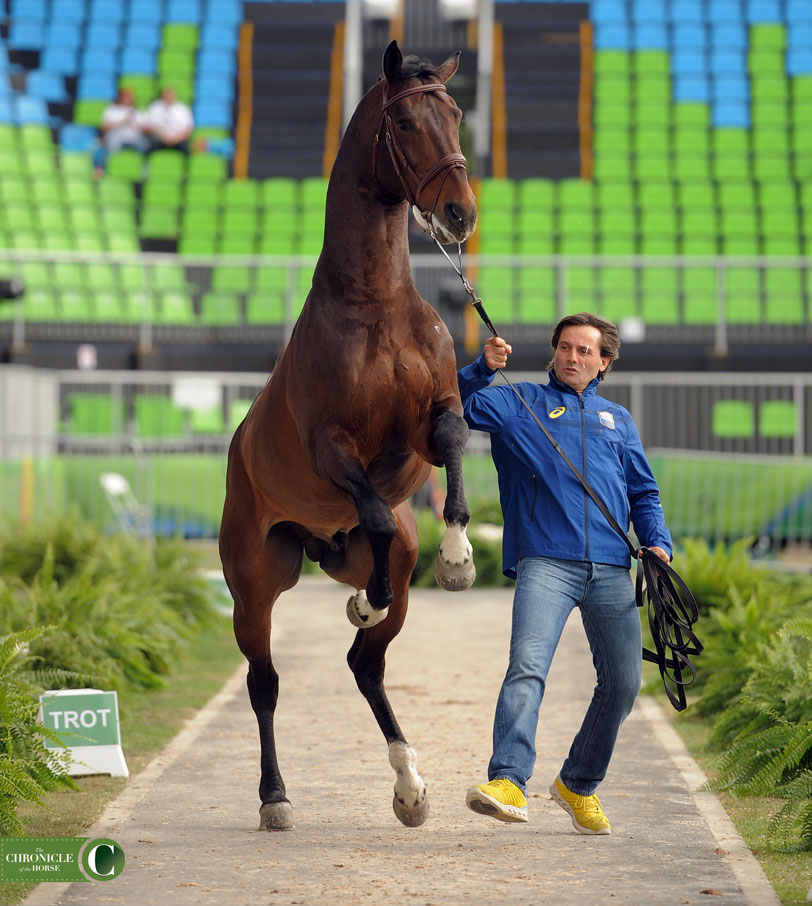 Spunky indeed! Photo by Mollie Bailey.
At the Games Nielsen has had lots of support, with friends and family traveling to Brazil to cheer on the rider, who's currently ranked 44th at the Games.
"Seeing so many people cheering for me gives me hope and I really want to go as far as I can," said Nielson. "Many people calling me on my phone to give me luck."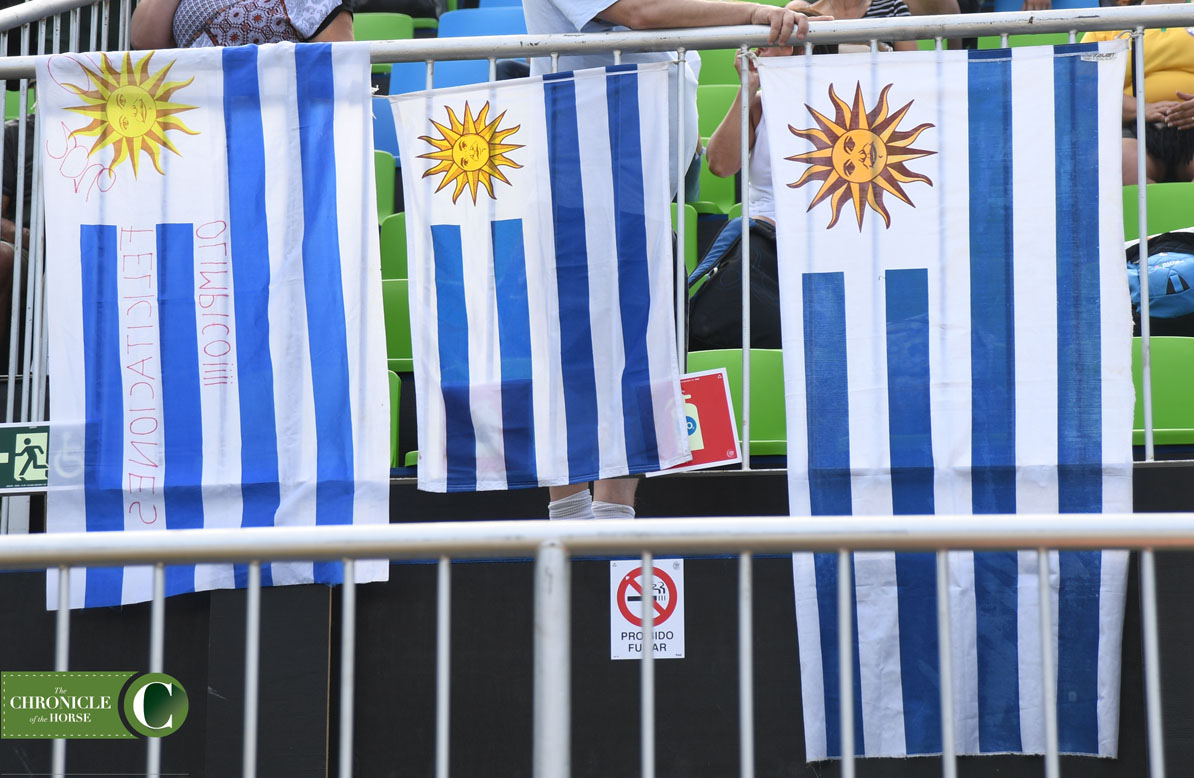 There's plenty of Uruguayan support for Nielsen. Photo by Mollie Bailey.
Mollie Bailey and Lindsay Berreth are on the ground in Rio de Janeiro for the Chronicle and will be reporting with all the news, fantastic photos and behind-the-scenes details, all posted on www.coth.com. Your go-to page for all things Olympic is http://www.chronofhorse.com/2016-Olympics.
We'll have live blogs of competition sessions, Twitter updates, blogs, photo galleries, stories about each day's competition and so much more. Don't miss a thing—we'll have everything you need to know. Also make sure to follow along on the Chronicle's social media outlets: Facebook, Twitter, Instagram and Snapchat (@chronofhorse).