Junior and Young Rider team competition dominated the third day of the Gotham North FEI North American Youth Jumping Championships. Junior gold when to Zone 4 and team members Caroline Mawhinney (Wellington, Florida), Ella Duffy (Alpharetta, Georgia), Hailey Royce (Wellington, Florida) and Mia Albelo (Miami, Florida). A combined team of athletes from Zone 5 and Zone 7 with Alexander Alston (Zone 5— New Albany, Ohio), Alexandra Pielet (Zone 5—Highland Park, Illinois), Sofia Cady (Zone 7— Austin, Texas) and Charlise Casas (Zone 5—Kenworth, Illinois), earned top honors in the Young Rider team final.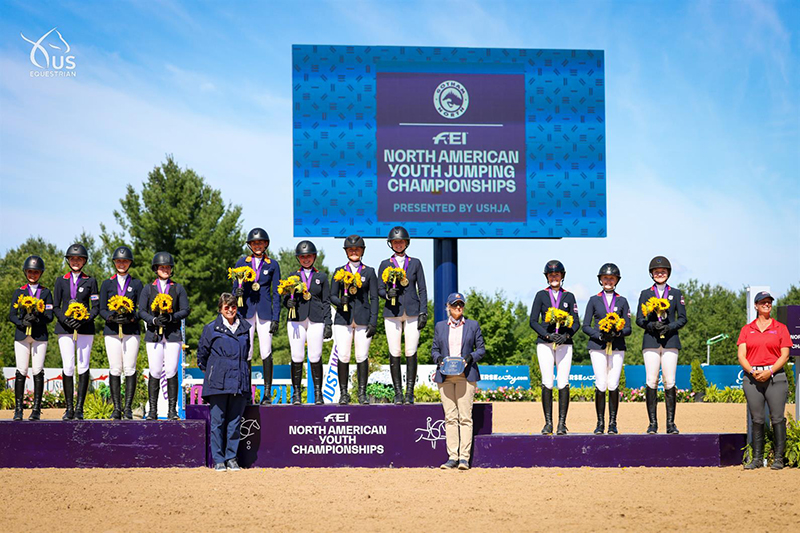 Zone 4 Wins Gold in Junior Team Final
The day kicked off with eight teams competing for Junior medals. Over Anderson Lima's (BRA) challenging track, the field narrowed to six teams, with Zone 10 leading going into the second round. As the jumping continued, the competition edged closer. Zone 4's Mawhinney and Royce recorded double-clear efforts, then Elisa Broz (Watsonville, California), Della White (Newport Beach, California) and Makenzie Damus (Encito, California), anchor rider for Zone 10, dropped the final two rails on course, settling Zone 10 along with other team member Stella Wasserman (Los Angeles) into silver-medal position. Earning bronze was Zone 5, with team members Caroline Nadalin (Plain City, Indiana), Andrea Towriss (Norman, Indiana), and Olivia Williams (South Bend, Indiana).
"My horse, Stella Levista, is incredible," team gold medalist Mawhinney said of her mount. "I couldn't have asked for a better partner. I've had her for two years now, and she's amazing. She always tries her heart out. Even though she's small she gives it her best effort every time. We have to add strides in some places, but she always makes it work."
Royce, aboard Sonic Boom, also put in two clear rounds to help her team secure the gold medal. "Going into today, I really wanted to make sure my horse was ready and forward," she said of her strategy. "I knew the time was tight and I had a strong ride in the first round so I went and I just put a great effort in. My horse jumped unbelievably."
Albelo, riding MHS Cardenta, came into the Junior division on a high note after taking both the individual and team gold medals at NAYC in 2021.
"This year, I obviously felt the pressure because last year I got that [gold] medal, but I knew I had the best team alongside me," she said.
Zone 5 had only three riders but performed well despite the disadvantage, taking the bronze medal with several clear efforts.
"This week has been so much fun," said Nadalin. "With a three-person team we knew we were the underdogs going in, and we were just going to put our best foot forward and see what happened. I'm just so proud of all of us."
Looking ahead to the Junior individual final on Sunday, Canada's William Martin holds the lead on 3.90 penalties. Just behind him in contention for the individual gold medal is Zone 4's White, who is on just 4.00 penalties.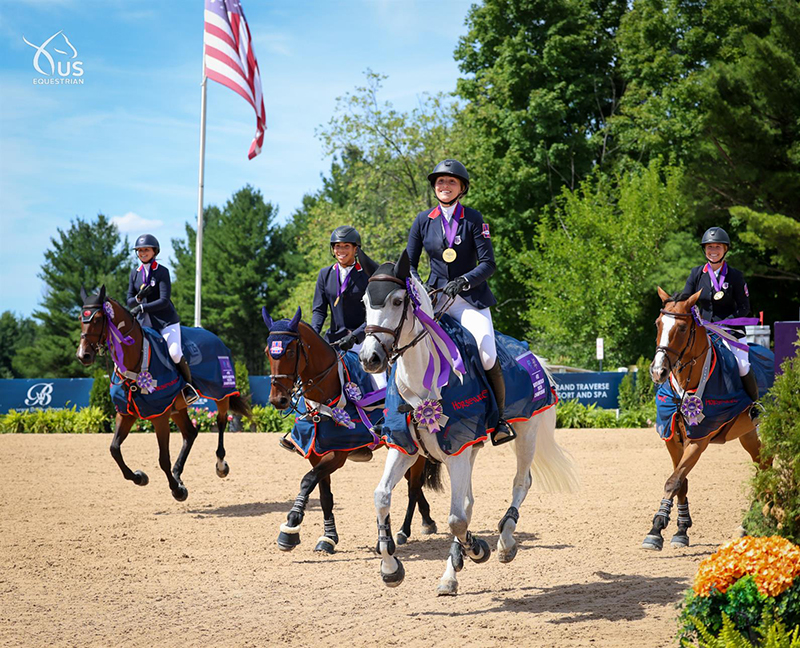 Zone 5/7 Earn Gold Medal In Young Rider Team Final
The Young Rider team final also saw a change up at the top of the order as competition got underway. Two teams jumped clean in the first round—Zone 4 and Zone 5/7—but it was Zone 5/7 that held the lead on just 5.68 penalties coming into the final day of team competition.
As more riders jumped, rails continued to fall, even for the top-two placed athletes in the first qualifier, Tanner Korotkin (Zone 4) and Sam Walker (Canada). As Canada 1 came home on 16 faults through both rounds, their team members, Eric Krawitt (Okotoks, Alberta), Lauren Esdale (Seagrave, Ontario), Sara Tindale (Campbellville, Ontario), and Walker (Nobleton, Ontario), brought home the bronze medal. The Zone 4 team, all of whom hail from Wellington, Florida—Korotkin, Sheer Levitin, Elli Yeager and Zayna Rizvi—took silver
The 8 faults in round two for Zone 4 put Zone 5/7 into the automatic gold-medal position, even with Casas still to jump. Their total score of 9.68 and only one rail to their total score over the two rounds of jumping put Casas and Mustique VZ along with teammates Pielet aboard Hyperbolics, Alston on Prestigious and Cady with Deleyn atop the podium.
"My horse is one of the most competitive horses I've ever had," Casas said of Mustique VZ, a horse she acquired from her trainer Kent Farrington. "I know if I do it right, so will she. It's the first time she's ever done it and my third time here, so I have the knowledge to try and help her out.
"Kent just told me to keep my head cool," Casas continued. "One of the things I struggle with most is mental discipline. I get excited and let stress or pressure get the best of me. Today he told me to keep my cool and not stress about the weight that the rounds carry, and just do my best and hopefully that'll be enough."
"I was nervous coming into this morning's first round because I had a little bit of a rough time in yesterday's qualifier," Cady said. "But after I jumped the first round I knew that I was able to do it. My horse felt amazing and then my trainer and I just talked about smoothing everything out. [Deleyn] jumps amazing every time; she never wants to be less than perfect so if I can do it well, she will always follow suit and do it better."
Pielet secured the third fastest time aboard Hyperbolics in the first qualifier but was the drop score for her team in round one of the team final.
"Our first round today was not ideal," she said. "Then I was quite hungry to do well after my team carried me in the first round, so I fought for it and he was wonderful and clear in the second round. I knew that I really wanted to improve myself and I was fast and third the other day. I was disappointed with myself after my first round today, so I was hungry to go back and do it again even better."
Both Casas and Pielet were on the gold medal-winning Junior team for Zone 5 in 2018, finding themselves as team members atop the podium on a second occasion in 2022.
"Prestigious won team gold in 2018 for Zone 5 [with another rider] and now he's done it again," Alston said of his horse. "I think it gives me confidence knowing my horse had the ability to win this."
Only two combinations pulled out double-clear efforts through team competition in the Young Rider division. Rizvi, who now sits on 3.02 penalties, holds the lead going into Sunday's individual final, but Korotkin is close behind on 4 penalties. Cady was the only other double-clear effort of the day, helping her team secure the gold medal.