Lexington, Ky.—Nov. 10
Drain's Marlo Tommy is breaking all rules of convention at U.S. Dressage Finals—not only is the training level competitor a full Percheron, but he's also competing at the finals for the first time at the age of 21!
"At one show this year someone asked me if he was a 4-year-old," said his rider, Natalya Slipchenko. "He's got plenty of gusto!"
Slipchenko rides "Bubbie" for owner Linda Phifer of West Lafayette, Indiana.
"He had been bred to be a hitch horse up in Canada and was sold to be a hitch horse, but he flunked out of that," Phifer said. "He was too hot; he couldn't handle being hitched to another horse, so those owners sent him to an auction somewhere in the States when he was 5 with a note that said, 'Not a lady's horse.' "
That's where Lafayette, Indiana-based trainer Jennifer Kaiser found him.
"Jennifer is known for competing drafts and draft crosses in dressage, and telling her he's 'not a lady's horse' is like waving a red flag at a bull," Phifer said.
Kaiser bought Bubbie, started him under saddle and began doing some dressage with the gelding. Phifer was looking to buy a horse to compete when she met Bubbie at Kaiser's stable.
"I had black stallion syndrome really bad," Phifer said with a laugh. "I thought he was the most beautiful creature I'd ever seen in my life, just snorting and prancing around. He's a pistol."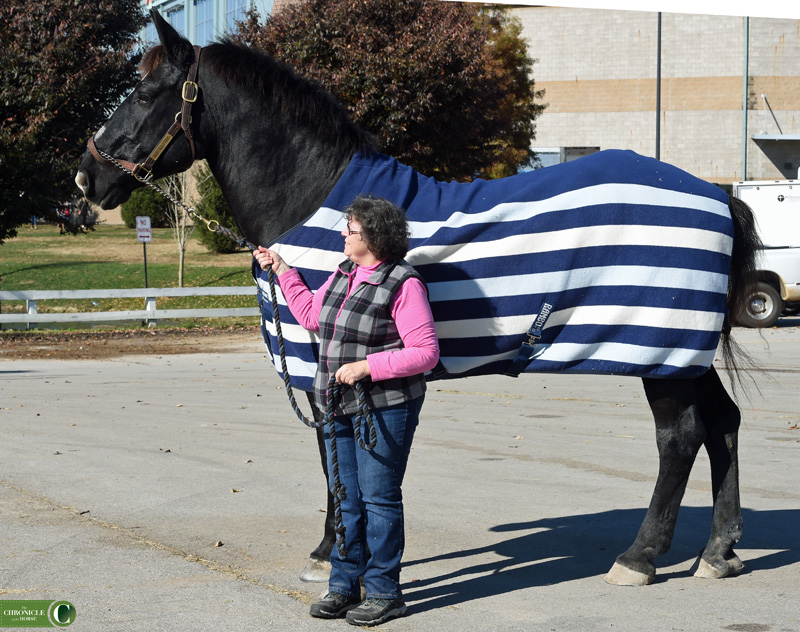 Sometimes that was to his detriment—Bubbie could be a real handful.
"I showed him some, but I tend to go into survival mode on him because he gets very fired up at shows," Phifer said. "I tried showing him earlier in the year and decided this isn't for me. I'm older, and I don't bounce, and Natalya had been occasionally riding him, and I said would you like to show him? And she said yes!"
Slipchenko and Phifer met through their mutual trainer, Jennifer Conour. At 22, Slipchenko is the resident young amateur who gets called on to hop on the naughty horses sometimes.
"I had never ridden something this big. When I saw him I thought he was very beautiful, but he was being a little obnoxious," Slipchenko said with a laugh. "I said 'OK, I have to get on him.' "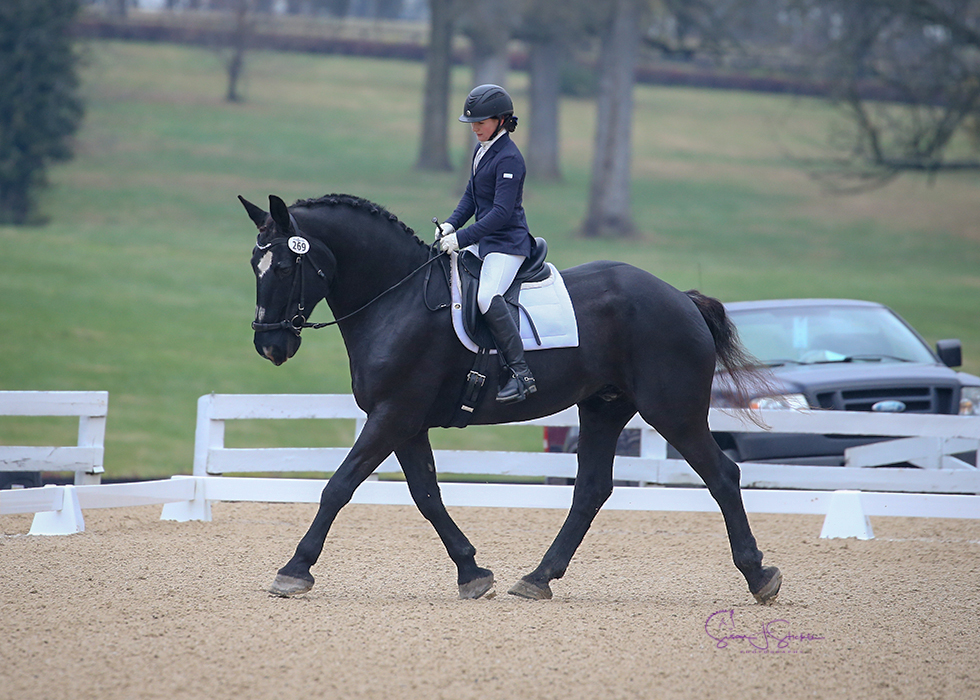 Bubbie's personality is not what you might expect from a cold-blooded breed.
"He's pretty atypical for a draft horse in that he is on the hotter side," Phifer said. "He's also kind of fancy when it comes to his gaits; he's very light on his feet.
Slipchenko started working rides on Bubbie into her schedule early this year—Slipchenko is an undergraduate student in her senior year at Purdue University in West Lafayette, Indiana.
"This girl comes out to the barn at 9 o'clock at night in horrible weather; she pulls him in from the field and rides to get ready for this," Phifer said of Slipchenko. "She's busy; she's basically a working student for Jennifer, and I can't say enough about her. She's so reliable. I mean how many people come out to the barn at night when they're busy, and it's raining and 40 degrees at night to ride and get ready for this? She's amazing."
Slipchenko is just as grateful to Phifer for having the ride on Bubbie.
"This is really exciting for all of us. When we got fourth at regionals out of 34 to qualify for this [Linda] just started crying," Slipchenko said. "To think that him against all these horses probably from Europe, these $100,000 horses, and the Percheron is in there holding his own; it's just really special. He's really special; I love him."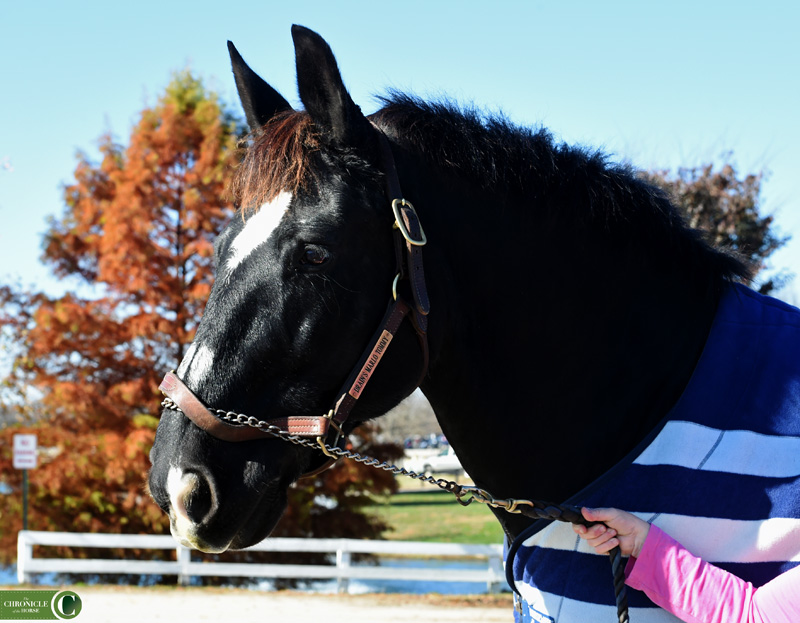 Slipchenko and Bubbie compete tomorrow in their first level freestyle championship and training level championship classes. They competed in a national level freestyle class as a warm-up and scored 70.66 percent. Phifer encourages people not to overlook Percherons or other draft horses for dressage.
"I think they're beautiful horses, and people underestimate their ability to be sport horses," Phifer said. "A lot of the hitch horses are bred to be on the hot side and bred to be athletic."
Want more from U.S. Dressage Finals? We've got plenty more stories, including ones about a mule, a Shire, and a pinto half Friesian. Click for all of the Chronicle's coverage.
Click here for full results from U.S. Dressage Finals and check out the Dec. 10 magazine for more in-depth reporting.