As Natasha Nagawiecki prepared to lead Reali Equine LLC's Reflection into the ring in the Shapley's Groom's Class during Week 8 of the FTI Consulting Winter Equestrian Festival (Fla.), she noticed a small black spot on the white mare's leg where she'd gotten a smudge of hoof polish as she walked.
At the last minute, she whisked away the spot, fixed one more stray hair in her mane and headed into the ring.
That attention to detail, plus the confidence to bring a white horse to the class, is what makes Nagawiecki a coveted groom and resulted in her win in the second Shapley's Groom's Class held this season at WEF on Feb. 28 in Wellington.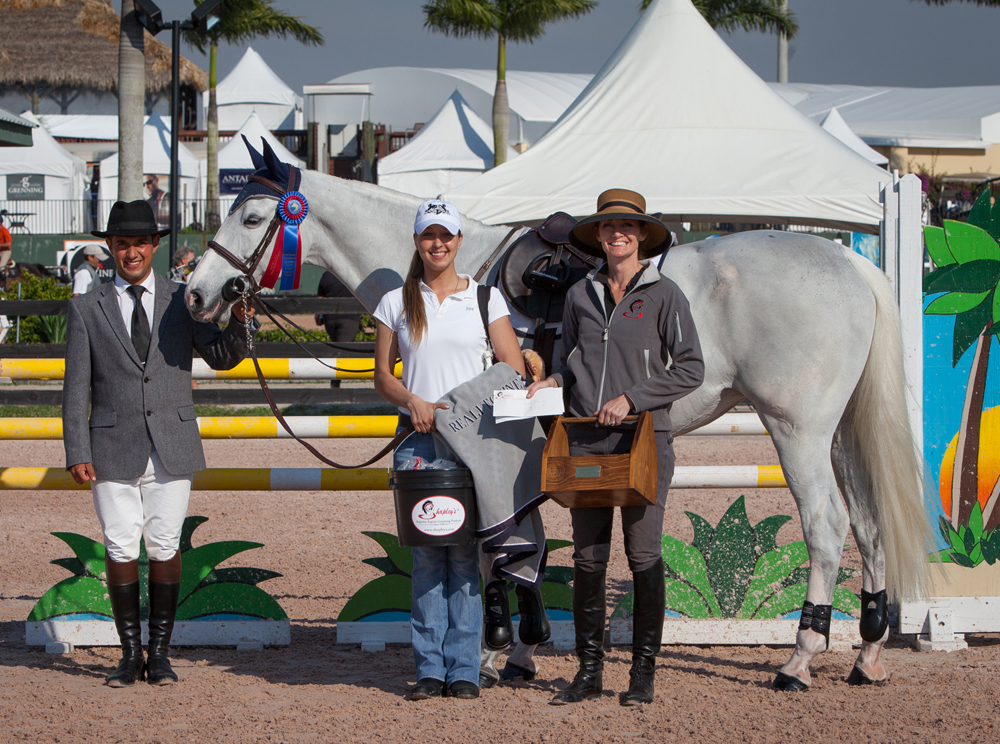 Natascha Nagawiecki (center) accepted her win in the
FTI WEF Week 8 Shapley's Groom's Class from
ringmaster Gustavo Murcia (left) and Sally
Stith-Burdette of Shapley's.
"If your horse doesn't look good, you don't look good," she said. "I always clean every horse as if it was my own. We knew Reflection would be the best choice because she's all white. It proved to me that I could do it by bringing in a white horse. Before I got in the show ring, I white-gloved her myself. If a white horse is white-gloved and that glove comes off perfectly clean, you know you did your job right."
Since Nagawiecki knew the 13-year-old Dutch Warmblood mare of unrecorded breeding so well, she also added another subtle touch before the class.
"She's a little nervous when her [fly] bonnet flaps back down, so I ran an invisible line from the bonnet to her noseband and the judges ran their hand past it and didn't even know. When she jumps, her bonnet doesn't flap."
Shapley's sponsored three editions of the Groom's Class during WEF. The criteria for the class was: "Grooms will bring a 'show-ring ready' fully tacked and booted horse (braids optional) to the ring. Grooms and their horses will be judged by a panel on overall cleanliness, appropriate use and fit of tack, tack cleanliness, application of boots/wraps, neatness of clipping, braiding job, overall presentation, and grooming box." First through third places got prizes, with ribbons going to sixth place.
For Nagawiecki, 27, the win was a culmination of years of work. "I'm still in absolute shock," she said. "It was a dream come true. All my hard work and studying and learning about a horse's skin and anatomy and late night hours at the barn learning which product is going to be good, it all paid off. I'm grateful that I got to stand amongst all those grooms."
She started her own grooming company, A Pampered Pony Equine Spa Services, three years ago when her friends noticed her skills.
Born and raised on Long Island, N.Y., Nagawiecki spent much of her childhood in Poland at her father's breeding stable that specializes in jumpers. Because of the time spent in busy stable, she's fluent in Polish and got a thorough education in good grooming techniques.
Her riding background is varied, with experience in hunters, equitation, hunter pacing, western, showmanship, driving, gymkhana and Thoroughbred exercise riding. "Everything your heart can imagine, from show jumping to barrel racing to ride-a-buck bareback competitions," she said. "I look at it as if you're going to be around a hobby, make it more than just a hobby. Learn every kind of skill you can learn about it, so if someone talks to you about it, you know it, you have it, you've tried it. You don't like it? OK, at least you know and you tried it."
But, "at the end of the day, I enjoy a nice bareback ride on a trail. That's my secret favorite!"
Growing up, Nagawiecki worked and rode at different barns on Long Island where she volunteered to groom horses and her passion grew from there. When she was 12, she first picked up a pair of clippers, which started a lifelong love of clipping, and a reputation for creating intricate designs like the New York City skyline and Van Gogh's "Starry Night."
"A clipper came by to my barn and clipped our horses for us and we all paid a lot of money for it, and my horse ended up being butchered," she said. "He looked like he just went through colic surgery. I took my mom's dog clippers and fixed his clip perfectly. Everybody else at my barn came up and asked if I could fix their horse's clips. Now, seeing people I've never met before have such an amazing smile before and after I'm done with their horses, that's the best feeling ever."
Nagawiecki spent a few years freelance grooming, working in barns and breezing and hotwalking racehorses where she learned some of her favorite techniques, like hot oil treatments.
She still lives on Long Island and works with clients mainly in New York and New Jersey, but picked up a few more after her win in Florida.
Her trip to Florida was her first time at WEF. "I told my fiancée I wasn't coming back!" she joked. "It was incredible to see what everyone else did and to learn from that. Not only was it a great win, it was a great opportunity to learn what I needed to do and what I didn't need to do."
An Honorable Win
For Isidro Montanez, a win in the first Shapley's Groom's class on Feb. 8 was reward for more than 30 years on the job.
Montanez started working for trainer Cindy Cruciotti and Serenity Farm in Elizabeth, Colo., six months ago after a previous job with Rainbow Canyon Ranch in Los Angeles, Calif.
Longtime Serenity Farm amateur client Nicole Lyvere said that Montanez is a valuable addition to their team.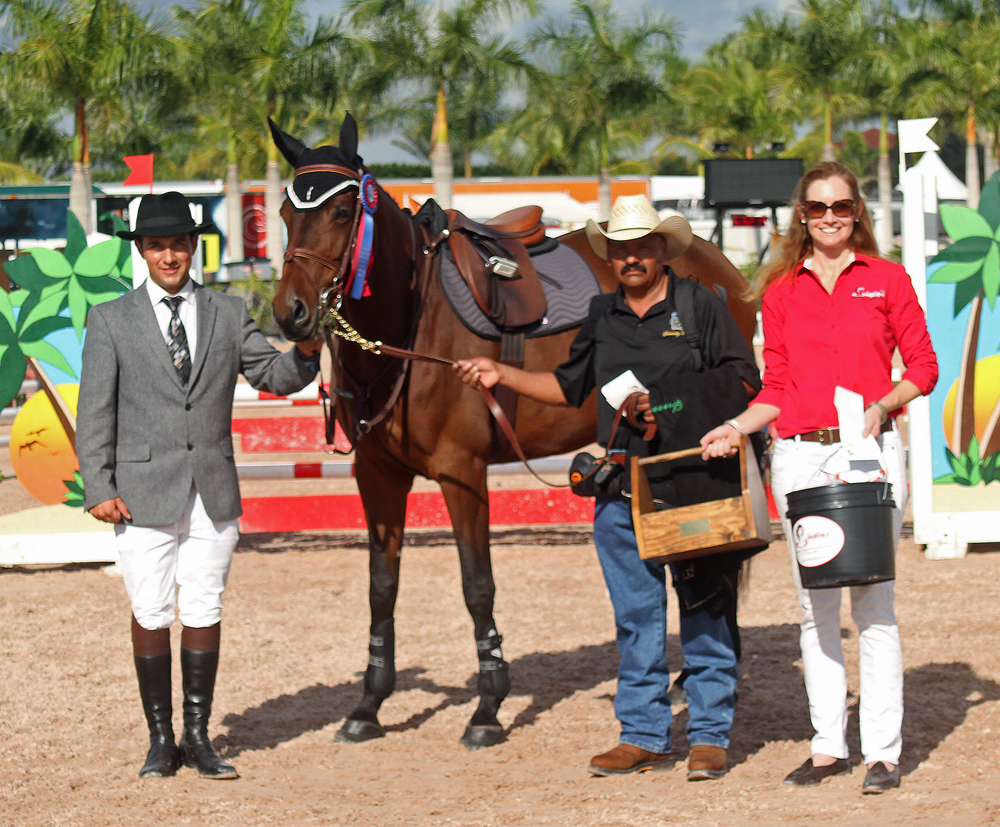 Isidro Montanez (center) recieved his Shapley's Groom's
Class prizes from ringmaster Gustavo Murcia and
Sally Stith-Burdette of Shapley's.
"He's stepped up and taken over the grooming aspect," she said. "Before it was Cindy Cruciotti and everyone else doing everything, so he's stepped up and gotten a very good team of grooms together to make sure that all of the horses are taken care of everyday. He'll do anything for us, whether we just need somebody to talk to or taking caring of the horses."
Montanez, whose wife, three children and grandchildren live in California, is a lively and welcome presence at horse shows, according to Lyvere.
"He's very nice and always wants to ask how you are in the morning," she said. "If you've had a hard day, he'll tell you, 'It's OK, it'll be better next time.' He wants you to be happy. He's very professional, but he'll mess around and make jokes and give us a hard time if we have time faults in the jumpers or something."
Montanez, 56, presented Kelli Cruciotti's Zidante, a 10-year-old Dutch Warmblood mare (Cantos—Midante), who competes in the medium and high junior jumpers, in the Shapley's Groom's Class. "He really likes the jumpers," said Lyvere. "He likes Zindante a lot. She's really spunky. He likes the jumpers that jump high and go fast."
Lyvere said Montanez, who's originally from Mexico, was looking forward to the first Groom's class that was unfortunately canceled due to rain, and was honored to win this time around.
"This time, we helped him put together a backpack and he told us what he wanted in it," she said. "He put a lot of work into it and made sure to pick the best looking horse and had perfect braids. He went and got new boots because he had old ones, so he made sure what he was wearing was also very nice. The thing that I found really cool was that he wanted a show schedule, so we cut the show schedule in half for that Friday and we highlighted the class. He wanted it laminated. Everything was in that backpack that you could ever think of. I think it meant a lot to him to win it."