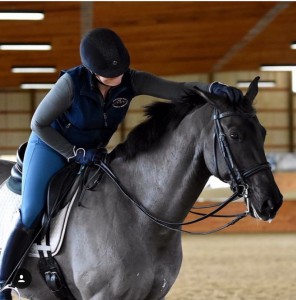 After nine months of rest, rehab, surgery and lots of anxiety, Danny took a big step forward in his return to work—he was cleared to go back under saddle! He'll walk for four weeks, to build up the topline muscle that disappeared post-colic surgery, before we begin trotting and cantering as rehab from the leg injury he sustained last spring.
Along this long road, I've gotten to play with some great rehab techniques, both old and new, to get Danny to where we are today: happy, healthy, and rebuilding.
1. The Ice Horse Machine, powered by Zamar technology. Sports injuries are treated with rest, stretching, compression and ice. We've used Ice Horse boots for years, both to treat and help prevent injury in countless horses. But this spring Ice Horse let me play with their newest product, a machine that easily allows us to control the temperature and amount of compression applied to the body.
It uses a non-toxic fluid that circulates through the boot, increasing and decreasing the amount of pressure applied (compressing and decompressing, which helps treat inflammation better than just stagnant pressure), as well as controlling the temperature of the fluid (unlike ice water, which warms to room temperature over time; this machine cools the recirculating fluid, keeping the temperature steady).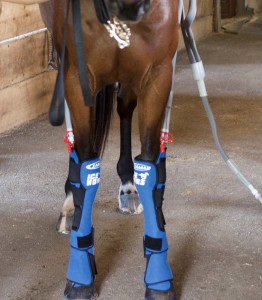 2. Running. Not for Danny—for me. To say that dealing with the 2017 I had was a terribly stressful experience was an understatement. I'd stopped running after a series of small injuries myself, but when things started getting hard and scary I started up again. Logging miles on the road gave me an outlet for my stresses, and also burned off some extra calories.
3. The MR4 ACTIVet Laser and Draper Therapy "clothes." I've used my Multi-Radiance Medical cold laser for years to treat inflammation, swelling and pain, including on myself; I've treated sore shoulders, a strained achilles and even a sore throat with red light! But I'd not yet had a chance to play with the blue light, which kills bacteria and promotes wound healing.
We used the laser on Danny's abdominal incision to help it heal beautifully. I followed his laser treatments up with products from Draper Equine Therapy, whose Celliant fiber increases circulation and decreases inflammation and pain. The sheet helped reduce swelling around his incision, and wraps helped keep him from stocking up during his long periods of stall rest.
4. A water treadmill. For those of you who've never had the great joy of a horse undergo colic surgery, the surgery itself requires cutting through a lot of abdominal muscle, and then a long period of rest. Both are really difficult for the maintenance of the dressage horse, for whom core and topline muscle is so crucial; Danny experienced tremendous atrophy.
To help rebuild some of that lost muscle, when we arrived in Wellington for the winter, I began trailering Danny over to Sharn Wordley's water treadmill from HorseGym USA. Walking through water is great resistance exercise with limited concussion to his limbs as he rebuilds. Check it out!
And every time he gets out of the treadmill, I spray Zephyr's Garden Whole Hoof Health Spray. South Florida has so many icky things living in the sand and soil, and I want to protect Danny's frogs and white line from the environment.
5. Good nutrition. My horses always get top-shelf nutrition from Tribute Equine, but I added Uckele's Tri-Amino supplement when I started working Danny on the treadmill, knowing that he'd need some support to build muscle when I changed his workout regimen. The additional amino acids in his diet will help him build muscle faster, so we can get back to work.
6. My amazing team. All of this wonderful care is time-consuming. My crack team of assistant trainers Lisa and Lauren and working students Renata, Hannah, Skye and Karrigan have been so diligent about their care of Danny.
My amazing veterinary team of surgeons Dr. Courtney Bolam and Dr. Sarah Dukti of Piedmont Equine, my friends and home practice Drs. Stephanie and Chad Davis of Davis Equine, and my long-suffering sports medicine specialist and friend Dr. Cricket Russillo have had Danny well in hand, and they've answered my idiotic texts and panicked questions the whole way through. And all of my clients have been so gracious in their understanding of Danny's needs on all of our time.
7. MY amazing team. It wasn't just Danny who needed some attention. Dealing was hard, and I had my own incredible network of people who had my back. My awesome girls at home were, again, so amazing. My best friends and my boyfriend were always there for me. And I have a very excellent friend in professional coach Jen Verharen, who's helped me take advantage of this lull in my riding career to help me make improvements to the rest of my career: helping me streamline how I run my business, and make some plans for the next few years. She's just awesome, and if you're a professional rider and/or serious competitor, she's the best.
8. Better living through modern chemistry. Rehabbing a high energy horse can be a challenge. Remarkably enough Danny hasn't been terrible, but I'm hedging my bets with some chemical assistance. Drugs have NO place in horse training, but the dangers of a rehabbing horse feeling frisky aren't just for the humans. If a horse recovering from injury or surgery has a wild moment and rips a stitch or re-injures himself, he can do himself quite a bit of damage.
Working with my veterinary team, I picked a regimen of both prescription and OTC medications to hedge my bets with Danny: Uckele Equine's Rlx-All, which contains Valerian, for his stall rest, and Depo-Provera once he got to walking. It's important to know that there are lots of great calming supplements and medications out there that are invaluable for rehab, but most are illegal for competition purposes, and have long withdrawal times. Consult your veterinarian before making any changes to your own horses' diets.
9. And last but not least: bourbon, key lime pie, or whatever other better living through carbohydrates worked at the time. (Thank God for the running.)
SprieserSporthorse.com
Lauren Sprieser on Facebook