San Juan Capistrano, Calif.—Aug. 20  
It was veteran show jumper Hugh "Bert" Mutch on his new ride, Eminent, who took the top prize in the $30,000 Markel Insurance Grand Prix during the Blenheim Summer Classic.
First to go in a field of 28 starters, and first to return in the jump-off, Mutch blazed to glory nearly 2 seconds faster than second-place finishers Mavis Spencer and Olivia Pope.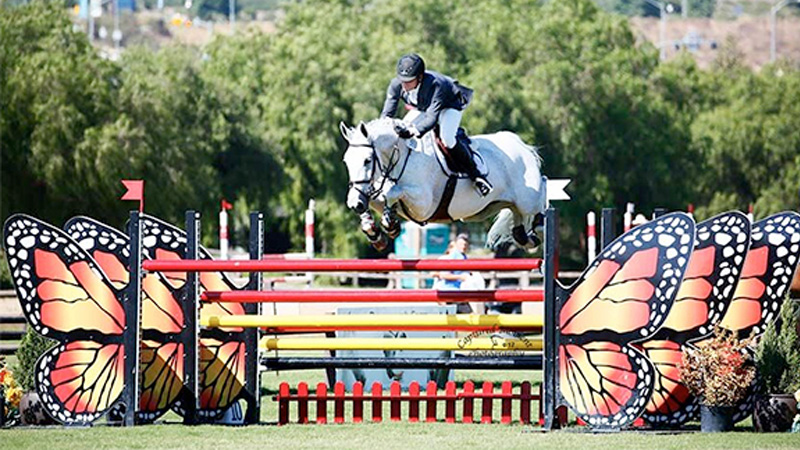 Mutch began riding the 13-year-old mare for owner David Murdoch this past July. "She's a clean, fast horse so my main thing is to stay out of her way," said Mutch.
He gave a fair warning to the five riders that were to follow him in the jump-off. "I told everybody, if we're clear, you're not going to catch me!" And true to his word, the pair lit a blazing pace from the start, with Mutch guiding the speedy mare meticulously around his chosen track, in an untouchable 36.25 seconds. Mutch plans to qualify Eminent for the Markel Insurance Grand Prix Finals at The Las Vegas National in November.
$30,000 Markel Insurance Grand Prix 
566 – Eminent – Hugh Mutch – David Murdoch, 0-0/36.25
557 – Olivia Pope – Mavis Spencer – SCNC Investments, 0-0/38.32
212 – Waliba VDL – Mackenzie Drazan – Mackenzie Drazan, 0-0/41.25
574 – Diableur – Emma Waldfogel – Emma Waldfogel, 0/0/42.45
387 – Campitello 5 – Tina Yates – Highpoint Farm, LLC, 0/4/41.28
419 – Colicchio – Kenneth Vinther – Kenneth Vinther, 0/4/42.09
389 – Ceasar – Tina Yates – ACE Equestrian, 4/80.70
174 – Triskel de Kerliven – Hayden Zadel HHZ, LLC, 4/85.20
219 – Bitalica – Keri Potter – Julia Koetting, 4/85.82
200 – C. D. N. – Ali Leopold-Moreno – Foundation Farms, LLC, 5/87.91
599 – Chin Chin – Arsia Ardalan – Arsia Ardalan, 8/83.63
442 – Milan IV – Delaney Flynn – Grace Jacobsen, 8/83.71