Lexington, Ky.—Jan. 11

U.S. Equestrian Federation President-Elect Murray Kessler is a man with a plan. He wants to grow USEF membership, and he's prepared to use his 35 years of corporate experience and 40 years in the horse industry as an amateur competitor and father of an Olympic show jumper to make that happen.
On paper, USEF membership appears stable. It's hovered around 82,000 for at least the last five years. But the secret of that seemingly constant number is that about 17,000 drop off each year, and 17,000 new members step up to take their place.
Why do members turn over at a rate of 20 percent? They only join because they have to in order to compete. "It's a fishing license," joked Kessler.
As soon as someone stops showing at USEF-rated shows, they let their membership lapse. Only 2-3 percent hold non-competing memberships.
Kessler wants to change that, and after a year's worth of research, analysis and implementation, he believes the USEF is well down the path to becoming an organization you join or remain a member of even if you're not competing because you're getting value as a consumer.
With a presentation that was 157 pages long, Kessler spoke unscripted for two hours to a packed house at the USEF Annual Meeting to introduce himself, explain his analysis, share his findings, and present his plan for building the federation.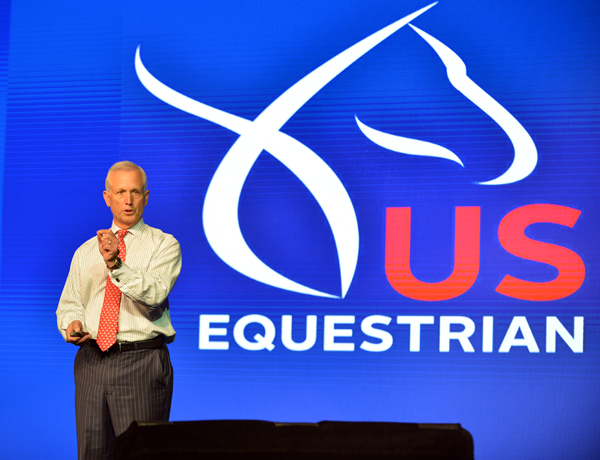 Here are some numbers to get you started: There are 2.7 million show horses in the United States, and horse showing has a slightly bigger economic impact than horse racing ($10.8 billion vs. $10.7 billion). The U.S. horse industry as a whole generates $40 billion, involving 4.6 million Americans and providing 453,000 jobs. But only 4 percent of horse owners are members of USEF.
There are more people who ride, at least on a leisurely basis, in America than play golf, and Kessler isn't focused on trying to encourage people to start riding. "We're the sports federation," he said. "I want to get those people who ride to love and enjoy the passion and benefit of horse sports."
His priority is to improve USEF drop-off rates, reach out to affiliate members who aren't USEF members (57,000 people), and build a new fan membership of people who don't compete but join the federation for other benefits.
More numbers: In the Netherlands, 140,000 people have fan memberships to their national federation. In Germany that number is 60,000. Sure horse sports are much bigger in those countries than the United States, but those organizations are offering members something the USEF has not: education and access. The German and Dutch federations provide apps, clinics, online education, live TV coverage, breed registries, discounts, assistance with finding a trainer, and a welcome to horse sport in general.
USEF has set out to do the same, starting with a new members-only learning center that will launch on Jan. 12 with more than 35 educational videos from top names in the sport like Laura Graves, McLain Ward and Phillip Dutton. A new USEF website will also launch, and USEFNetwork devotees are going to be in for a shock when they discover most videos are no longer free for the general masses. You won't be able to look up a horse's show record either without a membership.
"In general, you need to be a member of this organization," said Kessler. "I'm being very, very tough. I'll give you a couple teasers. Three or four of the videos will be free in the learning center. Competition calendars—we want people to compete, so that won't be behind a paywall. There are certain broadcasts that will be free and certain ones that won't."
USEF fan memberships will cost $25, and these members will have access to everything competing members have except the ability to compete. In addition to the new educational benefits, Kessler reminded people of the $1,000,000 in liability insurance available to members and discounts on sponsor products like John Deere equipment. As a special offer, all U.S. Pony Clubs members and scholastic and intercollegiate riders received a free fan membership for one year.
While member perks are important, Kessler highlighted two other major initiatives that are part of his plan to grow the membership and provide value to members.
The first is a marketing campaign focused on the joy of horse sports. "Our new mission: bring the joy of horse sports to as many people as possible," said Kessler. "We want those people who love horses to love horse sports. This is bringing the joy that comes from horses and riders competing together and that bond that is formed.
"We are not just bringing it to the high end," he continued. "We are bringing it to as many people as we possibly can, whether they are fans or whether they are competing members."
The campaign includes print ads and videos, as well as spreading the message of diversity in the sport regarding gender and age, and sharing the values horse sport teaches such as leadership, assertiveness, empathy and determination. Kessler also stated that para-equestrian needs to receive more support because the United States is way behind other nations as para is exploding around the world, and it's one of the best vehicles USEF has for sharing the joy of horse sport.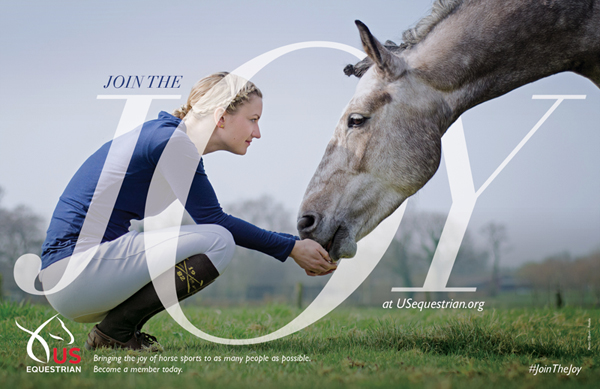 A new USEF campaign will focus on bringing the joy of horse sports to as many people as possible.
But, and this is a big one, you can't have joy without a level playing field.
"People get upset and frustrated and leave the sport because they feel it's hopeless," said Kessler. "What's the point if we go out and become a consumer facing organization if we can't provide a culture of fairness, safety and enjoyment?"
Keeping conditions safe for horses and keeping competitions safe for exhibitors were the top priorities recorded in a USEF member survey, and the USEF Annual Meeting kicked off with the big news that major penalties had been handed out to two of the biggest players in hunter sport: Larry Glefke was suspended for two years for GABA and fined $24,000, and Kelley Farmer received a one-year suspension and a fine of $12,000.
"This management team will be tough on cheaters," said Kessler. "Cheaters gotta go. It will put us out of the Olympics. It will put us out of sport. You saw the hearing committee take a very tough stand on a repeat offender. I applaud them for taking that tough stand. We need to disincentivize cheating."
Kessler also addressed numerous other topics in his presentation including the expense of getting started in horse sport and showing at the grassroots level; the idea that high performance athletes need to commit to building sport, rather than relying on the lower levels to support their dreams; how FEI classes and big show organizers effect sport in this country; the lack of enforcement for show standards; and additional ways to increase revenue such as sponsorship and moving to a new building with a lower monthly cost.
The entire presentation was broadcast on the USEF Network.
The Chronicle will continue to provide on the scene coverage of the changes at the USEF Annual Meeting on coth.com, as well as more in-depth analysis in the Jan. 30th issue.