Mrs. Virginia Walthour Moss, of Southern Pines, N.C., a foxhunter, show rider and breeder, died at her home, Mile-Away Farm, on Jan. 13. She was 96.
Born Oct. 7, 1909, in Savannah, Ga., Mrs. Moss was a lifelong horsewoman and a devout foxhunter who\'d served as joint master for the Moore County Hounds (N.C.) since 1969.
A determined advocate for land preservation, she and her husband, William O. "Pappy" Moss, created the Walthour-Moss Foundation in 1974 with a $1 million endowment and 1,500 acres of land. As a result of her tireless efforts to expand its holdings, the foundation today permanently protects more than 4,000 acres in equestrian-use easement. Mrs. Moss was inducted into the Hunter/Jumper Hall of Fame in 1991, and she received the Masters of Foxhounds Association\'s Hunting Habitat Conservation Award in 1997.
Services will take place at 10 a.m. on Thursday, Jan. 19, at the Mile-Away Cemetery in the Walthour-Moss Foundation, followed by a memorial celebration at the Weymouth Center for the Arts and Humanities, Connecticut Ave., Southern Pines.
Memorial contributions may be made to the Walthour-Moss Foundation, P.O. Box 978, Southern Pines, NC 28388 or to FirstHealth Hospice, 150 Applecross Rd., Pinehurst NC 28374.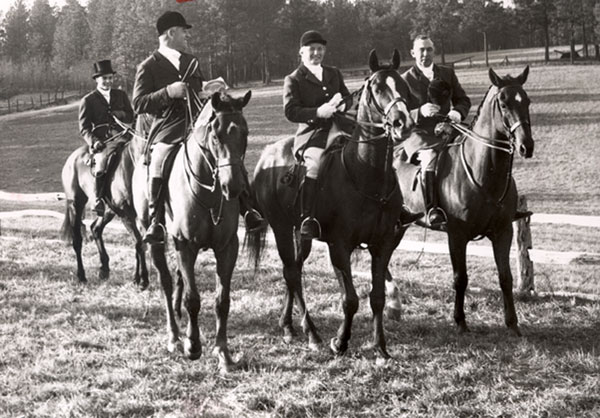 Mrs. Moss is pictured here (middle) as a member of the Moore County Hunt Team with William Moss and Nick Crotty in 1955.