"Concrete Cowboy" is a fictional story moored in the very real and century-old urban cowboy culture of Philadelphia.
Directed by Ricky Staub and based on the young adult novel "Ghetto Cowboy" by Greg Neri, it's a coming-of-age movie that follows a Black teenager named Cole (played by Caleb McLaughlin of the Netflix series "Stranger Things") who is abruptly dropped off to live with his estranged father (played by Idris Elba, who is also one of the film's producers) in Philadelphia after being expelled from his Detroit high school. The movie currently is streaming on Netflix.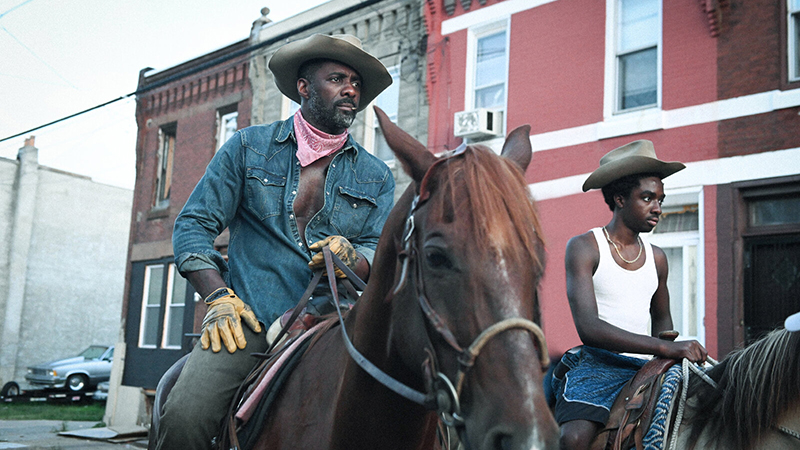 Elba's character, Harp, helps run the Fletcher Street stable, which is tucked into a North Philadelphia neighborhood and serves as an anchor for the mostly Black, run-down community. Harp also, inexplicably, has a horse living in a makeshift stall inside his house, which is just one of the horse- related details in the movie that equestrians may find puzzling.
But if you're not expecting the gritty, understated drama of "The Wire" or a realistic documentary of the urban cowboys' history, "Concrete Cowboy" is a perfectly enjoyable way to pass 111 minutes. Several of the main actors in the film are not actors at all but real denizens of the Fletcher Street Urban Riding Club Stables, and through some storytelling around the campfire and a few dramatic speeches, you'll gain some understanding of the urban cowboys' roots, their importance to the community, and the struggles they face in an increasingly gentrifying city.
Cole, however, isn't really there to learn history; he's there to learn responsibility by mucking stalls. Despite being terrified of the horses at first, he befriends and tames a rogue no one else can handle and thus starts riding and becoming part of the stable community. At the same time, he's running around with his cousin Smush—despite Harp's explicit instructions not to—a former member of the stable community who has gone astray and is trying to start dealing drugs to finance the purchase of land out west.
We follow Cole's struggles to adapt to his new reality and watch as he starts to find his own place within the community and develop a relationship with his father. The horses provide him with plenty of lessons, as does the honest work that goes along with them, although Cole also flirts with the illicit path his cousin is starting to travel.
The plot is predictable and sometimes hackneyed, but the cinematography is beautiful—much of it was filmed in Philadelphia near the former site of the Fletcher Street Urban Riding Club, and the working-class rowhouse neighborhood is certainly a different backdrop for a horse movie than many viewers will be used to. And the cast—which also features acclaimed actress Lorraine Toussaint as the neighborhood matriarch and rapper and actor Method Man as a police officer—is oozing with talent and delivers great performances.
Like so many other movies before it, "Concrete Cowboy" uses horses as a catalyst for growth and change in a character. But it's notable for focusing on an equestrian tradition that has so rarely been depicted in modern film or literature. When was the last time you saw a Black person on horseback in a modern-day movie? Much less an entire ensemble cast!
At a time when the equestrian world at large is coming to grips with its lack of diversity and the ways that Black contributions to horsemanship have been overlooked, this film is a welcome glimpse into a unique and important part of our wider equestrian community.
"Concrete Cowboy" is available to stream on Netflix.
---
This article originally ran in the Summer 2021 issue of The Chronicle of the Horse Untacked.
If you're just following COTH online, you're missing so much great unique content. Each print issue of the Chronicle is full of in-depth competition news, fascinating features, probing looks at issues within the sports of hunter/jumper, eventing and dressage, and stunning photography.
You can subscribe and get online access to a digital version as well as the print magazine, and a subscription comes with our lifestyle publication, Untacked. Or you can purchase a single issue or subscribe on a mobile device through our app The Chronicle of the Horse LLC.