She rides two new horses to big wins in Louisiana.
Heather Morris traveled home to Texas from the Holly Hill Horse Trials, Oct. 25-26 in Benton, La., with a fistful of ribbons.
Morris, 29, topped the open intermediate division on Ashwood Lad and the open preliminary division on Slate River, and also placed third in open preliminary on Buzzby.
Morris—assistant trainer for Mike Huber at his Gold Chip Stables in Bartonville, Texas—and Slate River started out the open preliminary competition in third place. C.C. Castillo, from Midland, Texas, had seated herself in the top two positions in the division after dressage with 28.8 penalties on Oberto and 30.4 penalties on her less experienced mount, Star Act.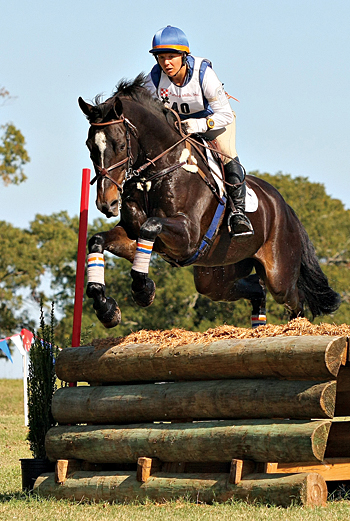 But cross-country proved influentia—Castillo and Oberto had a refusal early on the course, but Castillo held onto the lead, as Star Act jumped fast and clean to take over for his stablemate. Morris' penalty-free cross-country round put her into second with Slate River.
Then, Castillo saw the lead slip away again in show jumping, as Star Act caught a rail, and Slate River jumped clean, putting Morris into first.
"C.C. had to ride early, so I knew she had had a rail down," said Morris. "I felt pretty certain that we could keep the rails up. I was really satisfied with our performance, and taking the lead was icing on the cake."
Allison Freeman and Cedar Creek Farm bought Slate River this spring for Morris to compete. Former owner Morgan Grissum and her trainer, John Staples, had both competed the 10-year-old Oldenburg gelding at the preliminary level. Morris' first event with the horse was the American Eventing Championships (Ill.) in September, where they were second in the preliminary horse division.
"I really like this horse; he has a great deal of talent that is ready to be carried forward," Morris said. "This season was a nice start of our relationship, and I hope to take it along as far as we can. I've been riding a lot of [client-owned] horses this year, some that need to have experience, some that are being sold and some that just need to be kept going when the owner can't make it to a certain competition. This one is for me to carry on with, so it's great to get a feeling for what we can do together and know that a weekend like this is a building block for the future."
Castillo, 24, plans to finish a mathematics degree at the University of Texas-Permian Basin in December. "Star Act is just 7 and has only a handful of preliminary events on his record," Castillo said. "He had a slight spook at the judge's box going to the second jump and that took a bit of his focus away. He felt fantastic through the rest of the course, and I'm really excited about his potential," Castillo said.
Morris just took over the ride on her open intermediate winner, Ashwood Lad, for the weekend. Owner Bonner Carpenter, who rides with Morris and Huber, had other commitments and asked Morris to ride the 12-year-old at Holly Hill.
Carpenter bought Ashwood Lad, an Irish Throughbred, from Sharon White in June and has ridden him in three events, including to a win at intermediate at Greenwood Farm Fall Horse Trials (Texas) in September.
"He's actually new to all of us. I ride him quite often, but I'd never competed on him before," Morris said. "Overall, he was very good. He's very well rounded and flashy. He's ready to go advanced. Intermediate was quite easy for him."
Carpenter, a student at Southern Methodist University (Texas), hopes to compete Ashwood Lad in a two-star next spring, then move up to advanced. She's also got her veteran campaigner, Acapulco Jazz, 19, back in action for next spring.
Stacey Quarles