Morgan Rowsell may have come into the eventing world through a long and varied path, but these days he's found his niche as a popular course builder and designer. As a New Jersey resident, the Jersey Fresh International Three-Day Event holds a special place in Rowsell's heart and he's worked in support of the event since it's inception 13 years ago, in addition to being its cross-country course builder alongside course designer John Williams.
Wander around the Horse Park of New Jersey and you'll see his influence everywhere, from the Jersey Shore water complex to the stacks of portables waiting to be used for the summer horse trials.
"I just enjoy it—I don't know exactly how good I am at it," he said humbly. "It's just something where you wake up every day and you enjoy what you do. I like the combination of being hands on with the wood and creating these obstacles, but to have the horse knowledge and love of horses sort of brings it all together and makes it all worthwhile."
To hear him tell it, Rowsell fell into eventing backwards. Growing up in Hamilton, Mass., near the historic Groton House Farm and event, Rowsell's artist father had a love of horses from growing up in England, but the family couldn't afford them.
When Rowsell was 13, he started hot walking polo ponies and eventually was able to ride and exercise them. He started playing and also became involved with a couple who transitioned Thoroughbreds from racing careers into fox hunters and show horses.
But Rowsell's real interest at the time was as an arborist. While he didn't go to school for it, Rowsell was trained in the art of maintaining trees. He spent nine years doing it professionally until he "blew out" his knee.
While recovering in the winter of 1997, a friend asked if he would drive a truck down to Florida to Rocking Horse Stables, which hosts events.
"While I was there, I met John Williams," he said. "From there I met Denis Glaccum, who was running shows at Fair Hill [Md.] at the time. He asked if I would drop in to Fair Hill to do some building and that one month led to another and led to another."
Around the same time he started building, Rowsell decided to pick up eventing and competed through intermediate. Twelve years ago, he also earned a U.S. Equestrian Federation course designing license. He now holds a USEF 'S' license and an FEI one- and two-star license.
"[Working as an arborist] is essentially the foundation for building courses," he explained. "You know how to take down a tree, you take that log, you put it up on some blocks, you put a post behind it, now you have yourself a jump. The landscape construction, you know how to put retaining walls together and ditches and water obstacles, so it all sort of plays into the same theme.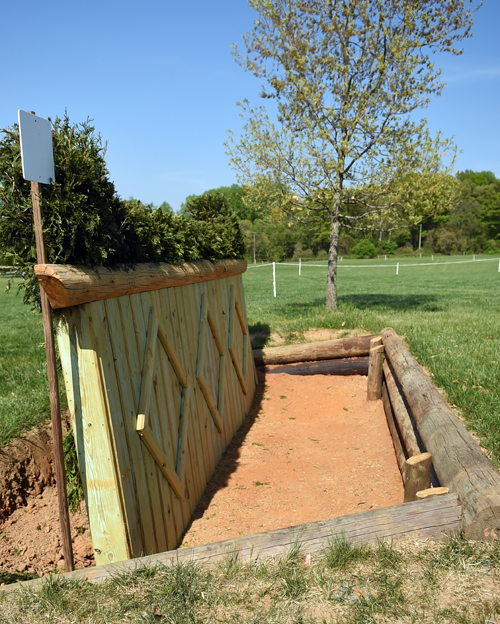 Jersey Fresh features several brand new jumps this year, like this massive ditch and wall, thanks to course builder Morgan Rowsell. Photo by Kimberly Loushin

"I always loved horses, but I wasn't good enough to ride and be paid to ride," he continued. "I wasn't smart enough to be a veterinarian, and I just sort of stumbled upon this. I can have a career with horses that's maybe a little different and a little interesting."
Rowsell, Long Valley, N.J., eventually took over designing and building at Rocking Horse's five events, as well as the now-defunct Menfelt Horse Trials (Md.), Seneca Valley's (Md.) two events, ESDCTA (N.J.) and two events held in the summer at the Horse Park of New Jersey. He also built at the former Radnor Hunt Three-Day (Pa.) alongside designer Mike Etherington Smith.
Rowsell says he's influenced by his contemporaries, including Williams, Etherington Smith, Tremaine Cooper, Derek Di Grazia and Tyson Rementer, who carves intricate designs into many of the jumps at Jersey Fresh.
"He's really quite a talented carver," he said of Rementer. "He takes it very seriously. He comes and does stuff and makes my stuff look horrible, so I stopped doing it!"
Rowsell, 45, has been most influenced by Mark Phillips though. "I spent more time with [Williams] because I build the three-day here, so he's certainly influenced me, but I have to tip my hat to Mark Phillips, because he's arguably the greatest designer of our time," he said. "To him to be generous with his time was very flattering and very influential on me. He didn't have to give me a lot of time, but he did. He's given me a lot of knowledge over the years. He's sharp and with it and has evolved with the times and has been designing for 30 years. To have that experience rub off on me a bit has been invaluable."
Using his 12 years of eventing experience, Rowsell tries to design courses and build jumps that will encourage a good jump from the horses and he likes to changes things up as often as possible, often reversing the way a course runs for each event and trying to have as many different looking fences as possible.
With new technologies like MIM clips, frangible pins and collapsible jumps being introduced since he began designing and building, Rowsell relishes the challenge of creating his courses and jumps.
"It's really sparked a conversation in the design world about 'Where is it appropriate to have a fence? How do you set up courses that are going to maximize the success for the horse? How to make it more obvious for the horse? How to place jumps properly, rather than placing them and then putting a frangible system on and thank God it broke because it's in the wrong spot,'" he said. "For me, there were a lot of deaths in the 90s and early 2000s and we all got scared and started making jumps very round and very forgiving and all that did was promote bad riding. You didn't have to ride very well. Now we're going the other way where let's get away from the round jumps and make the jumps challenging again but let's put them in the appropriate spot. Where you placed every jump matters. Every brush jump, every blade of grass matters. It's become very technical and very serious. Every jump matters because it's the one jump that you don't think matters where someone flips over.
"That's really engaging for me as a designer and course builder," he continued. "It's important what you do. It's not just droning along throwing jumps together. You have to think about every one of them, especially when you get to prelim and above. I take on that challenge and I enjoy that part of it."
Rowsell became involved with Jersey Fresh after Debbie Adams got it started 13 years ago.
"It was just sort of a natural fit since I was already working at the Horse Park for ESDCTA," he said. "I was doing Radnor, so I had the skills to do a three-day. From the three-day, [current Jersey Fresh organizer] Jane Cory and I pushed them to start doing horse trials, so we added the two horse trials over the summer, so it's sort of organically grown into quite a lot going on at the Horse Park for eventers."
The Horse Park's good turf and terrain makes it a favorite place for him to build and design on and he's grateful to the Jersey Fresh organizing committee for helping the event grow and improve each year.
"The Jersey Fresh committee have been really valuable and great volunteers in making the best event they can," he said. "It's a great piece of land and we have really good people that care about eventing. The challenges with the Park is that it's not really evolved with the community like Middleburg [Va.] or where Radnor used to be or [Lexington,] Kentucky—a horse community raised with eventing. It's a little bit of challenged to get the people in the door to get advertising dollars and to get money together to do the things we would like to do, so it's a little bit of a slow process raising money."
These days, Rowsell keeps busy full time building custom cross-country jumps with his Rowsell Equestrian Design and working at several events as designer and builder. He's been married for nine years to Virginia (neé Jenkins), who competed to the four-star level. They've both stopped competing to focus on their children, Leeci, 7, and Gareth, 5, but Rowsell wouldn't have it any other way. He's got the best of both worlds, after all.
"I've been appreciative of stumbling into this little world where I get to be a horseman in my own way through design," he said. "I get to enjoy them, see them jumping over my courses, see them happily getting through, hopefully, and I can wake up every day and do it."