It sounds corny, but I firmly believe this: Riding is a gift, and I will never turn down the opportunity. I'll get on just about any horse you tell me to.
I was in Orlando, Fla., for the American Horse Publications annual seminar when AHP hosted a welcome event in nearby Clermont at Al-Marah Arabians, the oldest privately owned Arabian horse farm in the world that put on the former Orlando attraction Arabian Nights.
Since I sat in an English saddle for the first time 14 years ago, 99.998 percent of the horses I've ridden have been warmbloods, but I admit, I do have a soft spot for an Arabian. I still remember a bay Arabian gelding named Shadar that helped me get over my fear of cantering when I was 6 years old, after my first horse Sobrie took off on me in a round pen and I fell off.
Bombproof to the core, Shadar placidly took me around the ring with a perfectly rhythmic lope and led me on more trail rides than I can count. I may not have made it to Maclay Finals if it weren't for Shadar all those years ago.
So, when Al Marah asked if I'd be willing to ride one of their Arabians in a dressage demonstration, this "equitation queen," as one of my trainers Maggie Gould jokingly calls me, didn't hesitate to say yes.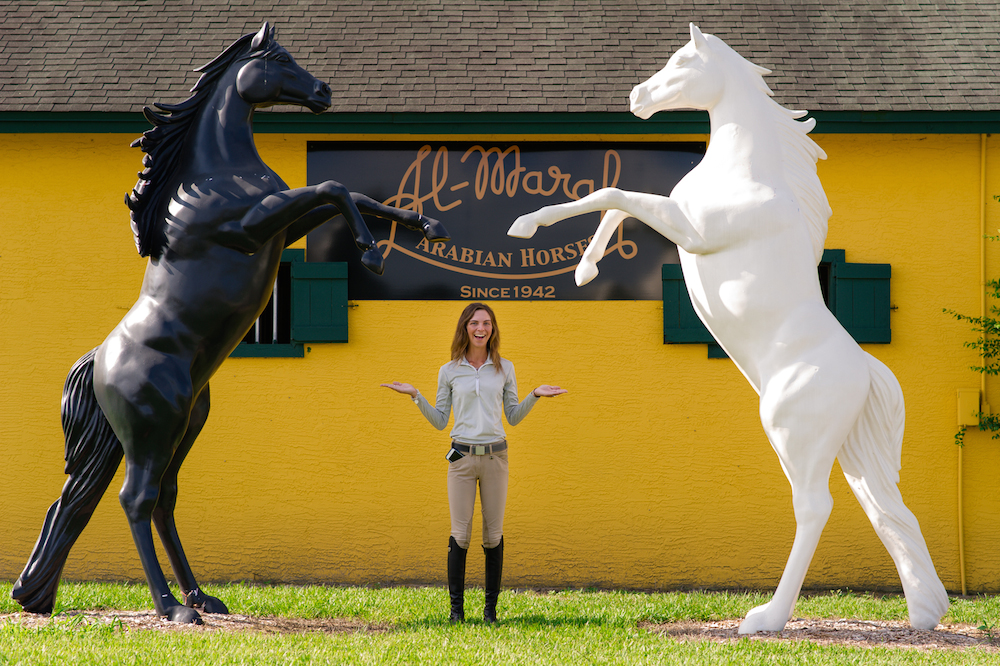 I was slightly excited to start the American Horse Publications seminar festivities at Al-Marah Arabian Horses in Clermont, Fla. Photo by Bianca McCarty
But I had some second thoughts when I got to Al-Marah and my mount was led before me.
Al-Marah owner Mark Miller introduced AM Emilias Samba, a well-bred 5-year-old daughter of Bremervale Andronicus++++// (the symbols signify achievement level from the Arabian Horse Association) out of the AM Ben Dream mare Al-Marah Casba Choice. The petite bay mare nervously eyed the observant crowd as Miller revealed she had only been recently broken under saddle.
"She's green, but she's willing," said Al-Marah's head trainer Kassie Barteau, a very accomplished dressage rider who took over at Al-Marah in 2013. I knew Al-Marah would never put me on a horse that wasn't completely safe, but I didn't want to give the mare a bad ride.
My brain said, "Are you sure, Catie?" But what came out of my mouth was, "No problem!"
Warmbloods are typically quiet—big, slow and level headed (For an exception, see my now 22-year-old Sobrie, who hasn't changed much over the years). Arabians are much more highstrung by nature.
Samba's head and tail simultaneously shot up when the skies suddenly erupted in a rain shower as soon as I sank into the unfamiliar dressage saddle, and I felt her tense when my fellow AHP members lifted their very obviously goblin-like, fear-invoking chairs above their heads and headed back to the barn for cover. I wasn't sure this was going to end well. Kassie suggested I dismount, and I quickly obliged.
When the rain subsided, Kassie asked if I wanted to try again, and I had to say yes. How could I end on that note?
I remounted, and Samba's quick strides took me around the dressage ring at a power walk. But once I put my leg on the mare and asked her to focus on the task at hand, I realized how willing she was. We began to navigate the ring in 20-meter circles and figure-eights, and she got softer and suppler as we went. Kassie offered praise as I zoned in on the ride and enjoyed her trot. She had a great movement to her, and when I sat the gait, it was as comfortable as my favorite Papasan chair.
One incredibly kind woman told me after the ride, "You and that horse looked like you had been partners for years." Samba was incredibly sweet and really just lovely.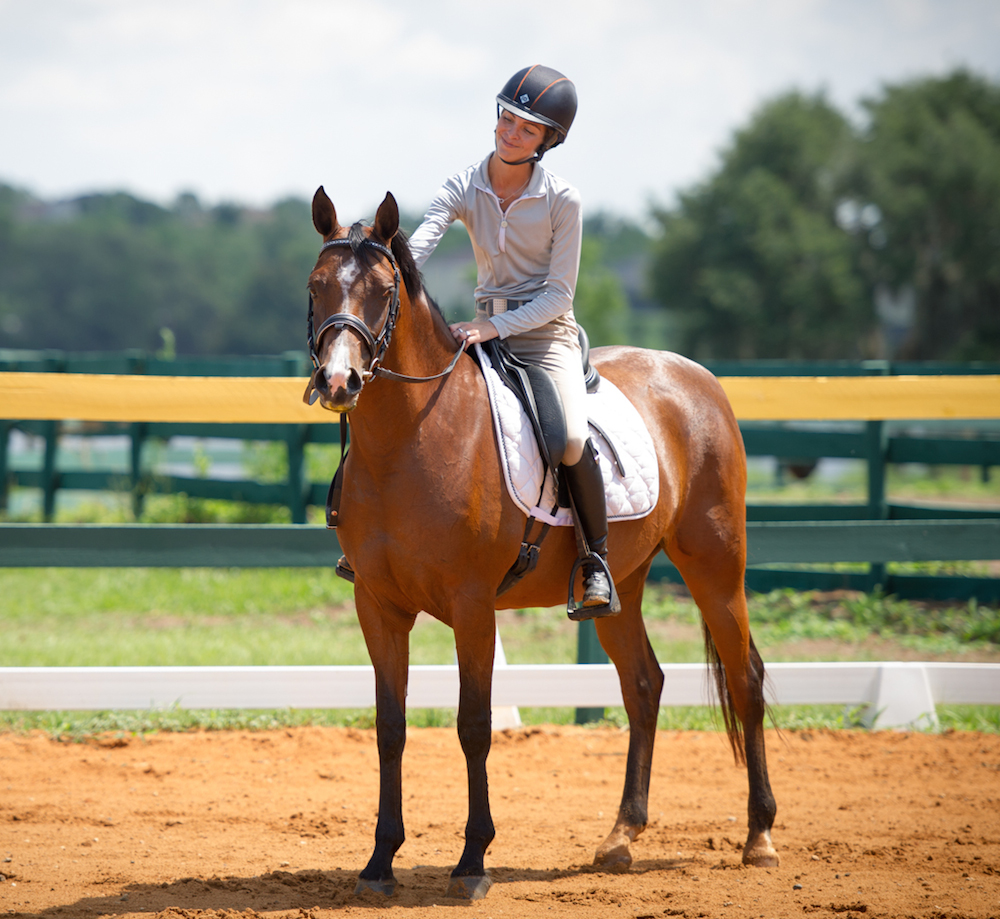 Once I connected with Am Emilias Samba, I couldn't stop smiling. Photo by Bianca McCarty
We picked up a canter as the sun peeked through the sky, as if the rain had never fallen. It was obvious the mare had quality; I was impressed at how quickly she had seemingly picked up this riding thing that we do. I didn't notice until I looked at the photos my friend took later in the day that I was smiling the entire time.
I've never been one who's been comfortable with a lot of change. I'm a habitual creature; I don't "do something different" very often. I typically order the same thing every time I go to a particular restaurant (At my local Italian hangout Massimo's, my order is, "the usual"). I attended the same grade school with the same people for nine years, I've never been out of the country (My imported mare had a passport before I did) and I never ventured outside the state of Florida for schooling (Cold weather absolutely terrifies me).
But I've had more changes thrown at me in the past year than I can almost keep track of, with more ahead, as I'll essentially be a traveling gypsy this summer covering various shows for work and doing some showing of my own.
It may be something small, but riding a recently broke Arabian in a dressage ring at a professional conference in front of a lot of people, many of whom I did not know, was definitely something different.
So was sharing a hotel room at the seminar with someone I didn't know, which turned out to be an incredible experience, as I made a new hopefully lifelong friend in Bianca McCarty, a very talented photographer from Colorado. So was being the one to initiate conversation with an unfamiliar face or a much-older-than-I professional at the seminar's networking events and raising my hand to ask questions and offer opinions at breakout sessions.
So was walking across the streets of Orlando to the "Worlds Largest Gift Shop" to buy a bathing suit so I could play pool volleyball at 10:00 at night, sliding down a kiddie water slide, because it looked like too much fun, and ordering a second glass of wine at dinner.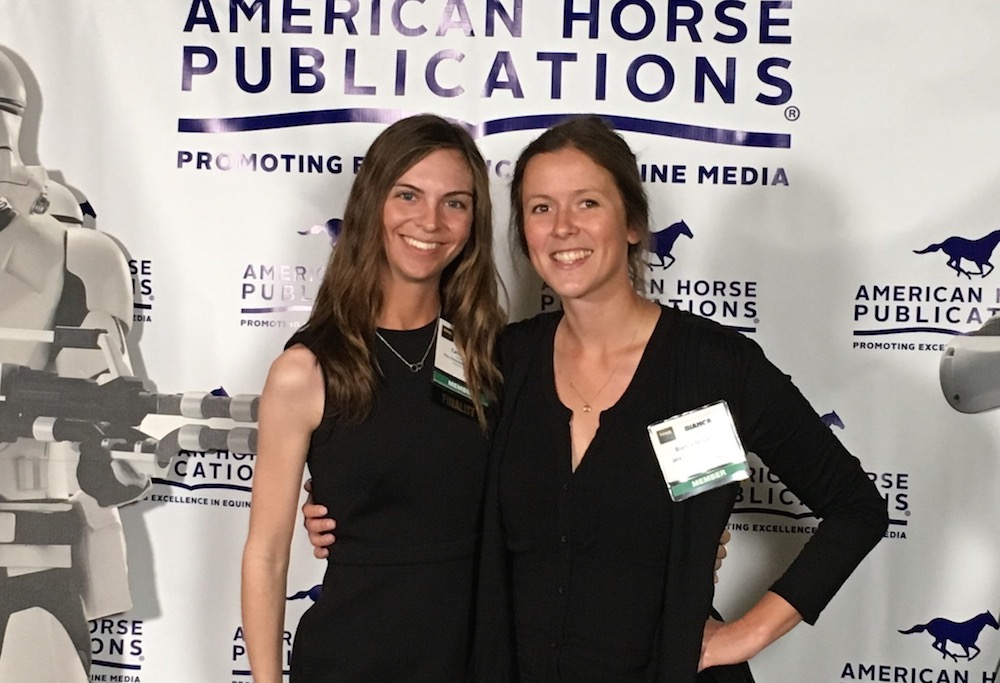 Photographer Bianca McCarty and I attended the AHP Awards Banquet in style. Photo by Kaitie Marolf
After going through some recent personal events, I'm ready to take some time for myself and dare to do some more new things that are out of my comfort zone.
Because pushing ourselves and breaking out of the comfort zone is what makes us better, both personally and professionally. And at the AHP seminar, virtually every major equestrian publication comes together to network and collectively promote the industry. How can each of us improve our writing and storytelling skills? How can different publications collaborate? How can we protect against plagiarism? How can we utilize the print, digital and broadcast platforms available to us?
It was at the AHP seminar two years ago that I won the AHP's Student Award, given to an undergraduate student (Go Canes!!) with aspirations to work in equine media. At the time, I was working as a TV host and analyst in the horse racing industry, but with my horse show roots, I was an avid Chronicle reader and ended up having a nice chat with Beth Rasin, our executive editor. Little did I know that two years later Beth would become my boss. It really is a small world! I have AHP to thank for helping me get to where I am right now.
This year, I was proud to bring home a slew of awards on behalf of my publication, including best editorial event coverage single article (circulation/AUV under 20,000), best service to the horse industry single article and best editorial event coverage single article (circulation/AUV under 20,000). We also received an honorable mention for general excellence. In total, there were 17 impressive honors bestowed upon COTH for everything from news stories to features to profiles, blogs, reporting and more. I couldn't have been more proud to represent. The Chronicle is definitely more than a one-trick pony.
And, as I learned, I can be, too.
To learn more about AHP and become a publishing, business, individual or student member, go to americanhorsepubs.org.
Catie Staszak grew up showing on the hunter/jumper circuit in Wellington and found her niche in the equitation ring, achieving her childhood dreams of competing at Pessoa/USEF Medal and ASPCA Maclay finals in 2009 and 2010. Now, she catch-rides in any of the three rings with any horse she can get a leg up on. She also pleasure rides her very first horse Sobrie, now 21, around her parents' tree farm in Boynton Beach, Fla.
Catie studied broadcast journalism at the University of Miami with the intent of combining her passion for journalism with her unfailing love of horses. After college, she spent two years working as a TV host and handicapper in the horse racing industry at Gulfstream Park, but after freelancing for the Chronicle, she jumped at the opportunity to join the team on a full-time basis. She telecommutes from South Florida and is happy to return to her horse show roots.