The news that the U.S. Equestrian Federation withdrew 2021 dates from the World Equestrian Center—Ocala (Florida) has created fervor online as amateurs and professionals alike have spoken out. Argentinian Olympic show jumper Ramiro Quintana, who bases in the United States for much of the year, shared his feelings on the mileage rule with the Chronicle.

I think it's great [that Roby Roberts is trying to open a venue in Ocala]. We need more options, not just two—three, four, five options in the area, and let the exhibitors pick where they want to show based on your schedule of the classes, based on what it costs to show, based on prize money, based on course designer, based on footing, based on experience of being on the showgrounds. I think it brings nothing but good for the sport, and then some shows can be different from others.
When you start having options, people start deciding what works for them, and you create more demand for people showing, and you encourage people to ride. Hopefully, competition will bring costs down.
It's necessary for your horse to be able to move from venue to venue, not only for your horse to improve, but also as a rider to not get bored. [It's] repetitive [to be] in the same place week after week. I think it's necessary [to have options].
Right now, the way I see it, it's difficult to produce a young horse. First of all, because of the cost, although I must say, Spy Coast has helped a lot in the sense that the young jumper divisions [at the Winter Equestrian Festival (Florida)] for example are quite affordable. There's no nomination, and there's not really any prize money, which is fine. In that sense, it's become more affordable to do because they're cheap entries for the young horses, but it's also no good because your young horses jump in [the same ring every week]. They stop learning because they're not exposed to better rings or better jumps or better course design, or they're just basically running around week in and week out in the back rings. Young horses have to go to different venues and jump on grass and go to another venue and jump on sand, or jump with atmosphere, or jump in a smaller ring. They have to learn, so they have to be exposed to different scenarios.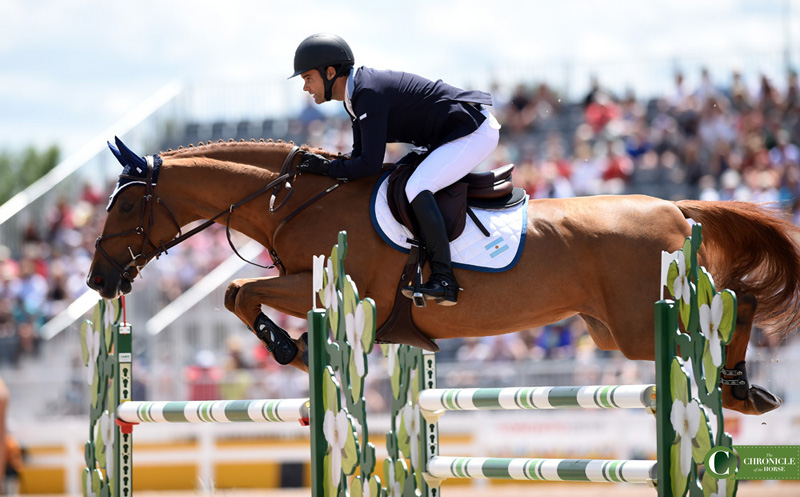 Shows in America, they've become really expensive. They've become monopolized, and it's not a good experience to be at horse shows these days. The facilities are old, and they've been the same facilities for the last 20 years. It's always on the same facilities that we end up showing, and I think we need more options, a better product. We need creativity and innovation.
The mileage rule, I think it's preventing the sport from evolving. Nowadays we need more people like Roberts trying new things and running shows. In the end, we need more entrepreneurs, someone who is going to try a young jumper tour, someone who's going to try only FEI, someone who tries only hunters. Someone might try everything, like WEF. We need variety, different options in the same area, at the same time.
I don't want a free-for-all—that anybody gets to run a horse show without any [safeguards for] the welfare of the horse, but as long as they're in compliance with the federation, anybody should be able to run a horse show absolutely at the same time and the same area.
[I would absolutely go to a show recognized by an organization other than USEF.] As long as the horse show that's running is in compliance with the rules of that association, I'm for it. My only concern would be that the USEF wants to block us from showing at this facility. Because [the WEC shows are] technically not recognized, [the Fédération Equestre Internationale can] suspend you so you can't show.
But maybe [Roberts] also runs his shows in Ohio under the National Snaffle Bit Association, and you might see a group of riders who only show at his events and don't care anymore about the USEF. They just go hunting for more money, prize money, a good experience, a good show, and they drop the USEF.
I can only speak for the jumpers, but in the end, all we go for is prize money. We don't really go for points. In America we're a little bit stuck only going FEI because that's where all the prize money is. If you look at national horse shows, they don't really offer that much prize money in relation to FEI. But if Roby Roberts decides to give equal or more prize money than the FEI shows are giving, you might see some riders who might drop the USEF and also the FEI and just go for that show. We have to see what he offers, what it costs.