Lexington, Ky.—April 28
The Rolex Kentucky CCI**** is far from over, but so far Clark Montgomery's managed to do something no other rider could the last two years here: He beat Michael Jung in dressage. He'll start cross-country in first place over the German rider and FischerRocana FST.
"Well, I was really happy, of course," said Montgomery. "He came out this morning for his pre-ride and was a little on the muscle, so I didn't quite know what I'd get in the test. When we came out for the warm-up of the test, he just felt super, so I thought he'd do well, but you never know what kind of score you're going to get."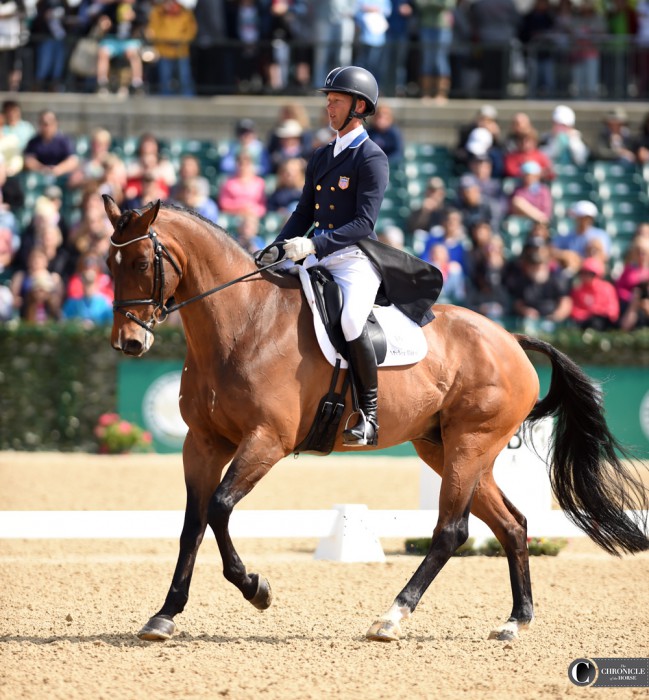 And his lead's not insignificant either. Montgomery's sitting on 33.6 penalties while Jung, seeking his third consecutive title after winning here in 2015 and 2016, lurks behind with 37.1.
"I was very happy about Rocana," said Jung. "She was very nice to ride—very relaxed. I could go forward and push her a little bit to very good marks.
"I think it was a very good test for her—maybe not good enough," he added. "It was a shame that I was not watching the dressage [for Clark's test], but maybe I'll have a chance later. I heard from everybody that it was very wonderful."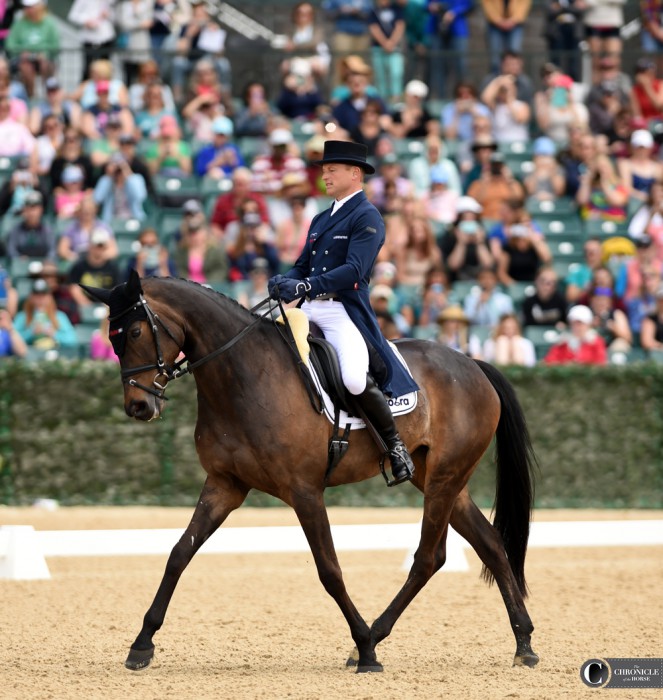 U.S. riders fill out the next two spaces—Kim Severson is third on Cooley Cross Border (41.0), and Liz Halliday-Sharp is fourth on Fernhill By Night—and then Canada's Jessica Phoenix is fifth and sixth on Bentley's Best and Pavarotti, respectively.
"My horse was fantastic today," said Severson, whose mount is at his first four-star. "He really grew up over the last six months. I couldn't be happier with him. He was very mature in there and quite good."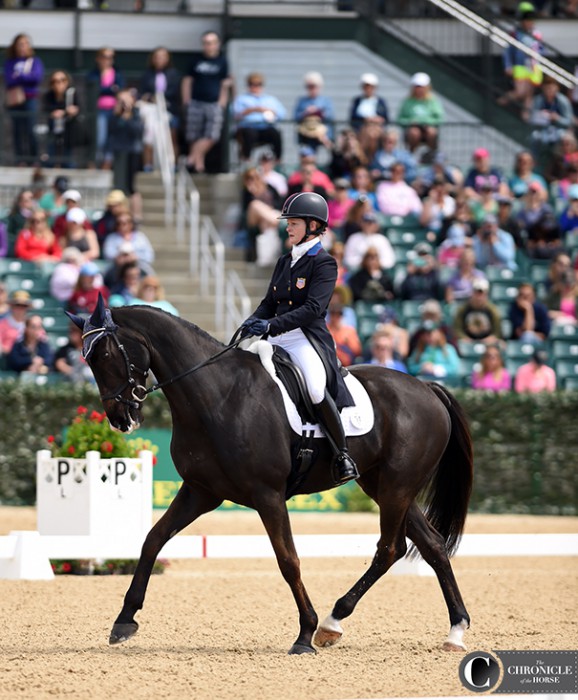 As always though, the riders' thoughts quickly turned to the rest of the weekend. Competitors will tackle Derek di Grazia's track tomorrow—with its 11 minute, 14 second optimum time—in what's anticipated to be 90-degree weather.
"I'm worried about the heat for Glen," said Montgomery. "He doesn't like the heat. I just have to make sure I don't come out of the start box a bit too fast because it's big all around and tricky all around. But overall it's a beautiful course."
The course this year has a few new features, including a redesigned Rolex Head of the Lake (which now has a maximum-height table horses jump before dropping into the water and bending to a fish in the water and then a skinny brush in the water), new skinny brushes at the third water and a remodeled area by the Hollow.
(Read more about the new track in our course preview.)
"I think it's a very nice course," said Jung. "It's a better to gallop in your rhythm through the corners on the galloping track. That's a bit nicer. Then in the beginning that you don't have water two times—that's nice. It's very tough and with big fences and also a few very creative combinations in the end."
Glen competed for the U.S. team at least year's Rio Olympic Games, and he didn't complete the cross-country. Afterwards he underwent surgery to remove a bone chip in his knee, and this spring he won the Pine Top CIC*** (Ga.) and finished second in the Cloud 11-Gavilan North LLC Carolina International CIC*** (N.C.).
"He's not very complicated in his preparation," said Montgomery. "It's just been getting him fit and seeing if he's happy, and hopefully we can pull the trigger tomorrow."
Watch Montgomery and Glen's winning test, courtesy of USEF Network:
See full scores from the day and read thoughts from the top riders at the lunch break.
The first rider, James Alliston on Parker, is scheduled to start cross-country at 10:00 a.m. tomorrow morning. Full cross-country times available here.
2017 Rolex Kentucky CCI**** - Friday Dressage
Lindsay Berreth / Apr 28, 2017 6:32 pm